Just two months after raising $6.9 million, Shibuya—a Web3 video platform co-founded by digital artist Emily "pplpleasr" Yang—has revealed its next web video that NFT holders can help shape, scene-by-scene: a stop-motion animated short from electronic musician Steve Aoki and actor Seth Green's Stoopid Buddy Stoodios.
Aoki and the studio behind the Adult Swim series "Robot Chicken" will bring their "Dominion X: Level 2" project to Shibuya, with a six-week, interactive production process that will unfold in collaboration with the community. Each week, NFT holders can vote on how each new scene will conclude, and then the producers will film the segment accordingly.
It will all add up to a single stop-motion animated short that will be viewable by anyone via the Shibuya platform, but only NFT holders will be able to vote during production. Those holders will also receive a reward NFT in one of various rarity levels, depending on how much they participated during the process.
For Shibuya, "Dominion X" marks its second IP launch since the platform debuted in March 2022, and it's the first to be developed externally. Pplpleasr told Decrypt that it will provide a different flavor of interactive content creation for users than "White Rabbit," the anime series that debuted with Shibuya.
"This is really exciting because it's going to show, as a very first step, where Shibuya is headed," she said, adding that the collaboration was long in the works.
"Dominion X" first launched a series of animated scenes sold as Ethereum NFTs in August 2021 through Nifty Gateway, apparently selling out the collection in a matter of seconds. A three-minute "Dominion X: Level 1" short was produced, spotlighting the fuzzy pink lead creature (Character X) and other pals via the stop-motion style that Stoopid Buddy Stoodios is known for.
In September 2022, the collaborators released a series of NFT profile pictures (PFPs) based on the project, with each serving as an access pass to a virtual writers' room and community to help shape the upcoming series. They initially offered up 7,777 NFTs at a price of 0.10 ETH each (about $170 at the time), but then cut the supply to 4,000 NFTs at 0.05 ETH ($85) apiece.
Any holder of an NFT in the larger Replicant X project that includes "Dominion X" can stake (or lock up) the asset within the Shibuya platform to vote on story decisions. Additionally, any of Shibuya's White Rabbit Key NFT holders can do the same. Pplpleasr said that she expects potentially thousands of voters in the mix during each stage of the production process.
Shibuya raised $6.9 million in December in a round co-led by Andreessen Horowitz and Variant Fund, with notable angel investors like NBA player Kevin Durant and entertainer Paris Hilton also onboard. The startup, which pplpleasr co-founded with concept artist Maciej Kuciara, aims to disrupt traditional funding models for video content and bring NFT buyers into the process.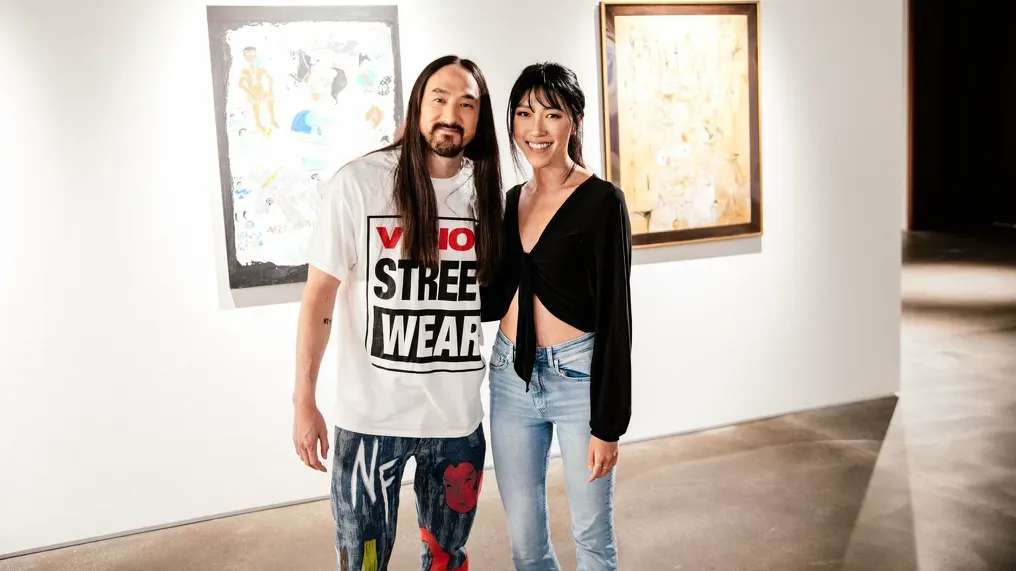 An NFT is a blockchain token that represents a unique item, including things like PFPs, digital artwork, sports and entertainment collectibles, and video game gear. The wider NFT market has yielded about $50 billion worth of organic trading volume since the start of 2021, per data from DappRadar, although sales momentum began falling sharply in mid-2022.
Pplpleasr is a well-known digital artist who came up in the NFT space creating and selling tokenized artwork based on decentralized finance (DeFi) platforms, and then designed a Fortune magazine cover that was auctioned as dynamic NFTs that yielded over $650,000 for journalistic causes. She has also collaborated with Aoki to create and collect NFT artwork.
Aoki, a popular DJ, has created or collaborated on a number of NFT-driven projects, including his own A0k1verse membership club, a Solana-based NFT marketplace with legendary comic book creator Todd McFarlane, and an upcoming CryptoPunks-themed music project with fellow Web3 creator and DJ, Justin "3LAU" Blau.
Stoopid Buddy Stoodios has also made moves in the space, recently receiving funding from the Nouns NFT project to create a float for the 2023 Rose Parade and shoot a documentary around it. Green, the "Austin Powers" actor, is also working on a show based on his Bored Ape Yacht Club NFT avatar, which was swiped from him last year but ultimately repurchased.
Collectively, they've assembled something of a dream team of notable Web3 creators building around decentralized technologies. Pplpleasr told Decrypt that Shibuya's north star is creating quality content, echoing her previous comments that "content in Web3 right now is just bad."
"Dominion X: Level 2" will show whether that mission can be sustained across genres and styles—and with different collaborators steering the content as well.
"We all believe in the ability for Web3 to transform the preexisting film industry," she said.
Editor's note: This article was updated after publication to clarify what type of NFT is needed for voting.