In brief
DJ and artist Steve Aoki is launching an Ethereum NFT membership club called A0K1VERSE.
Holders of Aoki's NFT Passport will gain access to various benefits, including live and metaverse concerts and events.
DJ Steve Aoki has been both a prominent creator and collector in the NFT space over the last couple of years. Not only has he sold his own artwork and announced a Solana marketplace with comic artist Todd McFarlane, but he also collects Bored Apes, CryptoPunks, and other valuable projects. Now he's taking his next big step in the NFT space with A0K1VERSE.
Revealed today, A0K1VERSE is an Ethereum NFT-driven membership community—like a tech-upgraded Steve Aoki fan club. Collectors that hold the A0K1 Passport NFT can gain exclusive access to live and virtual concerts and other events, a private Discord server with access to Aoki himself, future metaverse events, and other perks.
Aoki told Decrypt that the A0K1VERSE project is eight months in the making, and is designed to bring in the various parts of his creative life—from music to NFTs, fashion, and more. He said that the goal is to provide utility to fans and collectors over a long span of time and to reward them for engaging in and contributing to the community.
"When I started my label when I was 19, I was part of my own membership community—but it was punk," Aoki recalled. "It was like we had our own little clique. We did our own little thing."
"One thing I learned from all of that," he added, "is that the more that you contribute, that's where you get the respect. The kind of contributions that you bring to the community or club is where you get valued the most."
Made by Manifold
A0K1VERSE and the Passport were created in collaboration with smart contract startup Manifold, which has powered inventive Ethereum NFT drops from Fortune and Mad Dog Jones, and raised funding from Andreessen Horowitz and others in October.
Each Passport NFT can be upgraded using A0K1 Credits, of which there will be 25,000 in total minted as ERC-1155 NFTs.
As holders take part in community events and amass more Credits—and even combine multiple Passport NFTs—the evolving Passport will gain stamps and can even level up, unlocking access to additional perks.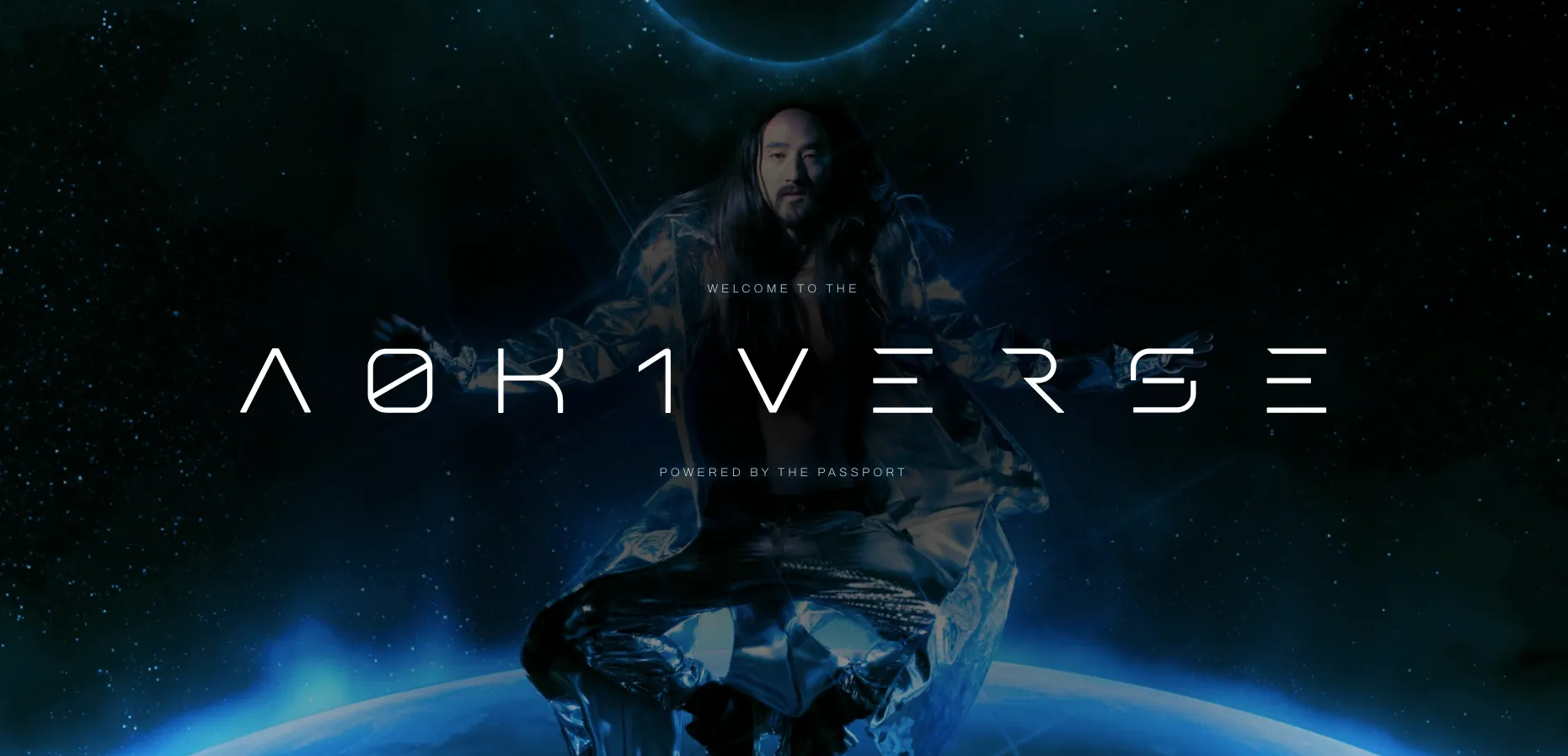 Existing Steve Aoki NFT holders will be able to redeem A0K1 Credits for free (minus transaction fees), plus there will be a presale for holders of select other projects, such as Doodles, Adam Bomb Squad, 0N1 Force, and TIME Pieces, plus musician 3LAU's NFTs. 
Manifold co-founder Richerd Chan—who famously turned down a $9.5 million offer for his own CryptoPunk last October—told Decrypt that an NFT-centric membership club changes the dynamic from a typical celebrity fan club structure.
Normally, said Chan, a musician or entertainer is simply pushing content towards fans, and it's a one-way street. With NFTs, holders can choose to engage if they want, will earn additional perks by participating and contributing, and can even sell and move on if they please. It also aligns incentives between artists and holders, in his view.
The Aoki Passport will also be interoperable with NFT projects from other creators, Chan said, enabling other builders to support and grow the ecosystem around it. "Steve is going to get other partners onboard to create these different universes that will be interoperable with the Passport itself," he added.
Into the A0K1VERSE
For Aoki, the A0K1VERSE helps cultivate his most devoted fans while also tapping into his excitement around NFTs and the metaverse ahead. In December, Aoki was announced as a partner of upcoming metaverse game, The Sandbox, and will have his own prominent land plot in the game world—much like rapper Snoop Dogg does.
"Now we are on the next level," Aoki told Decrypt of his metaverse plans. "What is the future of what community looks like? [It's] definitely in the metaverse. It's definitely in Web3, and definitely in NFTs."
It's early days for the metaverse, but people are spending billions of dollars on NFT collections, and hundreds of millions on virtual land in The Sandbox, Decentraland, and other games. Even now, potentially years before the metaverse matches the elaborate vision of Facebook and others, Aoki said that there's a race to start building and defining the burgeoning space.
"The amusement park hasn't even opened yet. We're building it, and whoever has the best rides is going to have the most people to come and enjoy and be entertained, and be part of that culture," he said. "That's what I'm excited about. I am building my own world with all of my friends and partners that have come along on this journey."
Editor's note: This story was updated after publication to clarify that A0K1 Credits must be redeemed by NFT holders, rather than airdropped.