In brief
Shibuya is a Web3 video platform built around Ethereum NFTs and tokens.
The NFTs help fund projects and also let holders vote on story decisions.
Web3 gives creators an opportunity to rethink old business models and adopt new ways of bringing projects to life. Artist Emily "pplpleasr" Yang has already tapped NFTs for a number of high-profile projects, but her latest pursuit shifts the focus into the world of long-form video—and how NFTs can help fund ambitious projects.
Officially launched today ahead of tomorrow's public NFT mint, Shibuya is an Ethereum-powered "direct-to-community" video platform that not only lets creators crowdfund their films and webseries, but also allows backers to have a say in the creative direction of each project.
Think of it like a decentralized, video-centric Kickstarter, only with the added elements of NFT collecting, potential ongoing benefits to backers, and gamification elements. However, the platform will also make the films free to watch, unlike some NFT-funded projects (like Mila Kunis' Stoner Cats) that restrict viewership to NFT holders.
Shibuya is launching with "White Rabbit," an anime-inspired webseries by co-founder Maciej Kuciara, a concept artist who has worked on numerous Marvel Studios films (including "Spider-Man: No Way Home") along with other Hollywood blockbusters.
The 48-second pilot for White Rabbit's animated story is available on Shibuya right now. It's a brief tease of what's ahead, complete with Studio Ghibli-esque hand-drawn animation, but there's a twist at the end: a choice between two doors, one with a ghostly hand outstretched and the other with a four-legged fuzzy creature.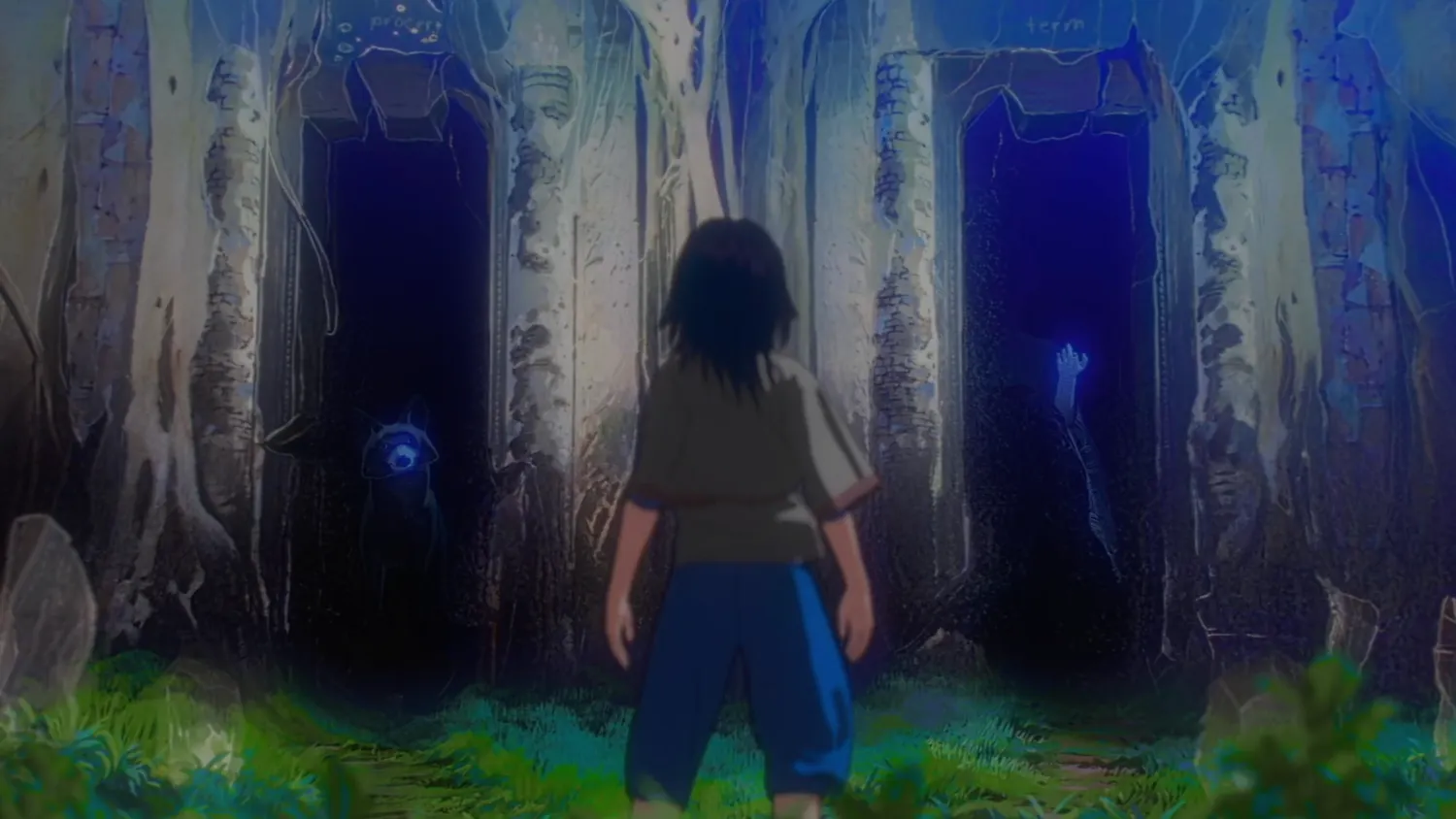 Want to help decide what happens next? You'll need to purchase and mint a Producer Pass NFT and stake it to cast a vote for either path. Kuciara will honor the results of the vote and work that into the next chapter of the film.
Each chapter will have its own NFT pass, letting holders decide the course of the narrative as the complete film gradually takes shape. For the first chapter of "White Rabbit," Shibuya is selling 5,000 total NFT passes at 0.08 ETH (about $235) each with a maximum of five per wallet.
An NFT acts like a deed of ownership to a unique digital item, and can be used for things like images, video files, interactive video game items, and more. The wider NFT market generated $25 billion in trading volume in 2021, per data from DappRadar.
Devising a decentralized and more interactive way to fund long-form video projects hits close to home for pplpleasr. Before becoming a well-known NFT artist—working with Fortune and Steve Aoki, along with DeFi protocols like Uniswap—she was a VFX artist on films like "Wonder Woman" and "Star Trek Beyond."
Pplpleasr told Decrypt via email that funding films in Hollywood and via traditional models is "very political and difficult," on top of complications like extensive paperwork and legal setups, along with needing to escrow funds. She sees Shibuya's Web3 model as not only more flexible for creators, but also more compelling for supporters.
"Shibuya's model allows for people to easily bootstrap IPs and crowdfunding," she said. "The viewers not only get to engage by funding but also contributing to the creative process, making them even more engaged."
Beyond supporting potentially interesting projects, there are additional benefits to backers. In the case of "White Rabbit," those who purchase and vote with (or stake) Producer Pass NFTs will receive WRAB Ethereum-based tokens, which represent fractionalized ownership in the film. There are also token bonuses for voting early and picking the ultimate winner in each vote.
Given that the WRAB tokens represent ownership, will holders receive royalty payments or other long-tail incentives based on the performance of the eventual finished film? That's currently unclear, and pplpleasr said that Shibuya makes no promises on that front.
"This is an experimental project and we cannot guarantee any financial benefits to the token holders," pplpleasr told Decrypt when asked. "However, any future benefits of the film will be shared with the community and token holders."
Although "White Rabbit" is the first project to come out of Shibuya, the platform was designed to support many more projects ahead. And creators can choose to build other types of interaction, or develop non-interactive linear video projects if they please, said pplpleasr.
Producer Pass NFTs also play into a reputation-like system on the platform, powered by on-chain data cultivated by DegenScore. The same tech will be used to deliver customizable viewing experiences, as well as "dynamic credits" for each episode that show the top producers for each film via a live-updating leaderboard of sorts.
Funding films via NFT sales isn't an entirely new concept, but the added interactivity and gamified elements set Shibuya apart. And beyond potential incentives ahead, Shibuya's NFTs could also serve as on-chain cred—a way for backers to prove that they helped bring a project to life, should it blow up in the future.
"Imagine being able to prove the fact that you 'watched "Squid Game" before everybody else,'" pplpleasr wrote today. "With Producer Passes, you can say not only that, but also that you helped contribute to the final story."