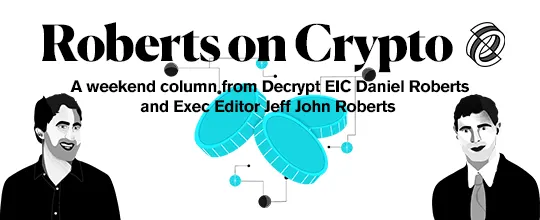 When Coinbase CEO Brian Armstrong tweeted on Tuesday night that the SEC threatened to sue if the company launches its high-yield Lend product, Ripple CEO Brad Garlinghouse was swift to respond. Just 90 minutes after Armstrong's tweet, Garlinghouse tweeted a meme from "Die Hard" with Bruce Willis saying, "Welcome to the party, pal."
The implied message: Ripple has been fighting the SEC for over a year, and now Coinbase is part of the fight, like it or not. Mark Cuban also had a message for Armstrong: "You have to go on the offensive." Cuban declined to expand for Decrypt on what that might look like ("It's up to them"), but one can argue Armstrong is already playing offense with the tone of his tweets. He accused the agency of "intimidation tactics behind closed doors" and concluded sarcastically, "It's nice if you actually enforce [guidance] evenly across the industry equally."
What happens next will not be determined by tweets. The flagship companies of the crypto industry are under assault, and they have begun to fight back—demanding a fair and consistent set of rules that make it clear what is legal and what is not.
They have a point. Ripple's ugly battle with the SEC is over whether its sale of XRP tokens were unregistered securities offerings. Why did the SEC wait so long—Ripple has been selling XRP for eight years—before suing, and why does the agency appear to be applying one legal test to Ripple and another to Ethereum? As for Coinbase, it says it went out of its way to consult the SEC on how to make its proposed Lend product as secure and safe for investors as possible. According to Armstrong, the agency would not talk to them.
Then there is the decentralized exchange Uniswap, one of the most transparent companies in the fast-and-furious DeFi sector. But the SEC has chosen it as a target of investigation, overlooking, as crypto lawyer Jake Chervinsky noted, other "overt frauds," rug pulls, and pump-and-dumps in DeFi.
It's no wonder Armstrong, Garlinghouse, and others have had enough, and concluded it might be better to roll the dice in court rather than continue to try to adhere to the SEC's current opaque crypto policy and harsh enforcements.
All of this is a surprising turn given that just a few months ago, when new SEC Chair Gary Gensler took the helm, the industry was hailing him as pro-crypto because he taught a course on blockchain at M.I.T. Not only has Gensler so far not been the advocate that crypto people assumed (don't hold your breath on that U.S. Bitcoin ETF approval), he looks downright hostile. Now the question of what the Gensler regime will do next hangs over all the companies, traders, miners, and investors in cryptoland.
One can only guess. Perhaps Gensler is facing pressure from people in the White House and Treasury Department who see crypto as a threat to the U.S. dollar. Or maybe he really thinks the SEC is protecting investors. Many of those same investors are likely cursing him for blocking new ways to earn more than 5% interest on savings accounts rather than the 0.5% or less the banks are paying.
Whatever the reason for the conflict, crypto's big companies are in a dog fight, and what they do next will determine the future of the industry. Battling the federal government is a daunting task, but unlike the infighting of the recent past, big names in crypto are standing together like never before.
That was evident this week when Kraken CEO Jesse Powell, a longtime ideological and commercial rival to Armstrong, came out with strong words of support for Coinbase. If the likes of Kraken and Coinbase can stand together, they can also form a united front with Uniswap, Ripple, and every other crypto firm under siege from the SEC. Such an alliance would allow the industry to establish a common legal strategy.
Of course, there's no guarantee it will work. The federal government has killed other emerging industries in the past, including online poker. But given that the SEC now looks openly anti-crypto, the time is right for the leading companies to go full John McClane.
This is Roberts on Crypto, a weekend column from Decrypt Editor-in-Chief Daniel Roberts and Decrypt Executive Editor Jeff John Roberts. Sign up for the Decrypt Debrief email newsletter to receive it in your inbox in the future. And read last weekend's column: Altcoins Moon, Bitcoin Stays on Earth.