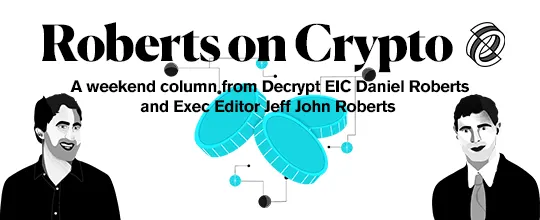 Ripple notched a small win this week in its endless dust-up with the SEC.
A judge ruled that Ripple may depose a former SEC official as part of the ongoing lawsuit between the two parties—a move that the agency opposed, not least because it will shed light on how the regulatory sausage is made when it comes to crypto.
The official in question is Bill Hinman. He is famous in crypto circles because, while working at the SEC in 2018, he waved a legal wand to declare that Ethereum's native cryptocurrency (ETH) is not a security on the grounds it had become "sufficiently decentralized." This finding delighted the Ethereum community, of course, but it baffled crypto lawyers who declared Hinman had pulled the "sufficiently decentralized" test out of his... backside.
Ripple, meanwhile, wants to know why Hinman cleared Ethereum while his former agency has decided to sue Ripple for selling XRP. There may be sound reasons for Hinman's conclusion—XRP and ETH are different beasts after all—but Ripple is likely to ask him if he had other motivations. Namely, the company may ask Hinman if his decision on ETH had anything to do with the fact that his former law firm, which was paying him $1.6 million during his tenure at the SEC, is a member of the Enterprise Ethereum Alliance.
Hinman likely came to his conclusion about ETH on independent grounds—not least because his decision feels correct in terms of policy and innovation—but the optics of his ties to the law firm, which smack of conflict-of-interest, are a bad look for both Hinman and the SEC. Little wonder the agency wanted to block Ripple from obtaining Hinman's testimony.
The judge's decision to let Ripple depose Hinman is unlikely to be the deciding factor of the case. The company has plenty to answer for in regard to the SEC's allegations that its various businesses, including deploying XRP as a "neutral bridge currency," are just a smokescreen to justify selling its own hoard of XRP into the market. Likewise, it will be interesting if its top executives must explain in court why they personally sold $650 million worth of XRP while still talking up its long term promise.
As crypto curmudgeon Stephen Palley noted on Twitter, the judge's ruling this week means Ripple won a small battle, not the war.
The ruling is significant all the same, because it puts the SEC on the spot like never before when it comes to its crypto policies—or lack of them. The agency stood on the sidelines during most of the 2017 ICO boom, when blatant scams were raging. It has been making up for lost time since then, but its "regulation = enforcement" strategy has kept the whole industry under a cloud of uncertainty. Why not put out clear rules saying what is a security and what is not?
You could also ask whether pursuing Ripple, which has been selling XRP for nearly a decade, is really the best use of the SEC's resources at a time of meme stock mania and meltdowns at major brokerages. As for new SEC Commissioner Gary Gensler, who taught a course at MIT on blockchain, the crypto industry's high hopes for him are fading as it becomes clear Gensler is slow-rolling crypto policy—probably because crypto is still a political hot potato on Capitol Hill, and he would prefer to duck the topic for now.
That's why the Ripple case offers the best hope, for now, of demanding some accountability from the SEC. Sure, lots of people have little love for Ripple or the gang of bots and zealots known as the XRP army, but they should be grateful the company is taking one for the team.
The broader crypto community has a stake in the Hinman deposition, and the opportunity it affords to make the SEC come clean about just what it's doing.
This is Roberts on Crypto, a weekend column from Decrypt Editor-in-Chief Daniel Roberts and Decrypt Executive Editor Jeff John Roberts. Sign up for the Decrypt Debrief email newsletter to receive it in your inbox in the future. And read last weekend's column: Robinhood vs Coinbase: The Coming Clash.