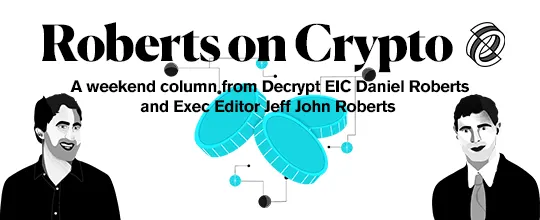 When Robinhood filed its papers to go public this week, it revealed a lot about its crypto operations.
The popular quick-swipe trading app reported over $11 billion in Bitcoin and other digital holdings for its customers, and revealed that 6% of its Q1 revenue came from Dogecoin alone. And this is just the beginning: In the coming year, Robinhood plans to let customers move crypto off and on its platform—just like the pure-play crypto companies allow.
This is all good news for crypto fans, in part because Robinhood is attracting new users to crypto in droves. The more people who embrace crypto, the more valuable it will become (hypothetically), and the more innovation will take place.
But there's one company that isn't thrilled about Robinhood's crypto rise: Coinbase.
Coinbase is hands-down the best known crypto brand among U.S. retail investors—a market it has had almost to itself for a while now. Sure, Binance is the world's biggest crypto firm, but its core customers are international users or professional traders. Kraken also focuses on institutions and pro traders. Gemini, the exchange of the Winklevoss brothers, has tried to nibble into Coinbase's customer base, but remains a relative minnow.
Robinhood, on the other hand, is poised to be a major headache for Coinbase.
The app already has more than 18 million customers with funded accounts (and that number will grow), and Robinhood is already persuading many of them to give crypto a try (9.5 million Robinhood customers traded crypto in Q1). What's more, many of these customers are part of what media outlets like the FT call "the retail army," a legion of like-minded people who enjoy memes and like to place crazy bets on long-shot stocks. They overlap heavily with the crypto crowd.
Meanwhile, a person familiar with Robinhood tells Decrypt the company is moving into high gear with plans for a full-blown crypto wallet that could also serve as a bridge into the world of DeFi, the Lego-like series of protocols and pools that many believe will form the future of finance. Building these tools is no joke—it's why a lot of companies choose to outsource the back-end of their crypto operations—but Robinhood has the money and the know-how to pull it off. Note that it has already accomplished the difficult feat of building its own clearing house.
And then there are the fees. Coinbase continues to charge retail users around $3 a trade, betting that the fee is low enough and its platform is sticky enough that those users won't bolt. Robinhood, on the other hand, built itself around no-fee trading fees, and its millions of customers have come to view zero as a normal. What happens if Robinhood starts offering additional incentives to Coinbase customers—many of whom have Robinhood accounts already for their stocks—to move their crypto over?
Coinbase, of course, is watching the developments at Robinhood closely, and is not going to stand by and get beat at its own game. The best known brand in crypto is rolling out a growing suite of products—including NFTs and high-yield savings accounts—and, as technology to trade stocks on the blockchain improves, is likely to move on to Robinhood's turf and offer its customers access to traditional stocks.
This growing rivalry is also going to spark some interesting alliances in the crypto space. Will Robinhood partner with the likes of Gemini and Galaxy in order to gang up on Coinbase? Will Coinbase buy or invest in one of Robinhood's smaller stock trading competitors? We shall see.
In the meantime, it's enough to note that Robinhood should be added to the list of Coinbase competitors with the likes of Binance and Kraken. Or better yet, add it to the top of that list.
This is Roberts on Crypto, a weekend column from Decrypt Editor-in-Chief Daniel Roberts and Decrypt Executive Editor Jeff John Roberts. Sign up for the Decrypt Debrief email newsletter to receive it in your inbox in the future. And read last weekend's column: Does Bitcoin Marketing Work on Sports Fans?