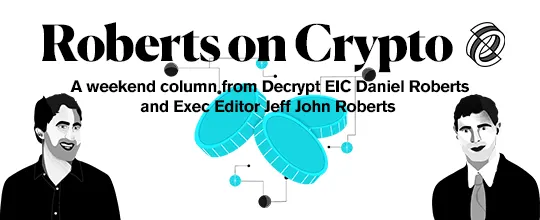 Sports fans can't follow a bat, ball, or puck these days without coming across a Bitcoin brand. Crypto companies have flooded into sports marketing, and none more aggressively than FTX, the sophisticated exchange led by bombastic 29-year-old Sam Bankman-Fried.
In April, FTX shelled out $135 million to plaster its name on the Miami Heat NBA arena for the next 19 years—even though the company is just two years old. The spend is not an issue; Bankman-Fried told me in an interview at the Ethereal Virtual Summit in May, "Without going into the details, it's been a pretty good year for us... frankly, we don't need to rely on the other 18 years to have the funds for this." (Mic drop.)
Later in April, Blockfolio, the price index app FTX bought last August for $150 million, signed an endorsement deal with top NFL draft pick Trevor Lawrence. This month, Blockfolio paid YouTuber-turned-boxer Logan Paul to promote the app with a QR code on his t-shirt before his June 6 fight against Floyd Mayweather (who shilled EthereumMax). FTX also signed a 10-year, $210 million deal to sponsor esports team TSM and change its name to TSM FTX, and it signed a hard-to-get deal with Major League Baseball that will include FTX patches on every MLB umpire's uniform.
"Sam is going to own or sponsor every company by the next halving," a Twitter user joked this week.
It's not just FTX. Crypto.com sponsored the NHL's Montreal Canadiens and the newly formed F1 racing team Aston Martin Cognizant; eToro sponsored several Premier League soccer teams; Tezos is on the front of McLaren F1 cars.
At first blush, sports marketing makes perfect sense for Bitcoin companies. The Venn diagram between sports fans and Bitcoin believers must have big overlap—you'd assume. But is there evidence that spending to align with a sports team or league actually boosts customer acquisition for crypto companies?
Only anecdotally.
"We are setting up these pillars in the sports community, and we'll continue to do that, to go where the people are," FTX COO Sina Nader told me in April in an interview about the Trevor Lawrence deal. "Once you start to see names like Trevor Lawrence, and prominent people in entertainment, the taboo is officially shattered. People are realizing that crypto is a real thing."
The bet FTX is making: Sports fans who see FTX branding on a field or in an arena will head home and try it out. But it's hard to imagine Miami Heat fans seeing that acronym on their stadium, looking it up, and becoming FTX users. Any sports fans thinking about buying some Bitcoin are likelier to use Coinbase, which enjoys a perch as the closest thing to a household name in crypto without doing any sports marketing.
When Neeraj Agrawal of crypto nonprofit Coin Center tweeted earlier this week, "I still think sports sponsorships are a bad fit for cryptocurrency companies," he got somewhat lit up by Bitcoiners. Bankman-Fried responded and acknowledged that the "overlap between MLB and FTX's current core customer base is low to moderate," and that, "people who are in FTX's current core customer base are, by definition, not people who we need more brand awareness with." But he concluded that if people have thought more about FTX recently "because the marketing seemed like an odd strategy," then that is "itself a bit of a weird win."
I am skeptical this strategy will directly funnel more customers to FTX.
When DraftKings and FanDuel spent millions of dollars in 2015 to flood the sports airwaves with ads, from ESPN to NFL broadcasts to Barstool podcasts, it worked. Even though sports fans were annoyed, they quickly became familiar with the companies. But those were sports betting brands advertising in sports. How many sports fans are on the lookout to try a new Bitcoin trading platform? (On the other hand, DraftKings and FanDuel have both offered NFTs as prizes in fantasy contests, and FanDuel said its NBA Top Shot prize pool was its most popular free-to-play contest ever that wasn't around a tentpole event like the Super Bowl.)
When a Dogecoin-branded Chevy Camaro crashed into a wall in a NASCAR race last weekend, DOGE fell 10%. It was one of the few clear examples of immediate social media buzz from a crypto sports activation, but DOGE hardly needed the extra exposure.
Of course, with 19-year and 10-year contracts, FTX is playing a long-term game with sports marketing. In an interview this week, Bankman-Fried said, "I'd be lying if I said there weren't any more [sports deals] being planned."
This is Roberts on Crypto, a weekend column from Decrypt Editor-in-Chief Daniel Roberts and Decrypt Executive Editor Jeff John Roberts. Sign up for the Decrypt Debrief email newsletter to receive it in your inbox in the future. And read last weekend's column: BitClout: Crazy Like a Fox?