Next week, the stars of the film world will descend on the French Riviera for the Cannes Film Festival—and Decrypt will be there with them.
Alongside the Festival, Decrypt along with partners FF3 and Decentralized Pictures will host a day of discussions on The Future of Film, exploring how Web3 technologies such as blockchain and NFTs will change the face of the industry.
Web3 is poised to shake up every stage of film production, from financing through to distribution—and there are filmmaking pioneers already making use of Web3 to fix long-standing problems with the industry.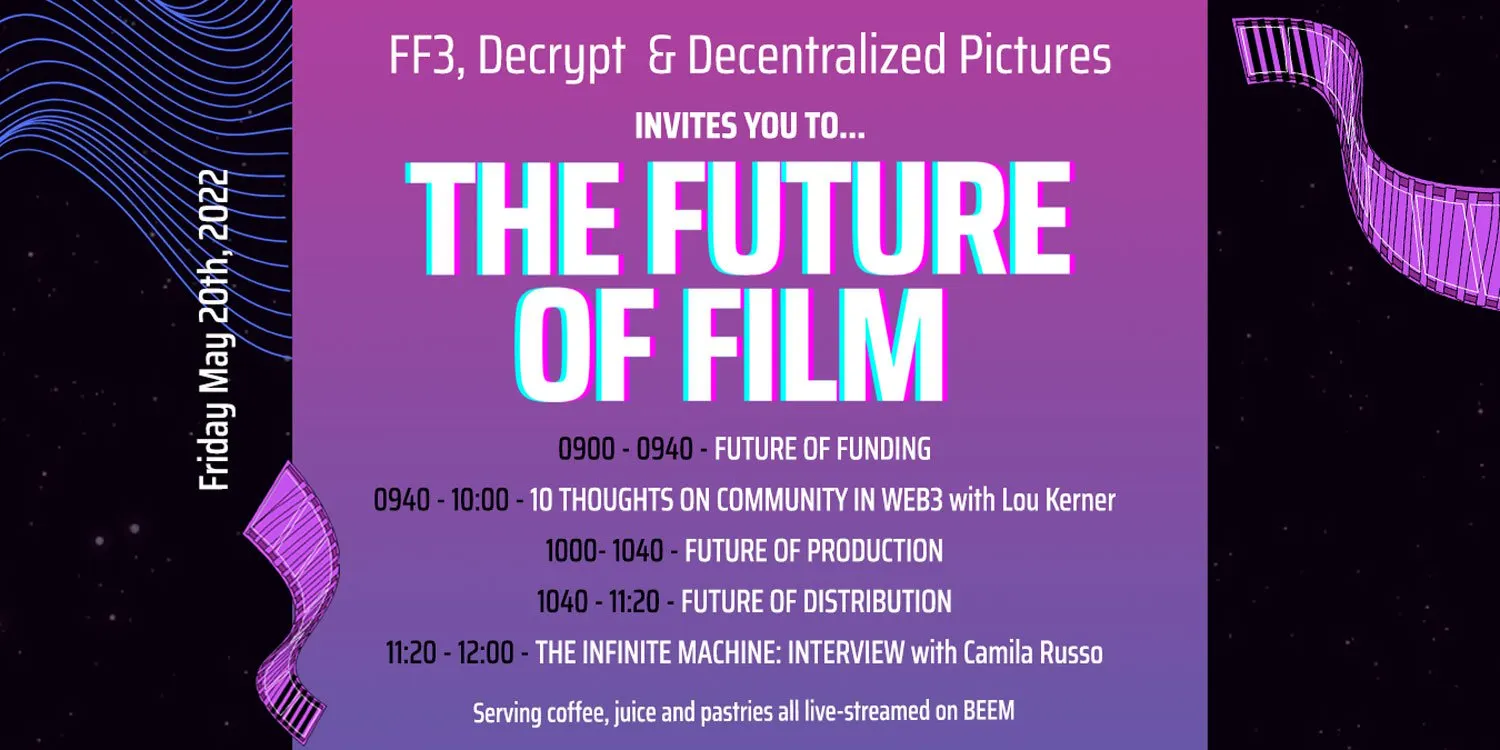 Financing and production
Cryptocurrency and blockchain are intertwined with the world of finance, so it's not surprise the first area where crypto has made its presence felt is in raising funds to produce films.
Decrypt itself has experience of this; your correspondent was one of the first to trial FF3, a crypto-powered crowdfunding platform with NFT tier rewards. Thanks to a successful fundraise, the short film "The Dead of Winter" will be going into production later this year.
Lessons learned from "The Dead of Winter" will inform the development of the FF3 platform as it gears up for larger raises including feature films, co-founder Phil McKenzie told Decrypt. "We all learned a huge amount," he said. "People really liked the concept and the platform and the vision, but the user experience and the accessibility, and also some of our marketing and focus, we really need to change.
He explained that in particular, it's a "waste of time" trying to onboard people from outside the crypto space, and that the platform would shift its focus to people who are already experienced crypto users and "want to support other creators within that space or who are coming into Web3."
Director Miguel Faus, who's launched an NFT crowdfunding campaign for the feature adaptation of his short film "Calladita", agrees. He told Decrypt that it's currently "difficult to try to onboard someone who has never had crypto into buying their first NFT."
His approach of focusing on the NFT enthusiast community, who can receive rewards like seeing their NFT in a film, has already borne fruit. Among those who've backed the project are NFT collector Cozomo de' Medici and Nouns DAO—in what's thought to be the first on-chain proposal by a decentralized autonomous organization (DAO) to fund a feature film. 
Camila Russo, author of "The Infinite Machine," set up a crypto crowdfunding campaign for the film adaptation of her book about the creation of Ethereum. Appropriately, the raise was conducted on Ethereum, with NFT drops offering owners the option of visiting the film set, appearing in the movie and receiving invites to the film's premiere. Since then, "Alien" director Ridley Scott's Scott Free Productions has signed up to produce the project.
Shaping storytelling
Decentralized Pictures is one of those pioneering a new model for film financing, asking DAO community members to vote on which film pitch should receive funds from its pool. If the film's a commercial success, a portion of its profits will go back to the DAO, to fund future projects. Founded by producer Roman Coppola and members of Francis Ford Coppola's production company American Zoetrope, it's already received a grant of $300,000 from "Ocean's Eleven" director Steven Soderbergh.
Describing it as "an evergreen, self-sustaining film fund," Decentralized Pictures co-founder Mike Musante told Decrypt that data gathered from the DAO's voting process could also help to shape the development of future films. "We believe we can get massive amounts of opinion data that we can then analyze and help us to make decisions about which projects to finance," he said.
Other DAOs are aiming to decentralize the process of storytelling itself. NFT artist pplpleasr's Shibuya video platform will let creators crowdfund films and webseries, while also enabling token holders to have a say in the creative direction of each project. "Shibuya's model allows for people to easily bootstrap IPs and crowdfunding," pplpleasr told Decrypt. "The viewers not only get to engage by funding but also contributing to the creative process, making them even more engaged."
Web3 distribution
Web3 is also set to make waves in the distribution of films, and the allocation of royalties—something that could see the end of 'Hollywood accounting.'
A number of films have already been sold as NFTs, including "Zero Contact," starring Anthony Hopkins, and pandemic-themed thriller "Lockdown." Cult director Kevin Smith is set to release his new horror film "Killroy Was Here" as a series of novel encrypted NFTs, in which the content can only be viewed by the owner. Smith's NFTs also assign some IP rights to the NFT holder, a model that NFT collections like Bored Ape Yacht Club are also pursuing.
Most interestingly, Web3 film distribution allows for the possibility of royalties payments to be automated; each time a film NFT is sold or resold, a portion of the profit can be automatically allocated to the cast and crew of the film, or to early backers. That, coupled with blockchain's auditing capacity, could result in a model that could challenge the infamously opaque accounting of Hollywood.
Web3 could also impact the streaming media market. At present, buying a digital copy of a film typically means you're buying a license that can be revoked at the behest of the licensor (as famously happened with Amazon's ebook of "Nineteen Eighty-Four"), and can't be resold. And sales of DVD copies on the secondary market don't assign a cut of the profits to the original creators. By assigning digital ownership, and fairly distributing the proceeds of secondary sales, it could direct new revenue streams to creators—giving independent film-makers a welcome boost.
Meanwhile, Hollywood players ranging from Quentin Tarantino to Reese Witherspoon are boarding the Web3 bandwagon; it's surely only a matter of time before the first Web3 feature film is gracing the red carpet at Cannes.
Decrypt, FF3 and Decentralized Pictures will be hosting The Future of Film at Cannes Film Festival on May 20. Find out more here, and tune in to our Twitter Spaces event on May 13 at 11am ET.