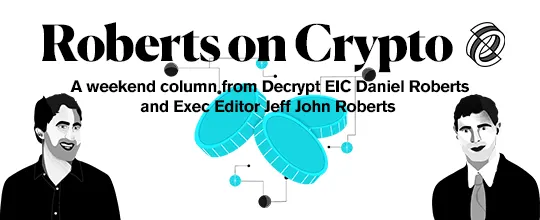 We were somewhere in Biscayne Bay on a boat when the drugs began to take hold.
Just kidding. But there was a definite Fear and Loathing vibe to the Bitcoin 2021 carnival in Miami this weekend. The organizers of the conference, Bitcoin Magazine, sold 12,000 tickets, but thousands more—close to 50,000 people, by some estimates—descended on Miami without a ticket, lured by the parties, dinners, and networking opportunities, the scene beyond the official event. One founder of an NFT platform told me he came to pitch crypto VCs, but couldn't get to any of them because "they're all hiding on the beach or on a boat." Many of these hopefuls were from the Ethereum and DeFi world—folks who never set foot in the building for what was an explicitly Bitcoin maximalist conference. (The boxer Floyd Mayweather was loudly booed for having the gall to say another cryptocurrency could be "just as large as Bitcoin some day.")
Inside the Mana Wynwood Convention Center, "Fuck The Fed" was a popular chant. "Fuck Elon" was another. Dogecoin's most famous fan had again tweeted negatively about Bitcoin on Thursday night, just before the conference started: a breakup meme that sent BTC down another 5%. (Instead, Musk pumped a porn token called CumRocket.) The Bitcoin faithful would like him to stop tweeting. NFL player Russell Okung had paid for small trucks to drive around Wynwood displaying signage that said, "Stick to space, Elon."
It was a down weekend for BTC; even the news that El Salvador will go crypto could not boost the price.
No matter. Nothing could dampen the mood of the HODLers on stage, best exemplified by Bitcoin podcast host Max Keiser pumping his arms and shrieking, like a televangelist in paroxysms, "We're not selling! Fuck Elon!" as techno beats blared and the audience roared.
Sam Bankman-Fried, CEO of crypto exchange FTX, walked around in an esports jersey with his name on the back. The Miami Heat arena nearby, formerly the American Airlines Arena, now bears his company's name after FTX, which launched only two years ago, signed a 19-year naming rights contract. NBA player Kevin Love was in attendance; he told me he holds Bitcoin. Skateboard god Tony Hawk was a speaker. YouTube vlogger turned boxer Jake Paul was in attendance; his brother Logan will fight Mayweather in Miami on Sunday.
As I strolled past the booths with a friend, she remarked, "This feels like the top."
Maybe, maybe not. When Bitcoin crashed 65% in February 2018, doubters gleefully declared it dead. For the next couple of years, 2017 looked like the top. Then the pandemic, with its uncertainty and stimulus checks, tripled Bitcoin's price, and former Wall Street skeptics rushed in, along with Tesla, Square, and PayPal.
The question that interested me more this weekend was whether Miami has succeeded in its stated goal: Is it Bitcoin City?
Miami Mayor Francis Suarez, whose "How can I help?" catchphrase and laser eyes have made him a hero to Crypto Twitter, opened the conference at 9am on Friday. He re-told the origin story behind his mission of "trying to create the Bitcoin, blockchain, and mining capital of the world." While he spoke, thousands of conference ticketholders still stood in the heat outside, waiting to get in; the line did not clear until noon. In a 6,000-member public Telegram chat room for attendees, dozens of people complained on Friday morning about the lines and said they wanted refunds. But by Saturday morning, the tone of the messages had changed to euphoria. One attendee wrote, "Miami did a major flex getting this conference. Very impressive. I can't imagine going to California again."
Suarez has done a lot more than tweet. He opened a Miami Bitcoin Center, posted Satoshi Nakamoto's Bitcoin white paper on the city's official website, and passed a resolution allowing municipal workers to get paid in Bitcoin. He has attracted outside investment from firms like Borderless Capital, which will inject $25 million into blockchain companies based in Miami. Blockchain.com and eToro are both setting up shop in Miami. Suarez has walked the walk.
At a Blockchain Association cocktail party on Thursday evening before the conference, Miami Dade County Mayor Daniella Levine Cava addressed the party, and began in self-deprecating style by saying, "You all probably know Mayor Suarez." Then she asked for a show of hands of who had recently relocated to Miami (some) and who wants to move to Miami soon (many). "After this weekend, you will not want to leave!"
At various social events over the course of the weekend (including an Alchemy dinner attended by YouTuber-turned-boxer Jake Paul), I did meet a considerable number of techies who moved to Miami during the pandemic. To hear them tell it, "everyone" is ditching San Francisco, Austin, and New York for Miami. How many of them, though they wouldn't cop to it, moved there because they were tired of the pandemic and wanted to party in a warm climate? How long will they stay once the pandemic is behind us? Time will have to answer those questions, but at the very least, on this one weekend, Miami earned its mantle of Bitcoin City.
This is Roberts on Crypto, a weekend column from Decrypt Editor-in-Chief Daniel Roberts and Decrypt Executive Editor Jeff John Roberts. Sign up for the Decrypt email newsletter to receive it in your inbox in the future. And read last weekend's column: Coinbase Says It's a Media Company. Really?