Blockchain builder Alchemy is riding high—even by the standards of the current crypto bull market. Since offering its software kit to all comers eight months ago, Alchemy says it has grown 97-fold, made fistfuls of money, and added blue chip customers that range from UNICEF to Fortune 50 companies. Now, the Palo Alto-based startup is poised to step on the gas even more.
On Wednesday, Alchemy announced it has raised an $80 million Series B funding round led by global investment firm Coatue that values the company at $505 million. Other participants in the round include DFJ Growth, actor Jared Leto, the band The Chainsmokers, and the owners of Manchester United.
Even as Alchemy is creating buzz among investors, it is hardly a household name in crypto circles since its core product—a software package that lets companies plug into the Ethereum blockchain—is aimed not at consumers, but at others in the industry. The company likes to style itself as the AWS of blockchain, referring to Amazon's cloud computing service that is relied upon by everyone from Netflix to Uber. And like AWS, Alchemy's niche has proved to be lucrative.
"We are extremely, extremely profitable," said CEO and cofounder Nikil Viswanathan in an interview with Decrypt, though he declined to provide specifics about Alchemy's profits or revenues.
According to Viswanathan and his cofounder Joe Lau, Alchemy's special sauce lies in offering a simple way for firms of all sorts to write transactions to blockchain ledgers, a task that Lau says can be "10-100 times harder" than building an app in the conventional software world.
The pair enjoy an impeccable crypto and Silicon Valley pedigree, having graduated from Stanford University and worked at the likes of Facebook and Pinterest. In doing so, they built personal relations with the Robinhood founders and various tech and investment moguls.
This background may explain Viswanathan and Lau's smooth confidence and seemingly boundless ambitions. The pair say their mission is to "help users get the magic of blockchain," by stripping away many of the technical complexities involving nodes, debugging, and so on. They are also eager to anoint themselves as integral to the next era of computing, sharing a graphic that shows them inheriting the pole position roles of Amazon and Microsoft: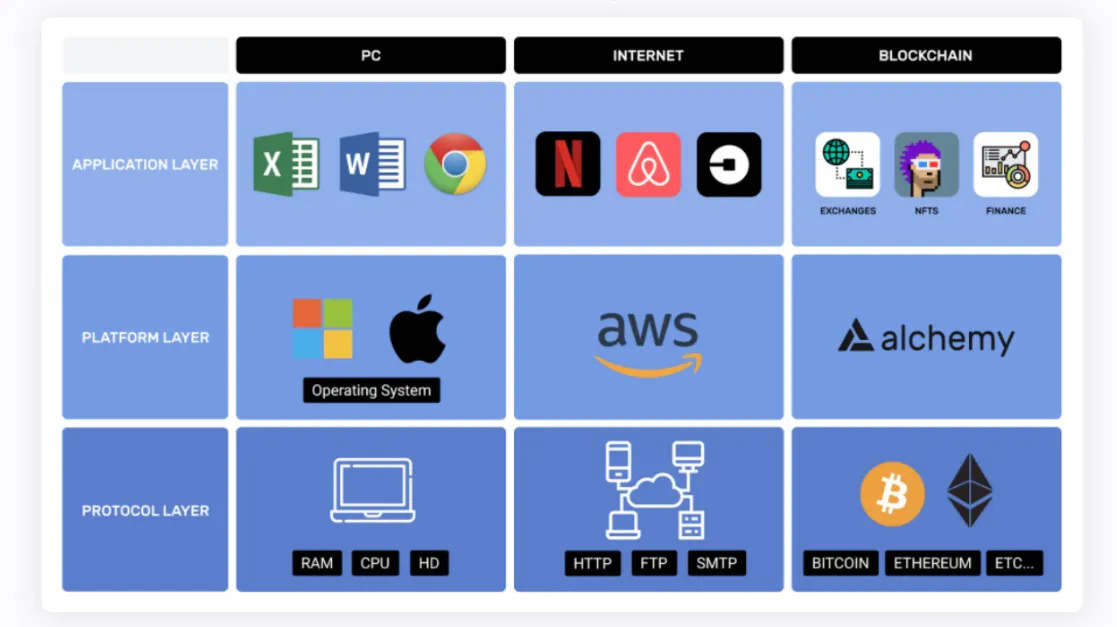 "We think Alchemy has pioneered critical infrastructure that has the potential to transform the blockchain industry. We believe the company is positioned to accelerate both innovation and adoption in the space," said Kris Fredrickson, the managing partner of Coatue, in a statement.
All of this may induce some eye-rolling among Silicon Valley veterans who have seen many a startup rise quickly and talk a big game, only to flame out months later. But for now, Alchemy appears to be the real deal.
Beyond Ethereum
The Alchemy founder say its tools power major cryptocurrency exchanges and are used by 60% of the top decentralized finance (DeFi) platforms. Alchemy is also deeply involved in the fast-growing field of NFTs, having providing early support to pioneering projects like CryptoPunks and CryptoKitties, while today selling its services to the likes of OpenSea, Nifty Gateway, and SuperRare. Viswanathan is quick to note that recent big money NFT transactions, notably sales by the artist Beeple and NFL quarterback Patrick Mahomes, relied on Alchemy's tech on the backend.
The company is also well-positioned insofar as few others offer a similar blockchain building kit. Its main competitors are typically identified as Consensys-backed Infura as well as Bison Trails, which was acquired by Coinbase earlier this year.
A person close to Alchemy, who asked not to be identified, said the company turned down an acquisition offer from Coinbase. The San Francisco-based crypto giant declined to comment on the matter.
For its next phase, the Alchemy founders say they plan to use the new funding to turbocharge growth. This will include offering its builder kit to several other blockchains beyond Etherum, which is its bread-and-butter, and Dapper Labs' new Flow offering. The company wouldn't disclose which chains it will cater too, but Viswanathan said it would target those with the "most developers and demand" and that the offerings would be unveiled in the next few weeks.
The Alchemy founders also noted that a growing number of Fortune 50 companies have been signing up for its free tier—a sign they say indicates that corporate America is poised to embrace blockchain in a major way.