In brief
Coinbase is one of the largest and most well-known digital currency exchanges in the world.
It's an accessible on-ramp for newcomers to the cryptocurrency space, but its fees are higher than those of rival exchanges.
It offers a number of additional services including the Coinbase Wallet app, Coinbase Pro and Coinbase Card.
What is Coinbase?
Coinbase is one of the largest and most well-known digital currency exchanges in the world. It's widely considered to be one of the most accessible too, as it allows users to purchase crypto using fiat currencies.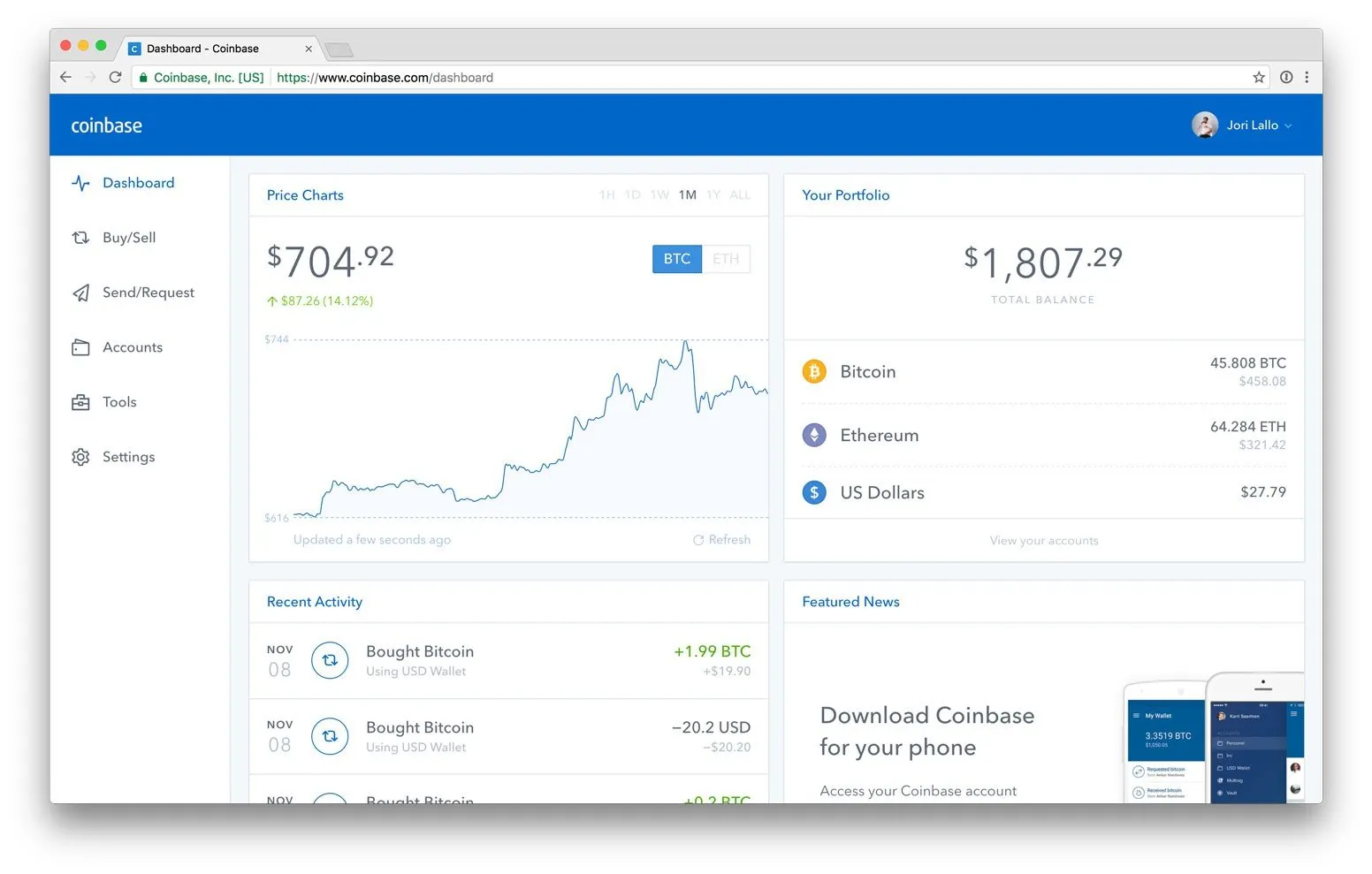 Founded in San Francisco in 2012, Coinbase increased its assets under management from $35 billion in 2020 to $90 billion in 2021, and posted a Q1 2021 profit of $730-800 million. The exchange went public via a direct listing on the Nasdaq in April 2021, with shares trading under the COIN ticker. 
In addition to its regular exchange the company also has a professional trading platform called Coinbase Pro (formerly known as GDAX).
Design and UX
The look and feel of a crypto exchange might seem like a strange thing to focus on, but exchanges with complicated or convoluted interfaces can be daunting enough that you'll actually feel nervous about making costly errors.

Thankfully, Coinbase has an incredibly clean, easy-to-use interface that's free from clutter and a breeze to navigate. Its dashboard shows you all the key information you're likely to need at a glance such as your portfolio holdings, price charts and recent activity, with easy access to trading features, tools and account settings on the side.
Overall, Coinbase's interface is one of the main reasons other than fiat purchasing support that makes it a solid choice for crypto newcomers.
Supported assets
Coinbase supports over 60 assets, though availability varies based on what territory you're in. It lists most of the big hitters, including Bitcoin (BTC), Ethereum (ETH), Uniswap (UNI) and Cardano (ADA). After a lengthy wait, Dogecoin (DOGE) was finally listed on Coinbase in June 2021.
There are a few notable omissions, however. Following the SEC's $1.3 billion lawsuit against Ripple, Coinbase suspended trading of XRP on its platform, though users can still send and receive XRP from their account. Of the top 10 cryptocurrencies, Coinbase has also yet to list Polkadot (DOT) and (perhaps unsurprisingly) Binance Coin (BNB). Coinbase has also held off on listing privacy coin Monero (XMR), with CEO Brian Armstrong explaining that the exchange's hesitancy is down to conversations with regulators and internal risk assessments.
Overall, Coinbase has a good selection of cryptocurrencies available, though its line-up pales in comparison to the range found on rival exchanges such as Binance.
Getting started
Kicking things off with Coinbase is a straightforward experience. Naturally you'll start by signing up with your name and email address, while setting up a password too. After verifying your address, you'll need to provide your phone number to receive a verification code, which you then have to enter to proceed. These verification codes can then be sent to the same number in future for more secure logins.
The next step might seem scary to total newcomers as it involves proving your identification by providing state ID. In the US, that means you'll have to share your social security number.
Rest assured that this is a normal process that's just just like opening up any bank or investment account. Once that's all done, congratulations—you're the owner of your very own Coinbase account. 
Ease of use
The next step is to add your bank account, credit, or debit card information to allow you to make deposits and withdrawals, for trading and/or investing. Again, this process is very easy and intuitive, and should pose no problems.
You can add your bank account by opening up your 'Payment Methods' page, and selecting 'Link a New Account', and choosing 'Bank Account'. Select your bank, fill in your login credentials, and boom—your bank account is now linked to Coinbase. Adding a debit card is just as easy—just select to add a debit card, fill in the information, and you're good to go. Note that credit cards are no longer supported.
Once you're sorted on the bank account/card front, you can go to the 'Buy' section, browse for the crypto you'd like to buy, select your preferred payment method, confirm the details, and hit 'Buy now'.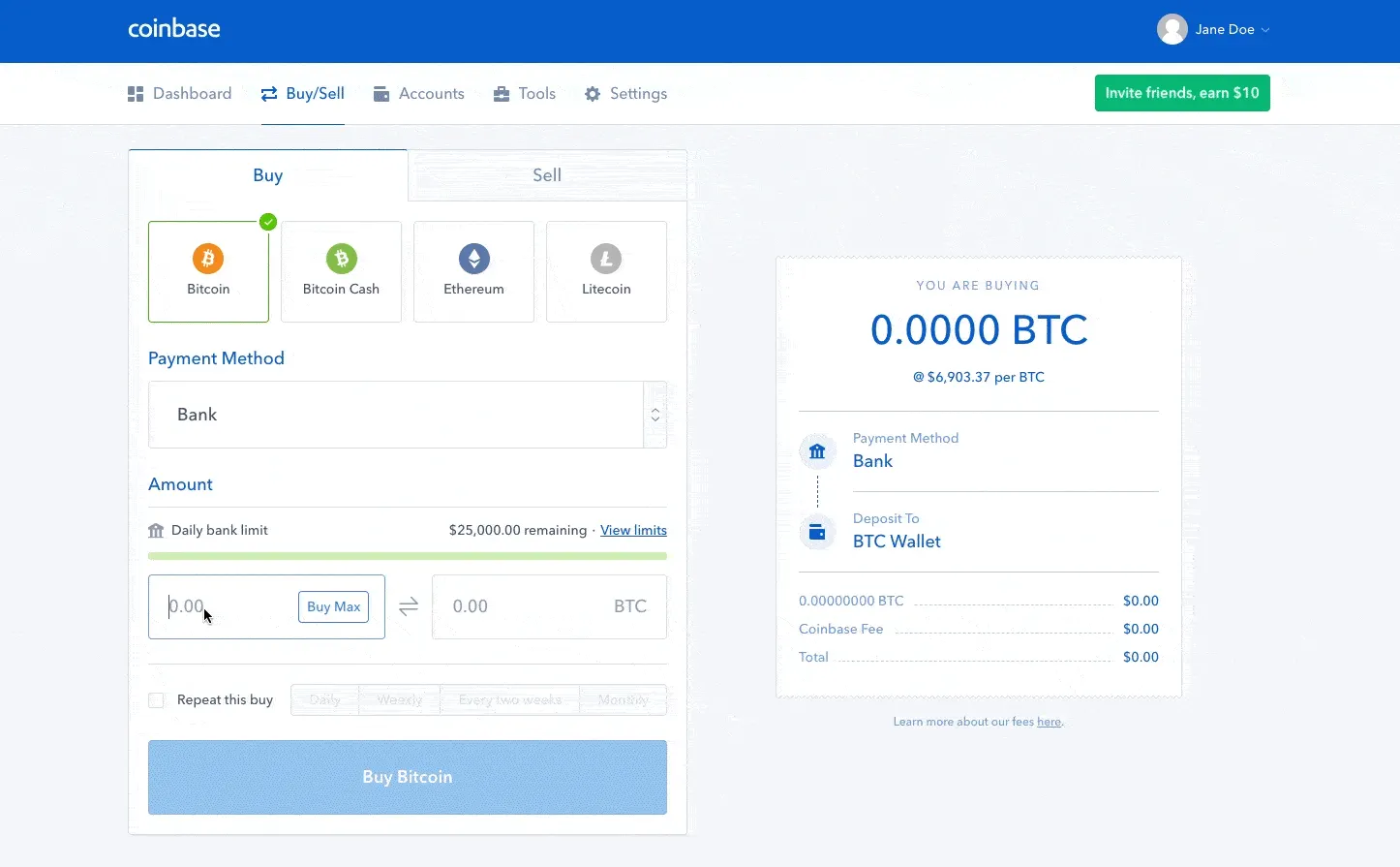 Each purchase incurs a transaction fee (outlined in detail here), which may be higher than other exchanges. If you've bought $100 of Bitcoin, for example, your fee would be $2.99. Given how easy Coinbase is to use and set up, this could be viewed as an acceptable cost by beginners who have yet to broaden their trading experience. 
Selling is just as easy. Simply select the 'Trade' button, hit 'Sell', choose the crypto you want to sell, and sell it to your USD wallet. Select the wallet, choose 'Withdraw' and you can cash out the funds to your account too.
Is Coinbase safe?
Safety is never 100% guaranteed, but as crypto exchanges go, Coinbase is one of the safest options out there. It's the world's largest Bitcoin exchange and broker and is backed by trusted investors. The fact that it's located in San Francisco (a highly regulated location) is another welcome bonus.
To date, the company has never experienced a hack, which is an impressive record, to say the least. Part of this robust security record is due to the fact that 98 percent of customer funds are stored offline in cold storage (aka disconnected from the Internet), protecting them from nefarious online thieves. In addition, drives and paper backups are distributed geographically in safe deposit boxes and vaults around the world.
Having said all that it's worth noting that cash held in Coinbase wallets is FDIC insured up to $250,000. Crypto, however, isn't insured, so unless you plan on day trading, you should always store your coins in an appropriate wallet after purchasing.
Is Coinbase good for privacy?
While highly praised on the security front, Coinbase's privacy track record is less impressive to those people who've been drawn to crypto on its promise of anonymity.
There's no shortage of reports that claim that Coinbase tracks how its users spend Bitcoin. Indeed, the point was proved in May 2021, when the company provided information on a user's account to the FBI in response to a subpoena in a murder-for-hire case. 
Coinbase's acquisition of Neutrino—a blockchain-tracking startup—has done little to change the minds of privacy advocates.
Neutrino is a company that focuses on analyzing blockchains with the goal of revealing the identity of address owners. Coupled with the news that Coinbase wants to sell its blockchain analytics software to the DEA and IRS, it's clear to see why privacy alarm bells are (very loudly) ringing. 
Coinbase customer service
When Coinbase works, it works very well. But when things go south, the exchange's customer service has been found wanting by some users. On the r/coinbase subreddit, there are a number of complaints from disgruntled users, who report being unable to access their accounts, having had their accounts locked, and waiting on slow responses from Coinbase Support.
In June 2021, a group of Coinbase users went so far as to file a class action lawsuit against the exchange, claiming that the company wrongfully locked them out of their accounts for several months. In response, a Coinbase spokesperson stated that, "We take all customer concerns seriously. We are aware of the complaint and are reviewing the allegations, but we have no further comment at this time."
Decrypt has some experience in this area. One writer's relative had their Coinbase account locked after being told they were "ineligible" to use the exchange; they were left unable to buy, sell, or move the cryptocurrency they'd purchased to an external wallet. Coinbase Support responded to inquiries stating that they were "not able to provide specific details" relating to the review process, and subsequently shut the support ticket after two months, without enabling the user to withdraw their purchased cryptocurrency.
In the end, the situation was only resolved when the writer contacted Coinbase's press office to flag up the issue (not an option available to most users). The account, Coinbase explained, had been suspended "to protect against loss, because once funds are sent off our platform, we have no way to reverse those transactions."
During this exciting time in the cryptoeconomy, we're seeing a lot more people reaching out to Coinbase Support. This isn't the ideal experience and we'd love to further explain what's going on and how we're committing to doing better. https://t.co/XvKtZe3B0N

— Coinbase Support (@CoinbaseSupport) January 15, 2021
To its credit, Coinbase is aware of issues relating to customer support, and has committed to turning around delays in its response time, including expanding its support team and announcing plans to launch a chat function to enable users to communicate directly with Coinbase Support.
Coinbase downtime
Like many exchanges including Binance and Kraken, Coinbase has suffered from periods of downtime—frequently coinciding with periods of elevated price volatility in the crypto market.
The reason is likely down to surges in traffic placing extra load on the exchange, coupled with the fact that unlike traditional trading platforms, crypto exchanges are expected to operate 24/7—leaving limited opportunities to carry out maintenance on infrastructure.
According to a January 2021 blog post, Coinbase has a number of fixes in the works to address downtime issues, including "decomposing our monolithic application server into separate discrete services."
However, Coinbase's efforts appear to have met with limited success; during the May 2021 market crash, Coinbase (along with other centralized exchanges) experienced "intermittent downtime" in the face of high trading volumes
If you're planning to take advantage of fluctuations in the market in order to trade, it remains best practice to keep your crypto in a wallet that you control, rather than on Coinbase (or any exchange). There are a number of possible options, including web wallets, mobile wallets (such as Coinbase's own Coinbase Wallet; see below) and hardware wallets.
Coinbase Wallet
Coinbase Wallet is a standalone cryptocurrency wallet for iOS and Android that anyone can download, regardless of whether or not they have a Coinbase exchange account. It's an alternative to other mobile wallet apps that let you store crypto, and the private key to your funds is held on the smartphone itself, putting you completely in control of your funds (unlike storing coins on an exchange).
As with the exchange, the Coinbase Wallet is easy and clear to use, letting you store, send and receive the likes of Bitcoin, Ethereum, XRP, ERC20 tokens and more, with the ability to back up your private keys to the cloud if you accidentally lose your recovery phrase. If you do happen to have a Coinbase account then you have the option to link it to your wallet to access your funds there too.
Coinbase Pro
Coinbase Pro is Coinbase's alternative exchange aimed at more experienced users, with more trading options. Despite being a separate exchange, users can still transfer funds between their regular and Pro Coinbase accounts.
In addition, Coinbase Pro actually offers lower fees than the regular Coinbase exchange while providing more options, albeit at the cost of a more intimidating interface.
Starting today, Coinbase Pro customers in 23 US states can access up to 3x leverage on USD-quoted books. Trading crypto on margin (or leverage) can amplify the impact of your trades by allowing you to borrow additional funds. https://t.co/RZTiV0eUpf

— Coinbase Pro (@CoinbasePro) February 12, 2020
While Coinbase is simplistic in nature, Coinbase Pro has more mechanics when buying and selling, letting you choose your own market prices. This lets you, for example, set a buy price that's lower than the higher Coinbase rate and more in line with the rest of the market, with lower fees to boot.
If you really want to sell without spending a little time setting up your buy and sell orders in this manner, you can always choose to sell at the market price, although that offers the same experience as the regular Coinbase exchange.
Long story short? You'll get a better deal using Coinbase Pro. Don't be put off by the fancy interface and graphs which—while intimidating at first—actually don't have a large part to play during simple, immediate transactions.
If you're a more experienced trader, check out our full review of Coinbase Pro.
Coinbase Card
Coinbase also offers UK and some European residents the ability to sign up for Coinbase Card, a Visa Debit card that's linked to your Coinbase account. The card lets you spend any cryptocurrency stored in your Coinbase account, automatically converting crypto to fiat currency at the time of payment.
Currently, you can use the card to buy things in-store and online using any of the cryptocurrencies held in your Coinbase wallet, with contactless payments and Google Pay (although not Apple Pay) support to boot. With the option to earn back 4 percent in XLM or 1% back in BTC.
However, thanks to its high fees we'd say that this card is more of a novelty for now, and should be treated as a simple way to show people the potential of wider crypto adoption. With the US launch of the card announced in October 2020, US residents can now sign up for the Coinbase Card waiting list.
Verdict
Coinbase is one of the world's largest crypto exchanges for a reason. It offers a very simple fiat entry point into the world of crypto trading, bolstered by a simple interface and sign-up process, not to mention an incredible security track record.
The price for this convenience, however, is a gray area surrounding its privacy practices, not to mention some of the highest transaction fees around.
In some ways, Coinbase has been a victim of its own success; its user base has grown so rapidly as a result of the recent crypto bull run that its infrastructure and customer support have struggled to keep pace with increased demand. Coinbase claims it's taking steps to remedy its deficiencies in these areas, and we'll check back to see how successful they've been.
Another consequence of its rapid growth is that it's accumulated a slightly confusing array of apps; to a newcomer, it's tricky to distinguish between Coinbase itself, Coinbase Pro, and Coinbase Wallet, though they offer very different services to very different audiences.
Coinbase remains a solid exchange that we'd recommend to crypto first-timers looking to dip their toes into buying, holding and selling. Once you've gained some experience, though, it's well worth exploring some of the other options out there, such as Gemini, Kraken and Binance.
Star rating: 4/5