In brief
Coinbase offers three different apps.
Each one has their own purpose and target market.
San Francisco-based crypto exchange Coinbase is one of the only regulated crypto offerings for US citizens and offers over ten products for both retail and institutional clients. But newcomers to Coinbase are usually left confused.
While three of the firm's retail products—Coinbase, Coinbase Pro, and Coinbase Wallet—may sound like they serve the same function, they actually cater to distinct audiences. This short guide tells you what each app does and who it's designed for.

The main Coinbase app

Coinbase's main app is known simply as "Coinbase." It lets you buy a range of cryptocurrencies, store them in its in-built wallet and trade them for other coins. It is the main app for retail investors who want to buy small amounts of cryptocurrency. It's available both as a mobile app or as a web interface.

The app, however, is relatively expensive (particularly for small transactions). When buying or selling cryptocurrency, the app charges either a flat fee between $0.99 to $2.99 or a fee that varies depending on a number of factors, whichever is greater. On top of that, it charges a 0.5% spread on the sale. This is where you pay more for the cryptocurrency you're buying than the market rate—and Coinbase pockets the difference.
So, if you're buying $25 of cryptocurrency, you'll probably pay a fixed fee of $1.99 plus $0.12 in the spread—totalling $2.11, or around 8.4%.
On the other hand, the app is very easy to use and it has an excellent design. It's very simple to interact with and cuts out the confusing aspects of blockchain technology. It also has an Earn section where you can learn about the various coins it has on offer and get rewarded with some of those coins—making back some of those pesky fees.
Coinbase Pro for advanced trading
Coinbase Pro turns this crypto experience up a few notches. Unlike Coinbase's main app, this product is an advanced trading platform suitable for retail and institutional investors alike.

Coinbase Pro lists over 43 cryptocurrencies over 125 trading pairs and the ability to view historical trading data and put on "limit" orders—a feature that allows users to specify exactly what price they want to buy or sell a coin at. There's also an API key offered for algorithmic traders to build their own automated trading systems.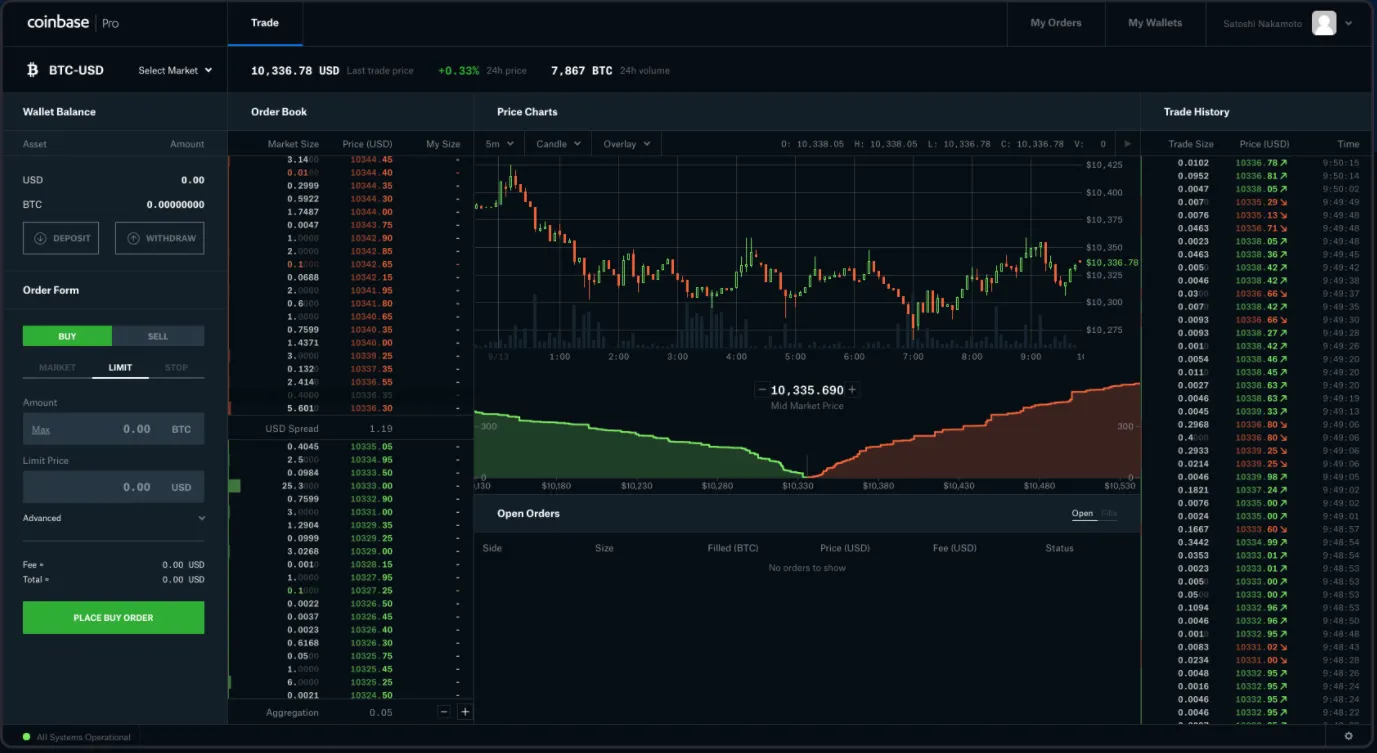 Pro has lower fees compared to Coinbase and is one of the world's most liquid crypto exchanges. It is typically cheaper to send fiat money into Coinbase Pro and buy using its platform than it is to use Coinbase's main app. But, it's a bit more technical because you have to know how to make trades—and it's easy to make mistakes if you don't know what you're doing.

You can also send your funds between Coinbase's main app and Coinbase Pro very easily and for free. You simply go to deposit or withdraw funds, select your Coinbase amount and choose how much you want to transfer between them. This means you can buy cryptocurrency on Coinbase Pro and transfer it to Coinbase, if you want your funds to sit in the more user-friendly wallet.
Over $9 billion worth of crypto traded on the exchange yesterday, as per markets tool CoinGecko, meaning users have a regulated, safe, and highly-liquid entryway into the crypto market.
Coinbase Wallet: for crypto lovers

Coinbase Wallet is another wallet that does one thing differently. Instead of Coinbase looking after your cryptocurrency on your behalf, Coinbase Wallet lets you actually possess your own coins.
This is one of the cool things about cryptocurrency, you can actually own it—a bit like having dollars stuffed in your wallet. Every cryptocurrency is controlled by one thing, a private key, and this is a long string of alphanumeric digits that effectively act as your password, enabling you to spend your coins. You can also store this private key as a seed phrase, or a list of 12-24 words.
The good thing about this is it means you are in control of your own money, you look after it and you can do whatever you want with it. The drawbacks are that if you make a mistake, you could lose your money. For example, if you don't keep a safe record of your seed phrase and you lose your phone, you would lose your funds. So, there are risks.
Coinbase Wallet lets you store Bitcoin and Ethereum, as well as all ERC20 tokens (or tokens issued on Ethereum) and crypto-collectibles conforming to the ERC721 token standard (such as digital art or NFTs issued on Ethereum).
So there's why Coinbase offers three retail-focused platforms. They are all entryways for new users into the burgeoning crypto market, but offer different products based on each user's individual needs and privacy requirements.