In brief
Coinbase Wallet is a cryptocurrency wallet and dapp browser for iOS and Android devices.
It features a streamlined, clean interface with the ability to send and receive crypto to a simple username.
The dapp browser's usability is largely dependent on the UX of the dapp in question.
Jump to
A new Internet is being built. One where you have control over your own money, data and identity. And the way to enter the Matrix—or rather, Web3—will be through browser wallets like MetaMask and Coinbase Wallet.
The problem is, Web3 is still being built. Decentralized apps (dapps) are in their early stages—facing UX challenges and low user numbers. As a result, the blockchain app revolution has stalled a tad. But, companies are ploughing ahead anyway—jostling to become the de facto entry point into Web3.
One such company is crypto exchange Coinbase, and in this review we examine if its Wallet is helping or hindering the next generation of dapp browsers.
What is Coinbase Wallet?
Coinbase Wallet is a mobile wallet for storing cryptocurrencies, available for both iOS and Android devices. It supports Bitcoin, Bitcoin Cash, Litecoin, Ethereum, Ethereum Classic, XRP, Stellar Lumens, Dogecoin, as well as all ERC20 tokens (including USDC and DAI). Previously known as Toshi, Coinbase Wallet was rebranded by Coinbase in August 2018.
It's a separate and distinct product from the native wallet included in the main Coinbase app—meaning that there's both a Coinbase wallet, and Coinbase Wallet.
Coinbase Wallet's key distinguishing features include its simple username for sending and receiving crypto, and its support for decentralized apps through an included dapp browser—of which more later.
Getting started with Coinbase Wallet
Setting up the wallet is a fairly simple process. Upon launching the wallet for the first time, you'll be given the option to create a new wallet or recover a wallet using your recovery phrase. Click "create a new wallet" and you'll be prompted to review Coinbase's terms and conditions and privacy policy. Click "accept" and you'll be taken to a screen where you can choose your username.
Once you've picked your username, you'll be given the option to set your privacy preferences. You can choose either a public profile, which lets other Coinbase Wallet users search for your username and send you cryptocurrency, or a private profile, which prevents other users from searching your username.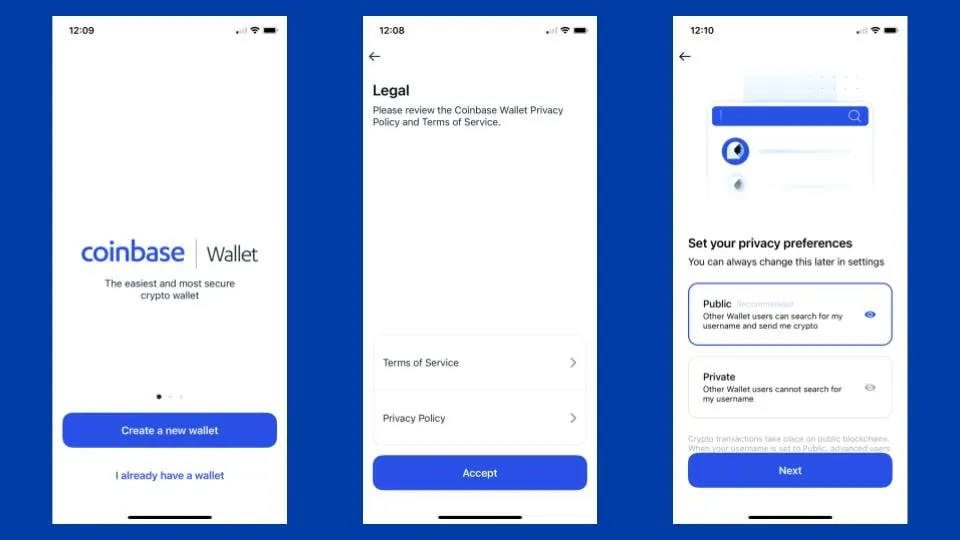 Click "Next" and you'll be prompted to secure your wallet using either a passcode or biometric security, such as Apple's Face ID.
Finally, you'll be given the option to back up your wallet. Your backup takes the form of a 12-word recovery phrase, which can be saved in encrypted form on iCloud (on Apple devices) or Google Drive (on Android devices), and accessed with a password. Alternatively, you can simply write down your recovery phrase and store it in a safe place.
You can skip this step, but it's important to note that if you lose your recovery phrase, you'll be unable to recover your Coinbase Wallet or migrate it to a new device.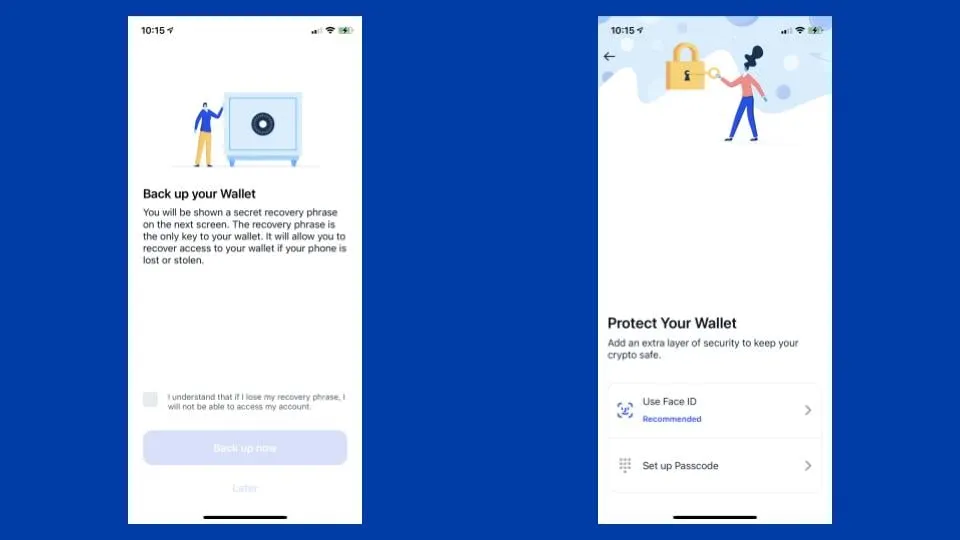 Once the wallet is set up, the user interface is classic Coinbase: simple, and easy to use, it makes the cluttered crypto world feel like something your gran could use.
The homepage shows what coins you hold in the wallet, a second tab takes you to a list of your crypto collectibles (non-fungible tokens, or NFTs, such as CryptoKitties).
You also have the option of connecting your Coinbase account to your Coinbase Wallet; to do this, click on the settings icon on the bottom right of the homescreen and then click "connect account". You'll then be required to authorize your Coinbase account by logging in. This will enable you to transfer funds from your Coinbase account with one click (though it's worth noting that as Coinbase Wallet is a separate wallet, you'll still incur fees when moving your crypto from one to the other).
Making and receiving payments is a straightforward process. To send crypto, you simply choose your cryptocurrency of choice, select the amount you want to send, and pick the recipient. You can either scan a QR code or enter a long-form address, or use Coinbase Wallet's own username system, which is simplicity itself; just search by username and pick your recipient from the list. There's also the option of sending to Ethereum Name Service usernames.
Receiving crypto is as simple as it gets with crypto wallets, too. Again, pick the cryptocurrency you'd like to receive from the list of options, and a QR code and address will pop up, with the option to share your address. Of course, another Coinbase Wallet user can just enter in your username and send crypto directly to that, instead.
How safe is Coinbase Wallet?
Unlike Coinbase itself, Coinbase Wallet is a user-controlled, non-custodial product. That means, ultimately, that it's as safe as you make it.
The wallet creates a 12-word recovery phrase when you initially set it up, and it's your responsibility to keep it safe; anyone in possession of the recovery phrase can gain access to the wallet and the funds it contains by setting it up on a new device.
Coinbase Wallet offers the option of saving an encrypted, password-protected version of the recovery phrase on either Google Drive (for Android devices) or iCloud (for Apple devices).
You're also required to secure Coinbase Wallet with either a six-digit passcode or biometric security such as Apple's Face ID. This is used to lock either transactions, or access to the app (or both—but one of the two options must be selected).
Diving into Coinbase Wallet's dapp browser
The other standout feature of Coinbase Wallet is its dapp browser. This is simply a web browser that enables the wallet to interact with websites you're visiting; it's similar to any normal browser, with a search bar at the top, back and forward buttons, and a home button. It should be simple; and when interacting with dapps, it is. But there are one or two complicating factors.
First off, iOS users are forced to jump through some pointless extra hoops to get to the dapps in the first place. If you're using an Android device, you're greeted with a polished App Store-style homepage, with links to popular dapps such as Uniswap and CryptoKitties. Unfortunately, according to Coinbase CEO Brian Armstrong, Apple has prevented Coinbase from providing the ability to earn money using cryptocurrency, and the ability to access decentralized finance apps. What that means is that Coinbase has to hide the links and let users find their own way to dapps.
Here is the issue. Apple has told us we cannot add the following functionality in our iOS apps: (1) the ability to earn money using cryptocurrency and (2) the ability to access decentralized finance apps (sometimes called DeFi apps or Dapps).

— Brian Armstrong (@brian_armstrong) September 11, 2020
The upshot is that upon opening Coinbase Wallet's dapp browser, iOS users are greeted with a blank bookmarks screen, and have to navigate to dapps using the browser's address bar. It's an extremely unintuitive user experience—and it's worth noting that it's Apple's policies that are at fault here, not Coinbase, though Coinbase could perhaps put some sort of explainer text on the dapp browser start page for Apple users.
It also adds a completely unnecessary element of risk to using the dapp browser, since copying and pasting addresses, or typing them into the address bar, could lead to the user making mistakes and arriving at phishing sites.
Even the Android version isn't entirely user-friendly, however; the dapp browser start page is missing a search bar to find a specific dapp. Clicking on a dapp brings up a simple description, with a follow-up click taking you to the website.
With regular apps, that experience would lead to an app being installed on your device. But in dapp land, you're directed to a mobile web version of the dapp, inside the wallet browser. That means that most of the space is taken up by the chunky nav bar at the bottom of the screen, leaving a pitiful amount of space for the app itself. Plus, not all dapps are mobile-friendly, making it feel like you're surfing the web in 1997.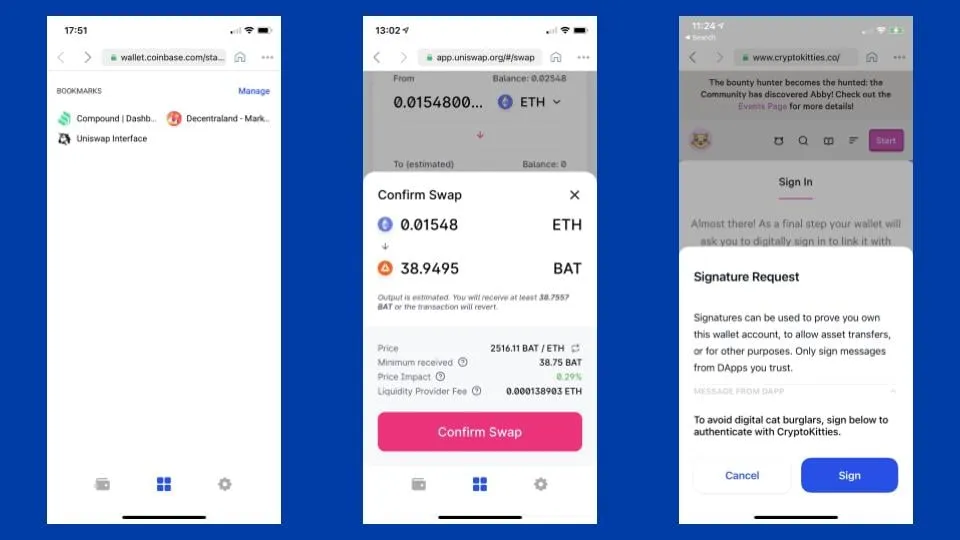 And it throws up roadblock after roadblock. MLB Crypto Baseball—which sells crypto collectible baseball players—hangs on a revolving baseball. Oasis.app, accessed through MakerDAO, initially appears to let you connect your wallet within the dapp—but it turns out that what you actually need to do is use the WalletLink protocol.
That requires that you visit the desktop website, open a QR code, open WalletLink within Coinbase Wallet, and scan the QR code in question and sign a transaction. Once you've done all that, you're able to access the site (though the interface is still very clunky).
Meanwhile, attempting to buy a CryptoKitty yields up the message "Oops, looks like this transaction is invalid", followed by a pop-up instructing you to "Complete this transaction in your wallet" (we tried this on both iOS and Android devices, with the same result).
Fortunately, some dapps realize the promise of Web 3. Swapping some ETH for BAT on decentralized finance (DeFi) app Uniswap, for instance, is a matter of a couple of clicks and a Face ID scan, and goes a long way to illustrating the potential of DeFi paired to a user-friendly interface.
Coinbase Wallet: Verdict
When it comes to sending and receiving cryptocurrency, Coinbase Wallet does its job very well; it has a slick user interface, and the ability to send and receive crypto with a simple username makes the process very streamlined.
As an on-ramp into the world of dapps, however, it falls short—though it's not entirely Coinbase's fault. iOS users face additional roadblocks thanks to Apple's baffling intransigence. But even using an Android device there are unnecessary complications around what should be simple transactions, like buying an NFT.
As long as the dapp experience stays like this, the wallet will be very frustrating to use. Once dapp developers can get their act together—and start to understand the importance of UX—Coinbase Wallet will be a good entry point. But for now, it's still ahead of its time.
Rating: 4/5