In brief
The Sandbox is an Ethereum-based metaverse game that lets users buy virtual land and customize it with playable games and experiences.
Celebrities and brands have flocked to the space, including Snoop Dogg, Adidas, Paris Hilton, The Walking Dead, Gucci, and more.
The metaverse is coming! Excitement and speculation around the immersive future internet has skyrocketed since Facebook rebranded as Meta and unveiled its own vision for the space—but crypto creators have been building towards the metaverse for years.
One of the most anticipated projects in the space is The Sandbox, an Ethereum-based video game that lets users own a piece of the world in the form of a non-fungible token (NFT)—and they can use those LAND parcels to develop custom games and locations, and even monetize them. It's similar to Decentraland, albeit with more of a pronounced video game-like look and feel to it.
After several years of development, The Sandbox is finally nearing release, bringing along celebrities and brands like Snoop Dogg, Adidas, The Walking Dead, and Ubisoft along for the ride. Here's a look at how The Sandbox works, how you can get involved, and which famous faces you might run into in this upcoming metaverse world.
What is The Sandbox?
The Sandbox is an open-world video game on PC, Mac, and mobile devices that will let players freely explore a map consisting of thousands of unique experiences. It looks a bit like Microsoft's smash hit Minecraft, featuring blocky characters and worlds that resemble retro game pixels brought into 3D, but The Sandbox will have a persistent and shared online map.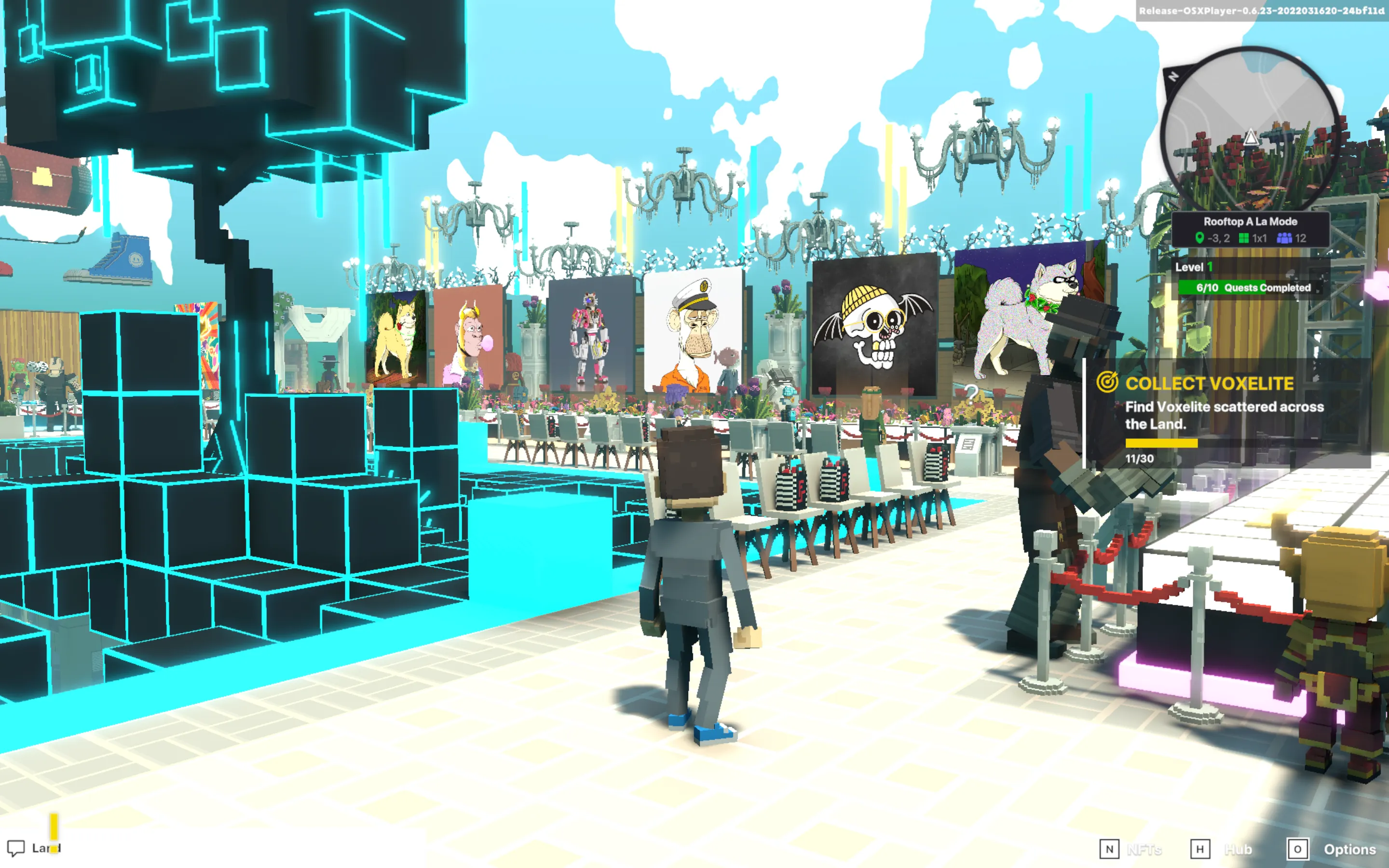 However, it won't be the original developers of the game that create most of those locations and games on the map. Each LAND parcel in the game is an NFT that can be purchased and used to create custom experiences. Some will be operated by brands or communities, while others may hail from individual creators who want to carve out their own personal space in this metaverse world.
We're likely to see virtual events in The Sandbox's world, including those confirmed from Snoop Dogg and Warner Music Group artists, as well as NFT launch parties and other live experiences. It could become an immersive hub for the wider Web3 community.
What is the metaverse?
The metaverse refers to a future, more immersive version of the internet, which is envisioned to be experienced via avatars in shared 3D spaces. Proponents of this potential future online world believe that we will socialize, shop, play, and even work within metaverse environments.
That said, the term "metaverse" and how it will actually take shape are a bit nebulous for now. For crypto builders, the metaverse implies a series of worlds based on blockchain technology that use open, interoperable technology. In those types of environments, NFT assets like avatars, virtual apparel, and other items could potentially be used across worlds and games.
An NFT works like a deed of ownership for an item, including digital goods like artwork, videos, profile pictures, and video game items. Gaming is a growing sector in the wider NFT market, with other games like Axie Infinity and Zed Run using NFTs for in-game assets.
While Web3 advocates highlight the potential for an open, interoperable metaverse built on blockchain technology, it's unclear whether the tech giants entering the space, like Meta, share those ambitions—although the company did highlight NFTs in its presentation. Meta and other large centralized players could instead focus on immersive virtual and augmented reality (VR/AR) experiences, with limited interoperability.
How does LAND work?
LAND is what The Sandbox calls its parcels of virtual terrain, and the map is enormous: there are 166,464 individual plots in the world. Each is represented by an Ethereum NFT and can be freely traded and resold on marketplaces (like OpenSea). There are different sizes of LAND, including Estates, which can house much larger locales and experiences.

If you own a plot of LAND, then you can build whatever you'd like on it: interactive games, virtual meeting spaces, and quite a bit more. The Sandbox has launched building tools that let creators design terrain and build in game mechanics, and you'll even have the option to monetize the experiences that you create. You could also buy up a bunch of LAND and rent it out to other builders, if you please.
Did you know?
The Sandbox first began life as an open-world mobile game in 2012 from the same founders, albeit without any blockchain or NFT elements. The latest version is a totally new game.
What's so special about it?
We haven't seen the full experience come to life yet, but part of what gets some people excited about The Sandbox is the ability to own a personal space in a shared game world. You'll be able to wander around and visit other user-created spaces, hang out, and socialize—plus the user-owned aspect of it means that the game world can constantly shift and change.
For creators, it's an opportunity to build games and share them with an audience of fellow players. For LAND owners, it's a potential chance to make some money too. And for fans of NFTs and the Web3 community, it provides a shared space to soak in the culture and interact with others who are into the same kind of stuff.
Who's in The Sandbox?
The Sandbox has spent the last couple years gradually amassing an ever-growing list of partners, and it's a real grab bag of franchises, brands, and celebrities.
We already mentioned Snoop Dogg, Adidas, The Walking Dead, and game publisher Ubisoft. Here's a handful of other partners that are building within the space: The Smurfs, Atari, Paris Hilton, Warner Music Group, World of Women, Deadmau5, Gucci, South China Morning Post (SCMP), game maker Square Enix, metal band Avenged Sevenfold, Care Bears, and TV series Hell's Kitchen.
It's kind of an odd mix, all put together like that, but the vastness of the world and the user-generated aspect means that there's bound to be a lot of variety in the world. Crypto collectors like Whale Shark and Pranksy have taken sizable chunks of the map, too, while crypto brands like Gemini, Binance, Ledger, and Socios are in the mix.
How to buy The Sandbox NFTs
While the game itself hasn't launched yet, The Sandbox has been selling NFTs for a couple years now in advance of the eventual full rollout. The project hosts occasional LAND sales that let prospective players and investors buy on the primary market, or you can look to secondary marketplaces to purchase LAND and other assets.
For example, leading NFT marketplace OpenSea lists more than 100,000 parcels of LAND as of this writing. Additionally, you can purchase other NFT assets for use in the game, such as avatars and items. Snoop Dogg, for example, has sold a series of 3D NFT avatars based on his likeness, which are likewise currently available via OpenSea and other marketplaces.
The future
The Sandbox has yet to announce a firm date for when it plans to open up the entire experience, but it's believed to be later in 2022 at the earliest. In the run up to a full launch, the game began hosting limited "alpha" playtest windows in late 2021.
As of this writing, The Sandbox has hosted two of those alpha playtest periods, each lasting a few weeks and opening up a small selection of curated experiences to the public. For example, in the last session, there were over 35 different worlds to explore, including experiences from Snoop Dogg and the SCMP, plus an NFT museum anchored by World of Women imagery.
While free to explore and experience, only people who purchased an Alpha Pass NFT were eligible to receive play-to-earn token rewards for completing quests. In other words, you have to spend money to make money (tokens), but the game itself is free to play.
In our time exploring the alpha worlds, we found that the most compelling experiences were those that felt immersed in NFT and Web3 culture, such as the aforementioned museum and also a dance club adorned in NFT artwork from various collections.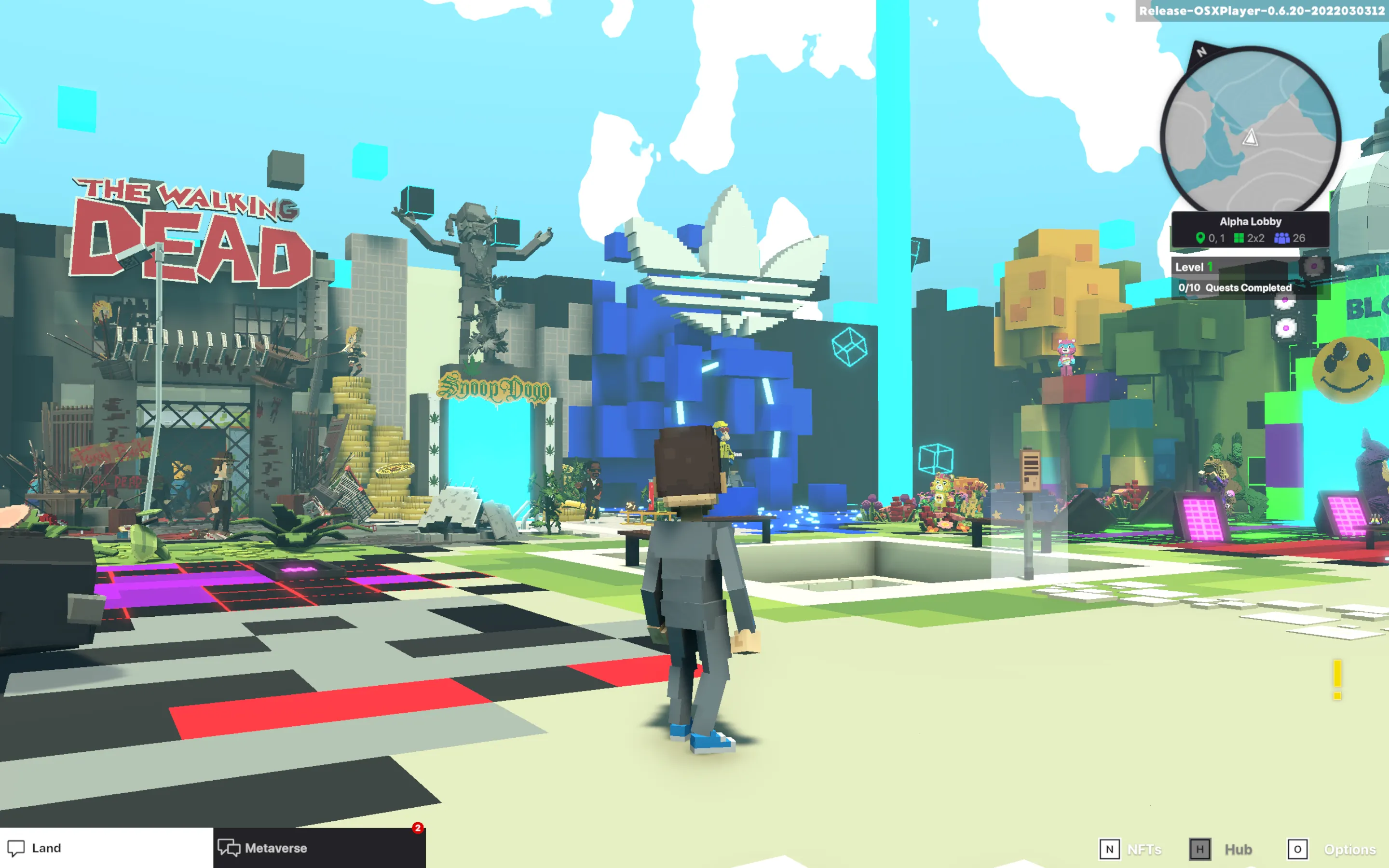 On the other hand, games with more complex gameplay mechanics—like combat and jumping—sometimes felt clumsy and unpolished. It's early, however. And as the wider game world takes shape and more builders come in, there's bound to be a much greater variety of things to see and play. Hopefully, the standard of quality only rises over time.
The Sandbox currently has all of its NFT assets on the Ethereum mainnet, but it plans to transition to sidechain scaling solution Polygon before the full game launch to cut down on transaction fees and energy consumption. Between that move and wanting to give LAND owners more time to build, the full game launch could still be some time away.
"The metaverse needs to be built by the people," The Sandbox co-founder and COO Sebastien Borget told Decrypt in December 2021. "Once they're building with our tools and they create experiences that will be ready to be open to the public—and we're live on layer-2 for publishing experiences on their LANDs—I think that will be a great time to start."
Even if that's months away, it may still be one of the most prominent metaverse experiences when it fully launches. Facebook's announcements sent metaverse LAND sales surging and boosted the price of The Sandbox's SAND token, but it could be many years before Facebook's own metaverse vision comes to life. The Sandbox may have a sizable head start.