In brief
Blockchain-based game The Sandbox has been selling virtual LAND parcels.
Crypto exchange Binance and NFT collector WhaleShark are the top owners to date.
Decrypt spoke with The Sandbox and Binance reps about the push for ownership.
There's a real estate boom right now, and it's happening in the world of crypto. Animoca Brands' The Sandbox is one of the most promising blockchain-driven games on the horizon, and in addition to netting partners as diverse as Final Fantasy developer Square Enix and the Care Bears, the game has also cleared through a few token pre-sales to date.
Most of the pre-sales are for LAND, the game's virtual properties in its Minecraft-esque shared voxel world, which can be developed into interactive games and experiences, monetized, rented out, and sold as desired. So far, The Sandbox has raised more than $1.5 million via the sale of LAND tokens. Each of these tokens is unique and differ from traditional cryptocurrency tokens because they are non-fungible. In the blockchain gaming world, they are referred to as "NFTs" (shorthand for non-fungible tokens).
While The Sandbox hasn't officially opened to the public yet, a pair of very different LAND barons have already emerged: the world's largest cryptocurrency exchange by volume, Binance, and NFT collector and $WHALE creator WhaleShark. Binance is the single largest owner of LAND in the game to date, but WhaleShark and his diverse Vault of blockchain NFTs isn't far behind.
"We're thrilled to have larger partners with 'skin in the game' through LAND ownership," Sébastien Borget, Chief Operating Officer and co-founder of The Sandbox, told Decrypt. "Leveraging their communities and engaging their users in novel ways makes a lot of sense—creating together a brand new field of entertainment that brings more freedom to players and can reward them via economical incentives, supported by our $SAND tokens."
Binance and The Sandbox have been recently intertwined, with the exchange hosting a $3 million sale for the game's $SAND tokens and then buying 4,012 of its own LAND tokens. According to Borget, Binance's involvement is boosting the profile of the game and its unique economy before it even goes live to the general public.
"Binance is acting as a catalyst and amplificator of our vision—bringing the concepts of play-to-earn, creating games, earning rewards, and tokens to new audiences," he said. "Binance is the largest global exchange; it has points of presence and active communities on every continent and many countries/regions of the world where The Sandbox team hasn't yet proactively started any promotion or marketing."
WhaleShark is a different kind of LAND owner. The mysterious figure created $WHALE, described as a "social currency" built around NFT ownership, with his own personal collection of digital assets held in the Vault. His Sandbox LAND tokens are in there, along with in-game assets from other blockchain-driven games such as Gods Unchained and CryptoVoxels, as well as artwork from Super Rare.
The Vault is estimated to contain just shy of $1 million worth of NFT collectibles, via crypto data firm Messari and NonFungible.com, while $WHALE now has a market cap of $34.6 million according to CoinGecko. That market cap has doubled in the last week alone. Although WhaleShark did not respond to a request for comment, Borget—who recently introduced a "Collecting Like a Whale" panel discussion that WhaleShark featured in—discussed the collector's unique vision.
"WhaleShark is a thought leader in the space, well-recognized for being a proactive collector who works to create more value, awareness, and influence in the space," Borget said. "Whale Shark understands particularly well The Sandbox vision and has demonstrated a capacity to act as a curator of talents, unveiling the hidden value of NFTs both in the art and gaming industries."
Working the LAND
Both Binance and WhaleShark see value in the NFT assets themselves. WhaleShark is buying up significant parcels of LAND to store in the Vault alongside other NFTs and is playing a long game, expecting them to appreciate in value over time. Binance, which is working alongside The Sandbox to help build and spread word for the game, sees long-term benefit as well.
"In the short run, we believe that the virtual real estate will provide strong utilities for developing different elements, as well as provide us with exposure to interact with other gamers and the overall community," a Binance spokesperson told Decrypt via email. "In the long run, we believe that these are precious assets, given their scarcity and utilities. Together with other IPs collaborating with The Sandbox, we believe that The Sandbox will create a large community that will make the virtual real estate increasingly valuable."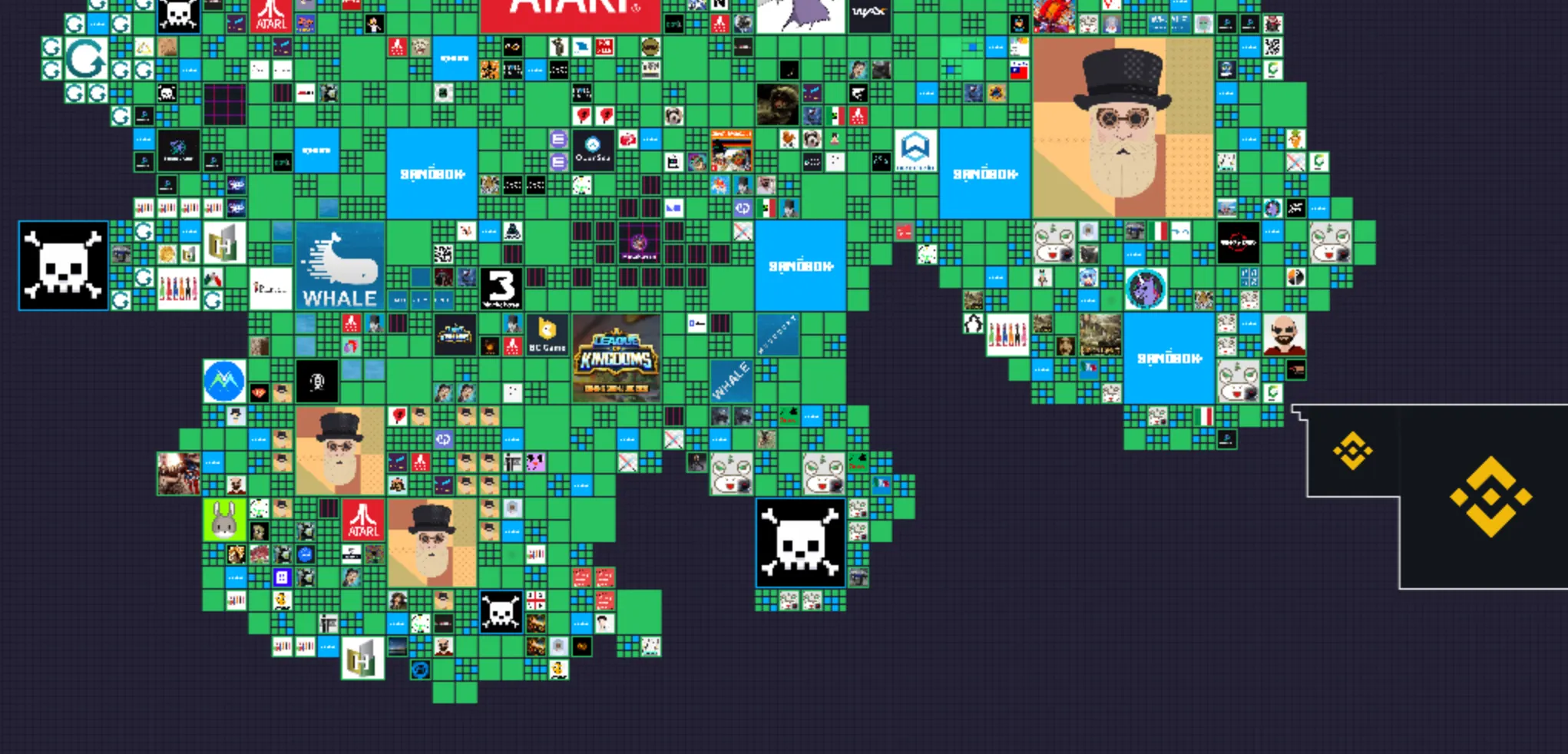 Beyond that, both Binance and WhaleShark plan to actually utilize the virtual LAND itself within the game. It's an asset to hold, sure, but also digital real estate that can be populated however they see fit.
Borget said that WhaleShark plans to tap the $WHALE community's ample supply of artists and creators, letting them rent LAND freely and potentially build additional value in the process. In the announcement for last week's LAND purchase, Binance said that it will hold NFT creation contests for the game and distribute LAND to creators.
"We are actively working with the team at The Sandbox to design elements to utilize the system such as play-to-earn, game, and staking elements," the spokesperson added. "The goal is to be able to be exposed to the community and interact with them meaningfully through a gamified experience—partly for branding and to promote our platform, as well as to create a strong community; also for showcasing what can be done through the integration of cryptocurrency into games, and to raise general awareness of cryptocurrency for wider adoption."
Asked if there was any downside to having single owners amass large amounts of LAND and if The Sandbox saw any reason to create any restrictions or disincentivize such actions, Borget said no—it's all part of what makes blockchain gaming different than The Sandbox's more traditional contemporaries.
"There should be no restrictions or limits to digital ownership," he said. "We embrace permissionless transfers of assets and are disrupting centralized, closed, walled-garden, user-generated content games like Minecraft, Fortnite, or Roblox, which exercise their full control and authority over what their users can do or not do in their world."
Instead, Borget tells Decrypt that he believes that these larger LAND owners will fuel a "virtuous cycle" to grow all of The Sandbox, with the overall valuation of all created experiences growing over time and gradually pulling even more players into the ecosystem.
That's the goal, at least. As The Sandbox opens up to more users with a planned December launch for its public beta test, we'll see whether those putting early bets on the game actually help drive the growth of its promising metaverse.