In brief
Popular entertainment franchise "The Walking Dead" is coming to the Ethereum-based metaverse game, The Sandbox.
A Walking Dead game experience will be included on the world map, plus players can use franchise assets to create their own games.
The Sandbox, an upcoming Ethereum-based online metaverse game, has already signed a diverse array of pop culture brands and properties for the shared gaming environment, including The Smurfs, electronic musician Deadmau5, seminal NFT experience CryptoKitties, and classic gaming brand Atari. Its latest addition, however, shows just how wide-ranging and eclectic the upcoming virtual world may be.
Today, Animoca Brands announced that it has partnered with Skybound Entertainment to bring "The Walking Dead" to The Sandbox, with the popular zombie-themed comic book and television franchise set to contribute familiar characters and themes to the metaverse.
When launched, The Sandbox will feature an interactive Walking Dead game experience that lets fans attempt to survive amidst the zombie uprising. Popular characters like Rick Grimes and Michonne will be recreated in the game's blocky 3D voxel style, and players must harvest resources, fend off undead attackers, create alliances, and more. Players can also use "The Walking Dead"-themed assets within The Sandbox's Game Maker toolset.
"Users will be able to come up with their own fan-made experiences and add their own personal flavor to the mix, stretching the limits of this Walking Dead mega-compound as far as the eye can see," The Sandbox co-founder and COO Sébastien Borget told Decrypt.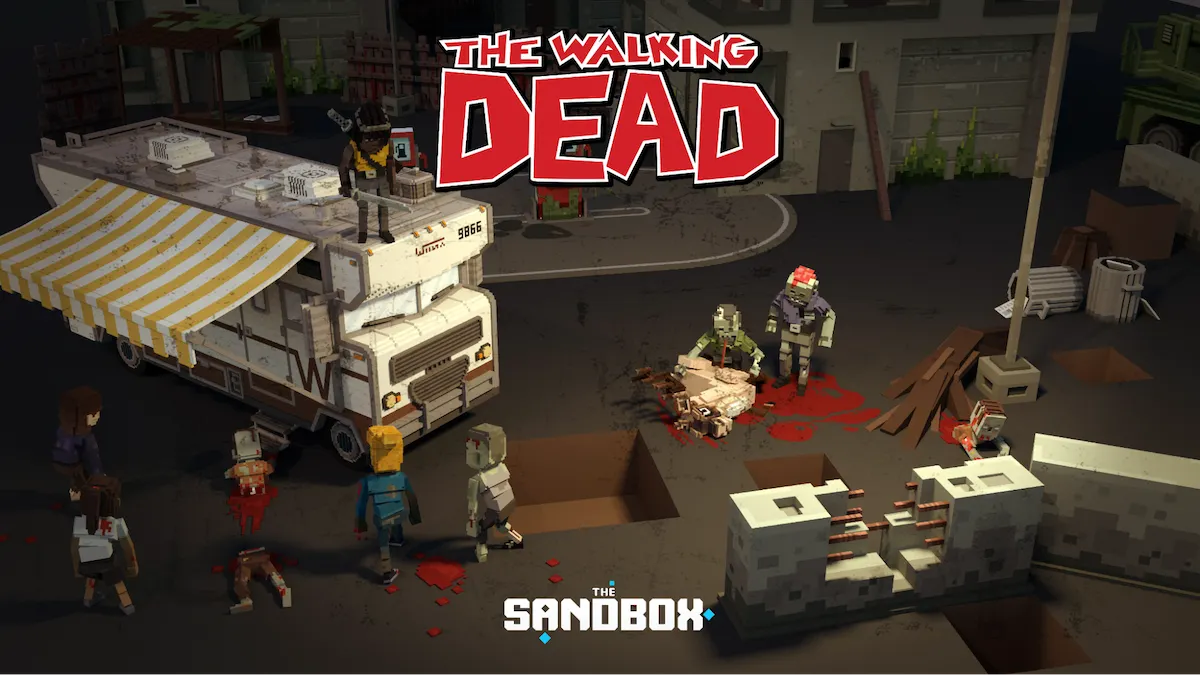 As with other brand partnerships, there will be a dedicated plot of land on The Sandbox's shared world map devoted to "The Walking Dead." Players will have an opportunity to purchase their own nearby parcels of terrain (called LAND) in the metaverse, letting them create, share, and even monetize their own interactive experiences.
LAND sales have generated considerable revenue for The Sandbox to date, with one recent offering in April racking up $5.9 million worth in a 24-hour span. Each plot of LAND is a non-fungible token (NFT) that can be resold. An NFT represents a deed of ownership to a digital item, and while this spring's NFT market boom largely focused on things like artwork and NBA Top Shot collectible highlights, it also includes in-game items for blockchain-based games—such as character skins, items, trading cards, and other interactive assets.
The Sandbox is set to launch a public alpha test this summer to let players experience the shared 3D metaverse for the first time. Borget suggests that brand activations like the one planned for "The Walking Dead" will help pull players in as the game attempts to reach the mainstream masses.
"Our vision is to make The Sandbox's open metaverse feel like a virtual attraction park with many amazing unique social experiences, with "The Walking Dead," Atari, The Smurfs, and more," he told Decrypt. "Bringing such major entertainment brands into The Sandbox means we can reach more than one billion people through them."