Jump to
What is Binance?
Launched in August 2017 by founder Changpeng "CZ" Zhao, it only took 180 days for Binance to become the largest cryptocurrency exchange in the world—a position it still holds to this day. With its users completing more than 1.4 million transactions per second, it's a behemoth in the crypto world, with more than 500 cryptocurrencies available for international users to trade.
Not to be confused with Binance.US—a US-only version of the exchange with a more limited offering—Binance is seen by many to be one of the best, most reliable exchanges in the crypto world. At the time of writing however, there have been some substantial speed bumps placed in its way, with regulators turning their gaze on the exchange. More on that later.
Design and UX
It's pretty much impossible for any exchange to look uncluttered and minimal—it's just in their nature. Any interface that has to provide that much information and tools to its users will necessarily look a little cluttered, but Binance's design and UI is up there with some of the cleanest around.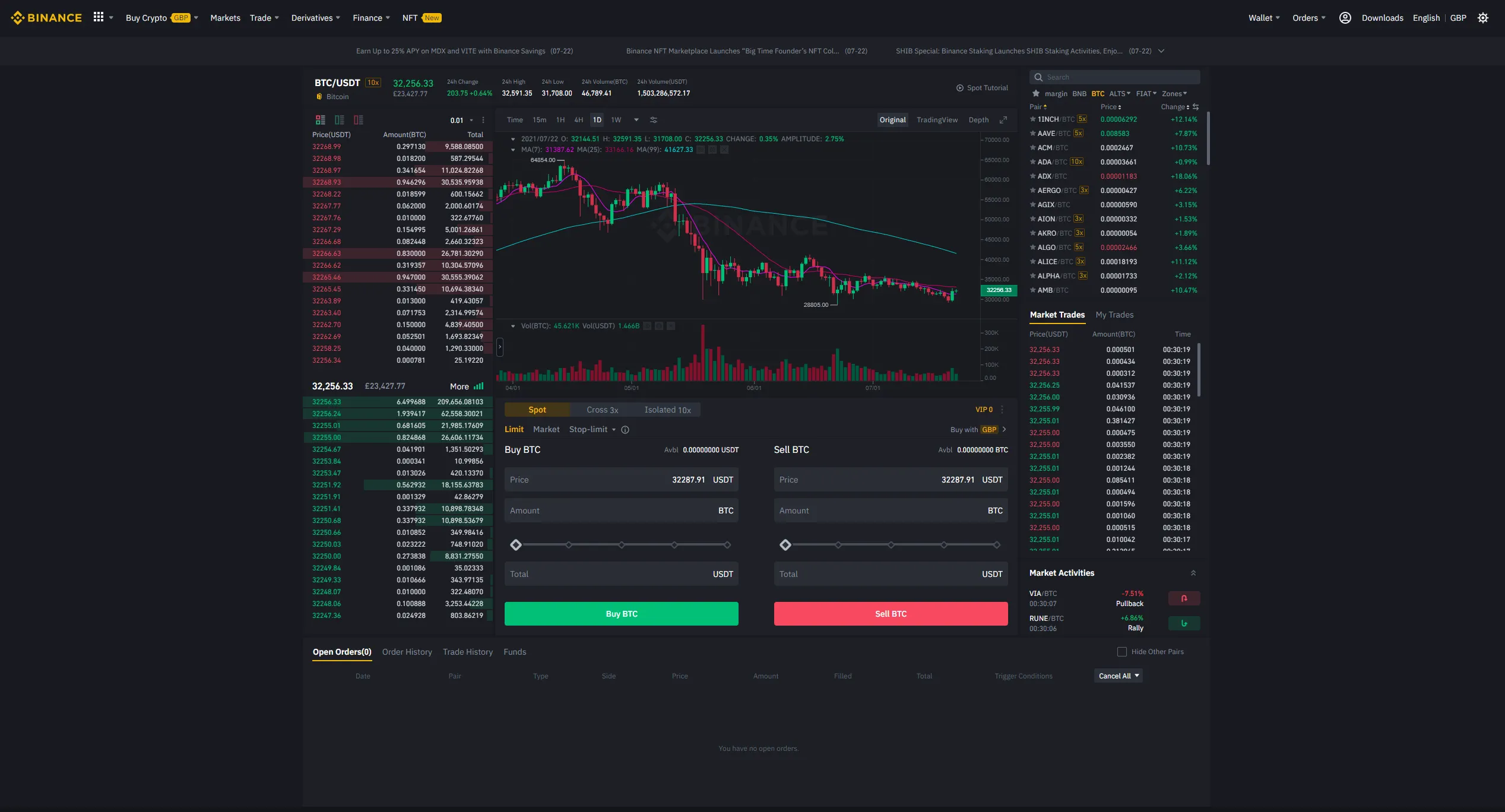 The optional dark mode earns it extra brownie points in our books, saving our eyes from the searing bright backgrounds that plague some rivals, and the top menu bar, while rammed with options, has everything laid out into dropdown categories that make sense. You can find what you're looking for within seconds, and if you're a beginner, you'll mostly be sticking to the Trade, Wallet, and Account sections—all of which are easy to find.
The website itself is responsive, with a clean layout and little wasted space, and the app reflects this polished design too. Overall, it's one of the slicker exchanges out there, which is exactly what you'd expect to see from the world's number one.
Getting started
Registering for Binance is a fairly simple process that unsurprisingly kicks off by clicking 'Register Now' on binance.com. Enter your email address or mobile number, choose an appropriate password, and you'll be sent a verification code. Enter this to confirm your account, and double check it hasn't ended up in your spam folder if you're having trouble receiving it.
Once you're logged in with an account, you'll need to verify your identity. This is always a strange and scary step for complete newcomers, but it's a very common thing in the crypto world that almost all reputable exchanges require. Sometimes called KYC (Know Your Customer) verification, it's an added security measure to ensure that you are who you say you are.
To provide verification you'll need to upload a clear headshot, and a photo of an official ID card/document, such as a driver's licence or passport. To do this, click on the circular account button at the top of the page, then select 'Identification'. Click the yellow 'Verify' button on the following page, and you'll start off by providing information such as your name, address, and date of birth. Following that, you'll then have to upload your ID verification document of choice, before uploading a clear headshot.
Once you've verified your account you can start trading, though you also have the option to verify your address with additional documentation, if you want to raise your maximum daily transaction limits. This is something you're only really going to need to worry about if you expect to be dealing with thousands of dollars' worth of crypto transactions a day.
Ease of use
As with any other exchange, Binance can be a little daunting for complete beginners who have never dabbled in any form of trading software before, but if you take a little time to familiarise yourself with trading, you'll get the hang of it in no time, and it's no harder to use than any other major exchange.
The easiest way for crypto newcomers to kick things off with the 'Buy Crypto' button on the top left, letting you pick up assets with a variety of easy payment options, including bank transfer and using a Visa or Mastercard (though as of July 2021, these facilities are unavailable for some currencies and countries, of which more below).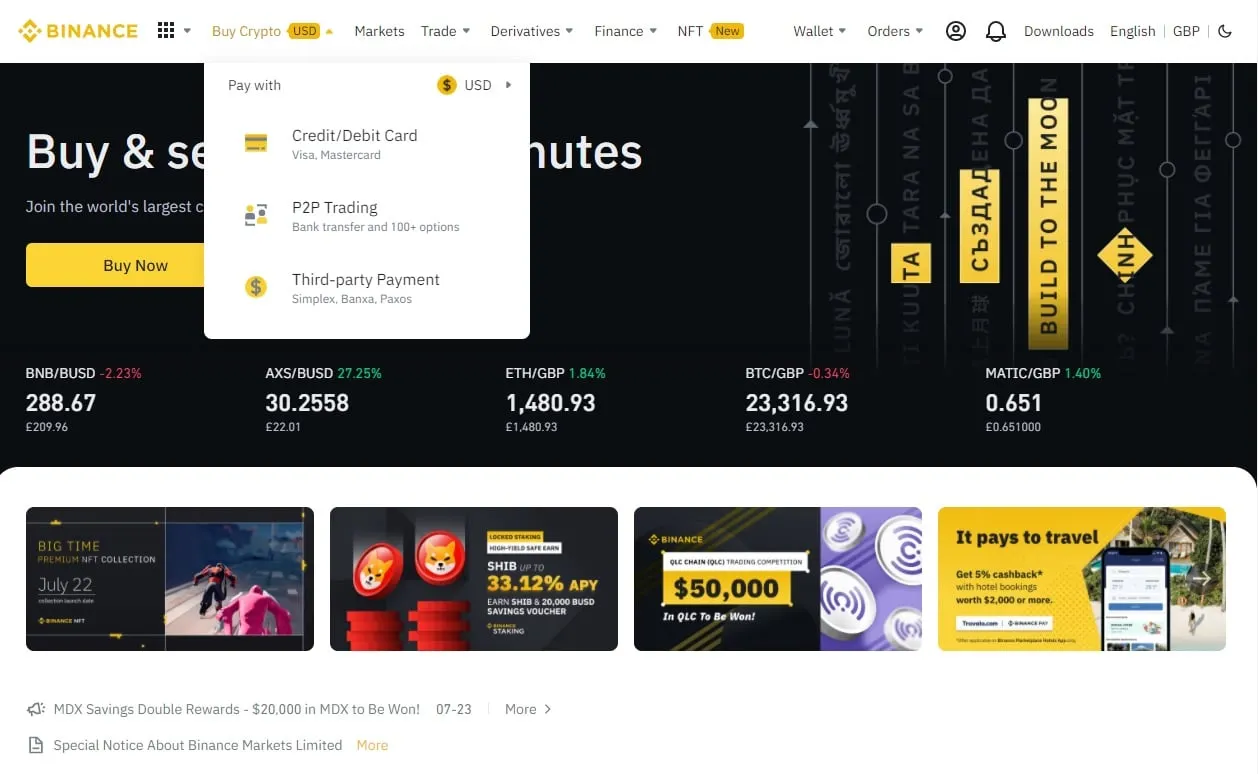 The next step up is clicking the 'Trade' button, and then selecting the 'Convert' option. This lets you 'swap' one crypto asset you already own in your Binance wallet for another. This is pretty much trading at the max current price, like a market order, so you won't necessarily be getting the best value. Having said that, it's easy and instant, so appealing to new users.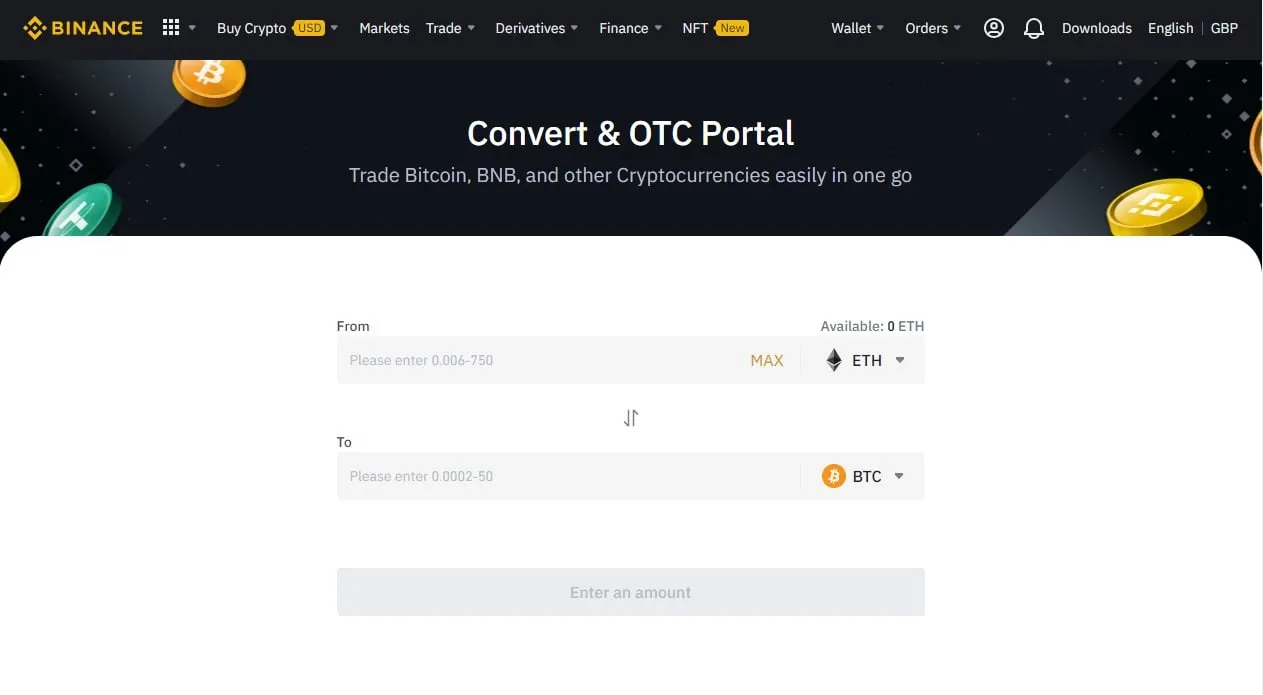 A level above this is the 'Classic' interface, which lets you trade crypto assets using limit orders, where you select the price you'd like to buy or sell assets, and wait for the order to be filled. This is the basic bread and butter skill that crypto greenhorns will pick up first, and for many, it's all they'll ever need or want to know.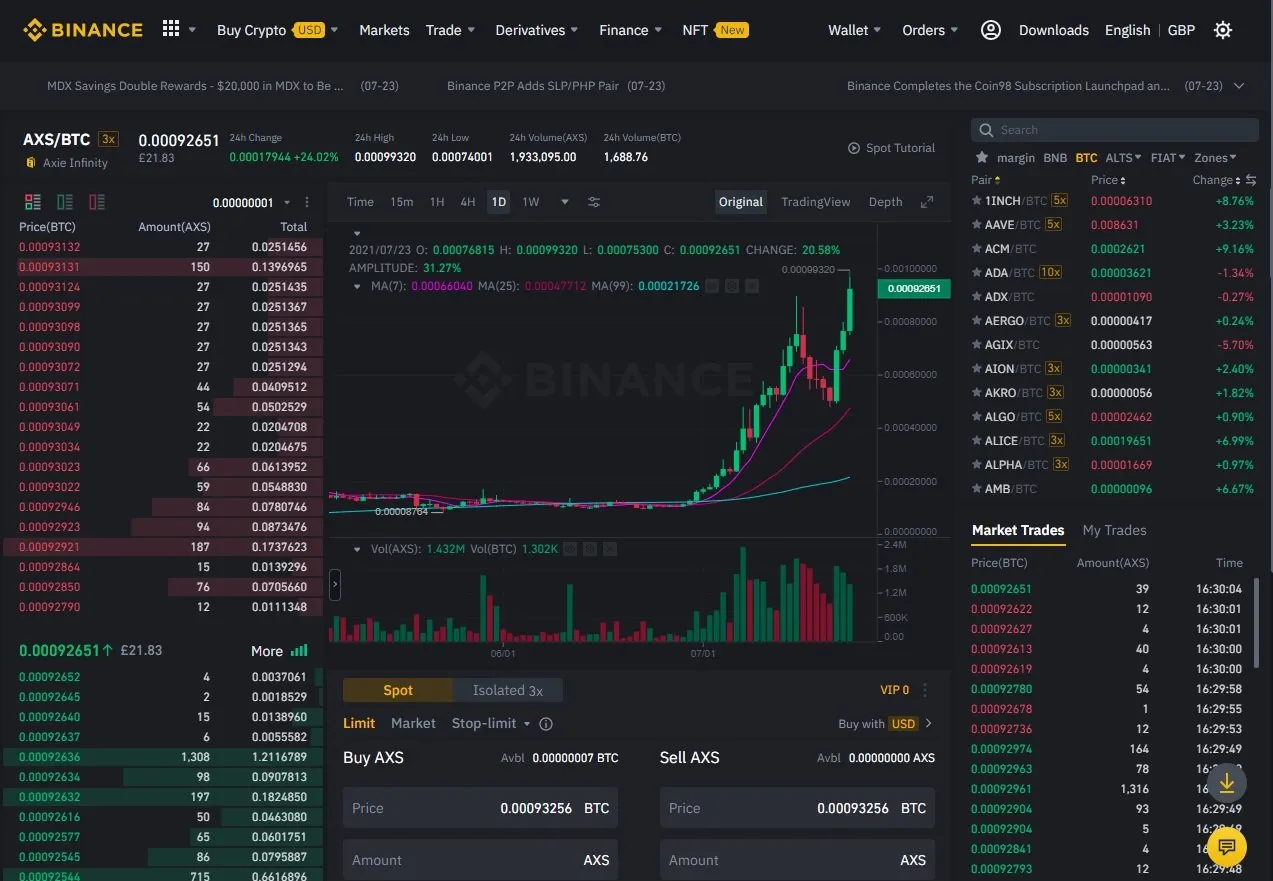 There are plenty more options for advanced users that go beyond the scope of this review, but it's worth noting that Binance offers everything from liquidity pools, to futures, margins, loans and more.
Depositing and withdrawing assets from your Binance wallet is a clear and simple process, and can be accessed via the 'Wallet' button at the top. As always, we recommend that you should never store assets on exchange wallets for security reasons, unless you're actively trading.
Fees
At the time of writing this review, Binance has a 0.1% for each trade that you make. Users who choose to pay fees using Binance's own BNB token (more on that in a sec), are treated to a 50% discount on this trading fee.
These are some of the lowest fees currently available on any exchange, which goes some way to explaining Binance's popularity. There's no doubt though, that the exchange's gargantuan size also helps maintain these lower fees in the first place.
Withdrawal fees, on the other hand, are different depending on the asset. Bitcoin withdrawals, for example, have a 0.0005 BTC fee, while Ethereum withdrawals will set you back 0.005 ETH.
Is Binance safe?
Binance is generally regarded as one of the safest, most trusted exchanges around. One reason for this is that its servers are spread out around the world instead of being clustered in just a few central locations. This means that they are pretty much immune to attack, along with much lower chances of downtime thanks to the extra redundancy measures in place—if one server goes down, it won't have much of an impact on the network, if at all.
As with most other exchanges, however, Binance has been hacked in the past. In 2019, the exchange saw hackers steal 7,000 BTC from the platform, valued at around $40 million at the time. The theft stole the assets from Binance's "hot wallet", which accounts for around 2% of the company's overall BTC holdings. Covering the total loss itself to ensure that no user funds were affected definitely went a long way to building up user trust, despite the hack. Funds, as Binance's CEO CZ says, are "safu".
Thanks for the support, really appreciate it. But currently no need. We will cover the loss from the #SAFU fund, there is enough. We are hurt, but not broke.

We are working hard to resolve the issue, so that everyone can deposit and withdrawal again. Will take some time. https://t.co/0j4J0fk99W

— CZ 🔶 Binance (@cz_binance) May 8, 2019
Binance's battle with regulators
Hacks are the least of Binance's problems, however. Regulators have long been a thorn in the exchange's side, with the main Binance.com exchange currently inaccessible to US users due to regulatory constraints (though enterprising users have found workarounds).
In 2021, regulatory actions directed at the exchange ramped up around the world. In June 2021, Japan's Financial Services agency issued a warning that the exchange is operating without registration in the country. The same month, the UK's Financial Conduct Authority (FCA) warned that the exchange is not permitted to undertake any regulated activities in the country, citing its "huge issue" with Binance's lack of a headquarters. And a month later, the Italian securities regulator Consob announced that Binance is "not authorized" to provide investment services and activities.
To add to the exchange's woes, several of its payment channels have been disrupted. UK banks including Natwest, Barclays and Santander have blocked account holders from depositing money on the exchange. Payment channels including Faster Payments and SEPA Euro bank deposits have been suspended, while European payment processor Clear Junction has stopped processing transactions for the exchange.
Despite this, the majority of users can still trade on the exchange itself, as crypto assets aren't currently regulated. What the aforementioned restrictions mean, however, is that users can't participate in regulated activities such as futures contracts. The disruption to payment channels also means that many users will find themselves having to buy crypto elsewhere and send it to Binance in order to trade.
What is BNB?
Binance Coin, or BNB, is Binance's own native coin. It launched in 2017 on the Ethereum blockchain as an ERC-20 token; these tokens were later swapped with BEO-2 BNB in a 1:1 ratio, with the newer tokens running on the Binance Chain mainnet. In September 2020, the company launched the Binance Smart Chain (BSC), a blockchain network that runs in parallel with the Binance Chain.
One of the primary uses of BNB is for users to pay discounted transaction fees. BNB also powers the Binance DEX (see below), and heavy users can use BNB to pay for things like travel expenses, virtual gifts, and more. If you're planning to do a lot of trading on the platform, it's certainly worth considering using BNB for transaction fees, thanks to the discount offered.
Binance DEX
Binance DEX is a decentralized exchange that launched in 2019. Unlike the regular version of Binance, Binance DEX's decentralized nature means that users trade directly with each other, without using an exchange as the middleman. This puts users totally in control of their funds, as they're kept in their hands at all times. The platform doesn't store any sensitive data or private keys, providing not only more security, but additional privacy to boot.
Read Decrypt's full Binance DEX review
Binance Card
The Binance Card is exactly what it sounds like—a crypto debit card launched by the exchange itself. Announced in March 2020 following Binance's acquisition of crypto debit card company Swype, the card supports payments with BTC, BNB, ETH, SXP and BUSD.
Released in select European countries, the card converts crypto holdings to fiat currency in real-time at the time of transaction, and can be used in over 60 million merchants across 200 regions around the world.
The card offers a cashback system in the form of BNB rewards, based on how much BNB you're currently holding on the exchange. Currently it's not really worth using for the rewards alone unless you're holding a substantial amount of BNB, but that hasn't stopped people from snapping it up for the novelty and adoption factor.
Read Decrypt's full Binance Card review
Verdict
Binance is still regarded as one of the best exchanges around; it's number one in the world for a reason. Its interface, while complicated to get to grips with, is comprehensive; its selection of assets is second to none; and its fees are some of the lowest around, partly thanks to the use of BNB to discount them further.
However, the restrictions placed on it by banks and regulators have hobbled it somewhat, forcing the closure of fiat on- and off-ramps in some countries and leaving key features inaccessible to some users. These days, Binance's main use for many users is as a trading floor for cryptoassets. However, with other exchanges including Coinbase snapping at its heels with a growing number of listed assets—and fiat gateways to crypto—Binance's position isn't quite as secure as it once was.
Rating: 3/5