In brief
Binance DEX is a decentralized exchange created by Binance and powered by the company's Binance Coin (BNB).
It offers lower fees and improved security over centralized exchanges.
However, it also has a steeper learning curve, and is best suited to experienced crypto users.
Launched in 2019, Binance DEX is a decentralized cryptocurrency exchange launched by, you guessed it, Binance.
With over 100 active listed crypto assets available at the time of writing, the platform allows users to make trades on assets that are listed and issued on Binance's very own blockchain, which is powered by the company's Binance Coin (BNB). Currently, 29 countries, including the US, are blocked from using Binance DEX due to trading restrictions.
Before we dive into the full review of the service as a whole, it's worth spending a little time clarifying what a decentralized exchange (DEX) is, and how Binance DEX differs from Binance's main exchange.
What is Binance DEX?
At its core, a DEX is a market that allows users to trade directly with each other, cutting out any middlemen in the process.
Let's use Binance as an example. The regular Binance exchange acts as a third party that holds assets on behalf of its users. Binance DEX, on the other hand, allows users to trade directly with each other, with direct control over their own funds. The platform doesn't store your private keys or any other sensitive data, which puts you fully in control of your crypto.
The benefits of using a DEX—beyond the control over your funds—include better security, privacy, and stability. The fact that there are multiple servers around the world as opposed to a single central server means that the system is more robust too, with far less, if any, downtime (an issue that's blighted centralized exchanges during periods of high price volatility in the crypto market).
With the decentralized finance (DeFi) boom of 2020, a number of DEXs have sprung up, including Uniswap, Sushiswap and Curve Finance; by January 2021, monthly volume on decentralized exchanges hit $55 billion.
With the scene set, let's take a look at what the Binance DEX experience offers its users.
Design and UX
Binance DEX's design and UI will be familiar to anyone who's dabbled in crypto exchanges before. As with any exchange, new users will likely be intimidated by the charts and data rows, but a few minutes of basic research is all it takes to grasp what everything means.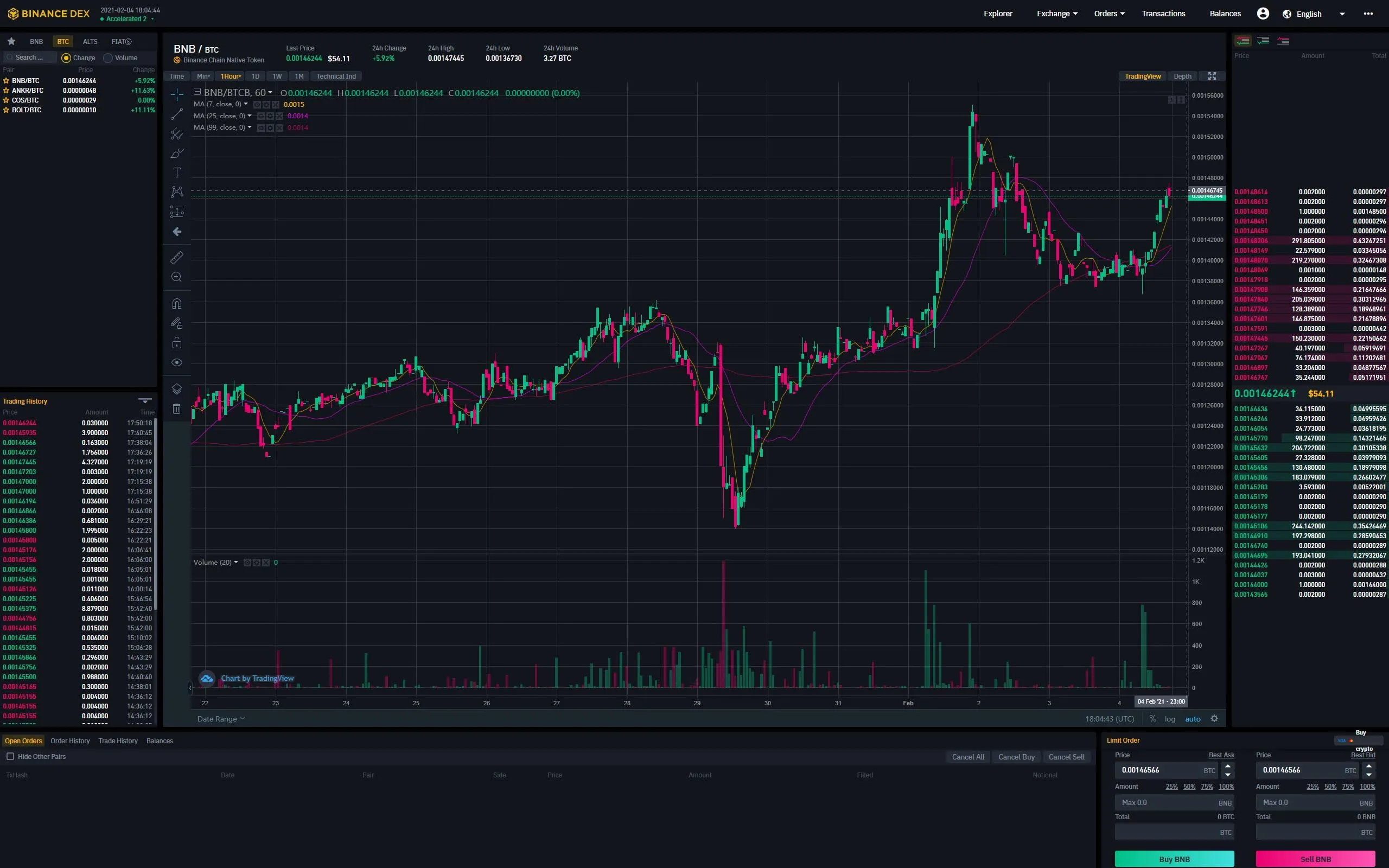 Design-wise, we're a big fan of the dark theme, which is far easier on the eyes than glaring white alternatives. The exchange itself is laid out clearly, and it's easy and intuitive to view different trading pairs, make and view orders, and view your balances.
If you're using the exchange on a smartphone browser the UI is tweaked as you'd expect, but it's still clear and easy to navigate, as long as you don't mind a few extra clicks here and there to reveal things like charts.
Getting started with Binance DEX
Kicking things off on Binance DEX is a little different to setting up an account on a regular exchange. Your journey begins at binance.org. Hit the 'DEX' button, and you'll be taken to the main exchange homepage. From here, you need to hit 'Unlock Wallet' on the top right.
You've got a few options here. If you've got a wallet app that supports WalletConnect, you can simply scan the QR code to connect your mobile wallet to Binance DEX. This is the quickest and easiest way to set things up, and it only takes a few seconds. If you've got a hardware wallet from Ledger or Trezor, you can also set them up easily too.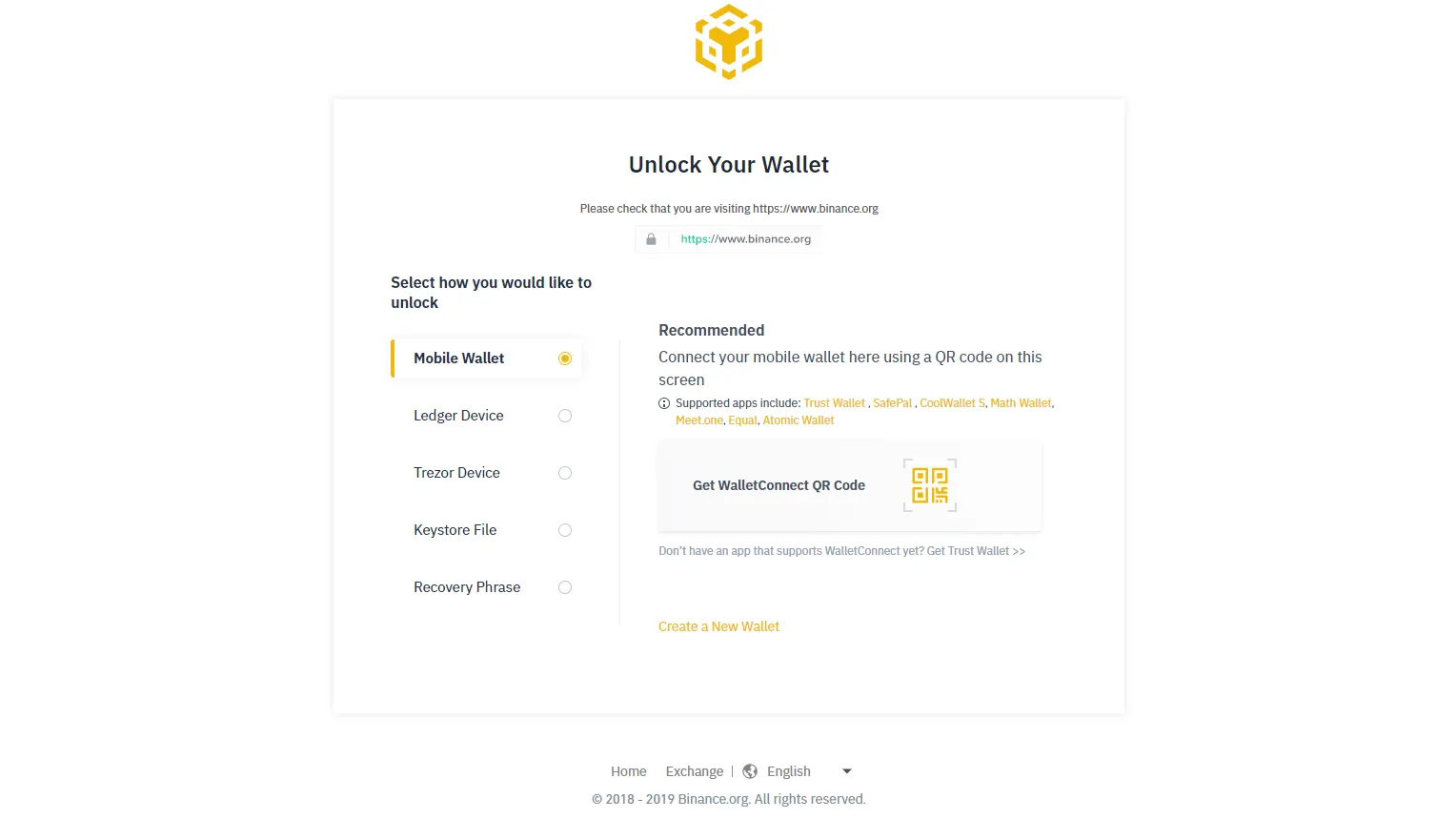 Another option that's available is the Keystore File. Creating a new wallet with this option will require you to create a password and download a Keystore File.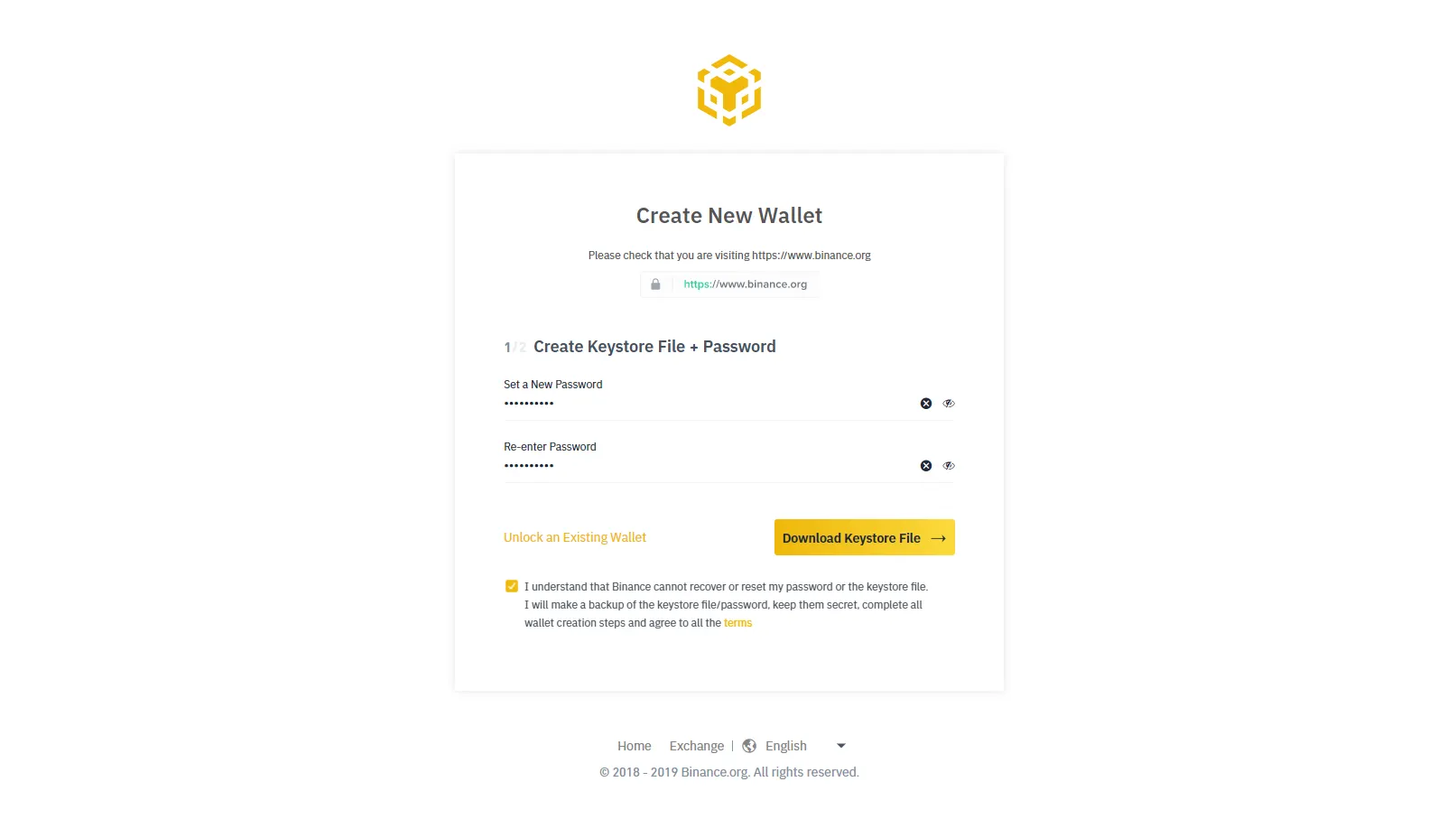 In future, you'll need to upload this Keystore file from your PC and enter the password before being granted access. If this is the route you go down, we recommend backing up the Keystore file in multiple, secure locations.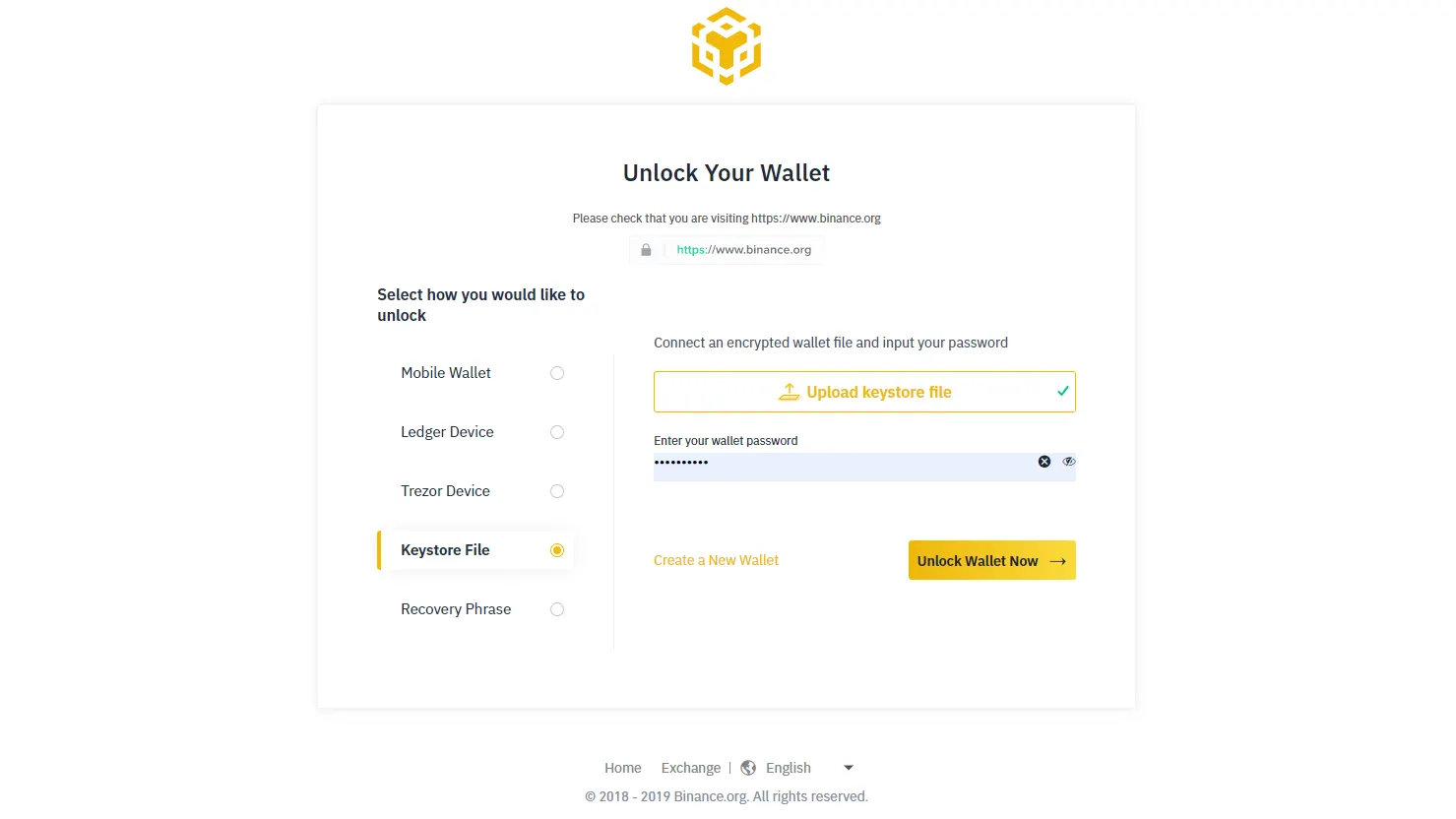 You'll also be asked to write down a recovery phrase should you ever need to recover your Keystore file or forget your password. Your best bet is multiple pieces of paper stored in secure locations.
All of the methods above are quick and straightforward, and shouldn't take you more than five minutes, tops. Once you've used your preferred method you'll be taken to the DEX itself, and it's time to start trading.
How to trade on Binance DEX
Trading on Binance DEX is a straightforward experience with lower fees that will be a breeze for anyone with even a passing knowledge of how exchanges operate. Select your trading pair from the left hand column, and place your buy or sell orders as you see fit.
Getting funds onto Binance DEX in order to start trading in the first place, though, is a little different to what you may be used to. The easiest thing to do is to top up your account with BNB, which can be done by sending BNB to the address found at the top of the Balances section.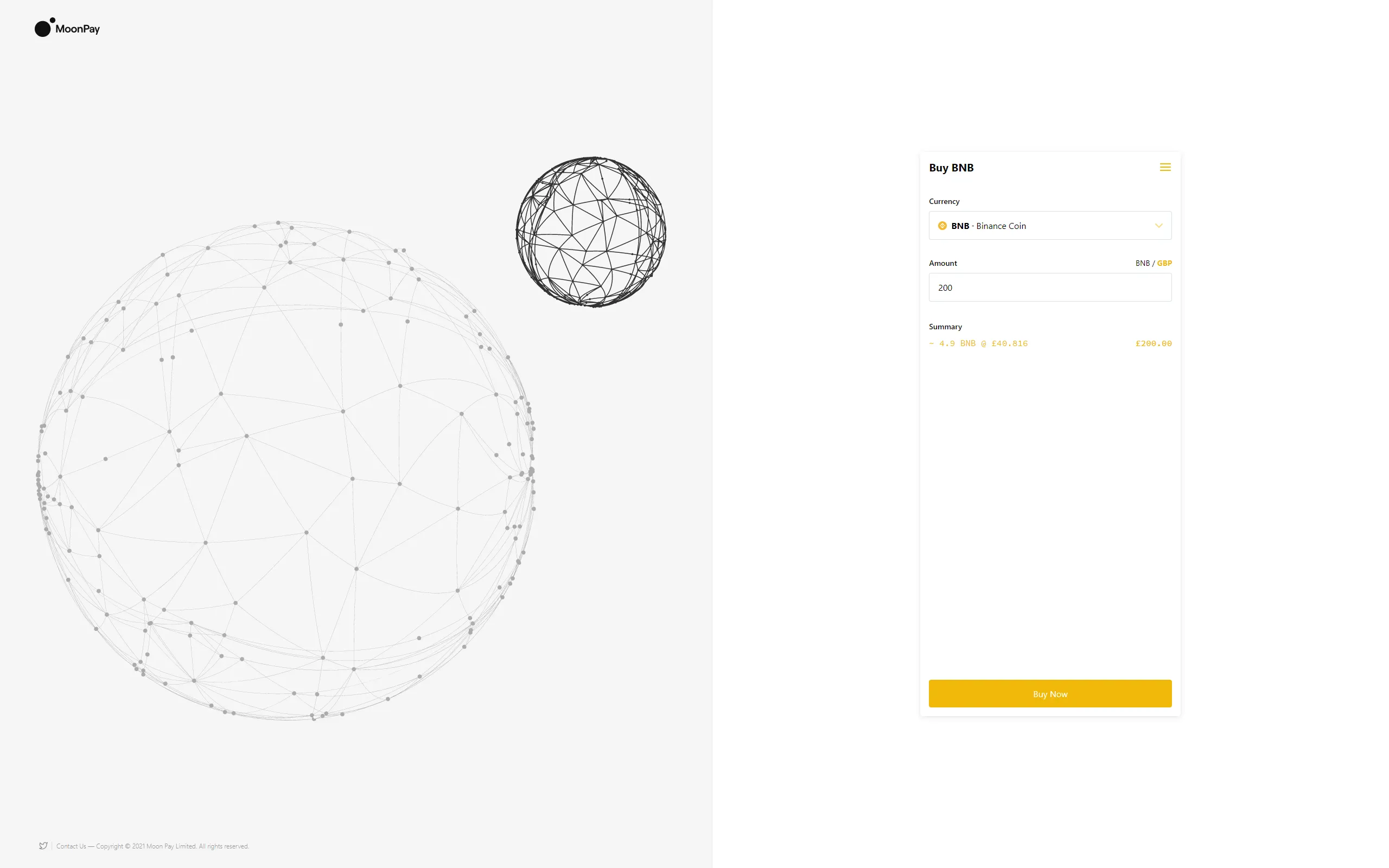 If you don't already have BNB in a wallet, you can also purchase some with fiat in select countries by clicking the 'Buy crypto' button on the top right of the Balances page.
When it comes to depositing other funds and withdrawing however, there's a bit of a learning curve, which brings us nicely on to...
Ease of use
Binance DEX runs on the Binance Chain, which means that assets on it must be compatible with the Binance Chain Evolution Proposal 2, or BEP2. Essentially this is a set of rules that apply to tokens on the chain, and 'pegged' versions of coins like Bitcoin BEP2 that are supported on the chain, can benefit from the speed, security and efficiency it offers. But there is a downside.
Because the Binance chain uses the BEP2 standard for tokens, you can't deposit other coins like BTC or ETH onto the network directly. You can only send and receive tokens instead, in the same manner in which ERC-20 tokens work on the Ethereum network.
If you want to deposit BTC or ETH on Binance DEX, you'll first have to buy the corresponding tokens (BTCB and ETHB respectively), before sending them to your BNB address. It's a bit of a learning curve, and not immediately obvious.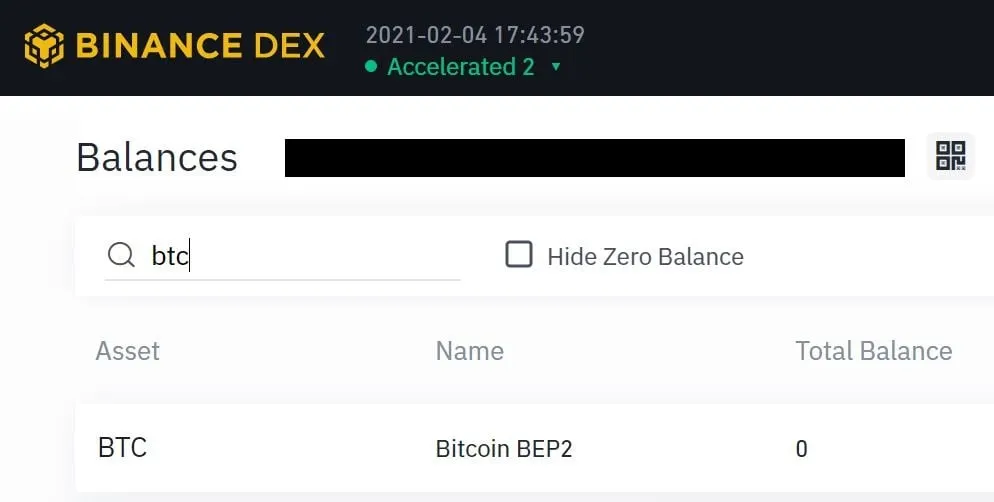 If you stick to the easier route of depositing or buying BNB instead, you can, for example, buy BTC and ETH, but you'll need to then deposit them to your regular Binance account and then withdraw them as the BTC and ETH you're familiar with. Without the intermediary step of sending these tokens to Binance first, you won't be able to directly withdraw them to your ETH and BTC wallets. It's a bit awkward and clunky, but it is possible.
Is Binance DEX safe?
As exchanges go, Binance DEX is one of the most secure ones available. For starters, as with other decentralized exchanges, servers are spread out across the globe instead of being in a more concentrated area. This means that they are virtually immune to attacks, with lower risk of downtime. If one server fails, it has far less impact on the overall network.
The second reason Binance DEX is so secure, is due to its decentralized nature. When you make a trade, the exchange itself doesn't touch a single asset. The same is true of a hacker. If the exchange is hacked, there's no way they can access any of your assets, as they're always stored in your own wallet as opposed to on the exchange itself. In contrast, centralized exchanges store your funds until you decide to withdraw them. If they shut down or are compromised by a security attack, your assets can be lost forever.
If you want to ensure maximum safety, we'd recommend using a hardware wallet, as they're far more likely to be lost or compromised than a recovery phrase or keystore file.
Verdict
Binance DEX is a slick, well-designed exchange that's easy to set up and trade on. As with other decentralized exchanges, its biggest draw is its superior security offerings.
By allowing users to trade directly with each other, their assets are totally in their control at all times; something that's very appealing to crypto enthusiasts, given the movement's core tenets of privacy and decentralization. Another benefit that Binance DEX offers users is far lower fees than regular exchanges.
The downside, though, is that there's a substantial learning curve which requires new users to do some research to ensure that they're withdrawing and depositing the right coins. We'd recommend sticking purely to BNB to start with to avoid any confusion.
Ultimately, Binance DEX is a solid exchange for those comfortable with BNB and decentralized ecosystems. If you're new to crypto, however then a regular exchange such as Coinbase is probably the way to go until you gain more experience.
Rating: 4/5