Decrypt rating: 4/5 stars
Price: $200
Supported cryptocurrencies: Bitcoin, Ethereum, Litecoin and 1,000 more coins and tokens
Ease of use: Straightforward to set up and use
Security: A high level of security
Aesthetic: A strange looking device with a decent sized screen
The Trezor Model T looks different from other crypto hardware wallets. It has eschewed the USB-aesthetic of other devices in favor of something that resembles a modern car-key fob—but with a screen. It doesn't have any buttons, just a touchscreen.
The Trezor is difficult to set up and proper security measures are optional—a worrying sign. But, once set up, you can personalize the device by setting an image as its homescreen and making transactions is a breeze. When using it, the only problem is that you can't see all your balances on one screen.
Trezor Model T: Set-up and getting started
When I plug the device into a USB port, my laptop tells me it has detected a Trezor, and sends me to its website, where I download the latest software. (Interestingly it opens up Brave browser despite it not being my default browser).
I install the software then struggle to find it on my laptop; it turns out, the software only works within the Brave browser, not as a standalone application.
Next I download the latest firmware. And that's it—I'm done. The Trezor Model T is the easiest wallet I've ever set up. Or so I thought.
It turns out that, while the device is ready to use, I've only gone through 10 percent of the installation process. While it was easy-peasy—there's one big thing missing: I haven't backed up my keys. That means if I lose my wallet, I will lose my coins. Despite this armaggedon scenario, there is no obligation for me to go through the rest of the setup process. This seems like a security flaw—lazy users might not bother with the rest.
I decide to go through with it. First, time to backup my private key. Up comes a warning on the Trezor Model T: "Never make a digital copy of your recovery seed and never upload it online!" Sensible advice.
So, I write it out on the sheet of paper that comes in the box using the Trezor pen that shipped with the device. I write down the twelve words it gives me. It's very easy to scroll between the words—you just have to swipe the screen which is very responsive.
Next, I have to tap the "confirm" on the touch screen— and here's where it doesn't work well. I'm pressing and poking the screen but nothing is happening.
I think it has frozen. I check the Trezor Bridge for advice: "Do not disconnect device." Oh dear. I disconnect the device.
"Backup failed." I'm not surprised. And this isn't ideal.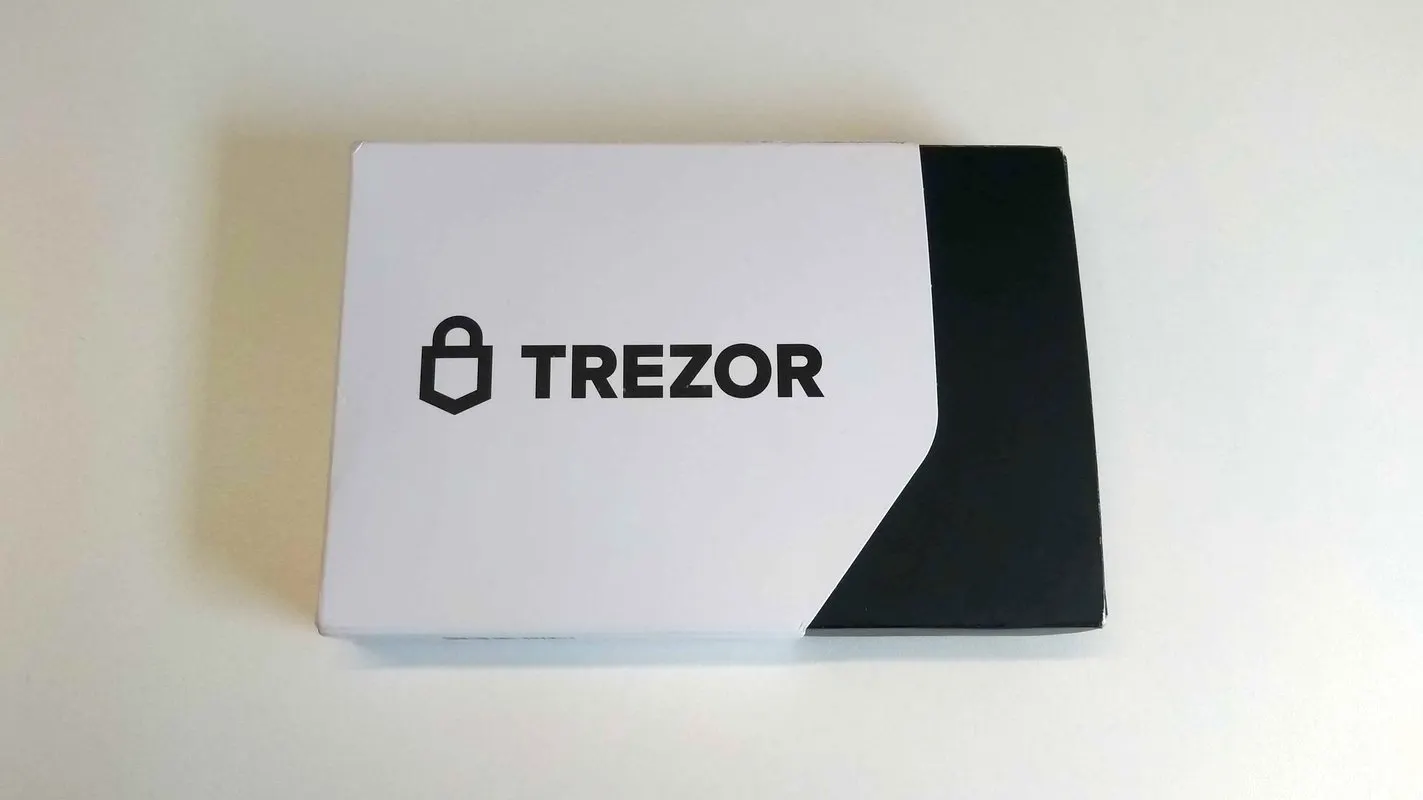 The Trezor Bridge points me to the guide: "As the recovery seed is displayed only once, there is no way to read it again if the device is disconnected during the backup procedure. You will have to erase your device and start over with the setup process again."
I go through the process to get the recovery seed. I laboriously type out the seed phrase by pressing small buttons on the screen as though it was a mobile phone keypad from the naughties. And guess what? It freezes again.
I disconnect the Trezor Model T. I reset the device, and to do so, I have to hold down the confirm button—which works this time.
To be fair, I don't have to download anything again, so it wasn't much of a setback. I did the recovery phrase process again and it worked this time. Then it checked two of the words, which I typed in and I was good to go. (While checking just a couple of words is less safe, it is much more convenient than typing the whole thing out).
[After this article was published, Trezor got in touch to say it has fixed the freezing bug on June 5 with a new firmware update.]
I set up a pin. Then I name the device: "De-crypt De-vice."
Trezor seemed to approve.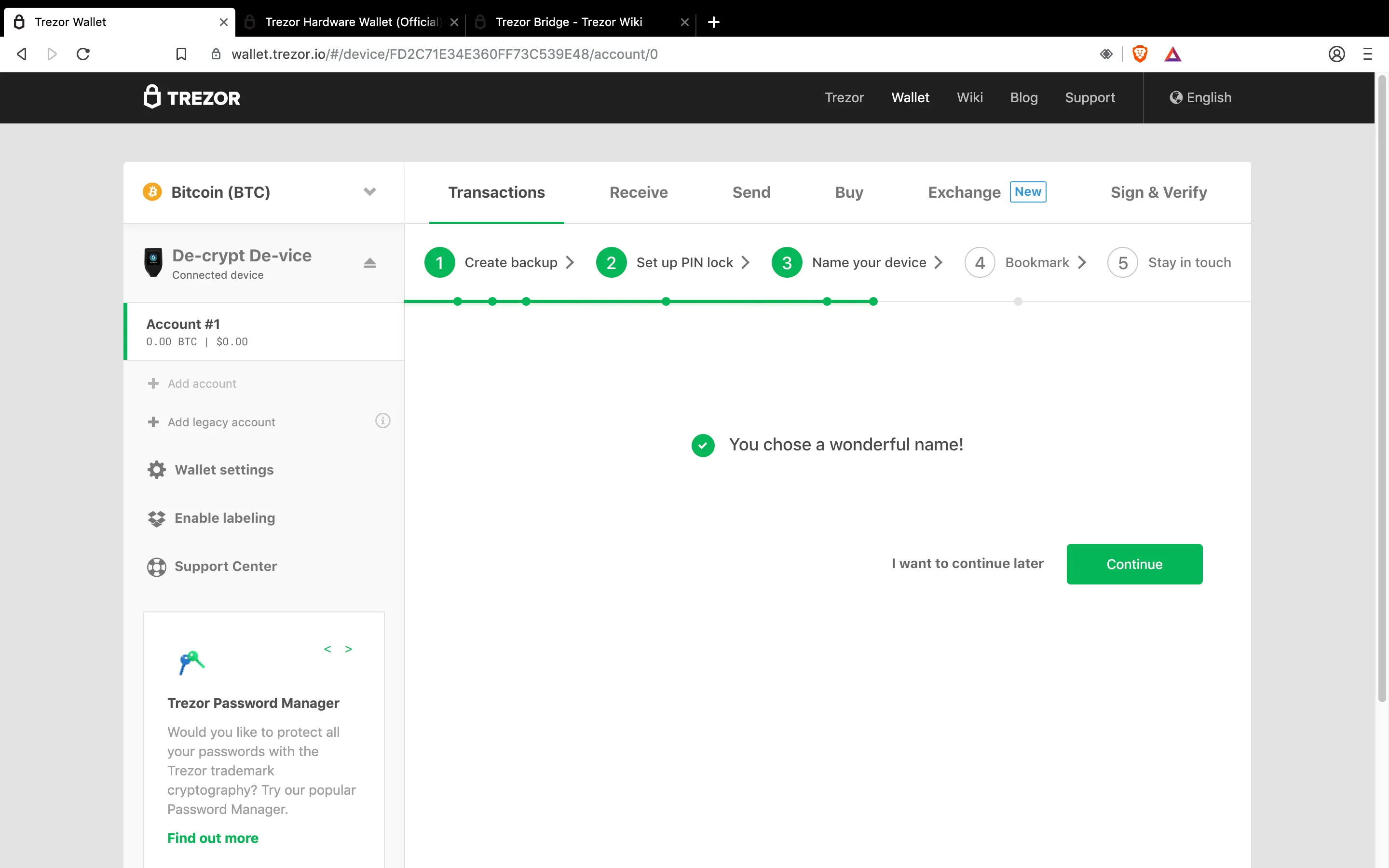 Then I get my priorities in order and set the background to the Dogecoin logo. Much wow.
Trezor Model T: Using the device
Now to send some coins to the wallet. I select the Bitcoin address. Up comes my public key which I can send coins to. It asks me to check if it is the same as on the device. I can clearly read both and can confirm it's correct—unlike the Ledger Nano S which struggles to do this.
Then I realize this will take an hour since Bitcoin is slow to confirm transactions. So, I try Stellar instead. However, instead of the address being within the same webpage—it takes me to a different website, which is a Stellar account viewer. For Ethereum, it takes you to MyEtherWallet or MyCrypto. While it still works—I quickly send five Stellar Lumens to the address—I can't view all my balances together. For each coin, I have to click on the separate wallet and find the balance there. Which isn't user friendly at all.
I send four Stellar Lumens to my external wallet. Signing the transaction on the Trezor requires me to hold the "confirm" button. It works. Phew.
[Update June 5 16:56 UTC] Updated with a response from SatoshiLabs on the freezing bug.