Bitcoin has registered its worst Q2 performance since 2018. 
Bitcoin's price opened Q2 at $58,800, falling to its current price of $33,200. According to data from analytics website Skew, Bitcoin's return for Q2 2021 sits at a lowly -40%, falling from 102% for the previous quarter.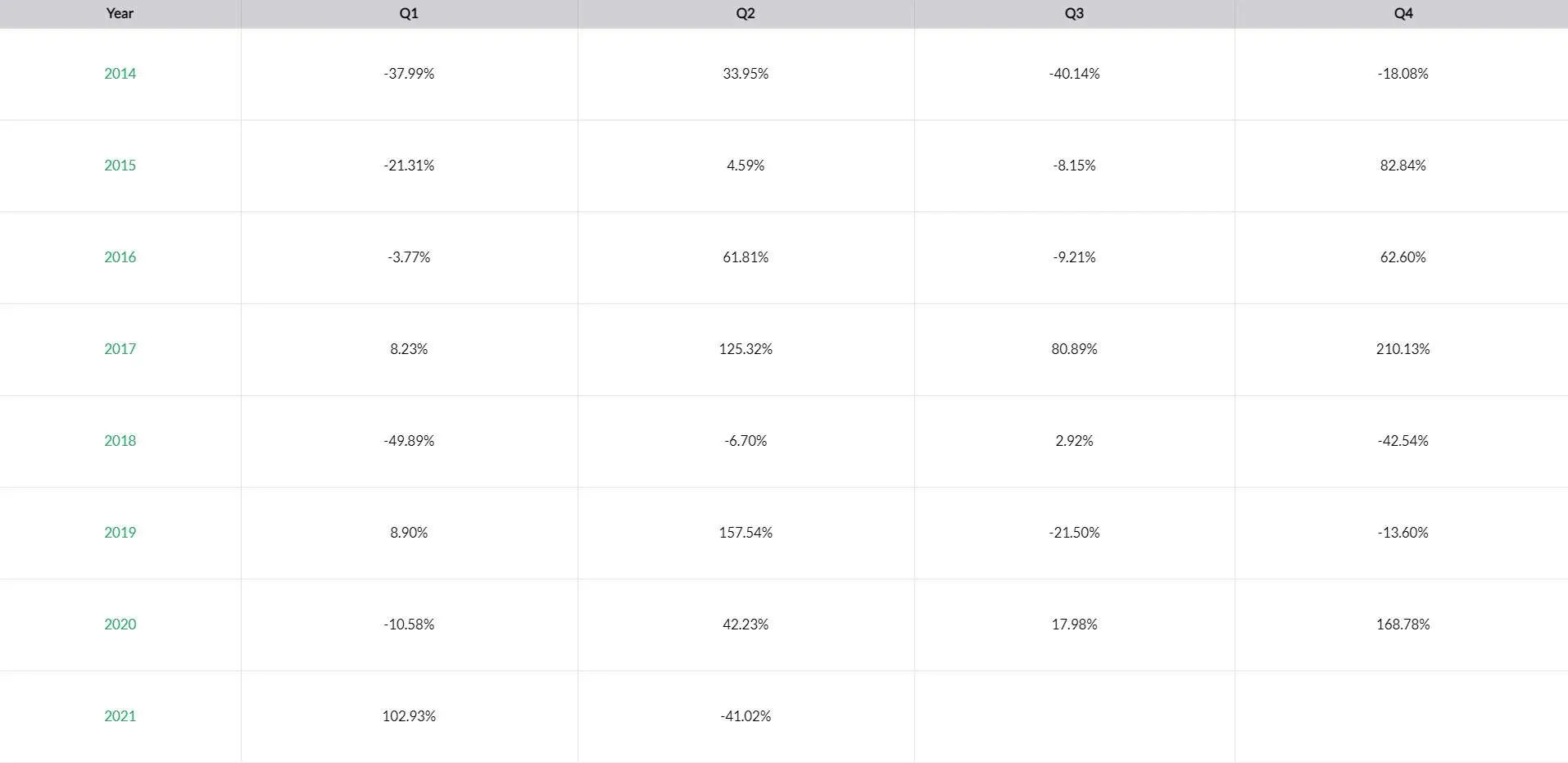 Bitcoin's previous two Q2 returns (for 2020 and 2019) were 42% and 157% respectively. 
Since 2014—when Bitcoin registered a Q2 return of 33.95%—it has never registered a Q2 return lower than -6%. In fact, Q2 has traditionally been a positive quarter for Bitcoin, with the cryptocurrency registering a positive return on six out of eight occasions since 2014.  
Bitcoin's Q2 struggles
There are several reasons behind Bitcoin's record-setting drop during the last three months. 
The flagship cryptocurrency's long-standing issues with the environment came into sharp focus when Elon Musk, CEO of Tesla and former advocate for Bitcoin, announced that the EV manufacturer would stop taking Bitcoin payments due to its environmental impact. 
"We are concerned about rapidly increasing use of fossil fuels for Bitcoin mining and transactions, especially coal, which has the worst emissions of any fuel," the Tesla CEO tweeted on May 12. 
"Cryptocurrency is a good idea on many levels and we believe it has a promising future, but this cannot come at great cost to the environment," he added. 
Amidst the fallout from that tweet, Bitcoin fell from $56,000 to $43,000 in just one week, a percentage decline of 23%. 
Since Musk's tweet, Bitcoin has struggled to regain momentum in the face of its negative impact on the environment. 
Indeed, the situation has grown worse for the flagship cryptocurrency. China—which has long controlled two-thirds of the Bitcoin mining industry—has cracked down on Bitcoin mining across provinces including Sichuan and Yunnan.
The Chinese government's stance on Bitcoin mining is not surprising, given the country's commitment to carbon neutrality in the coming years. 
However, China's most prominent payment institutions dealt an additional blow to the cryptocurrency when they collectively backed the government's ban on crypto transactions, which has been in place since 2017. 
Unsatisfying milestones
It hasn't all been bad news for Bitcoin in Q2, but the cryptocurrency's high points in recent months haven't moved the needle on its price by much. 
Early in the quarter, Coinbase—one of the world's most well-known crypto exchanges—went public on the Nasdaq. Yet, despite many crypto onlookers describing this as a "watershed" moment for the industry, Bitcoin's price went in the wrong direction yet again. 
On April 14, the day Coinbase went public, Bitcoin was priced at $63,000. By the end of the month, it had fallen to $53,000.
Even after Bitcoin's Miami conference, when El Salvador announced it would adopt the cryptocurrency as legal tender, Bitcoin still didn't see a positive bump in price. On June 5, the day of President Bukele's announcement, Bitcoin was valued at $36,000. 
Almost a month later, and Bitcoin has fallen by $3,000.