In brief
Game publisher Ubisoft recently released the crypto fantasy soccer game One Shot League with Sorare.
The Assassin's Creed and Just Dance publisher is exploring ways to bring its big franchises to blockchain.
The blockchain gaming world is largely populated by startups built specifically to pioneer the burgeoning industry of crypto games, whether it's Immutable with card-battler Gods Unchained, Sorare with its popular fantasy soccer platform, or Sky Mavis behind the Pokémon-inspired Axie Infinity.
However, there is one very big exception: Ubisoft, one of the largest traditional game publishers in the world, and the storied brand behind mega-franchises like Assassin's Creed, Far Cry, Just Dance, and various Tom Clancy-branded shooters. The gaming giant, which has dozens of international studios, first signaled its interest in blockchain technology by unveiling a proof-of-concept prototype called HashCraft, a crypto-infused riff on Minecraft, in 2019.
Ubisoft has since continued on in the space by working closely with crypto gaming startups and releasing its own small-scale experiments. The publisher's blockchain ambitions come from its Strategic Innovation Lab, which is headed up by Nicolas Pouard, Blockchain Initiative Director. "It's a think tank and a 'do' tank, as we like to put it," Pouard told Decrypt during a recent phone interview. "Our mission is to anticipate the future and help Ubisoft to be prepared for it."
Until recently, Ubisoft's moves in the space have erred more on the side of "thinking" than "doing," primarily providing support to blockchain game developers and other crypto projects. But with the recent release of One Shot League, a free-to-play fantasy soccer game created in collaboration with Sorare, we're starting to see the firm put more of those ambitions into action. Given Ubisoft's stature in the game industry, it could prove to be a leading force in blockchain adoption.
Taking their Shot
On one hand, One Shot League looks like an attempt to create an accessible on-ramp to Sorare and to the idea of crypto gaming as a whole. The free-to-play game, which is in the midst of its initial five-week beta season, requires a Sorare account. However, it does not force players to buy cards or handle cryptocurrencies. Tied into the last few weeks of the current Belgian Jupiler Pro League season, the game provides free digital cards for users to arrange into fantasy lineups to try and earn the most points on the in-game leaderboard.
Discover an all-new fantasy football experience with One Shot League!

Developed by the Ubisoft Strategic Innovation Lab, build your squad for the Belgian Pro League and win digital collectible @SorareHQ cards ⚽ #NFT

— Ubisoft (@Ubisoft) March 2, 2021
However, there are benefits to using purchased Sorare cards in the form of performance boosts. For existing Sorare players, it's another way to make the most of their investment. Perhaps more importantly, for newcomers, One Shot League can be a bridge into crypto gaming—with the lure of added benefits and ongoing participation luring them into the real-deal Sorare experience.
While officially a collaboration between Ubisoft and Sorare, the Ubisoft Strategic Lab is actually the developer behind One Shot League. It is not branded primarily as a Sorare product, but rather a separate experience that makes use of Sorare's assets. According to Pouard, that was one of the big lures from their end: the prospect of interoperability between games that can seamlessly share the same crypto assets.
It's one of the big, key hooks that blockchain gaming has to offer over traditional game experiences. Crypto gaming firm Enjin, for example, has made interchangeable Ethereum "multiverse" assets a key pillar of its development platform, and has even developed a server plug-in for Minecraft that lets users bring cryptoassets into the game. Pouard pointed to a collaboration between CryptoKitties and Gods Unchained in 2019, and said that kind of idea is something they wanted to explore further with One Shot League.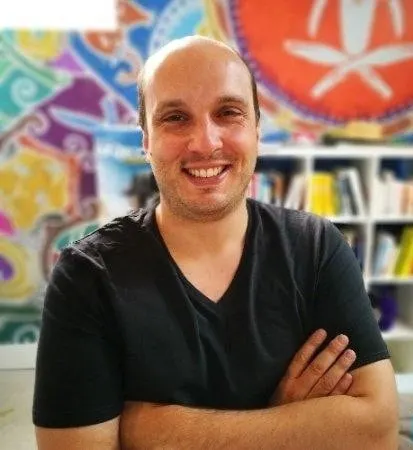 "Since then, we didn't really see experiments giving a real chance of building a true side game around blockchain assets built by another company. That's what we wanted to explore: how we could change the gamers' behavior using these assets, and how it could change the value of these assets," he said. "How do you expand and extend the ecosystem of a game starting with the assets themselves? That was the occasion."
One Shot League will hold another short beta season to cover the Jupiler Pro League playoffs, and then the collaborators will take the summer thereafter to evaluate the data and decide whether or not to continue on with the game. It has the potential to broaden exposure to NFTs and their applications in gaming even beyond the recent NFT boom, but there's no promise at this point that the game will continue on past these initial beta seasons.
"One Shot League is a way for us to help mainstream players to get a better understanding of what NFTs are, and how you can enter this huge field of opportunity that NFTs are," said Pouard. "We will see if it works or not, to be honest."
Staying busy in the Lab
Ubisoft and Sorare have been linked for some time now through the publisher's Entrepreneurs Lab accelerator program, which invites startups in for guidance and collaboration. The program has worked with numerous crypto startups across several seasons, including the teams behind such games as Nine Chronicles, Splinterlands, and Axie Infinity.
Sorare joined in the program's fourth season back in October 2019, and soon thereafter rose to become one of the most prominent crypto games around. The fantasy platform has more than 125 licensed teams from around the globe, including Juventus FC, Real Madrid, and all of the Major League Soccer (MLS) squads, and saw its trading volume massively increase over the course of 2020. Its licensed player cards have also benefited from the NFT boom, and just before the announcement of One Shot League, Sorare announced a $50 million Series A funding round to join the $4 million seed round raised in July 2020.
"It's never obvious that a company will meet success, but here, they had all the ingredients actually. A football or soccer card game is one of the simplest ways to aggregate all the value that an NFT can bring," said Pouard. "You have the players' renown, of course. You have the scarcity. And you have the fantasy itself as a football or soccer fan. You need this kind of substrate to let your imagination grow and build your own fantasy. There were a lot of good ingredients. The team is something that impressed a lot of people within Ubisoft when we worked with them in the startup program… and they have a really good sense of timing."
The Entrepreneurs Lab program allows Ubisoft exposure to an array of crypto startups that can potentially be collaborators down the line, and certainly the publisher's ample resources and vast accumulated knowledge are valuable to startups looking to reach plenty of players.
Ubisoft's first published crypto game, Rabbids Token, came from a collaboration with another Entrepreneurs Lab alum, South African startup Wildcards. That game, launched in June 2020, riffed on the Ethereum network-clogging CryptoKitties collectibles experience by letting people buy ERC-721 NFTs inspired by the popular Rayman Raving Rabbids franchise. There's a twist, however: the owner must pay a recurring tax in ETH to hold onto the NFT, otherwise it can be snapped up by someone else without netting you any money in the process.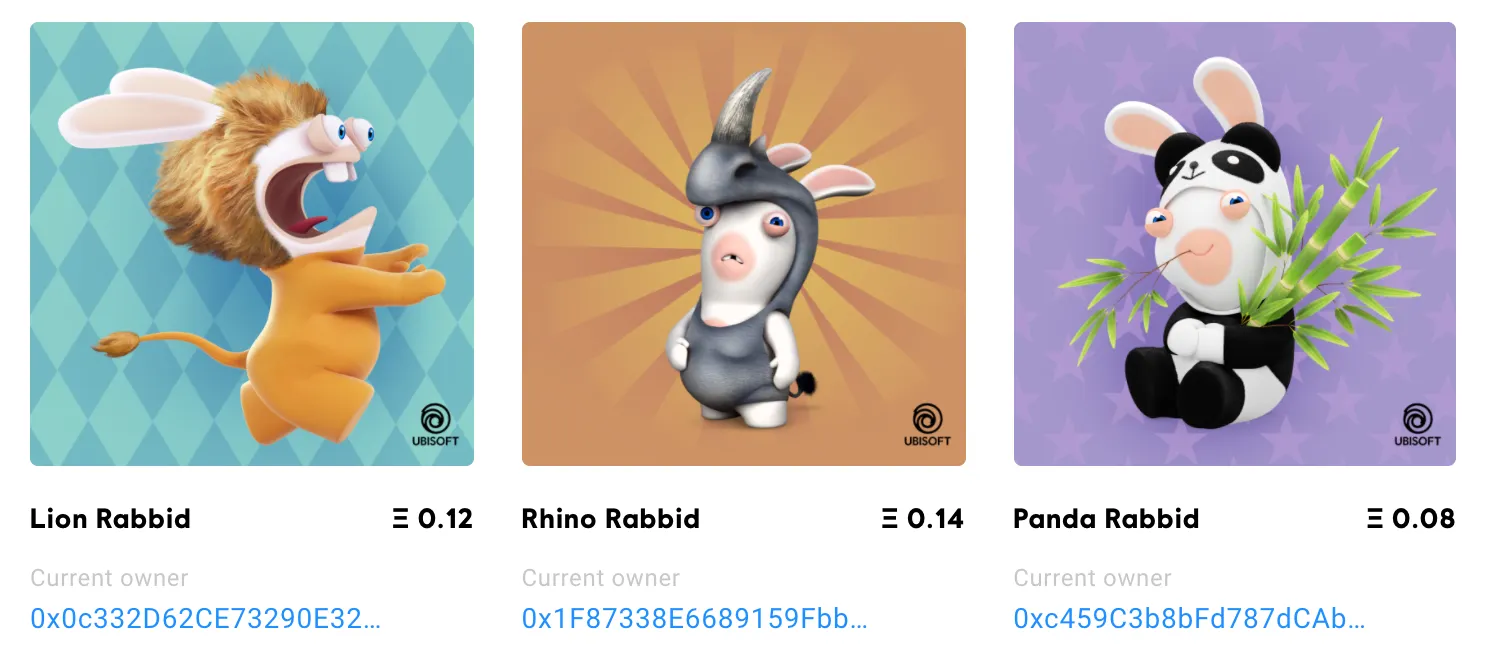 That might seem particularly punishing, but here's the benefit: all of the money goes to charity UNICEF, plus if you did own the NFT, you'll get a "Proof of Plausible Ownership" to add to your collection. According to the website, the project has raised 38.2 ETH (over $68,000) to date for UNICEF. It's an oddball premise for any game experience, but especially one featuring the characters and the weighty branding of Ubisoft.
"We were ending a project and we wanted to do something crazy, something different, and we really wanted to create our own NFTs and see how far we could go in the programmable aspect of things," Pouard explained. "We saw in the token the opportunity to build an ever-going donation, and so first it was a side project—and really, the idea was not to build a real collectable game, but to see how far we could go in creating a new version of ERC-721."
The crypto gaming outlook
Along with publishing One Shot League and Rabbids Token, Ubisoft has also formalized its relationships with some of the aforementioned crypto game developers. The publisher is validating transactions for Axie Infinity, as well as EOS-based game store Ultra, and joined with startup accelerator Hashed on an advisory partnership for Nine Chronicles. Ubisoft also advises on Flow, the blockchain behind the surging NBA Top Shot.
Asked about some of the current crypto games that excite him personally, Pouard pointed to the play-to-earn model of Axie Infinity that has thus far produced skyrocketing NFT sales, as well as the collectible experience of Top Shot, and the potential Roblox-esque game-as-a-platform appeal of creation game The Sandbox. "As we are still at the beginning of this whole blockchain gaming thing," he explained, "every project is trying to pave the way for their vision of what blockchain gaming could be."
Pouard believes that the current NFT explosion could be very beneficial for helping introduce crypto gaming into the mainstream, but worries that skyrocketing item costs will impact the ability for such games to pull in users.
"[The NFT boom] helps with raising attention on blockchain gaming. My fear is that maybe all of the excitement leads to very high item values, and maybe it's not a good thing for blockchain gaming," he said. "It's very difficult to predict the future, but for now, we can see that it helps great teams to earn money and build their games, so that's great. It raises attention from the mainstream, so that's helpful. But we need to be very careful on the monetization side. That's why we wanted to build a free-to-play game with One Shot League."
What are Ubisoft's next moves in the blockchain space? Unfortunately for some whose eyes widened at the original reveal, there are no current plans to release HashCraft to the public. It is no longer in active development, but even so, its creation helped spur Ubisoft's blockchain ambitions and even influenced other creators in the space, said Pouard.
"We were very happy to see how it was inspiring for a lot of people. We discussed a lot with The Sandbox, for instance. They shared that for them, it helped them shape what The Sandbox could become, especially in the voxel part," he said. "It was a proof of concept for us, a good prototype, and it was very inspiring also within Ubisoft."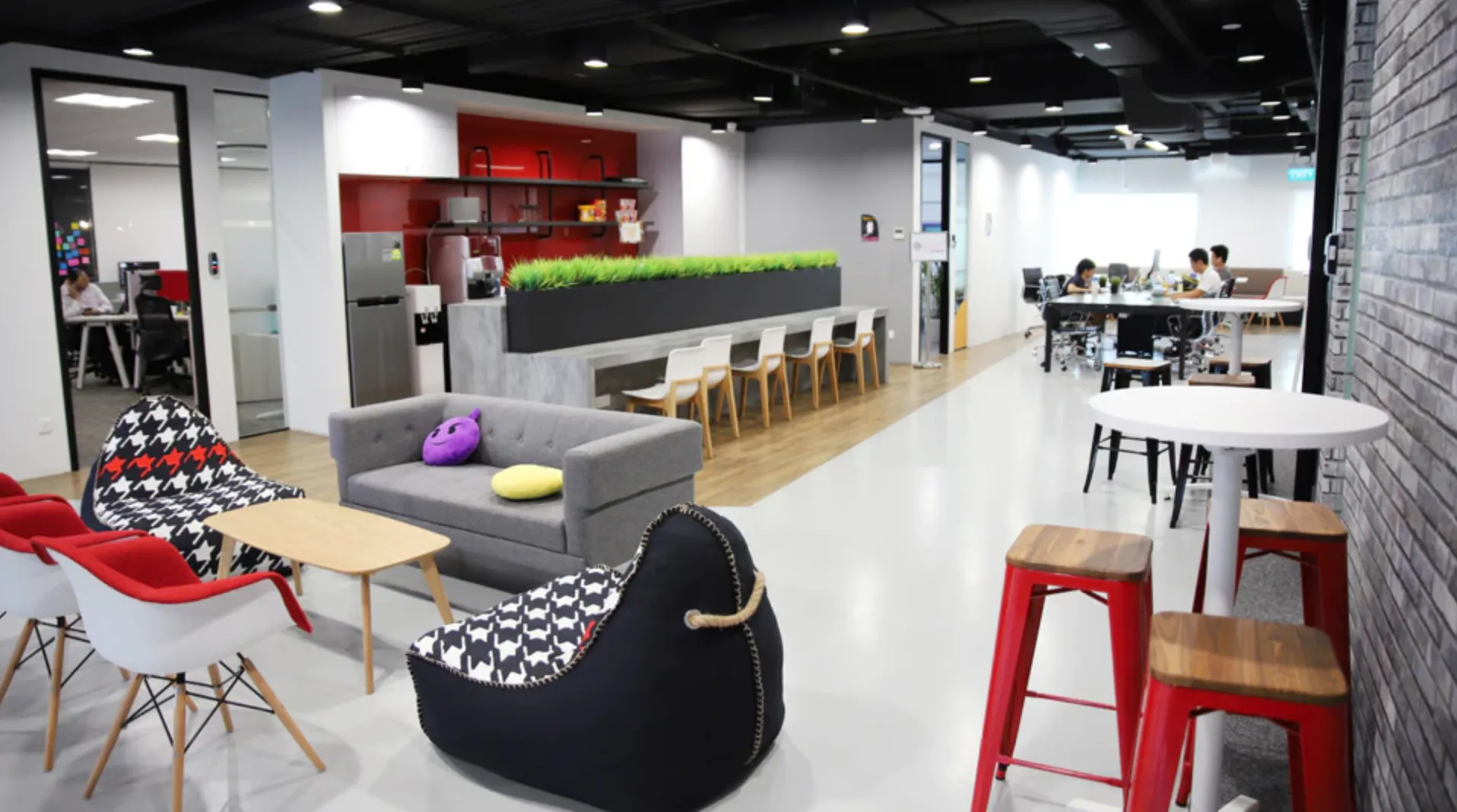 But the Ubisoft stable has a lot of distinctive and very popular properties within it, like the aforementioned Just Dance and Assassin's Creed. Much like Rabbids Token turned a classic franchise into something new and compelling with a crypto twist, Pouard acknowledges that they're looking at other potential franchise extensions.
"Yeah, of course. That's our work at the Strategic Innovation Lab, to explore the future of the blockchain field and NFTs, so of course we are continuing to explore the field," he said when asked about potential crypto gaming projects based on existing Ubisoft franchises. "I can say 'Yeah.' It's not a promise, but it's our work to explore and to see the new kind of opportunities and the way it will change the industry."