It's here: Solana really did make its own Web3 smartphone, the Saga—and it's rolling out now to people who pre-ordered, with new orders set to begin May 8.
Decrypt has had its hands on the $1,000 Android flagship device for the past week—and right now, Solana Labs' "moonshot" bet feels mostly like a Web2 device with a splash (albeit a meaningful one) of Web3 integration. It's a capable, powerful phone with native, secure wallet functionality that feels tight and intuitive, but with few available apps plus some hitches along the way.
Even more so than usual in Web3, using the Saga today feels like beta testing something with promise and potential. That may be an intriguing premise for early adopters and die-hards, and a potential catalyst for developers, but potentially a tough sell for the average consumer—and Solana Labs knows it. But there's a lot to like here, even if it feels a bit early.
Build and specs: polished and premium
As a longtime tech reviewer and someone who always wields a top-end handset, one of my key considerations when evaluating a phone is whether I could live with it on a day-to-day basis. In other words, would I be happy carrying this thing in my pocket as I stay connected, snap photos, work remotely, and remain perpetually online?
Luckily, the Solana Saga meets that requirement. This is a premium Android flagship with an attractive (but not overly flashy) design, built with sturdy materials and packed to the gills with just about everything you'd need to communicate, stay connected, and be entertained. Even without the Web3 element, this would be a very good Android phone.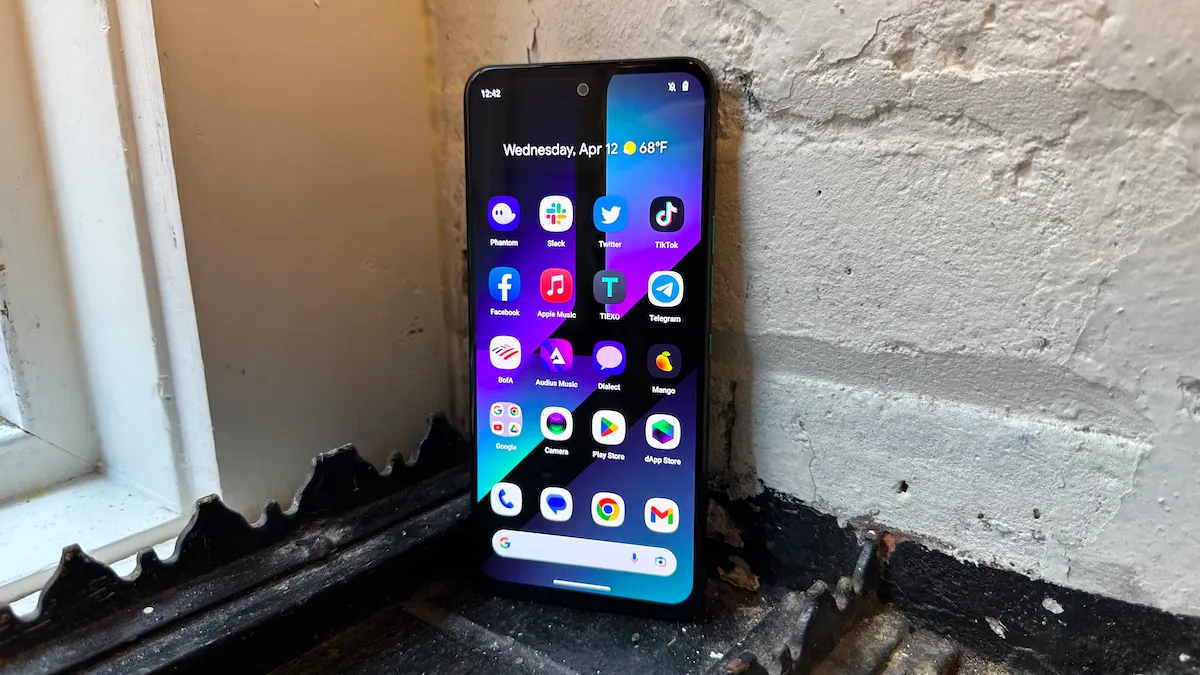 At a glance, the Saga is less distinctive than the Samsung Galaxy S23 or recent iPhones, but little accents help set it apart—the metallic green side buttons and rounded triangular titanium camera module on the back, especially. The stainless steel frame and ceramic backing are nice touches, too, even if the matte black rear finish is a fingerprint and smudge magnet.
It's a big boy, too—slightly taller and heavier than my iPhone 14 Pro Max, with a bright 6.67" 1080p AMOLED screen with a smooth 120Hz display. Battery life is pretty robust and reliable here with a beefy 4,110mAh cell, with wireless charging available for convenience alongside a faster wired USB-C connection.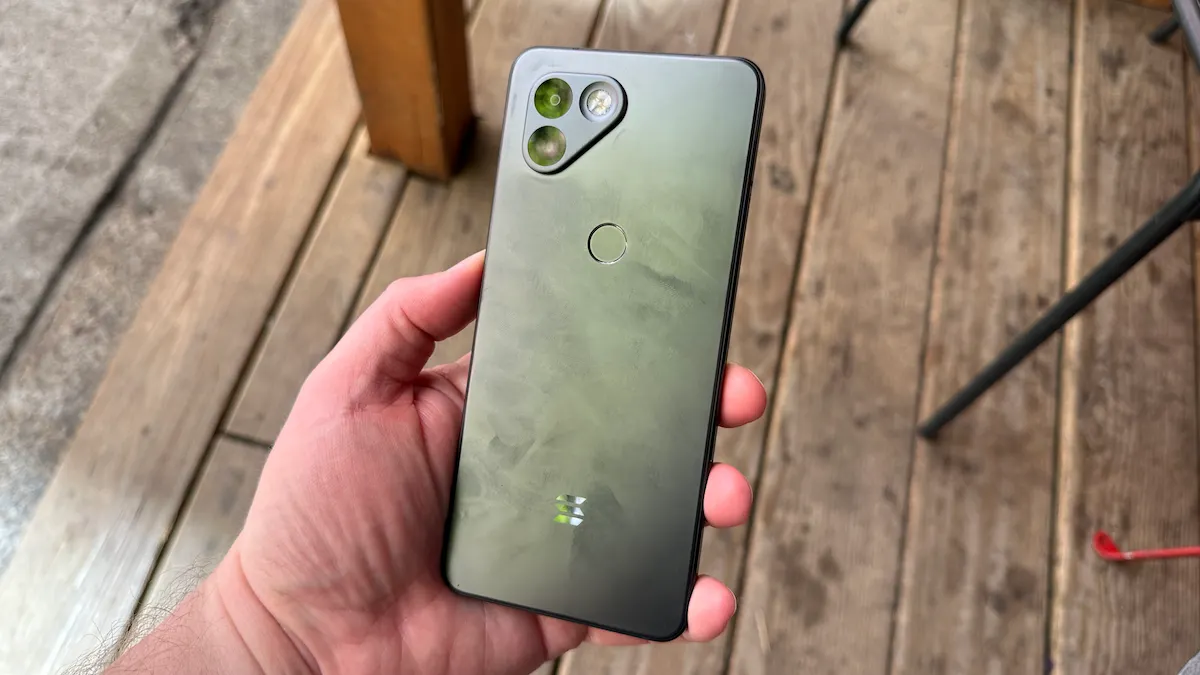 The Saga is plenty fast and powerful too, thanks to a flagship-level Qualcomm Snapdragon 8+ Gen1 processor paired with 12GB RAM, making it capable of running games and demanding apps with ease. That said, it's not the top-of-the-line chip: the Galaxy S23 and other new phones run a Gen2 chip that delivers solid performance gains in benchmark testing.
You're unlikely to notice the difference now, but the Saga could be less resilient than some 2023 rivals in the future as more demanding apps and games launch. On the upside, however, the Saga is packed with a robust 512GB of internal storage as standard—most phones require an upcharge to get you that kind of onboard storage.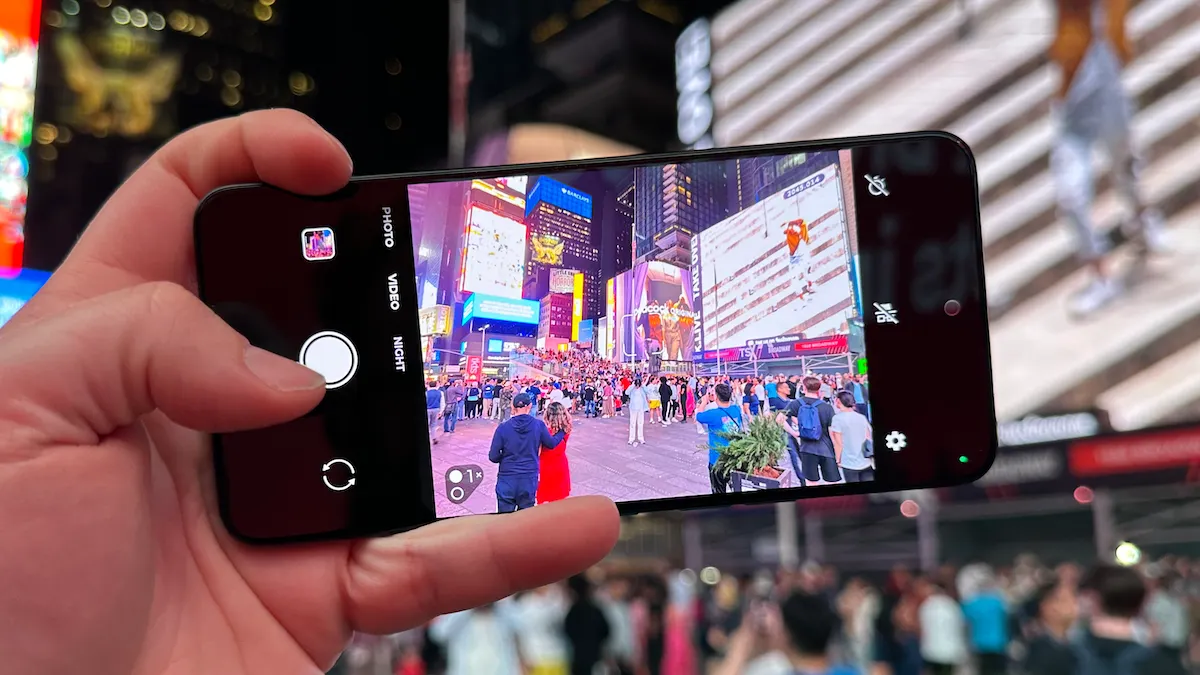 The dual-camera setup, with a 50-megapixel main shooter and 12MP ultrawide camera alongside, met my needs for casual everyday snaps, delivering crisp details and punchy colors. Put side by side with the iPhone 14 Pro Max, however, Apple's shots were routinely sharper, with more natural color balance.
Aside from the Web3 elements, the Saga ships with a thankfully clean Android 13 build—no clunky skin, no bloatware junk—and the full suite of Google services, including the Play Store. And this 5G phone works with all major U.S. carriers, so you can take it where you please.
Web3 on the go
That's the standard, "Web2" side of the Solana Saga experience—and if you plan to use it as an everyday phone, that's really the most important piece of the puzzle. But it's the Web3 integration that sets the Saga apart from your typical smartphone, and the key reason why anyone would consider the Saga over a standard flagship.
The Saga's Web3 offering is built around the Seed Vault, a native custody solution that secures your wallet's seed phrase within a secure environment on the phone. Even the Android operating system doesn't have access, and it's tied to your biometric signature via the rear fingerprint sensor.
That's paired with a native store for decentralized apps (dapps), which has just over a dozen dapps right now but provides a smoother, easier-to-use flow than typical web apps. Using a wallet app like Phantom or Solflare, you can sign Solana network transactions with a touch of the sensor, along with a tap of the screen and occasional PIN entry for good measure.
Setting up a wallet and getting started is relatively straightforward here thanks to a simple onboarding process, and within minutes, I was swapping USDC for Solana (SOL) via the Jupiter swap aggregator dapp and buying NFTs through the Tiexo marketplace. I took a photo amid the mayhem of Times Square and then immediately minted it as an NFT via the Minty Fresh dapp.
(Note: As with early consumer units, our Solana Saga review loaner came with $20 worth of USDC and 0.01 SOL—about $0.25 worth—for network fees. Decrypt will return the phone and all unused funds, along with any purchased or minted assets included, to Solana Labs.)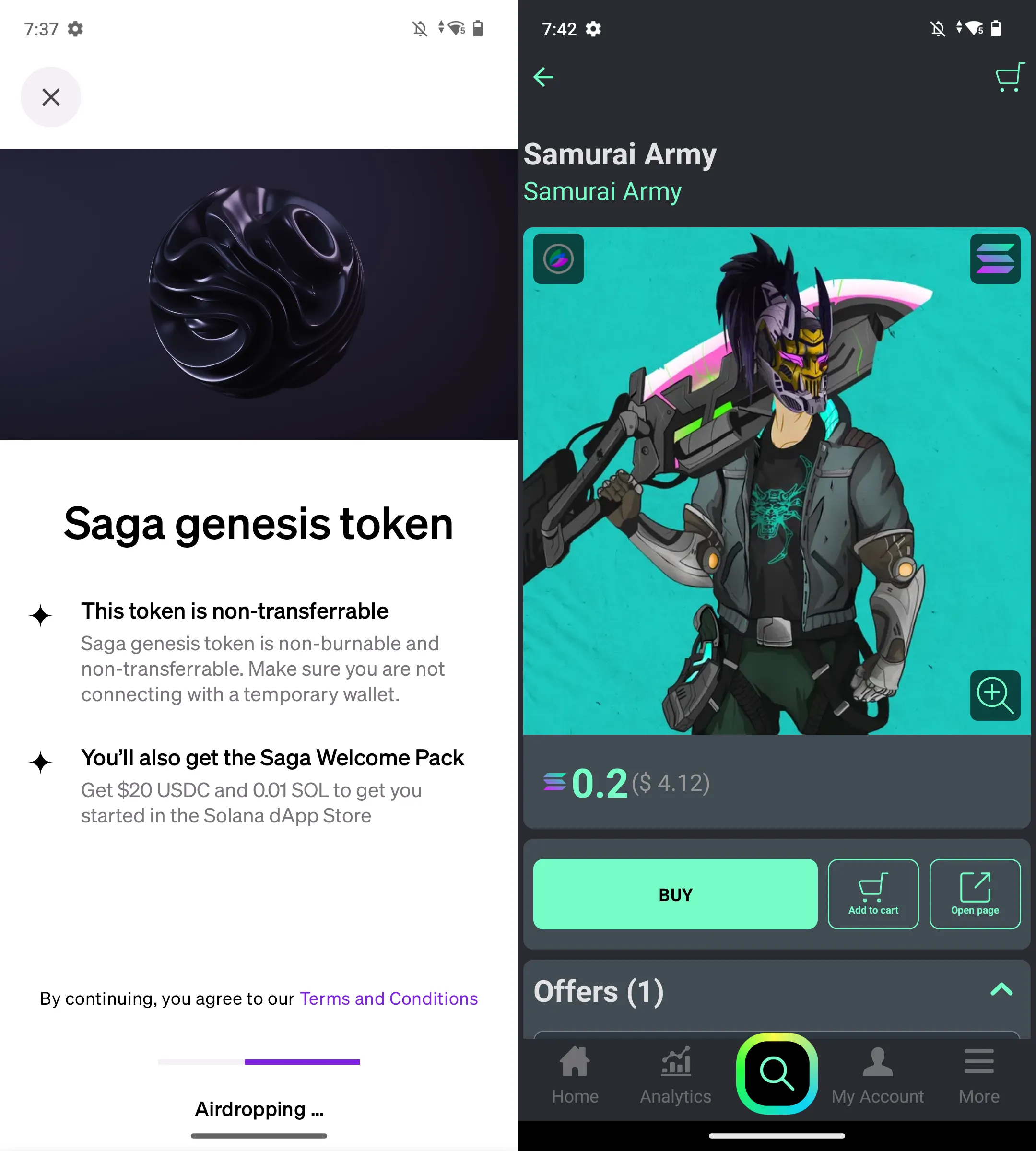 Wallets can be used to connect to web-based Web3 apps, as well, via Solana's mobile wallet adapter (MWA) technology. For example, the native Magic Eden dapp isn't yet in the Saga dapp store as of this writing, but I connected to the web version of the marketplace and bought an NFT via Phantom and my fingerprint.
But there are some stumbles along the way. The native Audius streaming music dapp wouldn't connect to my Solana mainnet wallet, and instead tried to connect via devnet. A social app (urFeed) simply would not download from the dapp store for days no matter how many times I tapped the button. And the MWA link didn't always work, such as when I tried to connect my wallet to the Aurory game's website… and nothing happened.
And broadly, while the essential core pieces are here to send and receive funds, mint and transact NFTs, and swap crypto funds, I was really hoping for more entertaining and engrossing Web3 experiences that really utilized the tech.
Solana has a growing gaming scene, for example, but the dapp store currently has no playable titles. And the web-based Solana games that I tried didn't work—shooter Mini Royale: Nations refused to load, and Aurory wouldn't connect to my wallet. A Solana Labs rep told Decrypt that "a few games" are in the works for Saga and "coming soon," however.
For early adopters
Despite the bugs and hitches, transacting with crypto and NFTs on the Solana Saga feels more intuitive than using a web-based wallet. Handling crypto assets on mobile is typically a fraught and frustrating experience, but the Saga's UX is undoubtedly a step forward—and at this point, best described as a starting point for Solana's mobile ambitions.
Solana Labs' bet on mobile is admirable: it's an attempt to cultivate a decentralized mobile ecosystem that isn't reliant on big tech juggernauts like Apple and Google and their 30% cut of app sales, which not only impacts developers but has stymied mobile Web3 adoption.
It's a big swing, but also a big risk—and a potentially expensive one for Solana Labs if the Saga doesn't find a large enough audience to support the mobile dapp ecosystem. Solana co-founder Anatoly Yakovenko has previously described the Saga as a "developer play" and said he'd be "very happy" to sell tens of thousands of units in the first year.
That level of sales wouldn't move the needle for a Web2 tech giant, but if it prompts developers to build mobile dapps and embrace the platform, then perhaps it will lead to more affordable Saga successors targeted at a broader audience—with more compelling reasons to buy in.
Solana Saga: Verdict
A $1,000 smartphone certainly isn't for everyone; nor is the Saga's emphasis on Web3 use cases. But among its peer group of expensive smartphones, the Saga is a pretty sharp offering—and its Solana integration is an exciting and promising twist that could ultimately pay off for users as a mobile hub for decentralized apps and services. But that's an open question for now.