In brief
Satoshibles NFTs can now be bridged from Ethereum to Stacks, a platform that is secured by Bitcoin.
StacksBridge can be tapped by other projects to tap into cross-chain benefits.
Many in the crypto industry were surprised to see NFTs find traction on the Bitcoin-backed Stacks network last fall. For the creators of the Ethereum-based NFT profile picture project Satoshibles, the burgeoning market presented a potential opportunity to properly embrace Bitcoin.
After all, Satoshibles is inspired by Bitcoin's pseudonymous creator Satoshi Nakamoto. The images, by Moroccan artist Ayyoub Bouzerda, are all based on a photo of Dorian Nakamoto, the man who became something of a Bitcoiner meme in 2014 after Newsweek claimed he is Satoshi.
"It was only right to create the NFTs on a platform that honored Satoshi's legacy," developer Brian Laughlan told Decrypt in October.
But how? Satoshibles could have launched additional NFTs on Stacks, but Laughlan said this week that he didn't want to split up the community across multiple chains.
Instead, his team started developing a cross-chain bridge, which lets Satoshibles holders move the NFT asset from Ethereum to Stacks and back as they please. Now live, the StacksBridge offers Satoshibles owners the opportunity to shift back and forth between the blockchain platforms—and other NFT projects can adopt the technology to support Stacks as well.
It's straightforward in functionality: a Satoshibles NFT holder can connect to the bridge with a MetaMask Ethereum wallet and Hiro Stacks wallet, and then pay transaction fees to execute the movement from one chain to the other.
The Satoshibles team has already minted the new Stacks NFTs on that platform, so when a holder uses the bridge, it either locks or unlocks access to each version of the NFT depending on which chain they want to be active on. A Satoshibles NFT can only be active on one blockchain at a time, with access locked on the other platform in the meantime.
An NFT acts like a deed of ownership to a digital item, whether it's a profile picture, digital illustration, video file, or some other piece of media.
The NFT industry soared to new heights in 2021, with an estimated $25 billion worth of trading volume, according to DappRadar. That's up from about $100 million the previous year.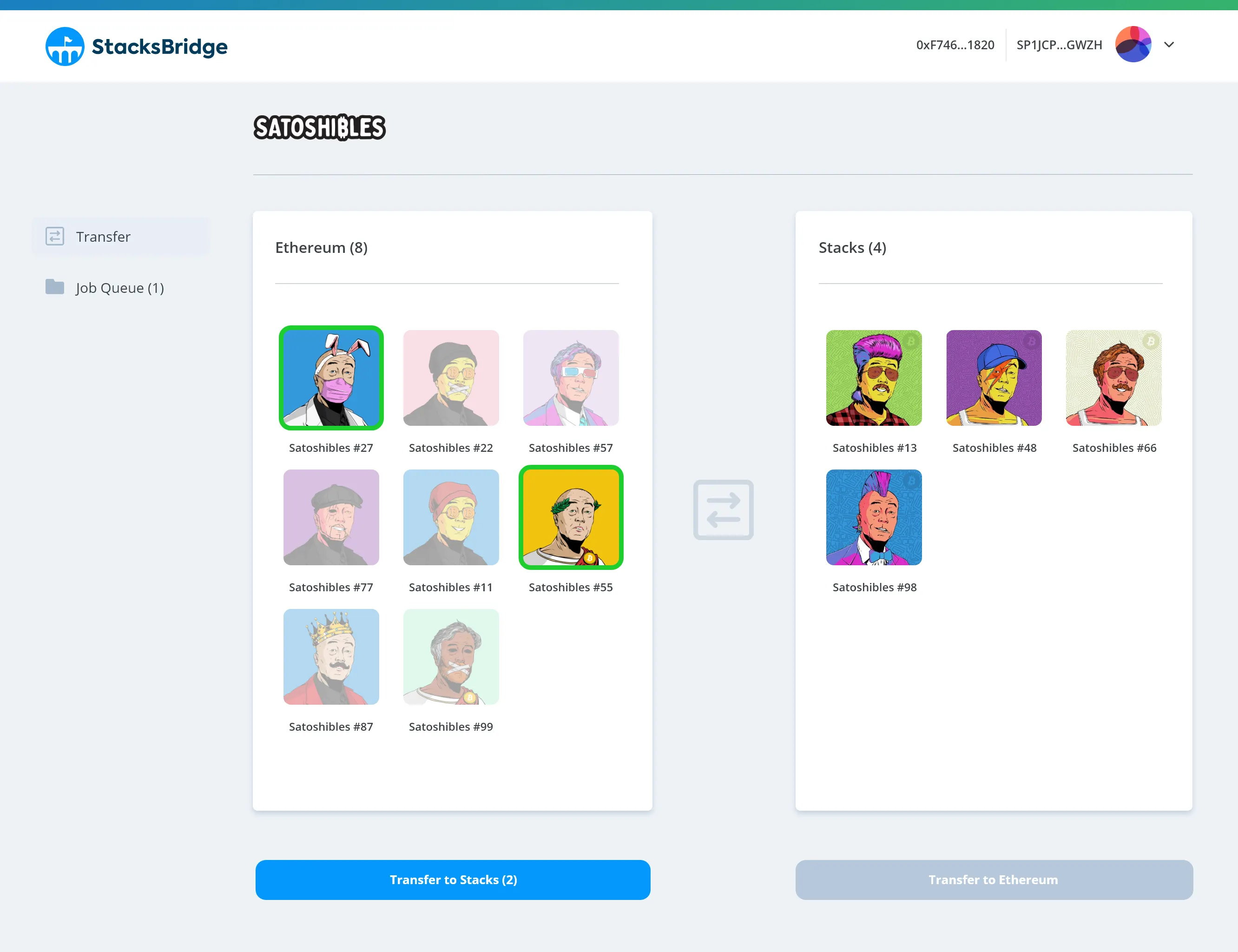 Currently, StacksBridge has a "trusted model," said Laughlan, which means the Satoshibles team is overseeing the security and operation of the bridge. They have explored building a trustless version that runs entirely on automated smart contracts—the code that operates protocols and applications on blockchain networks—but the team did not believe that it would be secure enough.
They do, however, believe that it could still be possible in future iterations.
As the name hints, StacksBridge isn't purely for Satoshibles either. Laughlan said he wanted to make it available for other projects to adopt as well.
Stacking NFTs on Bitcoin
Bitcoin doesn't have the capability to run smart contracts, which is required to operate NFT projects. That's a key differentiator that sets Ethereum apart from Bitcoin, and part of why the NFT market has flourished on Ethereum, with other platforms like Solana and Tezos emerging too.
However, Stacks offers a solution. It's a smart contract blockchain network that rolls up its transactions into bundles and settles them within Bitcoin transactions. It's technically a layer-1 blockchain but acts akin to layer-2 or sidechain solutions on Ethereum.
Stacks founder Muneeb Ali described it to Decrypt as a "layer 1.5" last September.
With smart contracts come NFTs, and an array of early Stacks projects emerged last fall, including Bitcoin Birds from 12-year-old Abraham Finlay. There have been Bitcoin-backed digital collectibles in the past, such as the in-demand Rare Pepes from 2016 on the Counterparty platform, but those now have to be "wrapped" as a new Ethereum NFT to make them tradeable.
For Laughlan, Stacks provided an opportunity to bring the Satoshibles collection of 5,000 randomized profile picturesto a more thematically appropriate platform. And in creating the Stacks versions that were minted for bridge users, Satoshibles reworked the backgrounds to feature Bitcoin imagery as well.
But there are potential functional or technical benefits to being on Stacks too, he said.
For example, he's working to build staking and gamification functionality on Stacks that would be prohibitively expensive to execute on Ethereum's mainnet, but should be much cheaper for users to interact with on Stacks. For users who see Bitcoin as a more secure platform, bridging Satoshibles to Stacks can act like putting the NFT into a vault for long-term storage.
However, as the Ethereum space also develops and yields potential NFT-powered metaverse platforms, Laughlan wants users to be able to use their Satoshibles in that ecosystem as well. The option is left up to users with the StacksBridge, and Laughlan said that it could eventually incorporate an additional blockchain network in time.
StacksBridge launched earlier this week and about 4% of Satoshibles owners have already made the shift, Laughlan said. As of this writing, the cheapest-available Satoshibles NFT on Stacks (692 STX, or $1,169) is much more expensive than the cheapest on Ethereum (0.2 ETH, or $641), but there's a much wider selection of rarity levels on Ethereum at present.
As the Stacks NFT ecosystem takes shape, particularly around the thematic hook of Bitcoin, Laughlan hopes that the project can act like the Bored Ape Yacht Club for Bitcoin enthusiasts: a popular avatar, sure, but also a status symbol.
And for Bitcoin maximalists who wouldn't touch ETH or transact on other blockchains, Stacks provides an entryway into the NFT scene.
"We've got a lot of Bitcoin fans on the bandwagon, and a lot of them were saying that it's their first NFT," Laughlan explained. "Basically, the only [negative] thing they said to me was that they were a bit annoyed that they had to buy it with Ethereum."
Now they won't have to.