In brief
Major game publisher Ubisoft will implement in-game NFT items into its games, starting with Tom Clancy's Ghost Recon Breakpoint.
Ubisoft's Quartz NFT platform runs on Tezos, a proof-of-stake blockchain platform.
Ubisoft was the first major video game publisher to take an interest in the blockchain space, experimenting with crypto game prototypes and supporting startups over the last few years. But now the gaming giant will actually implement NFTs within one of its major franchises in a new initiative that runs on Tezos.
Today, the publisher behind Assassin's Creed and Just Dance revealed Ubisoft Quartz, a platform that lets players earn and purchase in-game items that are tokenized as NFTs on the Tezos blockchain. Quartz will launch first in the PC version of Tom Clancy's Ghost Recon Breakpoint, the latest online game in the long-running tactical shooter series.
Quartz will launch in beta on December 9 in the United States, Canada, France, Germany, Spain, Italy, Belgium, Brazil, and Australia. Ghost Recon Breakpoint players who have reached XP level 5 in the game can access the NFT drops. Ubisoft's release says that players must be at least 18 years old to create a Tezos wallet for use with the game.
Ubisoft is referring to its NFT drops as "Digits" and plans to release free NFTs for early adopters on December 9, 12, and 15, with further drops planned for 2022. An infographic shows items such as weapon skins and unique armor and apparel, along with a message that teases future initiatives: "This is just the beginning…"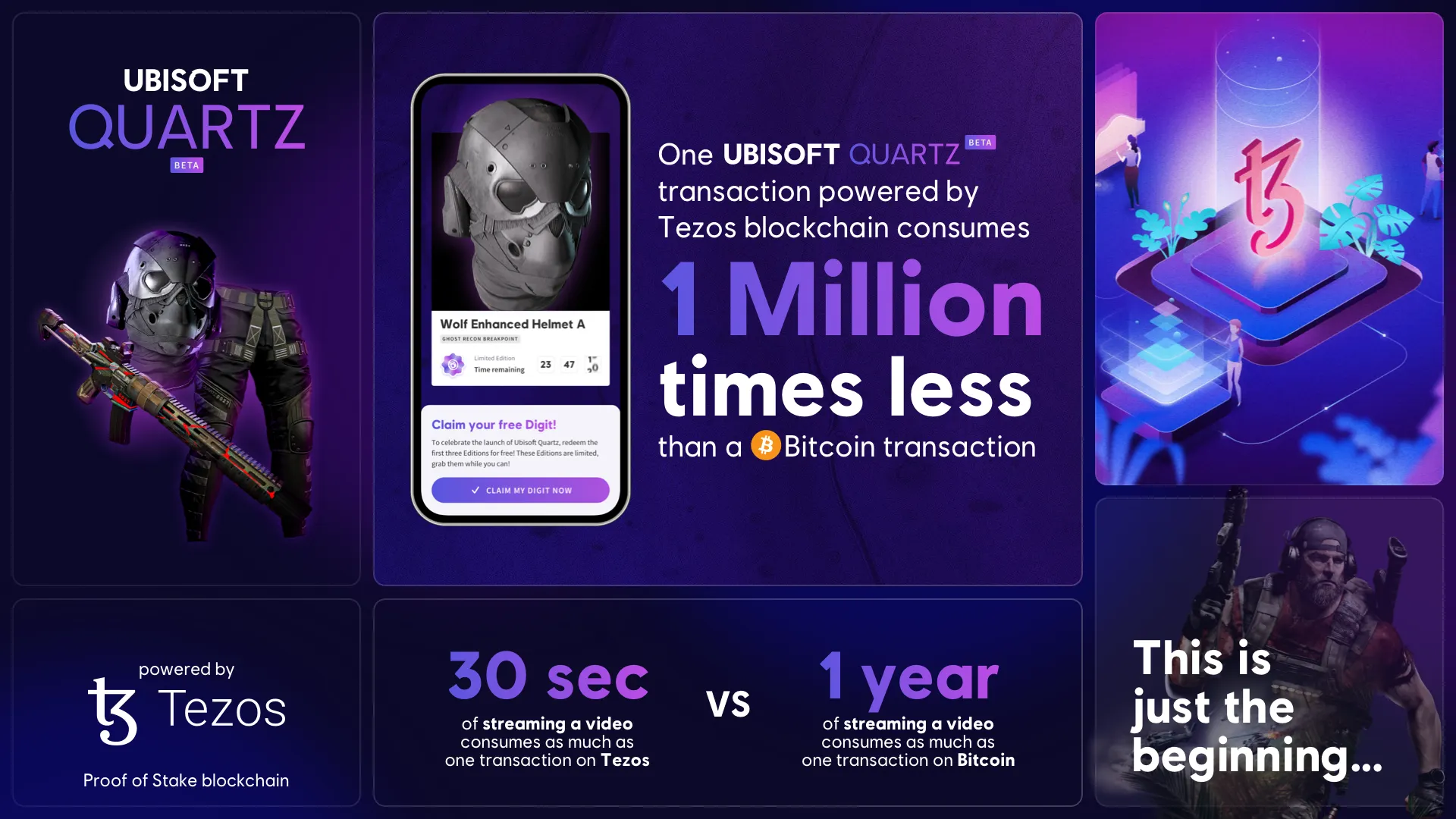 An NFT effectively serves as a receipt for a provably scarce digital item, and while digital illustrations and profile pictures have been popular, they can also represent video game items. Ethereum-powered monster-battling game Axie Infinity is currently the biggest player in the space, racking up more than $3.6 billion in trading volume to date, per CryptoSlam.
"Ubisoft Quartz is the first building block in our ambitious vision for developing a true metaverse," said Nicolas Pouard, VP of Ubisoft's Strategic Innovation Lab, in a release. "And it can't come to life without overcoming blockchain's early-form limitations for gaming, including scalability and energy consumption."
Much of Ubisoft's announcement today highlights the difference in environmental impact between the proof-of-stake Tezos blockchain and the energy-intensive Bitcoin.
Tezos claims that a single transaction on its network uses "more than 2 million times less energy" than Bitcoin, the leading cryptocurrency. It also suggests that a single Tezos transaction uses about as much energy as a 30-second streaming video, whereas a Bitcoin transaction is estimated to measure up to the environmental impact of a full, uninterrupted year of streaming video footage.
The perceived environmental impact of blockchain technology has created backlash within the traditional video game market in the past, including recently when horror game Dead by Daylight unveiled plans to launch a new character in the form of an NFT.
Ubisoft first began exploring the crypto and NFT space years back, developing a Minecraft-like game prototype called HashCraft that Decrypt first covered in early 2019. Since then, Ubisoft has worked with numerous crypto startups through its Entrepreneurs Lab accelerator program, and supported projects like Axie Infinity, Nine Chronicles, and NBA Top Shot. It also became a corporate validator on the Tezos network in April of this year.
While HashCraft was never released, Ubisoft did debut a couple of small experiments in the space: charity-focused NFT project Rabbids Token, as well as this year's One Shot League, a spinoff of popular NFT fantasy soccer game, Sorare. In October, Ubisoft made its first true investment in a crypto startup, participating in Animoca Brands' $65 million funding round and affirming plans to work with the firm on NFT-driven games.
Other major game publishers are eyeing the space, as well: Square Enix announced plans in November to develop NFT games, while Electronic Arts CEO Andrew Wilson recently described NFTs as "an important part of the future of our industry on a go-forward basis."