In brief
The new exchange starts with a pile of cash, Bitcoin, and EOS.
The starting capital is not far from the size of EOS's market capitalization.
To start a centralized cryptocurrency exchange, you need a lot of liquidity to enable trades and attract buyers and sellers. 
The gross domestic product of a small country ought to do it.
Block.one, the software firm behind the EOSIO blockchain platform, has pulled together $10 billion to get Bullish Global off the ground. Block.one supplied 164,000 Bitcoin ($9.25 billion), 20 million EOS tokens ($250 million), and $100 million in cash, while also raising $300 million in strategic funding.
EOS enjoyed the best day of any of the top 100 cryptocurrencies by market cap, moving from $9.17 to $13.83 in just six hours this morning after the news broke. The 46% boost since yesterday bested other hot assets such as YFI and MATIC, according to data from Nomics.
Block.one was founded by CEO Brendan Blumer and former CTO Daniel Larimer, who wrote the EOS white paper. The blockchain project, one of the original "Ethereum killers," went on to raise a record sum of $4.2 billion in an initial coin offering.
Its backers include UK hedge fund manager Alan Howard, Moore Capital Management CEO Louis Bacon, and PayPal and Palantir co-founder Peter Thiel—all of whom invested in Bullish's funding round. 
Mike Novogratz, whose asset management firm Galaxy Digital also partook in the funding round, said, "Bullish's sheer size and scale combined with Block.one's experience in high-performance blockchain engineering will make Bullish a formidable player from day one."
According to an announcement today, the new cryptocurrency exchange will leverage existing tools from the EOS network and the EOSIO platform maintained by Block.one. 
It also plans on incorporating lending and automated market making tools that allow algorithms to set the price of assets so that there doesn't always need to be a buyer and seller. In other words, the exchange could allow EOS to take a share of the booming decentralized finance market, in which people can earn interest, borrow funds, and trade derivatives and digital assets without third-party intermediaries. "DeFi" accounts for about $85 billion in holdings on EOS rival Ethereum.
The serious outlay of funds by Block.one may be a necessity to remain relevant. According to a June 2020 report from Outlier Ventures, EOS lost 85% of its developer pool over the course of a year as its Github code updates evaporated to just 6% of the previous year's level.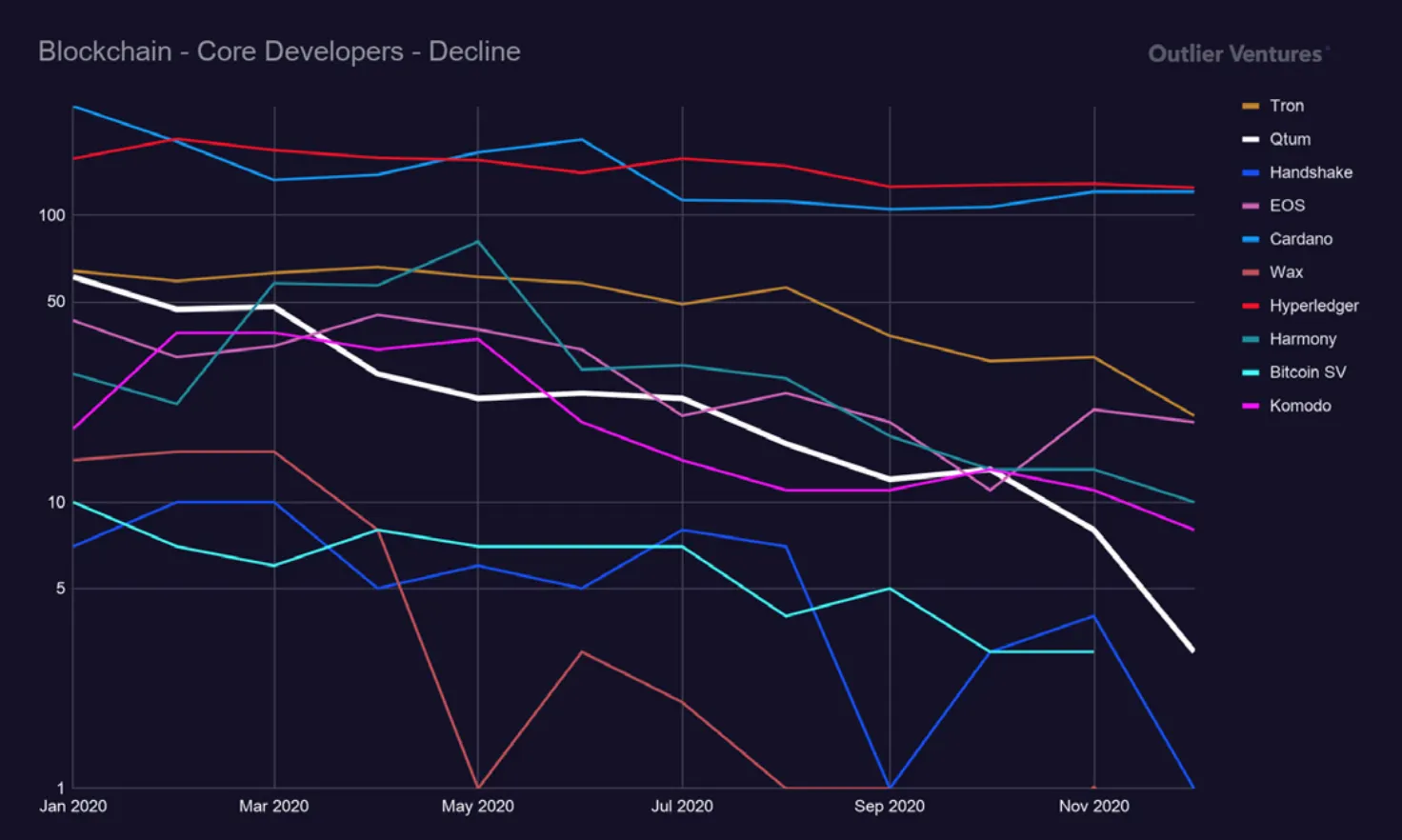 The more recent 2021 Development Trends Report from Outlier Ventures suggested that, after that Q2 report, the downward trend had continued. While TRON and EOS were declining, other "Ethereum killers" such as Polkadot, Cosmos, and Solana were gaining developers.
But $10 billion can go a long way. It's more than the entire market capitalization of Monero, Algorand, Maker, and—up until this morning's market pump—EOS.