The next wave of NFT-infused games promises to be a dramatic step up from the simplistic, DeFi-driven experiences that defined the initial play-to-earn gaming wave.
Want proof? Just check out the games below. From Illuvium to Shrapnel and Otherside, these games look and feel just like the glossy AAA games that millions of "Web2" gamers love, but with ownable and tradable assets, tokenized economies, and new play mechanics.
We've picked 12 of the most exciting-looking games on the horizon, including some we've already played in early access, as well as upcoming NFT games from traditional gaming giants. And stay tuned, as we'll be updating and expanding this list regularly with new entries.
Parallel
Parallel is a sci-fi trading card game that's made a huge splash with its closed beta thus far. The game's current incarnation is available for PC gamers and has generated a lot of chatter on social media. In each Parallel match, players can act as one of five factions or "parallels," each of which has its own aesthetic and play style.
The Marcolian parallel is aggressive and damage-forward, for example, while the Earthen parallel is defensive and self-healing. The Shroud parallel is unpredictable and mystical, the Augencore parallel is all about upgrading cards on the board, and the Kathari parallel shines when it spawns an army of clones that can quickly overwhelm the enemy.
While free-to-play in its closed beta, every player will need a deck of 40 cards. There are currently free decks offered that are not NFTs, but those interested in card ownership and the ability to earn Parallel's PRIME token for wins will need a deck of NFT cards. Parallel has released starter card deck packs as NFTs on Coinbase's Base network, as well as individual cards on Ethereum.
Illuvium
Illuvium is a sci-fi fantasy franchise with four different games in development: Illuvium Arena, Illuvium Overworld, Illuvium Zero, and Illuvium Beyond. It's shaping up to have a lot of potential across the RPG, autobattler, and card game genres—and the graphics in Overworld are already impressive. We came away impressed after playing Overworld's open-world beta test.
When it comes to crypto elements, Illuvium is building on Immutable X and sells game characters as NFTs, along with loot boxes, and uses the ILV token. Illuvium has its own crypto marketplace called IlluviDex for trading assets and is leaning into crypto integrations.
Deadrop
Deadrop is a sci-fi first-person shooter (FPS) game with battle royale (BR) and extraction elements. It's in development at Midnight Society, a game studio helmed by YouTuber and game industry veteran Guy "Dr. Disrespect" Beahm and ex-Call of Duty lead Robert Bowling, among others. Deadrop has already made a splash in part due to Dr. Disrespect's large YouTube following—and gamers appear to be enjoying the gunplay thus far.
In Deadrop, players must ascend to reach an extraction point while eliminating other players along the way. Deadrop has offered early-access "snapshots," with access going to holders of its Founders Pass NFTs on Polygon as well as players who buy non-NFT tower keys. July's Snapshot VI build offered an even bigger and better rendition of the experience, with Snapshot VII set to be revealed in Las Vegas on October 20.
Symbiogenesis
Final Fantasy and Dragon Quest maker Square Enix is bringing its historic role-playing prowess into the Web3 world with Symbiogenesis, a game that's been described as a strategic narrative experience built around NFTs. It'll launch on Polygon, an Ethereum scaling network.
Square Enix has spent months teasing out details of the experience, sharing concept art that recalls the vibe of Final Fantasy, as well as glimpses of the profile picture (PFP) NFTs that will be part of the experience. And the dystopian, post-environmental-disaster setting feels in line with the publisher's strengths. At this point, however, we don't have a clear sense of how the game itself will look and play—but the prospect of it is still exciting.
Shrapnel
Shrapnel is a sci-fi FPS extraction game in development that will offer in-game assets as NFTs, as well as plenty of opportunities for user-generated NFT content creation. Shrapnel content will be tradeable thanks to its GameBridge feature, and Shrapnel uses its own Avalanche subnet and the SHRAP token.
Shrapnel recently offered early access playtests at GDC in March as well as the Consensus conference in April. The gameplay looks and feels very high-quality and cinematic thus far, making it one of the most AAA-like games using crypto to date.
My Pet Hooligan
My Pet Hooligan (MPH) is a stylized third-person sci-fi shooter game from AMGI Studios. In MPH, gamers play as brightly-colored bipedal rabbits, and the game offers team deathmatch and battle royale game modes as of the current closed early access test in July.
MPH has a variety of crypto and NFT integrations, including rabbit and robot NFTs, as well as the KARROT token. Like Illuvium and Shrapnel, MPH is leaning into its crypto elements. Its developers come from the likes of Disney and Pixar, and the game's unique movement and quirky aesthetic is sure to charm some gamers. Even in its pre-release state, it's one of the most promising Web3 games we've played to date.
Champions Tactics: Grimoria Chronicles
Ubisoft, one of the biggest video game publishers in the world, has been playing in the Web3 space for years—and it's working on a totally new game using the tech. The creator of Assassin's Creed and Just Dance has announced Champions Tactics: Grimoria Chronicles, a new PvP tactical role-playing game (RPG) on the Oasys blockchain.
We don't have a lot of hard details as of this writing. Champions Tactics will have a fantasy theme, and the teaser trailer shows silhouettes of what look to be tabletop-like figurines of a wizard and warriors, suggesting a literal translation of physical RPGs into the digital realm. Ubisoft also points to a "free drop at launch" to play the PC game. Whatever form the game takes, it's sure to be a major launch.
Wildcard
Wildcard is a player-versus-player arena game in alpha that blends elements of a card game, multiplayer online battle arena (MOBA), and autobattler. Players must strategically "throw" cards onto the arena, which turn into various characters that will automatically battle the enemies' own card-based characters. 
One of Wildcard's creators, Paul Bettner, previously created the smash hit game Word With Friends. He's also very active on Twitter and has been taking feedback from players. Wildcard is releasing its NFTs via Polygon. As of this writing, Wildcard has only released its Wildpass, a membership pass NFT promising holders "access to the Wildcard universe."
Otherside
The Bored Ape Yacht Club helped ignite the PFP boom, but creator Yuga Labs increasingly sees itself as a gaming company—and following shorter-form experiences like Dookey Dash and HV-MTL Forge, Otherside is the $4 billion Web3 startup's big swing.
Billed as a metaverse game, Yuga Labs sold over $300 million worth of NFT-based land plots for the game, and executives told Decrypt that they envision a shared game world that lets users build games and content alongside Yuga's own Ape-themed experiences.
Early playtests for NFT holders have impressed with the sheer scale of the experience, with several thousand players all sharing the same world in this spring's Second Trip. We'll see whether Yuga's vision for the metaverse proves compelling amid rising apathy around the broader concept.
Gran Saga: Unlimited
Gran Saga: Unlimited (GSU) is a massively multiplayer online role-playing game (MMORPG) with high fantasy elements that's currently in development at Metapixel. In July 2023, GSU offered a community playtest where gamers could select a character from one of five types and level them up through a series of quests and raids. Like most MMORPGs, GSU has damage dealers, tank characters, healers, and mages.
The game's aesthetic is a bit like if World of Warcraft met Genshin Impact. GSU's lore centers around helping the game's AI—represented as a character named Lillith—eliminate various errors and "bugs" in the game's fantasy world, making it a fascinating mix of fantasy and science fiction. GSU will offer users various in-game items as Aptos NFTs, which can then be traded with other players.
Star Atlas
Star Atlas is one of the most ambitious-sounding Web3 games in development, and aims to deliver a vast outer space simulation game that's built around Solana NFTs. Think of it like Star Citizen or EVE Online, but with player-owned assets and a tokenized economy.
That's no small feat, so it's no surprise that the developers plan to spend years building out this vision. We've started to see glimpses of what's possible here, however, with the release of a playable pre-alpha demo on the Epic Games Store that's been updated and expanded over time, plus frequent development updates.
If Star Atlas can deliver on its ambitions, then it could be one of the heavyweight games in this space. However, recent layoffs may point to challenges executing on that vision—or at least potential delays in doing so.
MapleStory Universe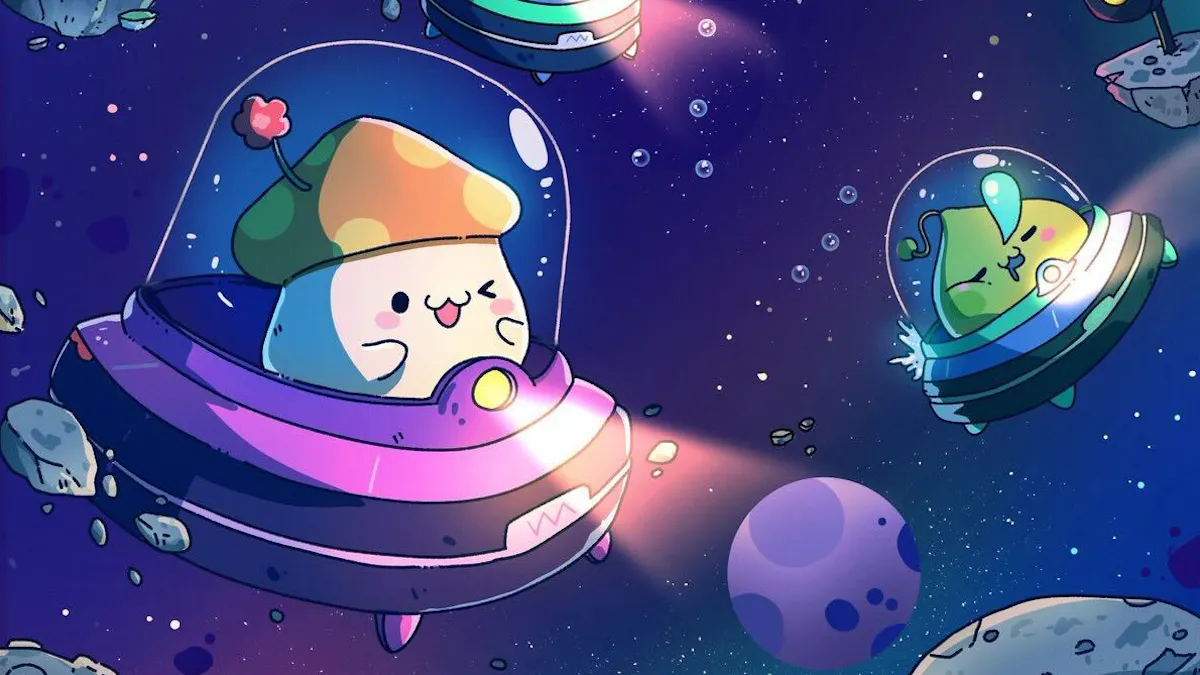 MapleStory—the 2D side-scrolling MMORPG launched back in 2003—is getting an NFT-enabled spinoff game called MapleStory Universe. MapleStory is a beloved franchise whose colorful, cutesy pixelated aesthetic has drawn a large and fervent community.
MapleStory Universe will use Polygon for its NFT elements and eventually offer its own token, a Nexon representative previously told Decrypt. Nexon will build its own dedicated Polygon "Supernet" to support the crypto backend for the title. The game has been in development since 2022 and does not yet have a release date.
Editor's note: This article was first published in December 2019 and last updated on September 6, 2023.