Chainlink, which uses oracle networks to provide secure access to real-world data for Web3 apps, has unveiled that its long-awaited staking rewards are set to go live in December, together with two new programs designed to increase the economic sustainability of its services. 
Chainlink Co-founder Sergey Nazarov made the announcement at SmartCon 2022, the network's first IRL conference. Ex-Google chief Eric Schmidt, now a Chainlink advisor, is a speaker along with other luminaries including FTX's Sam Bankman-Fried, and Arianna Huffington.
Four crypto projects, Avalanche, Metis, Moonbeam, and Moonriver, will be early participants in Chainlink's new SCALE program, which will reduce the costs of putting oracle data and reports on-chain by further boosting development and splitting costs among a greater number of participants. The projects will contribute a portion of their revenue, in the form of tokens, in return for premium Chainlink services—such as data feeds with higher update frequencies to enable more advanced and low-latency smart contract applications. 
The new economic model for the platform includes a sister program, BUILD, for early-stage projects, that will give them priority access to services and advanced support in return for a contribution in their native token.
The various services Chainlink provides—including price data feeds, weather data, random number generation for gaming applications, and, soon, secure cross-chain communication—means that Chainlink is becoming a decentralized data services platform, akin to a Web3 version of AWS, Nazarov told Decrypt ahead of the conference. 
How to be like Aave and Synthetix
"We are seeking to provide all the services that everyone needs to build Web3, and based on our market share we already do that very successfully," said Nazarov.
Chainlink is used by some of the most valuable DeFi apps, including Aave, Compound, dYdX, Synthetix, and Nexus Mutual. The startup is rooted in a network of oracles, which are programs that take off-chain data and make it usable by blockchains and dapps. This enables smart contracts to automatically settle when their conditions are met. Chainlink's oracles now number some 1,000—a 30% increase since January. During the same period, the number of projects integrating its services has increased from 1,000 to 1,500.
Chainlink guarantees the security of smart contracts that depend on data feeds by aggregating price data sourced from a pool of independent nodes backed by economic incentives, rather than from a single central party.
One of the key aims of the BUILD program is that more projects can emulate the success of the platform's early clients, which include lending platforms Aave and Synthetix. Both launched with assistance from Chainlink, which provides them with secure access to the price data feeds they depend on.  
The BUILD program "formalizes" Chainlink's relationship with the projects that integrate it, providing them with "high-quality services in return for something that they have in abundance of, which is essentially their token," said Nazarov.
He said that Truflation, Space & Time, and Bitscrunch are among the projects that have already signed up to BUILD.
Chainlink staking arrives in December
The SCALE and BUILD programs underpin Chainlink's long-awaited staking rewards scheme.
The programs will help cover the operating costs of Chainlink oracle networks, and the native tokens will also become available to stakers—community members who use LINK to secure the network and obtain rewards for doing so.
Staking will go live in December and will roll out across tiers, depending on eligibility, according to Chainlink. 
"Staking is going to distribute the value the system accrues to the relevant participants—the nodes and the stakers," said Nazarov. It's an "early kind of experimental v0.1 version," he emphasized, adding that there will be an opportunity for early adopters and others to join the staking pool early on. 
An eligibility app will be released on October 3, which will rank applicants according to various metrics—the LINK they hold but also their degree of community engagement. 
According to Chainlink, the initial staking pool will start with an aggregate size of 25 million LINK tokens, with the goal of expanding to 75 million tokens—based on demand—in the following months after the launch.
An Amazon for the Web3 era?
Over the last four years, Chainlink has established itself as a central player in the burgeoning world of DeFi—a collection of decentralized applications, mostly on the Ethereum network, that allow traders to borrow, lend, and trade crypto assets without third-party intermediaries.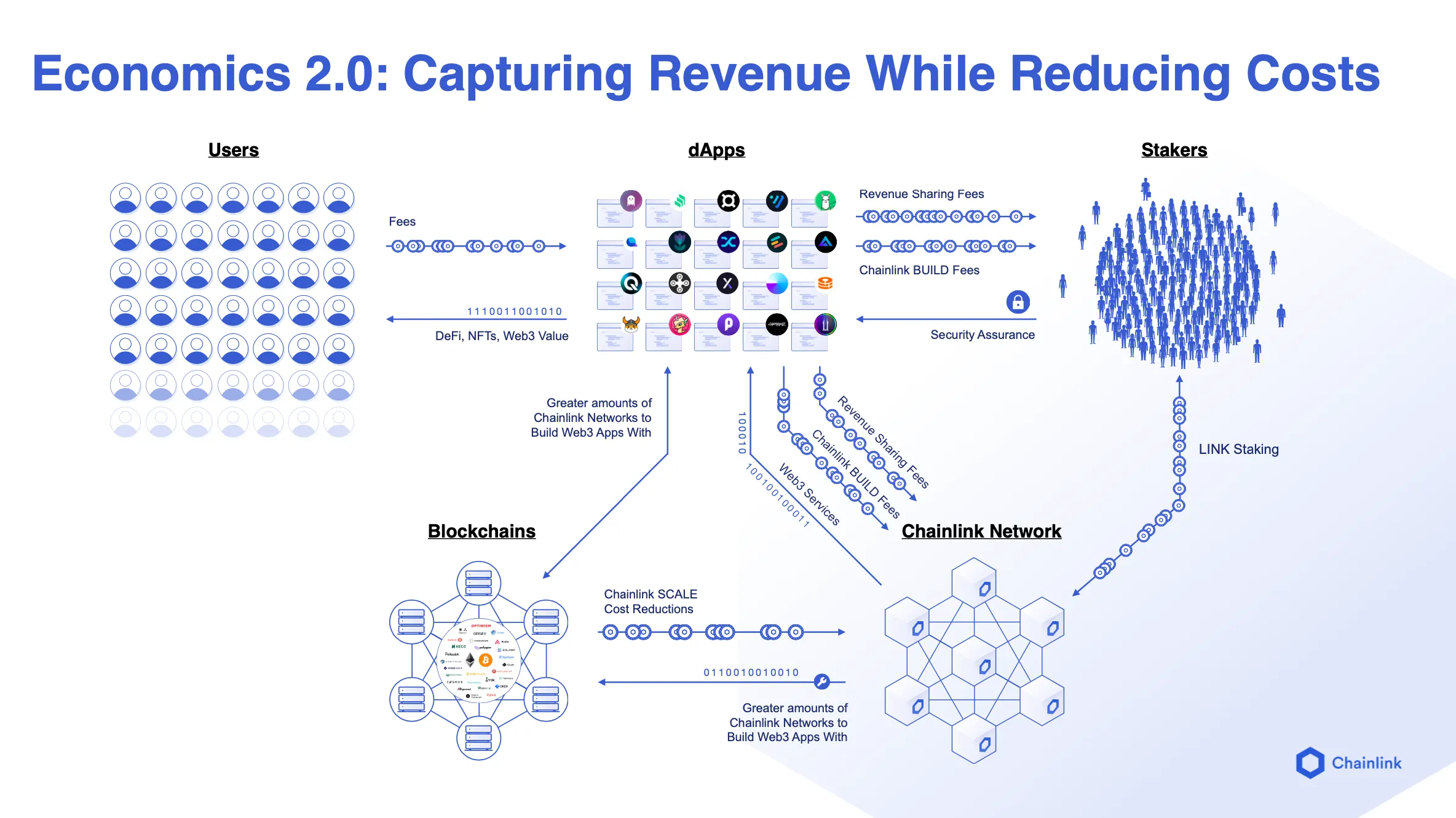 Chainlink's new programs, part of its "Economics 2.0" initiative, are a bid to cement that success and build a sustainable, successful platform. "There is a revenue sharing dynamic emerging with Chainlink and other DeFi applications," said Nazarov.
The Chainlink co-founder stressed, however, that LINK will continue to be used by people to pay for services. "What we're trying to do is make access to oracle services very economical," he said.
Editor's note: This article was updated after publication to clarify that Sergey Nazarov is the co-founder, not CEO, of Chainlink.