In brief
Avalanche is an advanced blockchain platform that promises extreme scaling capabilities and fast confirmation times.
Several products have already launched on Avalanche, including the Pangolin automatic market maker.
In the race to produce the fastest, most feature-complete blockchain there is, a handful of major players have emerged in the last year.
​Among these, Avalanche—an open-source platform for new financial primitives and decentralized applications—has emerged as one of the front-runners.
Here, we take a look at what makes it stand out in an increasingly populated industry.
What is Avalanche?
Avalanche is a new platform developed by Ava Labs that allows anybody to easily produce their own multi-functional blockchains and decentralized applications (dApps).
It is designed to address some of the limitations of older blockchain platforms, including slow transaction speeds, centralization, and scalability—and uses several innovations to do so. This includes its unique Avalanche consensus protocol, which promises low latency, high throughput capabilities, and resistance to 51% attacks.
Avalanche launched its mainnet in September 2020, just two months after raising $42 million in a token sale—which sold out in less than five hours.
How does Avalanche work?
At its core Avalanche is built around a system of three interoperable blockchains: the Exchange Chain (X-Chain), Contract Chain (C-Chain), and Platform Chain (P-Chain).
Briefly, the X-Chain is used for the creation of new digital assets, whereas the C-Chain is Avalanche's Ethereum Virtual Machine (EVM) implementation, and the P-Chain is used for coordinating validators and creating subnets.
Did you know?
Subnets are a set of validators tasked with achieving consensus on one or more Avalanche blockchains.
Two of these blockchains (the P-Chain and C-Chain) are secured by the chain optimized 'Snowman' consensus, helping to enable high throughput secure smart contracts, whereas the X-Chain is secured by the DAG-optimized 'Avalanche' consensus—a secure and scalable protocol that can achieve transaction finality in seconds.
By splitting its architecture across three separate blockchains, Avalanche is able to optimize for flexibility, speed, and security, without any trade-offs. This makes it a powerful platform for both public and enterprise use cases since developers have a great deal of flexibility in the types of applications they can build.
The platform is centered around the AVAX, the native utility token for the Avalanche ecosystem, and is used for paying network fees, staking, and providing a "basic unit of account" between Avalanche subnets.
What's so special about it?
According to Ava Labs, the platform can handle somewhere in the order of 4,500 transactions per second—compared to around 7 tx/sec for Bitcoin and 14 tx/sec for Ethereum. It's also able to achieve transaction finality in under 3 seconds. This arguably makes it better suited for massively scaling decentralized applications—which would be bottlenecked on many competing platforms.

Besides being highly scalable, Avalanche is also built to tackle another major problem facing blockchain-based systems today: interoperability. It achieves this by enabling blockchains both within a subnet and between subnets to communicate with one another, allowing them to complement one another and support cross-chain value transfers.
It's also remarkably inclusive. While many proof of stake (PoS) blockchains only allow a select number of validators to participate in achieving consensus, Avalanche allows anybody staking at least 2,000 AVAX to participate.
Did you know?
Avalanche completely nixes the concept of "slashing"—users will not see their stake penalized if their node misbehaves or malfunctions.
As of February 2021, Avalance's biggest rival remains Ethereum—the blockchain platform that currently dominates the DeFi space. Although Avalanche supports the Ethereum Virtual Machine (EVM), it uses a different consensus mechanism to secure the network and also supports cross-chain value transfers without the need for bridges.
What can you do with Avalanche?
Avalance allows individuals and firms to easily deploy their own purpose-built blockchains, whether these be for private use-cases (permissioned blockchains) or public ones (permissionless).
It is unique in the fact that it uses a combination of multiple custom-built blockchains, in addition to a powerful proof of stake consensus mechanism to achieve an incredibly decentralized and powerful platform for developers to build on.
Being compatible with the Ethereum toolkit, developers are able to easily port their Ethereum dApps to Avalanche and can easily launch a diverse array of decentralized applications (dApps) on the platform. These apps can run on their own independent Avalanche blockchain, giving developers a great deal of control over how they're secured and function, as well as who can access them.
These capabilities have seen development activity on Avalanche skyrocket in its short history, and there are now a wide range of applications using Avalanche's technology—including those surrounding private securities (Securitize), prediction markets (Prosper), and stablecoins (Bilira—a Turkish Lira stablecoin).
Where and How to Buy AVAX
The Avalanche token (AVAX) is available to purchase and trade on a wide variety of exchange platforms, including Binance, OKEx, Bitfinex, Huobi Global, CoinEx, Paribu, WazirX, OKCoin and Hotbit.
Here's how to buy AVAX on Binance—currently the most liquid exchange for AVAX tokens.
Step 1: Create your Binance account and load your wallet with one of the trading pairs for AVAX. In this case, we're using Tether (USDT).
Step 2: Once your deposit is confirmed, head over to the AVAX/USDT spot trading page.
Step 3: On the bottom of the trading page, you'll find the order panels. Select the 'Market' tab.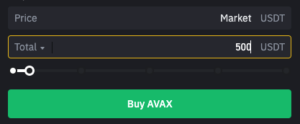 Step 4: In the total field, enter the amount of USDT you'd like to spend on AVAX. Once you're happy, click the 'Buy AVAX' button to execute your order at the best available price.
​Your AVAX will then be found in your exchange spot wallet, and will be free to trade, invest, or withdraw.
What is Pangolin DEX?
Pangolin is a community-driven decentralized exchange (DEX) platform that is supported by Ava labs.
It's a type of DEX known as an automatic market maker (AMM)—which means it uses algorithms, not order books. to set prices. Pangolin is a key part of Avalanche's burgeoning decentralized finance (DeFi) ecosystem and is built to demonstrate the capabilities of the Avalanche platform.
​Being built on Avalanche, Pangolin features extremely low fees and quick performance. It's also compatible with all Avalanche and Ethereum tokens, giving users a range of liquidity pools to trade from.
1/ @PangolinDEX, a community-driven DEX for Avalanche and Ethereum assets, has just launched on Avalanche. Pangolin will showcase Avalanche's speed and cost efficiencies, helping DeFi users currently overwhelmed by fees and network congestion. https://t.co/ylM2X6J992

— Avalanche (@avalancheavax) February 9, 2021
Like many other AMM-type decentralized exchanges, Pangolin also features a liquidity mining incentive program, which sees liquidity providers earn the platform's native governance token—known as PNG.
The future
Avalanche has been around for less than a year, but it is moving fast. In line with this, a whole heap of developments and product releases are lined up for the new feature.
One of the main developments is the upcoming Apricot upgrade, which will bring a range of improvements to Avalanche. They include 'verifiable pruning', which allows nodes to go online in a fraction of the time; a freeze and unfreeze function for token issuers; and native ERC20 support. There is currently no estimated release date for the Apricot upgrade.
ASAP. Everything is in motion. As you might imagine there are a lot of moving pieces.

Fortunately we have teams of Wizards and Wizardesses focused on this. The Ava Labs team is next level and Apricot will land when it's fully baked 🍑 https://t.co/EFduq38yX5

— Gabriel Cardona (@cgcardona) February 15, 2021
Beyond this, layer-2 decentralized exchange platform Injective Protocol will be integrating with Avalanche to bring a diverse array of interoperable derivatives to the platform.
Further on the horizon, there are plans to add a privacy-oriented virtual machine 'Privacy VM' which will eventually allow for private smart contracts on Avalanche, one of the most significant upgrades on the Avalanche roadmap.