In brief
Instagram will let NFT collectors and creators display verified NFT collectibles starting this week.
Facebook will also support displaying verified NFT collectibles "soon," per Meta.
Following CEO and co-founder Mark Zuckerberg's tease in March, Meta announced today that it will begin rolling out support for NFTs on the popular photo-sharing app Instagram this week. And support on Facebook is right around the corner too.
Instagram will let NFT collectors and creators alike link their crypto wallets to display verified collectibles starting this week in the United States, with a gradual rollout that won't hit every user at once. At first, the feature will support NFTs minted on Ethereum and Polygon, the latter a sidechain scaling solution for Ethereum.
Soon, however, Instagram plans to add support for NFTs minted on Solana and Flow, two other popular networks for collectibles. Supported wallets at launch include MetaMask, Rainbow, and Trust Wallet, with others like Phantom, Coinbase Wallet, and Dapper Wallet to come in time.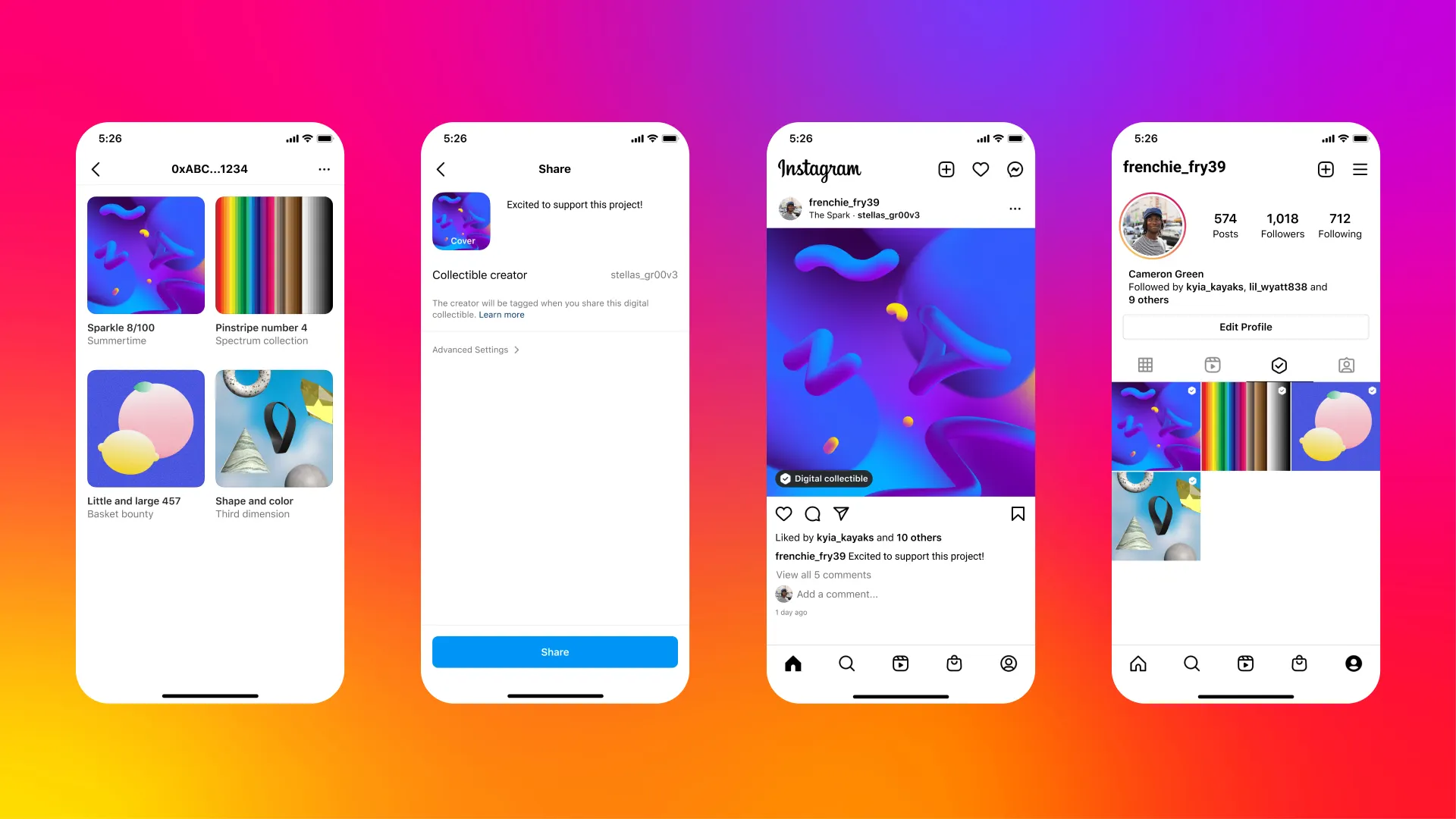 An NFT works like a blockchain-backed receipt that proves ownership for an item. It's often used for digital goods such as artwork, profile pictures, sports collectibles, and interactive video game items, and the market swelled to $25 billion worth of trading volume in 2021.
According to Meta, NFT images displayed on Instagram will have a unique "shimmer" effect that visually sets them apart from standard shared images and photos, plus they will be attributed to both the collector and the original creator. There are no fees tied to the NFT feature.
Facebook will similarly add NFT support "soon," according to a Facebook representative, plus the firm will add the ability to use NFTs as augmented reality (AR) stickers on Instagram. Meta is working with creators like Gary Vaynerchuk and Jen Stark and projects such as Adam Bomb Squad and Boss Beauties to roll out its NFT initiative.
Meta's move follows that of Twitter, which added the ability for select users to display NFT profile pictures in January. The feature is limited to subscribers to its premium Twitter Blue service, and it only supports Ethereum NFTs for now.
While Twitter's feature was seen as a boon for mainstream acceptance of NFTs—and launched during a hot market—it was also panned by some. And it wasn't only NFT critics complaining about the environmental impact and crypto scams; even some NFT supporters griped about the need to pay a subscription fee to verify an NFT as a profile picture.
Meta's moves are part of a much larger push towards the metaverse for the company, as fully revealed last October when Facebook changed the name of its parent company. The metaverse refers to a future vision of the internet in which users interact in shared 3D spaces using avatars, with support for virtual and augmented reality hardware.
However, it's been unclear whether Meta will embrace an open ecosystem that uses NFTs for interoperable items and assets that can be brought between various metaverse platforms. Facebook's October presentation showed NFTs used for things like digital concert merchandise, but crypto builders have widely remained skeptical of the firm's approach to Web3.
In an Impact Theory podcast interview with entrepreneur Tom Bilyeu that posted today, Zuckerberg spoke about the potential for supporting interoperable NFT assets.
"I think in a lot of experiences, especially social ones where people are getting together and want to express something about themselves, you're going to want these things to transfer," said Zuckerberg, per quotes provided by Meta.
"I would imagine that if we make this pretty easy for it to be interoperable, then there's going to be a lot of developers [who] will choose for that to be the case, even if not everyone does," he added. "So I think that's going to be pretty powerful."