In brief
Misfits Gaming Group has announced a partnership with blockchain platform Tezos.
They're collaborating to launch Block Born, a platform focused on Tezos-based video games.
Another major esports team has signed a partnership in the crypto world, as Misfits Gaming Group today revealed a multi-year partnership with Tezos. But unlike many crypto/esports deals that are largely focused on sponsorship activations, this alliance also will see Misfits launch and support blockchain games via a new Tezos-powered platform.
Tezos has been named Misfits' official blockchain partner in the deal. Vas Roberts, executive vice president and head of global partnerships for Misfits Gaming, told Decrypt that the agreement will include brand placement on player jerseys, as well as content series and tournaments that will "​​help to engage and educate fans throughout our individual communities."
Misfits Gaming, which competes in top games like League of Legends and Call of Duty, will also rebrand its $10 million MSF/IO gaming incubator program as the MSF Tezos Incubator Hub. The renamed initiative will expand beyond its current focus on gaming and esports startups to also invest in startups building on Tezos.
Misfits and Tezos also agreed to collaborate on launching Block Born, a Tezos-based platform set to launch in August. It's designed to "plant a flag" for Misfits in the burgeoning market for blockchain-based games, said Block Born Senior Vice President Will Pazos.
Crypto and NFT games have been in development for years, but really took flight last year with the rise of the play-to-earn Ethereum smash Axie Infinity. The monster-battling game has now generated more than $4 billion worth of NFT trading volume to date, and led to a wave of additional token-powered games that have recently launched or are on the horizon.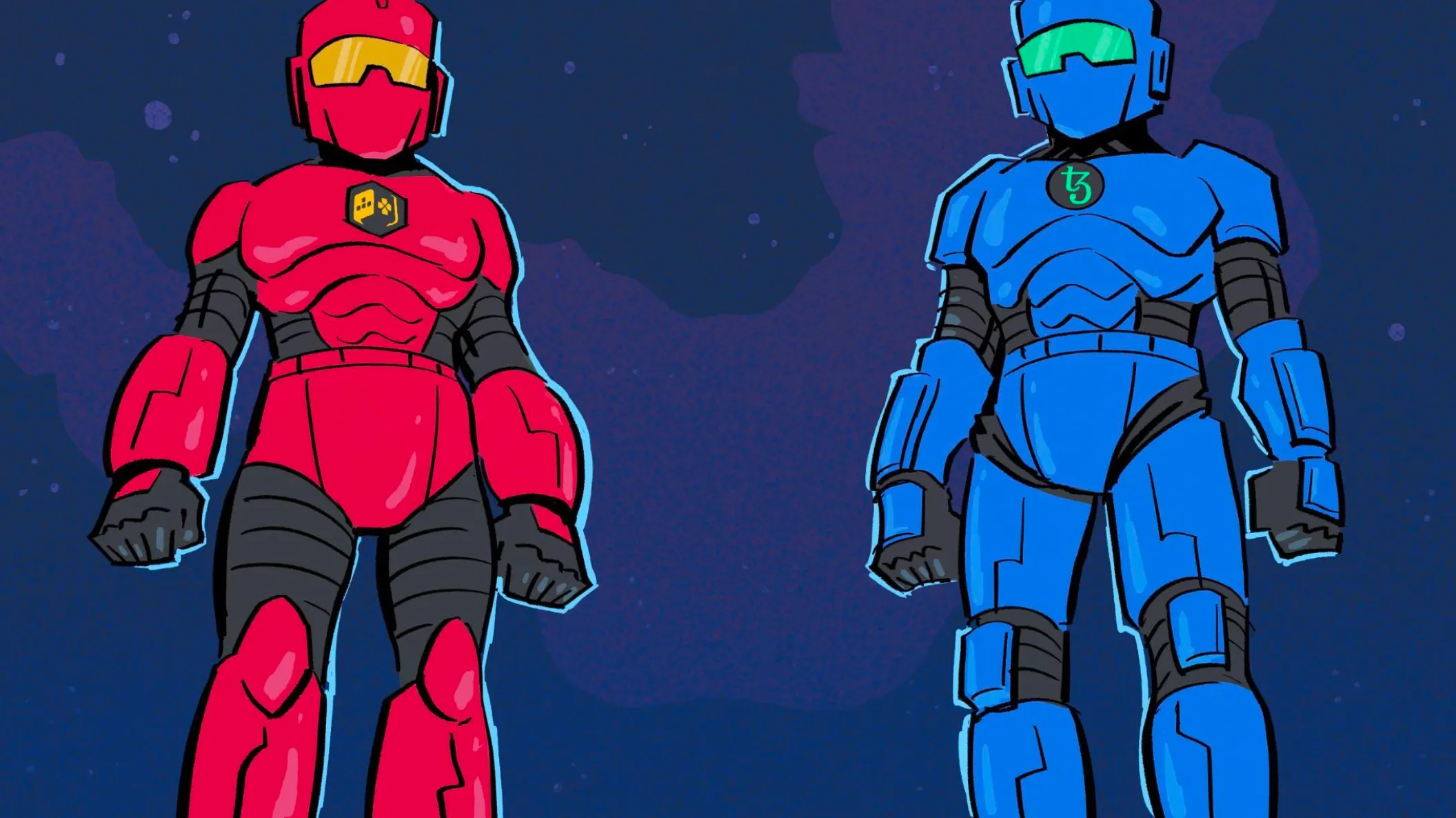 Many fans of traditional video games aren't keen on NFTs and tokens, however, and have vocally pushed back against developers like Ubisoft and GSC Game World that have entered the NFT space. Pazos said Block Born is targeted at gamers who've already embraced blockchain gaming.
"What we can do is speak to the audience of blockchain gamers," he said, "that are like, 'Look, I'm done with the mainstream narrative. I want a flag that I can fly when it comes to the ideas of blockchain gaming. I want to own my assets and have that autonomy.'"
Block Born will work with developers to launch new Tezos-powered crypto games, as well as create content around the space, host tournaments, and sign professional players as the crypto gaming scene produces esports-centric competitive games. The focus will be on games that don't offer a "pay-to-win" component.
The launcher will work like a crowdfunding platform for NFT and token sales for upcoming Tezos games—a "Kickstarter for blockchain games," in Pazos' words. Block Born will also tap technology from Snickerdoodle Labs for an on-chain analytics model that shows how raised funds are being used in the game development process for each project.
Pazos said that Block Born is an effort to go deeper in the blockchain gaming space than other esports organizations have, and to do something specifically for that new audience of players. In the process, his team aims to cultivate development of crypto games that are balanced for competition—with no opportunity for big spenders to gain an advantage.
"We tried to find a unique opportunity to do something," he said. "We like the idea of blockchain, but we think there needs to be a heavier focus on competitive games."
Many esports organizations have announced crypto partnerships and initiatives over the past year, including FTX with its blockbuster $210 million naming rights deal with Team SoloMid (TSM). Coinbase has signed teams such as Team Liquid and Evil Geniuses, meanwhile, and Bitstamp recently announced deals with Immortals and Guild Esports.
Tezos has amassed a few prominent partners in the gaming world over the last few months, beginning with major game publisher Ubisoft last December. In January, Tezos announced its first esports partnership with French organization Team Vitality, which named the blockchain platform its "main partner."
Pazos acknowledged the backlash Ubisoft and others have faced from traditional video game fans in embracing the rising NFT gaming market. While Misfits wants to cater Block Born to gamers who are already exploring that space, it also doesn't want to alienate existing fans in the process.
"What [CEO Ben Spoont] is trying to build here is a massive gaming brand, and so we obviously don't want to piss off our core audience—which is Minecraft players, Call of Duty players, League of Legends players, and Overwatch players," said Pazos. "I think he looks at it like: 'Let's dip our toe in the pool. Let's go slow and steady. Let's build Block Born for the people who are there.'"