Electronics giant Samsung is adding support for non-fungible tokens (NFTs) to its 2022 TV lineup, including a screen-based explorer and an NFT marketplace aggregator.
According to a press release from the South Korean electronics manufacturer, "In 2022, Samsung is introducing the world's first TV screen-based NFT explorer and marketplace aggregator, a groundbreaking platform that lets you browse, purchase, and display your favorite art — all in one place."
Samsung Electronics Unveils Its 2022 MICRO LED, Neo QLED and Lifestyle TVs, With Next-Generation Picture Quality and Range of Cutting-Edge Personalization Optionshttps://t.co/RIRFxFpdjY

— Samsung Electronics (@Samsung) January 3, 2022
The platform will feature "an intuitive, integrated platform for discovering, purchasing and trading digital artwork" through Samsung's MICRO LED, Neo QLED, and The Frame TV ranges. It will include the ability to preview NFT art before purchasing it and explore its history and blockchain metadata.
"With demand for NFTs on the rise, the need for a solution to today's fragmented viewing and purchasing landscape has never been greater," Samsung wrote in its announcement.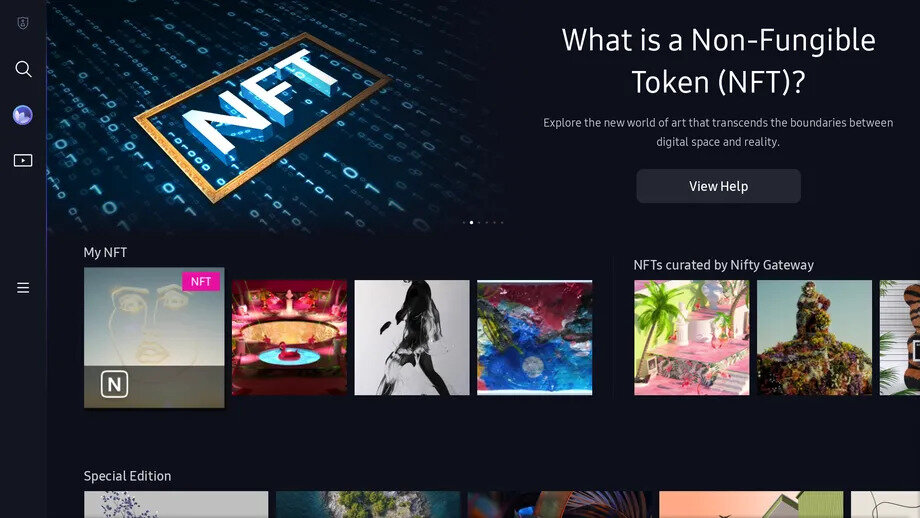 The TVs will also include support for smart calibration, enabling NFT creators to create preset values for display settings; the smart TVs will then automatically adjust their display settings to match the presets, "so you can have peace of mind that your work looks impeccable, with true-to-the-original image quality."
Non-fungible tokens have boomed over the past year, with NFT trading volumes hitting over $10 billion in the third quarter of 2021, increasing an astonishing 38,000% year-over-year. Art NFTs have spearheaded the explosion of interest, with digital artist Beeple making headlines worldwide in March 2021 with the $69 million sale of a single NFT artwork.
NFTs were the talk of the town at Miami's Art Basel, while art galleries around the world have wrestled with the question of how to display NFT artworks.
Samsung and crypto
This isn't the first move that Samsung has made in the crypto space; as far back as 2019, the company added support for crypto assets to its smartphones, introducing the Samsung Blockchain Wallet on its Galaxy S10 model.
A year later, the company added crypto-powered video streaming platform Theta.tv to its Samsung Galaxy phones, and in 2021 it enabled support for crypto hardware wallets in its Samsung Blockchain Wallet.
Later in the year, the Bank of Korea announced a central bank digital currency (CBDC) pilot through Samsung Galaxy phones.