Trading volume of non-fungible tokens (NFTs) hit $10.67 billion in the third quarter of the year, an increase of 704% from the previous quarter, according to data from analytics platform Dappradar.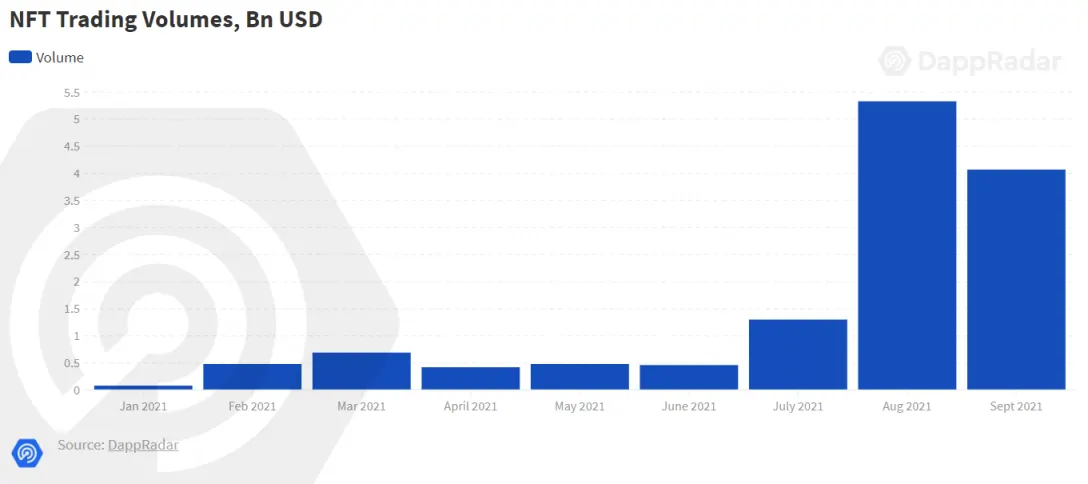 Dappradar's Q3 2021 Dapp Industry Report singled out Ethereum and Ronin, which accounted for 77.73% and 19.53% of the record numbers.
Meanwhile, play-to-earn NFT game Axie Infinity became the most traded NFT collection ever, topping $2 billion in all-time trading volume during the quarter—making it the first dapp to reach that figure.
Bumper year for NFTs
NFTs, cryptographically unique tokens that prove ownership of linked digital content such as artwork or videos, have exploded in popularity in 2021, with Dappradar recording a year-over-year increase in trading volume of over 38,000%.
While the first half of the saw NFTs grabbing headlines with multimillion-dollar artwork sales, Q3's NFT trendsetters have been collectible avatars such as Bored Ape Yacht Club and CryptoPunks, propelled by interest from celebrities such as Kings of Leon and Soulja boy.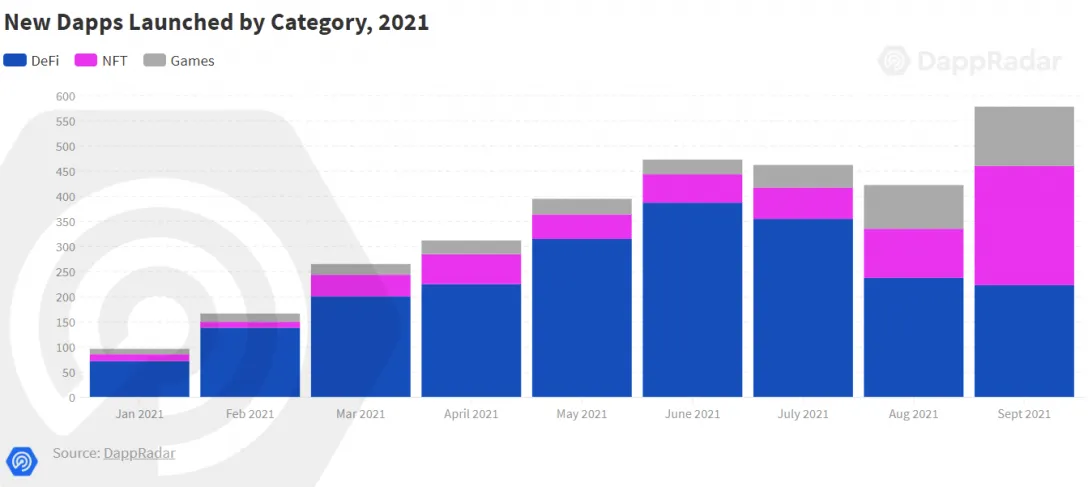 Dappradar also notes that interest in games dapps (many of which make use of NFTs) is rising, with the number of NFT and games dapps launches increasing since June, while new decentralized finance (DeFi) dapp launches have tailed off over the same period.
However, user numbers have dipped slightly, with NFT dapps registering 102,000 unique active wallets (UAWs) on average during the quarter, a decrease of 2% on Q2 2021.
The road ahead
Following record-breaking trading volumes of $5.2 billion in August, September proved to be a quieter month. But trading volumes are picking up again, with leading NFT marketplace OpenSea recording its best day in a month over the weekend.
OpenSea's single-day trading volume of $136.8 million on Sunday was its highest since it hit $138.5 million on September 5.
The weekend boom was propelled by a new line of pixel-based avatars, CrypToadz by GREMPLIN, which saw over $19 million in volume on Sunday, surpassing trading volumes for Axie Infinity by a whisker.