The combined cryptocurrency market capitalization has surpassed $3 trillion for the first time on Monday as a number of top altcoins posted strong gains.
According to crypto analytics platform CoinGecko, which currently tracks over 10,000 coins across 517 trading platforms, the market cap of all assets increased by 4.1% over the last day, peaking at $3.019 trillion.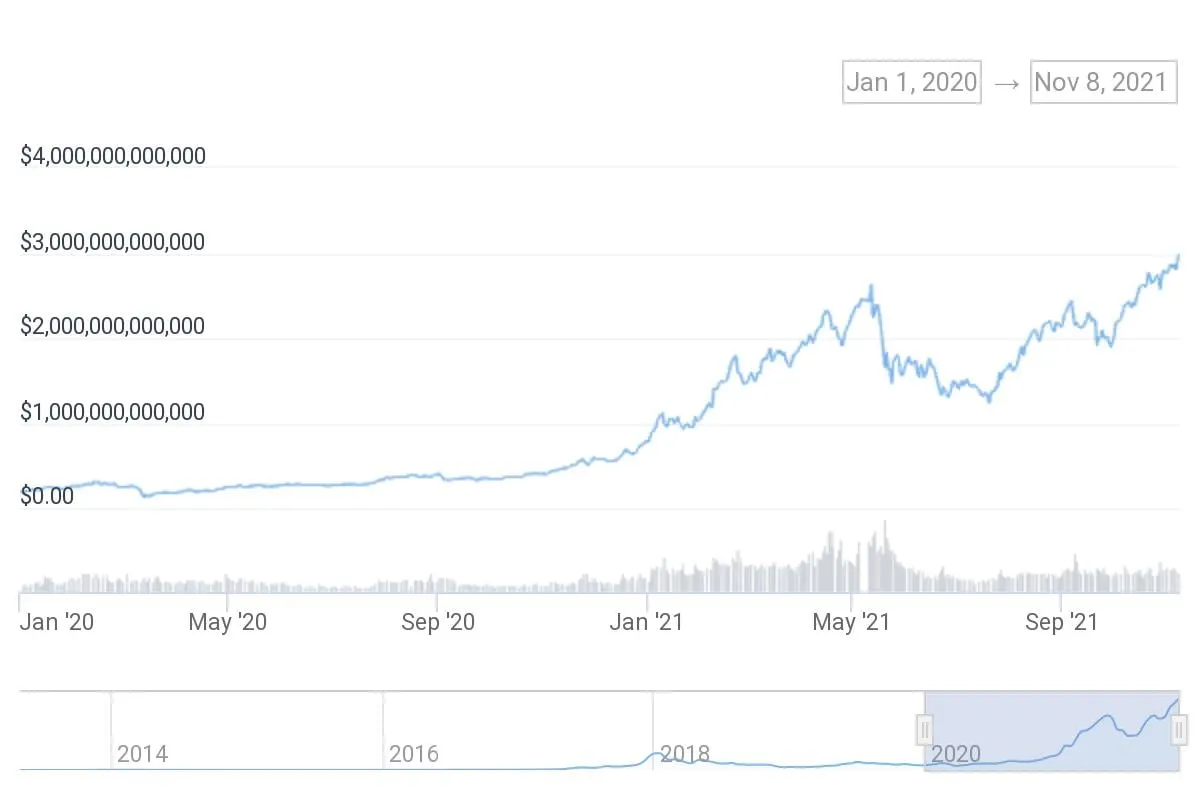 Among those leading the charge is Dogecoin (DOGE), which reached a local high of $0.292 on Monday before backtracking to $0.283 by the time of writing. This is still a 7% increase over the day, making the meme coin the best performing asset among the ten-largest cryptocurrencies.
Dogecoin experienced an extremely volatile few weeks, and on several occasions was even flipped by Shiba Inu, another dog-inspired meme coin that rose to prominence over the last year.
It, however, regained ninth place in the rankings after SHIB's massive sell-off last week, with the current market cap standing at $37.45 billion.
Ethereum hits new high
Ethereum (ETH) has also entered the spotlight.
The market's second-largest assets broke a new all-time of $4,782 earlier on Monday, before slipping down to $4,736 by press time.
Ethereum, which is up 2.5% over the day and a massive 987% since the start of the year, is now responsible for as much as 18.7% of the combined crypto market capitalization with $563.4 billion.
Bitcoin (BTC) is on the rise as well, having recorded a 5.9% increase over the last day per CoinGecko.
The world's oldest cryptocurrency traded between $61,000 and 63,000 for the most part of the last week, before hitting a local high of $66,362 on Monday.
Being just 1.7% shy of its all-time high of $67,276 recorded on October 20, Bitcoin is 22.2% over the last month and 345.5% since the start of the year. With the network's value above 1.246 trillion, the leading cryptocurrency is currently dominating as much as 41.5% of the entire market.
Coincidence or not, but today's price action came shortly after Barry Silbert, the CEO of Digital Currency Group (DCG), tweeted that he expects "a big week" for crypto, with his post amassing more than 16,000 likes and over 1,900 retweets by press time.
DCG, which is the parent company of Grayscale Investments and Genesis Trading, is among a dozen other companies hoping to land approval for an exchange-traded fund (ETF) backed by actual Bitcoin rather than Bitcoin futures contracts.
Last week, DCG also announced a massive $700 million investment from the likes of Softbank and Google's parent company Alphabet Inc., which brought the firm's valuation to $10 billion.