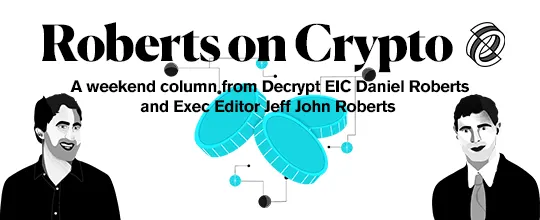 Solana (SOL) surged 350% between August 7 and September 7. In the past two weeks alone, the native token of the red-hot Ethereum alternative flipped Dogecoin and then XRP to become the No. 6 cryptocurrency by market cap.
But then on Tuesday, the Solana network went down. The 17-hour outage sent SOL tumbling 16%.
Solana founder Anatoly Yakovenko tweeted that the outage was caused by bots "flooding the network" during an IDO (initial DEX offering) for a token called Grape on Raydium, a decentralized exchange built atop the Solana network. In reply to a Solana user asking, "Please tell Raydium not to do FCFS [first come, first serve] IDO anymore," Yakovenko shrugged it off: "Nah, just need to fix the bugs. Part of life." Later in the day, he reflected it was better the outage happened now than later on, when Solana has a billion users.
better now then when its a billion users

— Anatoly Yakovenko (@aeyakovenko) September 14, 2021
That's admirable optimism. But whether Solana ever gets to a billion users is a big question mark. These days in cryptoland, new projects spring up practically overnight, the token catches fire, and what happens next varies wildly: some fade away, some go out with a bang due to an enforcement action or hack, and some prove their staying power over time.
Yakovenko, a former Qualcomm and Dropbox developer, published the Solana white paper in 2017, and the smart contract network launched its mainnet in 2020. It's hardly the only Ethereum challenger out there—Cardano (ADA), Polkadot (DOT), Stellar (XLM), NEO, and Dfinity (ICP) are among the others. But some of those names have already had their moment in the sun and fallen back to Earth, while Solana is enjoying an extended "Solana summer" right now for a number of reasons.
First of all, and most important: It's lightning fast and relatively easy to use. Solana processes 65,000 transactions per second (TPS). Ethereum handles just 30, and Bitcoin's TPS right now is... fewer than 6. In other words, Solana is what it claims to be: faster than Ethereum—for now. As blockchains get more popular, they tend to get slower.
Solana's tools are also remarkably easy to use, something you discover right away when you try them out. In my attempt to buy an NFT on Solana (too expensive, so I didn't buy), I had to set up a Phantom wallet (read our clear-eyed how-to guide) and, I'm sorry to say to the Ethereum crowd, it was much smoother than getting started with MetaMask. It was downright fun. Crypto blogger Packy McCormick had a similar experience last month when he tried out Solana: "I have to say… it's really fast and really cheap. You don't need to think twice about doing anything because it moves so quickly and costs so little. That's the point. It feels like using the internet."
So that's the tech side. On the buzz side, Solana has also benefited from the backing (and frequent pumping) of FTX CEO Sam Bankman-Fried. In January, SBF famously offered a trader who was bearish on Solana to buy out all his SOL at $3 per token (and then "go fuck off"). The trader did not take him up on it, and now SOL is at $164. And then there are the celebrity endorsements from names like Steve Harvey and Jason Derulo.
But the celebrity factor can also be a signal of fleeting hype. That's the take Nick Tomaino, an early Coinbase employee whose VC firm 1confirmation was an early investor in OpenSea and SuperRare, had on Solana when I asked him on Friday.
"Where I would be a bit more skeptical of things like Solana is that I haven't really seen anything new that's really pushing the space forward," Tomaino says. "If you look at Solana right now and NFTs on Solana, you have SolPunks or whatever, you have Sol Apes [Degenerate Apes], all of these variants of things that are on Ethereum. And that's great, because it's bringing new people in, but these things can be fleeting... When you see so much noise around something in the short term, and you don't see any true innovation there, it can be a good time to be a bit skeptical."
No true innovation? Anatoly Yakovenko and SOL bagholders would beg to differ. For now, Ethereum wears the DeFi crown despite its perceived flaws (those gas fees!), and how a challenger like Solana weathers growing pains like this outage will determine its staying power.
This is Roberts on Crypto, a weekend column from Decrypt Editor-in-Chief Daniel Roberts and Decrypt Executive Editor Jeff John Roberts. Sign up for the Decrypt Debrief email newsletter to receive it in your inbox in the future. And read last weekend's column: Under Fire From SEC, Crypto Companies Choose to Die Hard.