SOL, the native token of the Solana blockchain, soared to an all-time high of $63.33 on Monday morning, recording a gain of more than 36.8% over the last day.
The altcoin has also made it into the top 10 largest cryptocurrencies by market cap, surging past Uniswap's UNI with $17.75 billion, according to CoinGecko.
At press time, the token's price backtracked to $61.49, marking a massive increase over the past 24 hours, and 66.6% over the last week.
Solana enjoys NFT craze
SOL's dramatic rise follows the launch of Degenerate Ape Academy—a non-fungible token (NFT) project built on the Solana blockchain—on Sunday.
The launch saw a collection of the 10,000 unique pictures of cartoon apes sell out in a mere eight minutes, with the overall trading volume reaching almost 96,000 SOL (over $5.9 million).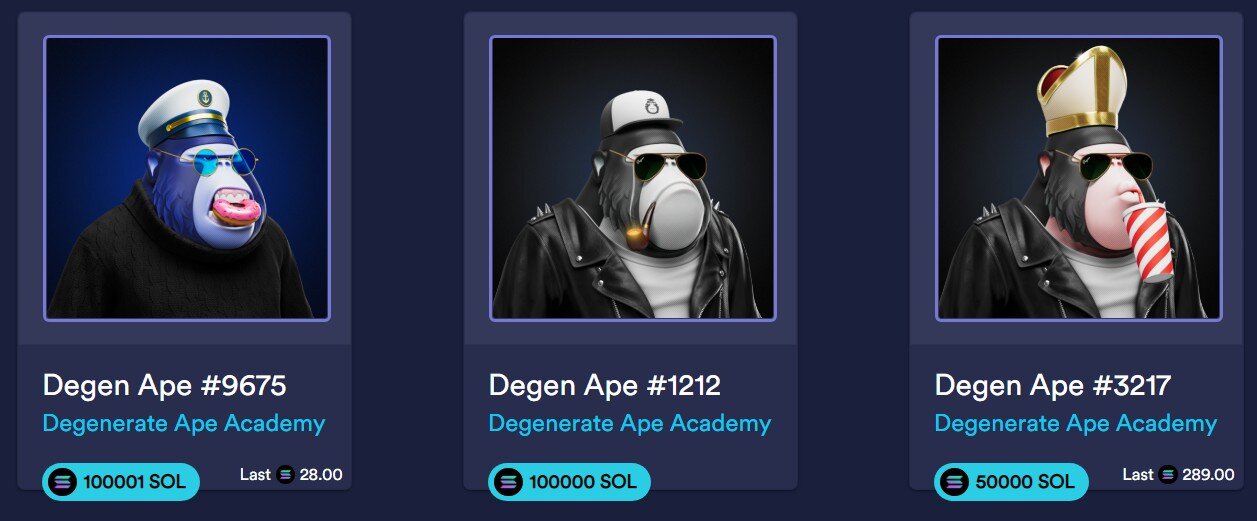 An NFT is a sort of digital receipt stored on a blockchain that represents ownership of anything from a piece of art, music, or even ticket sales to concerts. Ethereum has been the number one network for activity within this niche, but Solana is also eyeing a slice of the market.
According to the team behind Degenerate Ape Academy, even though the launch was "shitty at best," as a lot of things went wrong, they were "overwhelmed" with the community's interest.
"It was exponentially bigger than we thought," the Degenerate Ape Academy wrote on Twitter.
We sold out in 8 minutes. Holy Ape.

No the drop was NOT smooth. It was shitty at best. We did A LOT wrong and the team was overwhelmed with the wave that hit us in the past week. It was exponentially bigger than we thought. Please ape rage in the comments /1 pic.twitter.com/HCccxoSoQn

— Degenerate Ape Academy 🎓 (@DegenApeAcademy) August 15, 2021
The fee to mint a digital ape was 6 SOL, but as the project sold out, the floor price for a collectible on Solanart is currently 14.40 SOL. This meant that those who were lucky to squeeze past the queue and get their hands on an ape have at least doubled their investment.
The highest price for a degenerate ape is currently 100,001 SOL, or over $6.2 million at current prices.
Solana, which uses a proof of stake (PoS) consensus algorithm, claims to be capable of processing 50,000 transactions per second (TPS) at peak load, which is almost 2,000 times faster than what Ethereum currently offers.
The network also boasts extremely low transaction fees, something that helps it stand out among the competing projects, as well as its own marketplace for NFTs, the network will now host various crypto artworks and digital collectibles.
Following Solana's sponsorship of Lollapalooza last month, the latest NFT craze is adding new strength to the so-called "Solana Summer."