Metaverse game worlds can feel a little quiet at times, but Decentraland has a solution to pump more life into its Ethereum-based world: the developers have partnered with artificial intelligence startup Inworld to bring in AI-powered non-player characters (NPCs). 
In other words, Decentraland is using AI smarts to power a supporting cast of avatars in the world, while also teeing up the ability for creators to do the same with their owned spaces. As an introduction, three such NPCs have set up shop at Decentraland's Genesis Plaza, each functioning like a chatbot to respond to your queries on the fly.
Simone the Robot can respond to queries and offer info and discussion about the metaverse, while the buff, meme-inspired Doge is a more lighthearted character. Lastly, Aisha—described as a "23-year-old gaming streamer and former skater"—comes with her own backstory and opinions.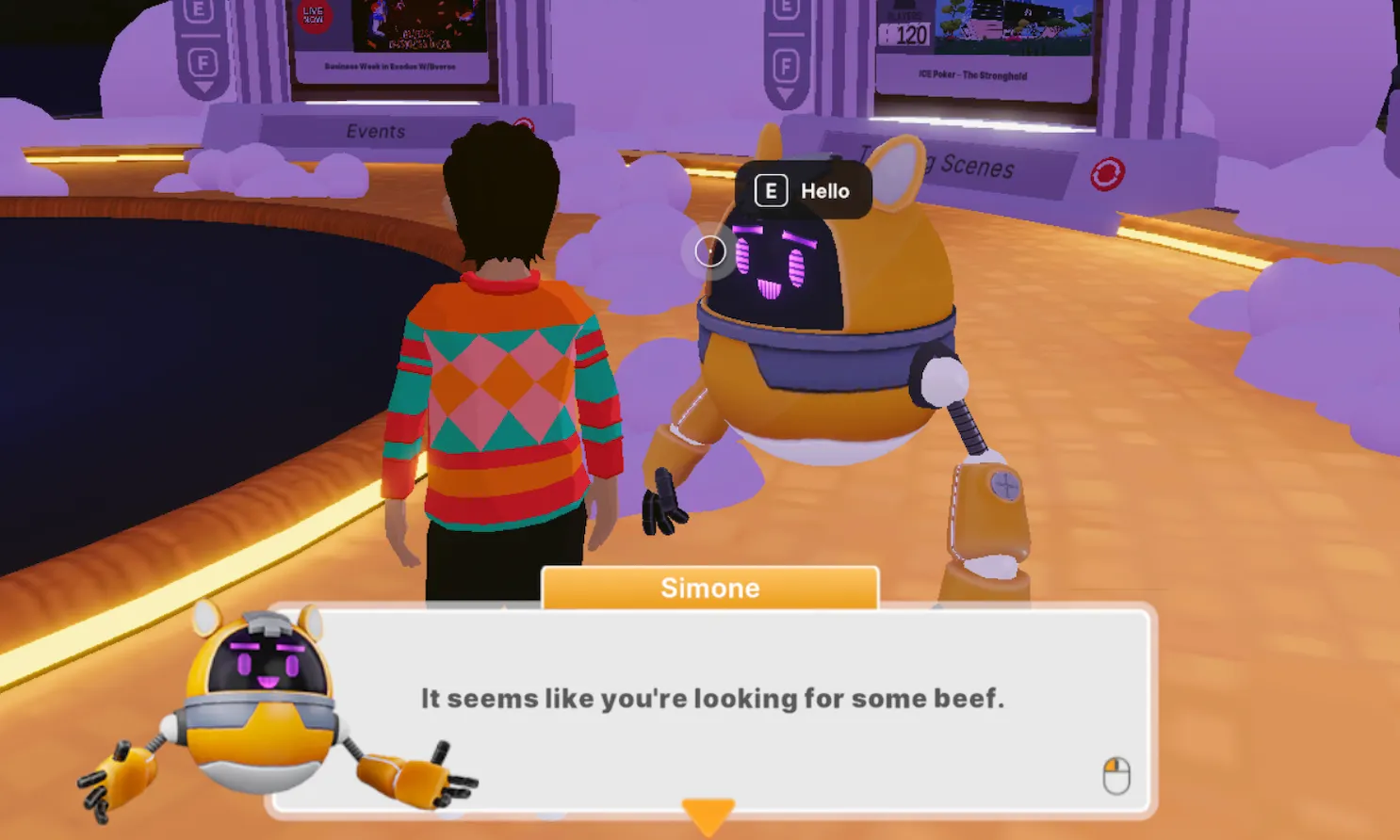 "We wanted to showcase how broad the personalities could be," Decentraland Foundation Executive Director Yemel Jardi told Decrypt.
Creators can also design their own NPCs, with Inworld allowing the characters to be equipped with a backstory, contextual information, and motivation. Inworld is a rising startup in the AI world, and recently announced a $50 million raise at a valuation of $500 million.
"It's ChatGPT on steroids," said Jardi of the functionality, with users given full control over the NPC's dialogue style, voice, personality, and more.
Why AI?
Artificial intelligence was used to give players a "more immersive experience" in Decentraland, he added. Art galleries can have an NPC that talks about each exhibition, the history behind the artist, and engage in discussion, for example, while player-created scenes can have a virtual host that's able to show off various features.
"That's much more compelling than what's currently on offer," said Jardi. "It's also got a lot of potential for narrative building. Putting information in the mouth of an avatar is way more immersive, especially when they can understand questions and the nuance of the conversation. It's a more natural way of communicating."
The AI characters can also understand different languages, helping to bridge the gap in a world that Jardi said is primarily dominated by English-language experiences. "Being able to personalize localized experiences is a really powerful tool," he added.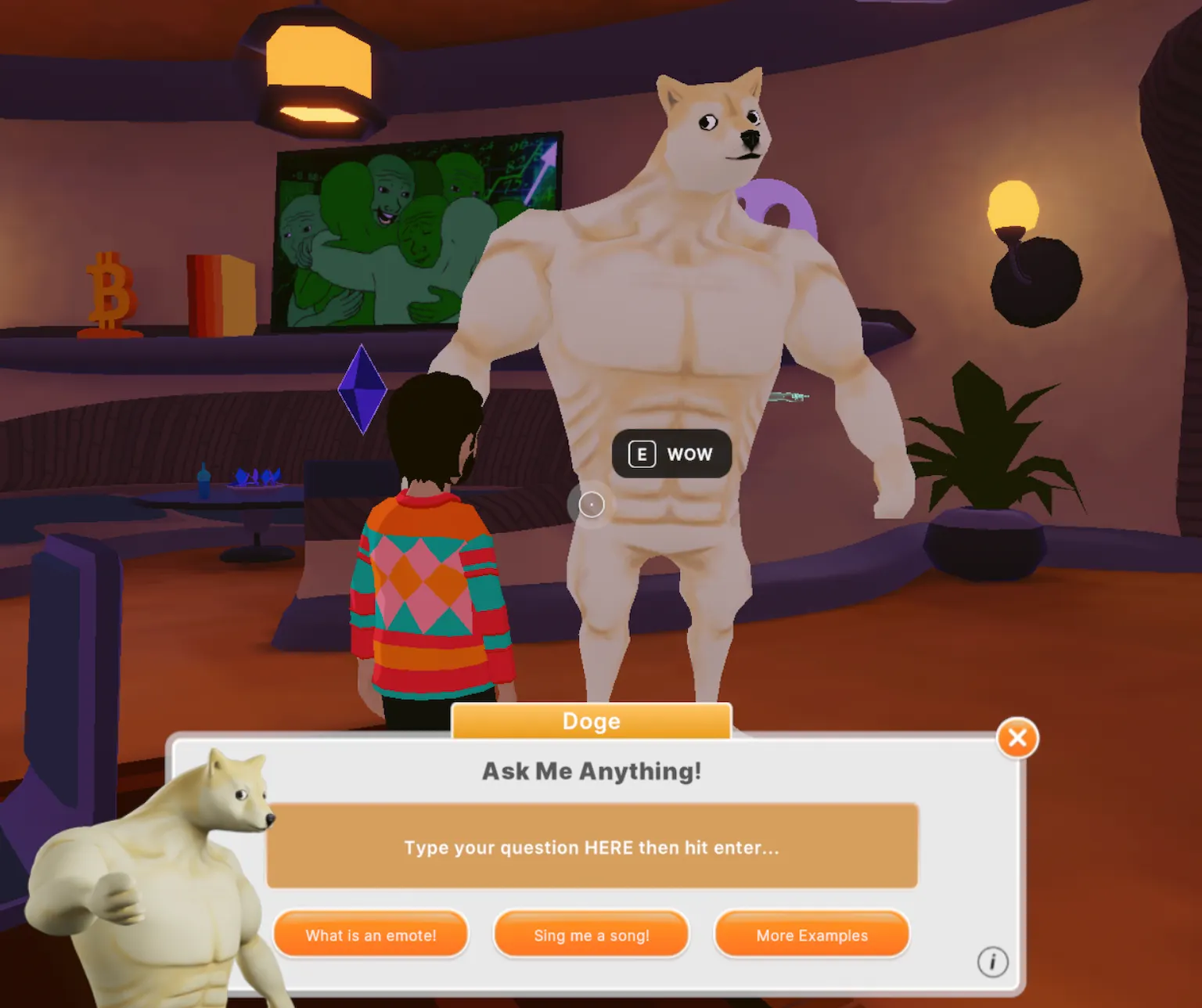 Along with utilizing AI in-game, Decentraland is also using such tools internally to shape the future of the metaverse game world, which launched in 2020. The Decentraland Foundation uses OpenAI's ChatGPT to summarize lengthy development documents, which Jardi said lets the team "keep an eye on the big picture and not get lost in the details."
The Decentraland Foundation has also tapped generative AI tools for concept art and audio, along with animation for marketing purposes. Developers are also looking at the potential of AI to let creators generate content, including 3D models. That could help overcome the skill gap for such a complex development need.
Both OpenAI's Shape-E and NVIDIA's GET3D will enable creators to generate those models more easily—but Jardi admitted that they've "done some internal testing, and the technology isn't quite there yet." But they're closely following the development of both.
"The end goal is to enable creators to create content easily," he added. "AI speeds up the process and allows people who don't have specific skills to make prototypes. It has huge potential," said Jardi, who aims to make Decentraland as accessible as possible.
AI's upside
However, he's also aware AI may allow creators to push out mediocre experiences. Generative AI tools have been broadly criticized as "plagiarism machines" that regurgitate existing art and content without attribution. It's at the heart of debates large and small in recent months, including the writers and actors strikes that have shut down Hollywood.
"It's a slippery slope," Jardi said. "There's already enough synthetic, soulless stuff online, and I really don't want to see content that's simply good enough. That's a real risk for society as a whole, consuming a mashup of content that already exists that doesn't provide anything new or of value."
As for concerns about AI replacing trained professionals, Jardi isn't worried. "I see it as making creators more efficient, or enabling them to focus on what is really important," he explained. "AI is a super powerful translation machine. I see it replacing some tasks, but not people."
Decentraland has also launched a dedicated gamified world for players to learn about AI research and development. Built in partnership with Hanson Robotics—the creator of Sophia, an AI-driven humanoid robot who previously created NFT artwork—SophiaVerse will work alongside the NPC creator tools to help people explore and understand how AI works. 
And later this year, Decentraland is set to host the AI World Fair. In October, the three-day event will include AI experts and brands building in the space, and will let players test out new AI features within the online game world.
"I believe education is really important," said Jardi, who's worried about the knowledge gap between those who know how to harness the power of AI—and those who don't.
He pointed to the relative ease of filming, editing, and distributing video today compared to a decade ago, thanks to powerful smartphones, accessible software, and online platforms ready-made for sharing. Jardi similarly sees AI-driven tools as a way to streamline and simplify the process of creation for non-experts.
"AI empowers creators," he said. "It has the power to shift society. Our approach is to push the boundaries of what's possible, and inspire our creators to do the same."