In brief
Sophia the Robot has created AI and neural network-powered NFT crypto artwork.
The artwork, created in collaboration with Andrea Bonaceto, will be sold via Gemini's Nifty Gateway.
The NFT market has exploded in recent weeks; a single piece of NFT art sold for $69.3 million last week.
Crypto artwork has blown up in 2021, with February setting a new all-time high for non-fungible token (NFT) trading volume among top marketplaces and eclipsing the entire tally for 2020 in the process. March may well break that record. NFT projects are coming from all sorts of unique creators, but here's one that doesn't even have a fully human origin.
Today, Hanson Robotics and iv gallery announced they will launch a series of NFTs based on artwork from Sophia the Robot, an AI-driven humanoid robot with a large social media following and a "Tonight Show" appearance on its resume. The artwork will drop on March 23 via Gemini's Nifty Gateway platform.
NFTs are digital assets designed to be scarce or unique. They often come in the form of blockchain-based trading cards, collectibles, or artwork.
These particular pieces are billed as a collaboration between Sophia and artist Andrea Bonaceto. Sophia—with "her" blend of artificial intelligence and neural network smarts—actually studied the work of Bonaceto and then produced her own compositions. The preview images shared with Decrypt (one example below) have similar qualities as other neural network-generated artwork, pairing swirls and other patterns with surreal, somewhat unnerving qualities.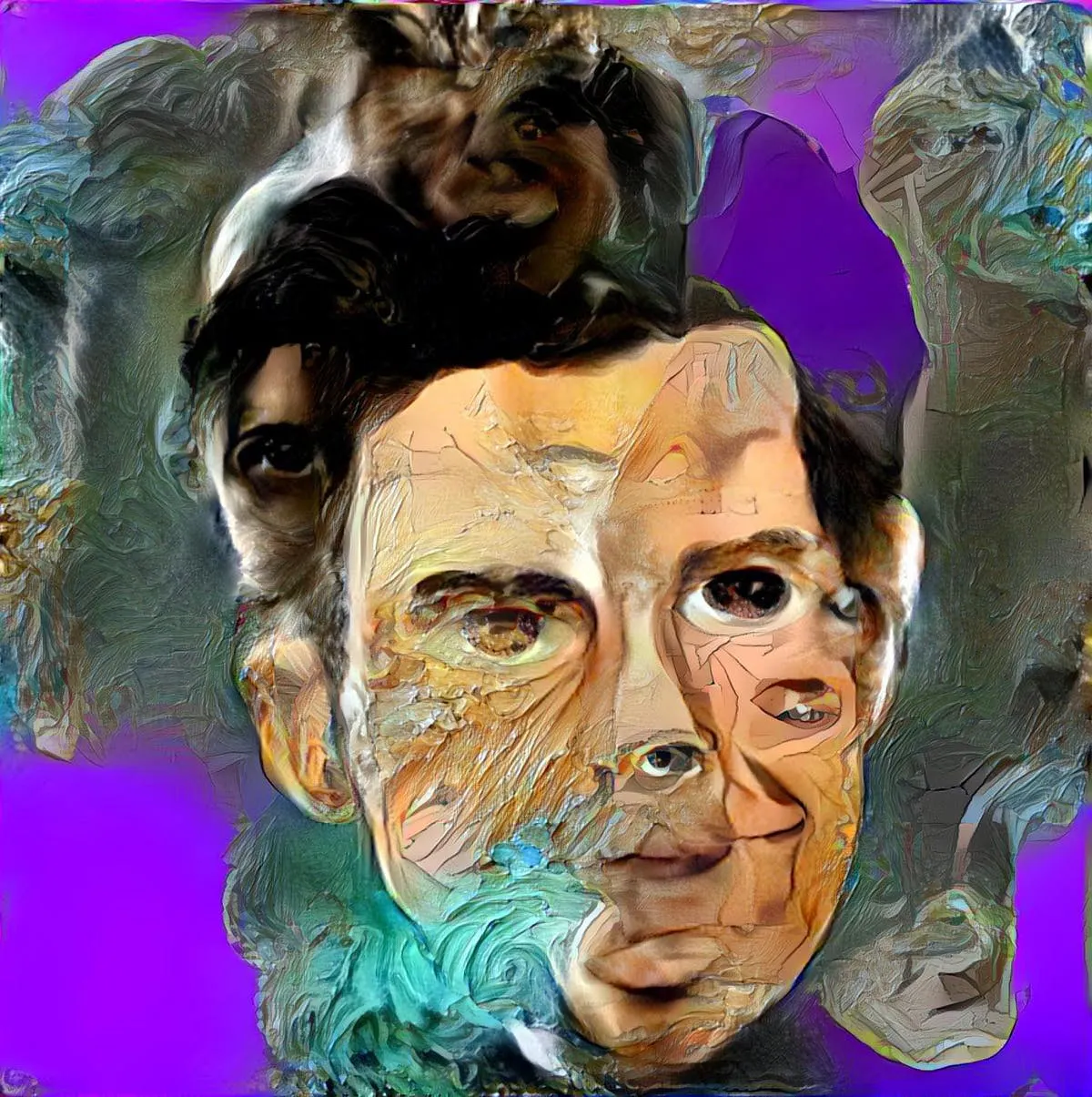 "Sophia created the art entirely using neural networks and symbolic AI, responding to her perception of Andrea Bonaceto's works, as well as to data from her 'life' experiences, under guidance from the Sophia team's designers and programmers," said roboticist Dr. David Hanson, in a release. "How she responded to Andrea's art simply thrills me. I'm one proud father."
The London-based Bonaceto, a Fellow of the Royal Society of Arts who has painted crypto luminaries such as Ethereum creator Vitalik Buterin and Twitter and Square CEO Jack Dorsey, reflected on the experience in a statement to Decrypt:
"The experience has been amazing. I have learned so much during this period just by observing Sophia's creative process in action," he said. "The artworks we created are representative of the overall creative process, from beginning to end. It's incredible to see how Sophia responded to my artworks. Together with David and Sophia, we are moving towards the new paradigm where robots and humans participate together in the creative process."
Sophia the Robot's drop comes amidst surging interest and sale prices for crypto art NFTs. Last week, crypto artist Beeple sold a piece of NFT artwork via Christie's auction for the "realized price," including fees, of $69.3 million. That's by far the largest sale price to date for an NFT and the third-highest sale price for any piece from a living artist. Beeple had previously amassed some $28 million from crypto art sales.
The entire NFT market saw trading volumes of $342 million in February, according to DappRadar, although that sum includes both artwork as well as things like in-game items and crypto collectibles, such as in Dapper Labs' NBA Top Shot. The rush to get a piece of the NFT boom has attracted the likes of musician Grimes, NFL star athlete Rob Gronkowski, actress Lindsay Lohan, and even Taco Bell.
Sophia the Robot is another distinctive entrant on that list, and Bonaceto suggests that the ability to release verifiably scarce artwork directly to fans as NFTs provides a revolutionary, barrier-reducing opportunity for digital artists of all sorts.
"We are at the cusp of a paradigm shift. NFTs will revolutionize many industries, especially the creative industry/economy," he told Decrypt. "This doesn't only relate to visual art but also to the likes of music, literature, poetry etc. We are already seeing NFTs representing hybrids of digital art and music, digital art and poetry etc. In a nutshell, the artist's creativity is the only limit on what can be achieved through NFTs."