The notion of separating work and personal life has long been ingrained in traditional business culture. Never mix business with pleasure, claims the old adage. Establishing well-defined boundaries to foster a healthy work/life balance is viewed as a milestone of success.
However, the internet has made the world a smaller place, connecting humans more than ever before. We are digitally closer, but physically further apart; a paradox of isolation. And the rise of remote working and a changing workforce demographic has only further impacted this.
The NFT space is an extreme example of this, with pseudonymous identities blurring the distinctions between 'frens' and friends, digital personas and IRL realities. But amid the decentralized boom, some notable NFT projects are built and supported by close-knit families, whether they're spouses or siblings.
Decrypt spoke with two sets of NFT project founders who have embraced this unified work life philosophy and explored where the biggest benefits and challenges lie.
Marriage and NFTs
Sara and Jake Baumann are middle school sweethearts from Dallas, Texas who have been together for 20 years and married for over a decade.
Founders of the NFT project Women and Weapons, the couple regard themselves a perfect match, a balanced helping of peanut butter and jelly with Sara being the more energetic, artistic archetype, and Jake her more pragmatic, business-minded counterpart.
Prior to founding the Ethereum-based NFT project in October 2021, the entrepreneurial couple explored a number of side hustles—from starting an energy drink business to real estate photography and Airbnb arbitrage. Sara was a full-time occupational therapist early in the Covid-19 pandemic, but had always reserved desires to pursue a career in the arts.
G-Freaking-M!

Remember: you've got plenty of time!! Life will throw you so many different twists, turns, bumps, and bruises.

Keep going and navigate closer and closer to doing what you love! ♥️🎨 pic.twitter.com/H9JclbH4C5

— Sparky ⚡️ (@NFTSaraBaumann) July 19, 2022
"I always knew that Sara's internal goal was to be a full-time artist," said Jake. "She was a kickass occupational therapist and was getting commissions to make art as a side income, but wasn't able to go full-time with it."
In search of financial opportunities, Jake became interested in Bitcoin and Ethereum before discovering NFTs. Immediately, it became clear to him that although in its nascent stages, the space was attracting a vibrant community of artists whose ideas and passions sought to redefine the archaic principles of digital art, authenticity, and ownership.
A digital renaissance of art was transpiring, putting the opportunity for budding artists to transition from selling physical art at local markets and on Etsy to the digital realm within reach. And on top of that, they could join a thriving community of like-minded individuals.
Following the success of Sara's 10-piece genesis collection in August 2021, the couple decided to launch the full-scale 10,000-piece World of Women profile picture (PFP) collection. Sara hand-drew each of the female's character traits with a mid-century thematic style. 
"We were non-technical founders, so we had to assemble a rockstar team to help us navigate A-to-Z: bringing it to life, launching it, deploying it, making the website, and building out everything," Jake recalled of the large-scale drop.
At the time, Sara was still working at the hospital—so on the back of tiresome 8-9 hour work days as an occupational therapist, she would return home and join Jake in a 5-6 hour evening shift on their budding NFT business.
"It's one of those things that you have to feel in your gut," Sara said. "If it's telling you that this is a good thing and to really put forth the effort and do it, you just find the energy."
I get a lot of the spotlight, but I just really want people to know that we wouldn't be half of what we are today without the support and hard work of @Jake_Joseph. He is a vital part of WAW, from coming up with innovative ideas, to operations, and building our amazing team. 💖 pic.twitter.com/jb6v34jSrl

— Sparky ⚡️ (@NFTSaraBaumann) January 21, 2023
About 18 months on, the couple is working as hard as ever, living out their dreams and conversing with the candor and enthusiasm of a couple embracing every moment. Women and Weapons has gone on to generate $17 million worth of NFT trading volume to date, per data from NFTGo, and counts prominent holders including actress Brie Larson and entrepreneur Gary Vaynerchuk. Sara credits their long-term connection with fueling their success in the space.
"I think the fact that we've been able to go through 20 years together, honestly through some of the toughest times of our entire lives, makes doing a business together easy," she said of her partner. "I get to watch his strength and see where he shines. And I think it just makes me love him even more."
Their entrepreneurial honeymoon has come and gone—the demands of the NFT space and their responsibility to thousands of holders from countries all over the world saw to that. Still, the pair have retained their original sense of purpose, even if they're still working on that work-life balance.
"We're campaigning for weekends," Sara said, remarking that finding three hours of personal time the previous weekend was a success. Even so, they thoroughly enjoy the work.
The couple are happy to "bounce ideas off each other all day, every day" at home, Jake said, in a close environment which he believes is a "tremendous strength." Most of their work is done at a desk in their office space, though jumping in the Discord is generally done on the sofa.
"If I had a dollar for every time I woke him up at midnight and said 'Jake, Jake, what do you think about blah, blah, blah," Sara joked, adding, "You can't do that with somebody who's not married to you and that you're working with. It's good, it's fun."
"And I feel like it helps us build even better and faster, because we're together 24/7," she continued. "It's certainly not for every couple, but it just happens to work really well for us."
Sharing their advice for others in the space looking to start a family NFT project, Jake said that sharing a roof shouldn't be the main impetus for teaming up in Web3.
"Make sure that you complement each other's skill sets, and that there's a reason you're partnering together more than just proximity," he said. "Make sure it's thoughtful and that you have a plan in mind to be unique for what you're delivering."
From brothers to Chimpers
Chimpers is an NFT project founded by twin brothers Oliver and Jacob from Manchester, England in their mid-twenties, who go by their respective pseudonyms Timpers and Insight (they chose not to share their last name).
Timpers entered the Web3 space in 2021 and first created 1-of-1 artwork on Foundation, then contributed to RTFKT and created art for the launch of Nouns, an NFT-fueled open-source IP. Inspired by the early success of Bored Ape Yacht Club (BAYC), he decided to create one of the first Ape derivatives in a nod of creative acknowledgment.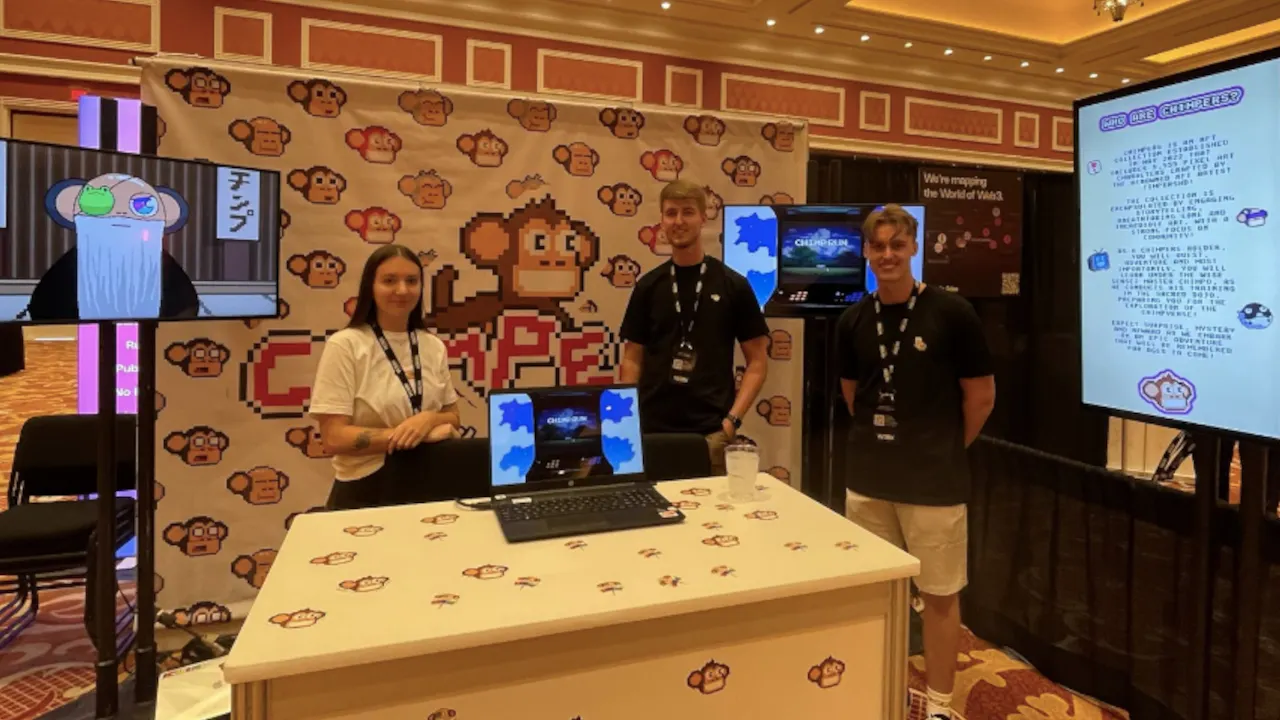 The debut episode of The Boring Ape Chronicles (TBAC)—an animated GIF scene inspired by BAYC—was minted in July 2021. One hundred NFT editions sold out almost immediately at a price of 0.25 ETH (about $470 then) apiece. Nearly two years since its release, the collection holds a floor price of 9 ETH, or about $17,400 each.
"It was never meant to become a collection or series," Timpers explained. "Instead, it was artwork that paid homage to the club I loved."
Insight, on the other hand, said that he had just graduated with an English degree and was working in a restaurant while writing Substack articles about NFTs on the side. He interviewed creators and founders from the Web3 world, and Timpers saw that bubbling well of knowledge as an ideal complement to his own alluring artwork.
"Timpers and I have always been very close," Insight told Decrypt. "We have pretty much done everything together our whole lives, so it was quite funny that after university—in a moment where our careers were going in different directions—we somehow managed to be back together and working on a company."
Over the next year, Timpers revealed that the pair were "intentional and delicate" about their approach to building the TBAC series, working on cultivating a "small, tight-knit community" by "building depth into the series through the lore and universe." 
This year-long effort culminated in the launch of Chimpers, a 5,555-piece pixelated art collection which has yielded over $37 million worth of NFT volume since May 2022, per data from NFTGo. The success of the project took them to America for the first time last year, broadening their worldview in the process, they said.
"Being able to connect with community members across the world, from something that you created, is something you can't really describe—it's an amazing feeling," Timpers said. "We have loved sharing these moments together."
Vegas you have been incredible! Memories for life, amazing friends and chimping legends! 🔥🚀🐒

For now we will see you in the Dojo, until next time! 🫡 https://t.co/zKGsiYrl5E

— Insight (@NFT1nsight) October 14, 2022
Nowadays, the twin brothers live in separate apartments in Manchester, but within the same building complex, discovering that the work-from-home lifestyle suits their needs better than operating out of an office space. Much of their day is still spent in communication with one another, whether on strategy calls or discussions with the wider team.
"Between Timpers and I, there is a lot of overlap on creative direction, strategy, and ideating for future plans," Insight revealed.
The Chimpers community of holders is primarily based in the United States, and with New York being five hours behind their location, the brothers tend to work later hours than the typical 9-to-5. Though they relish their working schedule, they equally recognize the importance of sustaining themselves over the long-term.
"It's important to keep a healthy work life balance", said Timpers, declaring that upholding it is "incredibly hard as a Web3 founder."
On the weekends, like many twentysomethings, the pair like to socialize at local bars and pubs with their friends, watch football, or hit up the gym. "We are just as close as we always have been, if not more", shared Timpers.
Following the launch of Chimpers in May 2022, the broader NFT industry entered a downward spiral with falling prices and diminishing demand, alongside a wider crypto crash. It altered the financial landscape and severely impacted the momentum of many projects.
Reflecting on this period, Insight revealed that "sentiment and emotions can change rapidly, and managing this is probably the most difficult part." He added that "it's not the roadmap or execution of plans that is difficult, but the expectations of the community."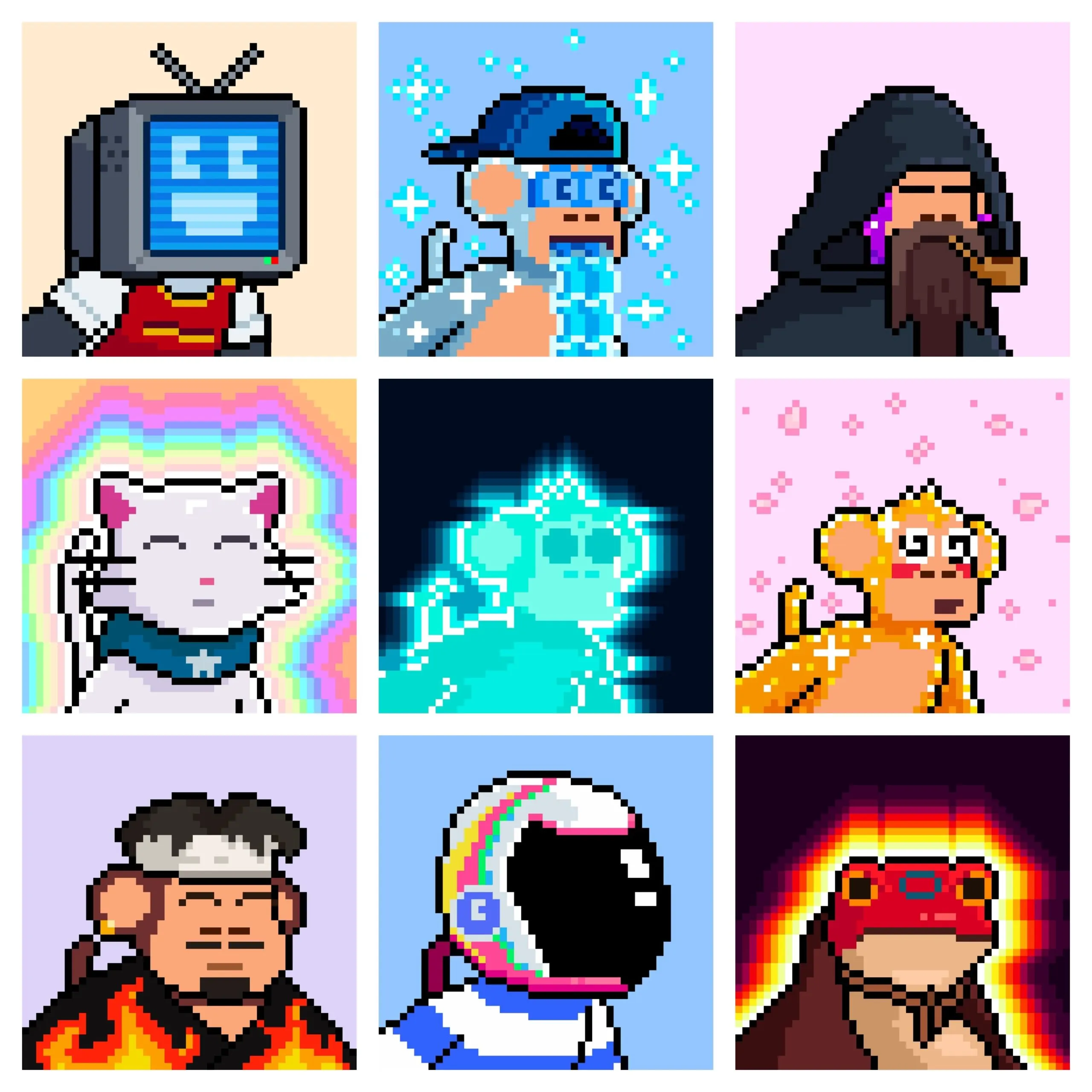 "We've learned that although you can focus attention on metrics and numbers, it is an impossible task with the space being so volatile," he concluded. "The most important thing any project can do is focus on the task ahead."
Even with a bumpy road provided by the volatile NFT market, Insight said that building in Web3 with his brother has been a rewarding process.
Being siblings provides extra connective tissue that most Web3 collaborators lack, but Insight said making any kind of project work in this space requires long-term commitment and trust. In this case, it pushed them from working together on artwork and narrative to "building a fully fledged project and company," he said.
"You have to trust each other, support one another, and plan for the future," Insight affirmed.