The digital fashion movement was founded, barely two years ago, on a relatively simple premise: bringing clothing—both the everyday and the rarified—into the virtual realm. 
Despite the active efforts of numerous elite fashion brands and Web3-native startups alike, however, a vibrant ecosystem of wearable digital fashion remains largely elusive. Interoperability—the technology required for a digital asset like a virtual dress to traverse multiple online worlds—could be years away. And even if it worked now, most existing metaverse platforms remain clunky and poorly populated. 
To Daniela Loftus, founder and CEO of digital fashion platform DRAUP, that's a reality that most digital fashion creators are unaware of—or unwilling to see. 
"To be hammering down, like a lot of big digital fashion platforms currently are, on interoperability—when it doesn't actually seem like a big value prop—is stupid," Loftus told Decrypt.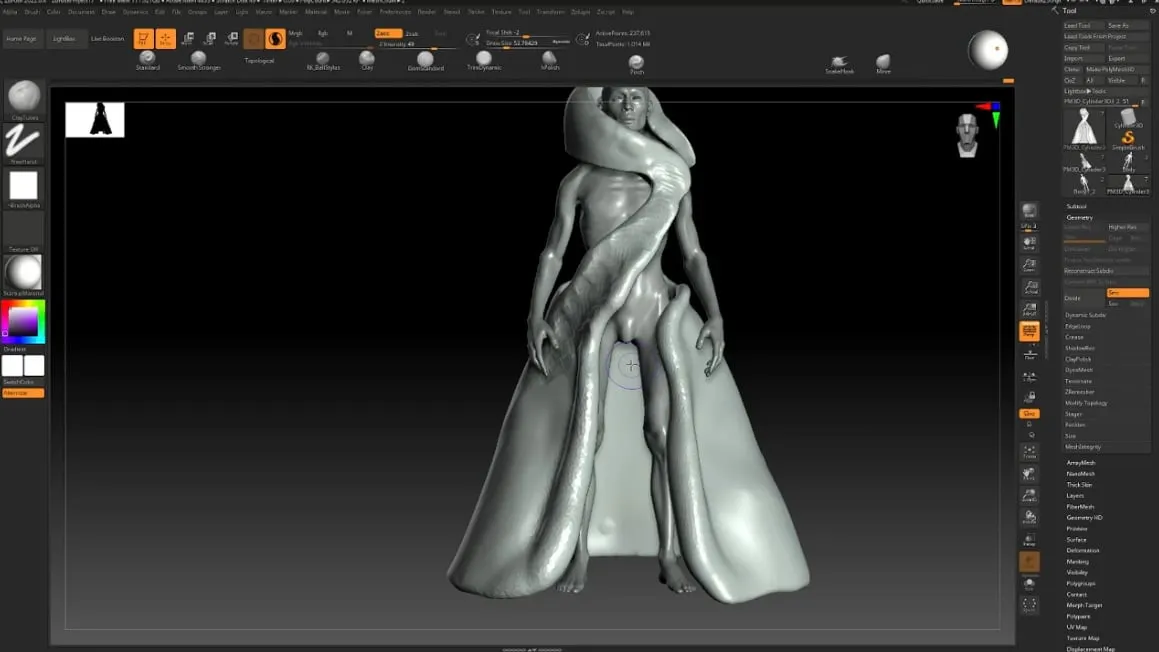 Loftus believes the current efforts of numerous fashion designers and metaverse proponents to generate enthusiasm for wearable virtual fashion are misguided and detached from current market realities. 
"There's an echo chamber of 25 people who care about digital fashion, who think it can go mass market," Loftus said. "But it literally can't."
That's why DRAUP and its inaugural collection—a series of 648 digital fashion pieces designed in collaboration with digital artist Nicolas Sassoon titled "Seen On Screen"—currently have nothing to do with interoperability or wearability. 
The pieces are all generative, meaning they originate from digital textiles crafted by Sassoon that are then shaped by an algorithm into unique digital clothing articles automatically conjured during the minting process. The parameters of that algorithm were designed by Loftus and her colleagues.
The pieces are not wearable. Sassoon refers to them as "optical sculptures." 
Though Loftus got her start in digital fashion as a forceful advocate for virtual wearability, the experience of the last two years has reshaped her understanding of how best to translate fashion's real-world utility—as a sign of status, taste, and often wealth—into the digital experience. 
"If you're honest about NFT collectors right now, it's a lot of men—a lot of men who are buying things because they socially signal, maybe as art, and for financial speculation," Loftus said. "The wearer market, though, that's a lot of women. But those women are not prepared to say, 'I'm going to socially signal now by, instead of spending $3,000 on a Chanel bag, spending $3,000 on a digital asset.'"
That epiphany led Loftus to reconsider how digital tools could be better harnessed to turn virtual fashion pieces into signals as potent as real-world luxury purses and designer shoes. Leaning into the toolkit and ethos of generative artwork—which has enraptured certain segments of the Web3 culture scene—emerged as a natural answer. 
"Code is the couture," Loftus said of generative digital fashion. "Instead of being like, 'Here's how you wear it,' it's 'What's the narrative behind this trait? What's the narrative behind this collaboration? How rare is it?' It's kind of selling it like a piece of art."
Loftus envisions that the pieces will be shared, enjoyed, and discussed just as generative art pieces from collections like Art Blocks are. That's how they'll be seen, and that's how they'll come to accrue social signaling value—something, Loftus believes, metaverse platforms are years away from being able to meaningfully offer. 
Eventually, as technology catches up and wearability becomes more socially relevant, DRAUP plans to make its pieces metaverse-compatible. Until then, the pieces will live solely on the DRAUP platform. The company plans to release carefully curated, designer-centered collections like today's drop every few months for the foreseeable future.
"Seen on Screen" pieces will be released in three tiers: "SEAL" holders—DRAUP community members selected by the company's leadership through an application process—will get preferential access, as will holders of Nicolas Sassoon one-of-one NFTs. Next, members of DRAUP's Discord "Insider" community, along with members of the 9dcc, Admit One, Ledger, and SYKY communities, will gain entrance. A public allowlist will constitute the collection's third tier.