Emma-Jane MacKinnon-Lee is sprinting down a street in San Francisco's North Beach neighborhood like she's about to miss a plane. Pink and orange hair flies behind a uniform of all black as she turns a corner, bolts up a hill, and scoots into a Victorian house.
This pace is typical of MacKinnon-Lee, the 23-year-old CEO of Digitalax, a startup aiming to build the first "web 3 fashion operating system." MacKinnon-Lee and her six-person team build digital fashion marketplaces, platforms, infrastructure, outreach programs, tools for designers; anything that can help establish the web 3 fashion market is fair game. Which starts to explain why MacKinnon-Lee is always running.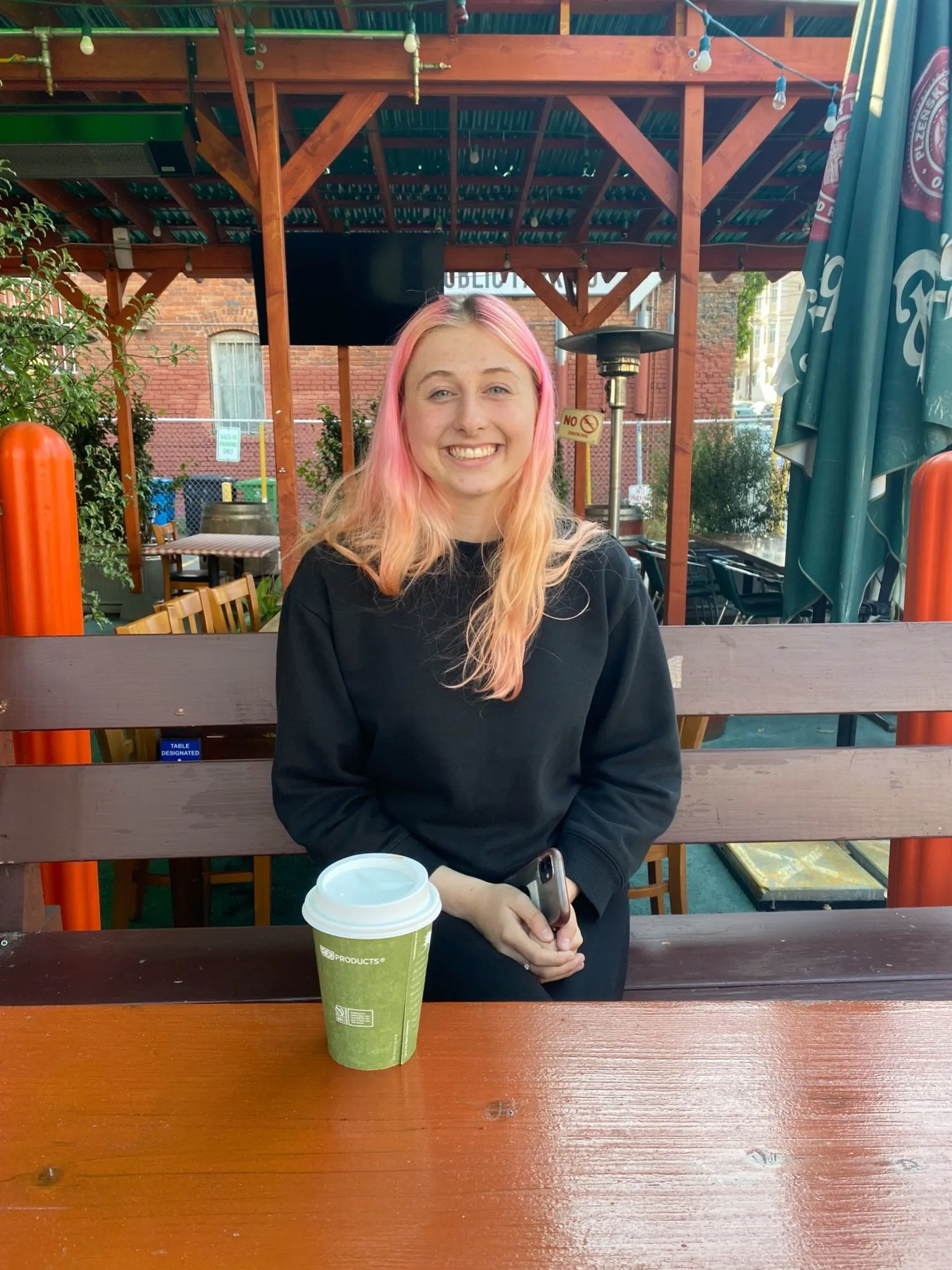 "I sleep in a chair twenty-four-seven. I haven't slept horizontally—I'm not even kidding—since like, June?" she said recently. "Today I slept from six am to seven am and that's it, and I'll maybe sleep from two am to three am tonight. But I absolutely love it."
MacKinnon-Lee is at the center of an industry that hardly existed a year ago, started ballooning over the last ten months, and then, three weeks ago, practically exploded, with the staggering news that a Dolce & Gabbana NFT fashion collection, the first of its kind, sold for almost $5.7 million.
The Dolce & Gabbana auction offered a peek at fashion's potential to become the next focal point of the red-hot NFT market, which last quarter alone eclipsed $10.7 billion in trading volume. But fashion, unlike other popular NFT categories like art or trading cards, isn't just collected—it's worn. This utility is key to digital fashion's staggering potential to not just dominate the NFT market, but to become a cornerstone of the still-nascent metaverse.
As everyone from Facebook to Sotheby's races to make hay in a fully immersive online world, few industries stand to gain more on this digital frontier than fashion. The market for purely virtual in-game clothing and cosmetics is already valued at $40 billion. And as the metaverse begins to expand, many predict that the market value of digital fashion could approach or even match that of the $2 trillion physical fashion industry.
The fashion battle for the metaverse
Control of the metaverse is up for grabs. Facebook is spending zealously to establish itself as king of a centralized metaverse, in which all activities and transactions take place within the walls of massive virtual kingdoms; others envision the metaverse as a decentralized utopia in which players freely traverse myriad platforms, taking their own digital items, and valuable data, with them.
"It is a feudal age," sermonized Yat Siu, co-founder of Animoca Brands, the parent company behind metaverse games like Axie Infinity and The Sandbox, in a recent lecture at 3D Tech Festival 2021. "We are constantly giving up our most valuable resource [personal data] to platforms. The result is the massive enrichening of these platforms. But that is changing. We're going around to the serfs and peasants of the world, saying you should own your own property. Don't work for the landlord, work for yourself. This [decentralizing the metaverse] is a revolution. A bloodless revolution."
Dolce & Gabbana's recent and stunning entrance into this world is a pretty good indicator that the war has begun. The haute couture icon's move makes a strong case that the biggest fashion brands will retain their influence in this new age.
MacKinnon-Lee hopes not.
The prodigious amount of writing she publishes almost daily on Digitalax's blog, and in the monthly metaverse magazine DIGIFIZZY, is laden with references to "democratization" and "anarchy". Most of the company's dizzying number of projects are focused on spreading digital fashion to the people (for example, cooperative economic models that allow independent designers to collaborate on pieces and share in their ownership and royalties).
MacKinnon-Lee is Australian; she studied aerospace engineering at the University of Sydney before dropping out to work for a cryptocurrency fund specializing in black swan hedging: betting on severe market fluctuations caused by extremely rare and unpredictable events. She then started Digitalax.
This trajectory is not incidental: MacKinnon-Lee is betting that the fashion industry is about to undergo a seismic shift, thanks to the metaverse; a shift that could put trillions of dollars up for grabs. And she's doing everything she can to make this possibility a reality.
"We are building a fashion industry… on native decentralized principles," MacKinnon-Lee says. "To empower designers, creators, collectors, wearers. Instead of fashion being extractive and exploitative, with just a few brands at the top, taking the lion's share."
The dawning of the digital fashion age
So, what exactly is digital fashion?
The term, like everything else in the metaverse, is still solidifying. So far it has come to refer to any piece of clothing created in part, or entirely, in the digital realm. This could mean physical garments with digital counterparts, AR filters that augment appearance in photos or on live video, or fully-digital wardrobes for avatars in online games and metaverses.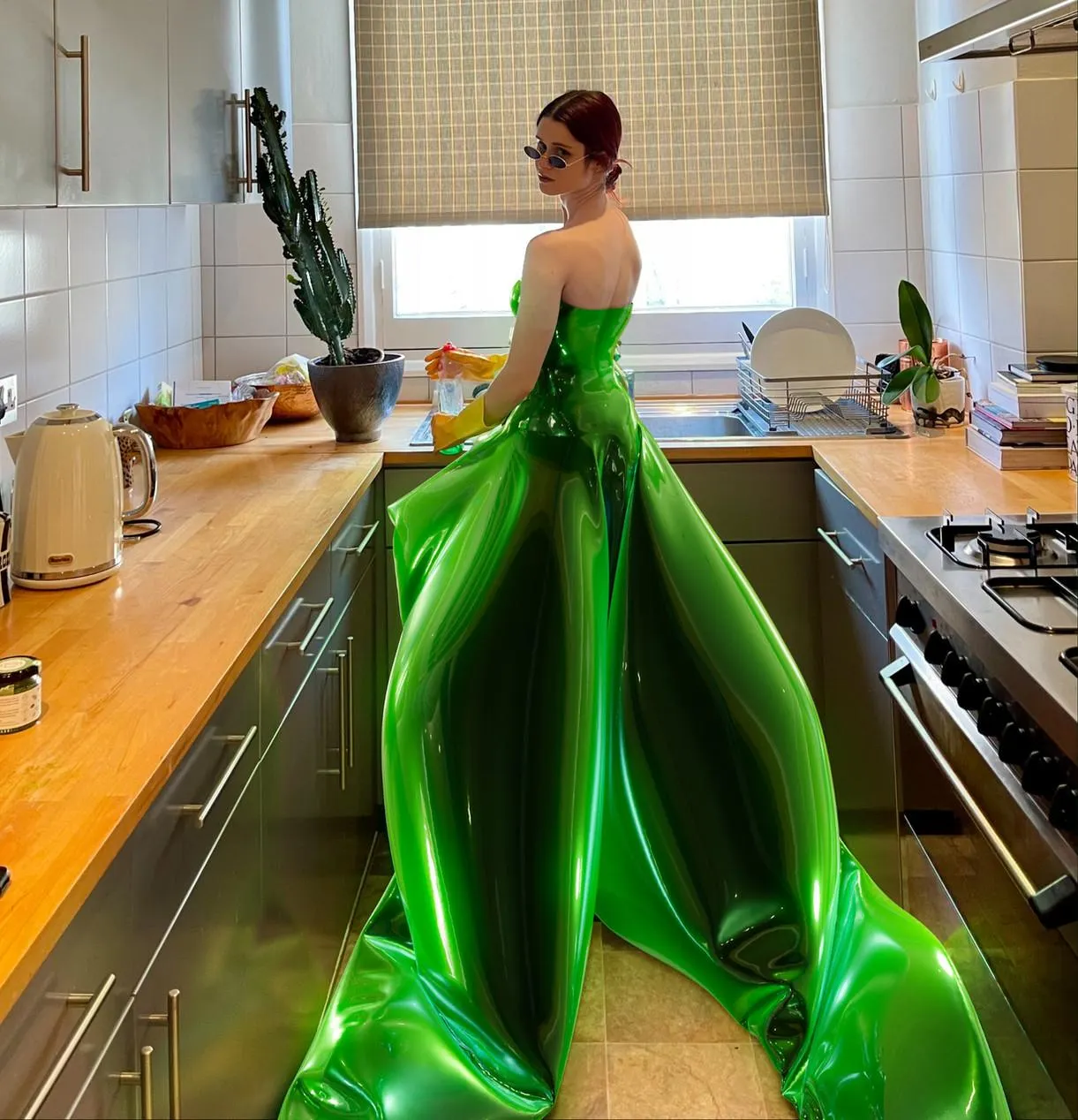 "When I started this, I spoke to my eleven-year old cousins, and they said, this obviously makes sense to us," recalls Daniella Loftus, a member of Red DAO, the crypto collective that swept up the Dolce & Gabbana auction with $1.9 million in purchases, sending shockwaves through the fashion world. "But everyone else was like, I have no idea what you're talking about. My cousins, though, bought skins in Fortnite. And if you didn't have the right skin in Fortnite, you'd be slated in the playground."
There will be three billion gamers by next year, according to a Newzoo study. And as Loftus puts it: "People are going to need to wear something."
Members of Red DAO see their role in the digital fashion space as deeply intertwined with promoting the utility of wearable fashion NFTs. "We're not here to just buy a bunch of NFTs and sit on them and flip them," says Megan Kaspar, another Red DAO member.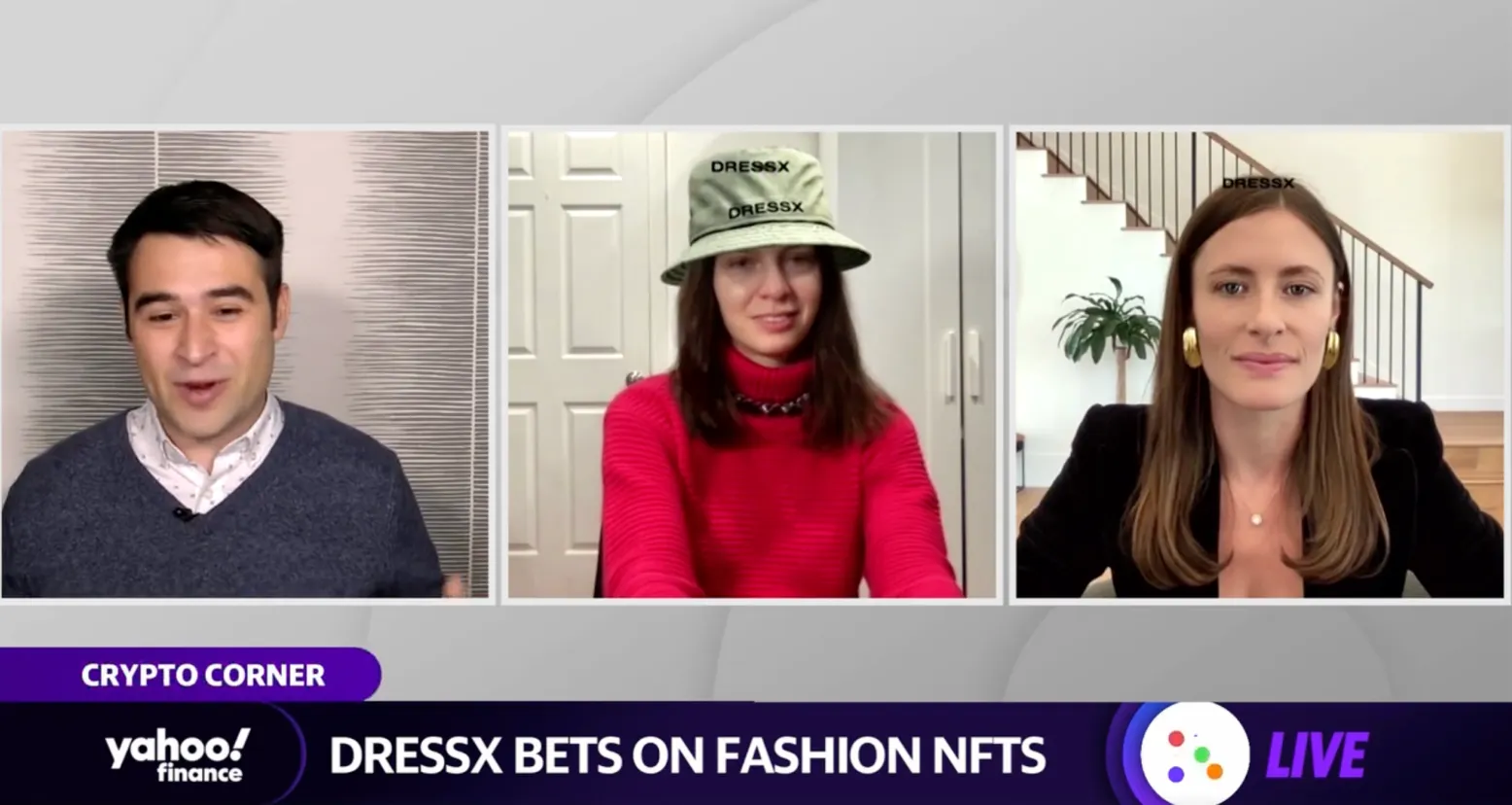 Last week, Kaspar became likely the first person to wear digital fashion on live TV. For a hit on Yahoo Finance, she donned an onyx crown, gold earrings, and a massive green and purple necklace that looked not unlike an alien exoskeleton. All of it was made by the digital fashion retailer DRESSX.

The D&G auction attracted unprecedented attention and capital to digital fashion. But if legacy fashion brands like D&G want to get their piece of the digital pie, they may soon have to pick a side in the war for the metaverse.
Perhaps surprisingly, their interests may align more with decentralizing disruptors such as Digitalax, than with behemoths like Facebook.
"I'm not going to want to buy Gucci shoes on every single platform," says Kaspar. "You're going to want to buy one pair, and be able to move it around, and sell it."
The tipping point of interoperability
She's talking about interoperability, one of the central points of tension in the metaverse debate. The would-be Lannisters of web 3, such as Facebook, would prefer that virtual goods not be able to smoothly traverse platforms. To these companies, interoperability would mean less control over vendors and products. Decentralization advocates, on the other hand, feel that the ability to take your items with you, wherever you go, should be one of the core rights of a democratized metaverse. Digital fashion pieces are some of the first products to poke at this question; and currently, they can't move around freely.
The D&G auction items were only available to their winners on a single game platform of the winner's choosing. This is not ideal for anyone desiring to strut around the metaverse with a pricy luxury digital good; you're going to want your digital Gucci clutch to come with you from virtual Brentwood to virtual WeHo. So the entry of legacy brands such as D&G into the digital sphere may accelerate the pressure for unwilling developers to tear down their walls.
"In 2021, we are much closer than last year to that tipping point," says Sebastien Borget, co-founder of the metaverse game The Sandbox. "We've seen in the last ten months an acceleration in the number of brands, physical brands, that accepted to come to an NFT-based metaverse. Within the next decade, I am optimistic, this will have happened already. And businesses that didn't embrace it are going to see a major drop or decline."
Perhaps the biggest hurdle in this regard is technical. Currently, no file format allows for the same outfit to smoothly traverse all major platforms, to exist flawlessly in pixelated Minecraft and the vivid three-dimensional landscapes of Fortnite. Whatever magic allowed Bugs Bunny to run through every style of painting hanging in the Louvre, that's the holy grail for the metaverse. And it's on the front of everyone's minds in digital fashion.
"If you could build a unicode for digital fashion, that's literally the most brilliant invention ever," Loftus says. Her voice practically swoons at the implications. "That needs to happen."
The great weapon
MacKinnon-Lee is trying to build it. The great weapon. Her team at Digitalax is rounding the corner on an interoperable 3D file format they call DASH, which they claim will permit digital fashion pieces to flawlessly navigate all gaming platforms.
Just last week, Digitalax launched DASH DAO, a DAO (decentralized autonomous organization) intended to support and incentivize the program's rollout. It is currently tweaking the program and hasn't yet given a timeline for its release. When it comes, the choice of accepting or resisting interoperability will be unavoidable. And fashion will be the likely terrain, certainly the flashiest, on which that critical battle for the fate of the metaverse will be fought.
And if, at the moment of truth, certain companies resist the tide of decentralization? "There is no future for those people," MacKinnon-Lee says. She tends to tap her foot, but that stops when she discusses the war for the metaverse: "[The top companies], they're so blindsided by thinking things don't change. They don't feel the tectonic shift underneath them. Twelve months ago, if you would've asked me, I would've said maybe in five years, but now after seeing what's happened with the market, no way. It's next year, it's coming so much faster than we'd think."
MacKinnon-Lee's eyes light up when she talks about toppling the aristocracies of web 2, of fashion. Her voice gets calmer. "It's going to be the biggest arbitrage in history, literally, and when people come to realize, it'll be too late then."