Chiru Labs, the Web3 startup behind the valuable Azuki NFT project on Ethereum, is linking up with the popular Line Friends media and merchandise property through a partnership with parent company IPX, the firms announced Wednesday.
Line Friends is a collection of cartoonish animal characters inspired by stickers in the top Japanese messaging app Line and from South Korean internet giant Naver. Since debuting in 2011, Line Friends has spawned numerous stores with themed merchandise, along with amusement parks, a "Brown and Friends" Netflix series, a collaboration with K-Pop band BTS, and more.
Through the partnership, Chiru Labs and IPX plan collaborations through their respective properties, with potential content, merchandise, and events in the works. The first collaboration will feature Line Friends characters paired with Beanz, an NFT collection spun off from Azuki.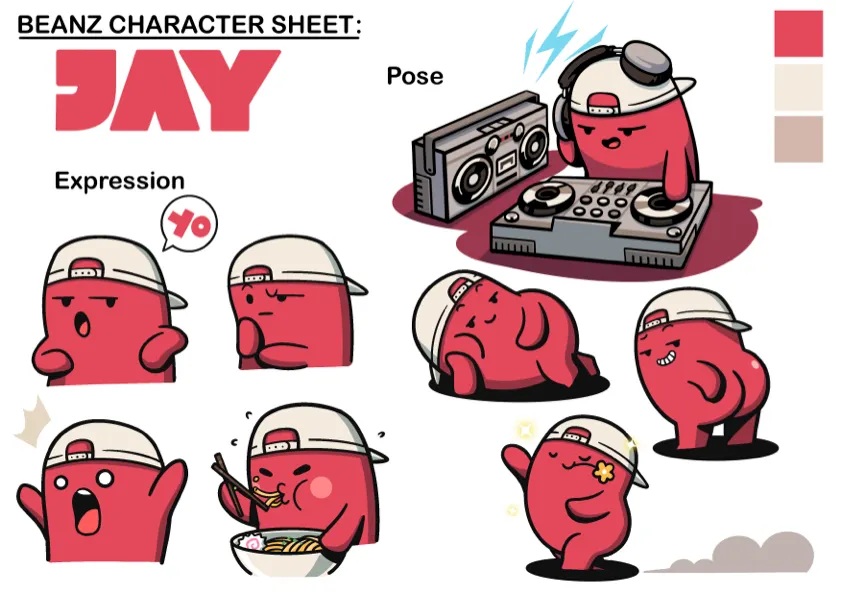 Artwork shared by Chiru Labs with Decrypt shows a Beanz character named Jay, who was previously introduced alongside another character named Jelly via a brief Twitter animation in February.
To mark the announcement, the companies will run an animated short on the video billboard above the Line Friends store in Times Square in New York City starting today, amid the annual NFT NYC conference. IPX has previously partnered with brands such as Samsung, Starbucks, Meta, and Vans.
Launched in early 2022, Azuki is one of the most successful NFT profile picture (PFP) projects to date in terms of trading volume, yielding some $930 million worth of trades to date per data from CryptoSlam. The original anime-themed project then spawned Beanz—cartoonish, bean-inspired NFT characters—which have generated $263 million worth of trading volume.
Liz Yang, Chiru's Head of Growth, told Decrypt that Line Friends parent company IPX has been "making a concerted push into Web3 in the past few years," and that its specialty is cultivating character-centric IP. Through this deal, the Line Friends characters will be paired with Chiru's Web3 properties for future content and products.
"This is their bread and butter: creating and developing these IP," Yang said, "and translating it into something that people can interact with or consume at all age ranges."
The companies have yet to reveal the first products or creations that will come out of the alliance, beyond the Times Square teaser, but a Chiru Labs tweet posted this morning hints at potential toys.
Interestingly, Chiru has developed a physically backed token (PBT) standard on Ethereum that pairs a blockchain token with a physical product to verify authenticity. The firm debuted the tech last October with an auction for eight gold-plated skateboards, which collectively brought in $2.5 million worth of ETH.
Line Friends isn't Chiru's first prominent Asian partner: in January, the Los Angeles-based company revealed a deal with Bilibili, a massively popular video platform that's considered China's equivalent to YouTube, with some 333 million users as of Q3 2022. That partnership let Azuki and Beanz NFT holders access exclusive stickers and other benefits on the platform.
The alignment with established Asian brands makes thematic sense, given Azuki's anime influence. However, Yang said that the goal of these deals isn't to only serve the Asia-Pacific (APAC) region and potential collectors there but rather to "bring that culture into really unexpected areas" with a global reach in mind.
"Even though IPX is a South Korean company, I feel like we have that startup-like, innovative, American sort of flair," Yang said. "We are really looking to push boundaries with this type of partnership."