After the market skyrocketed in 2021, NFTs became even more ubiquitous in 2022 as creators, brands, and celebrities embraced Web3. But amid the sometimes overwhelming glut of projects, only a handful stood out as being truly impactful and memorable for more than just headline-grabbing dollar values.
Which NFT projects were the most innovative, and which leveraged the technology in unique, out-of-the-box ways? Here are our picks for the standout projects of 2022.
QQL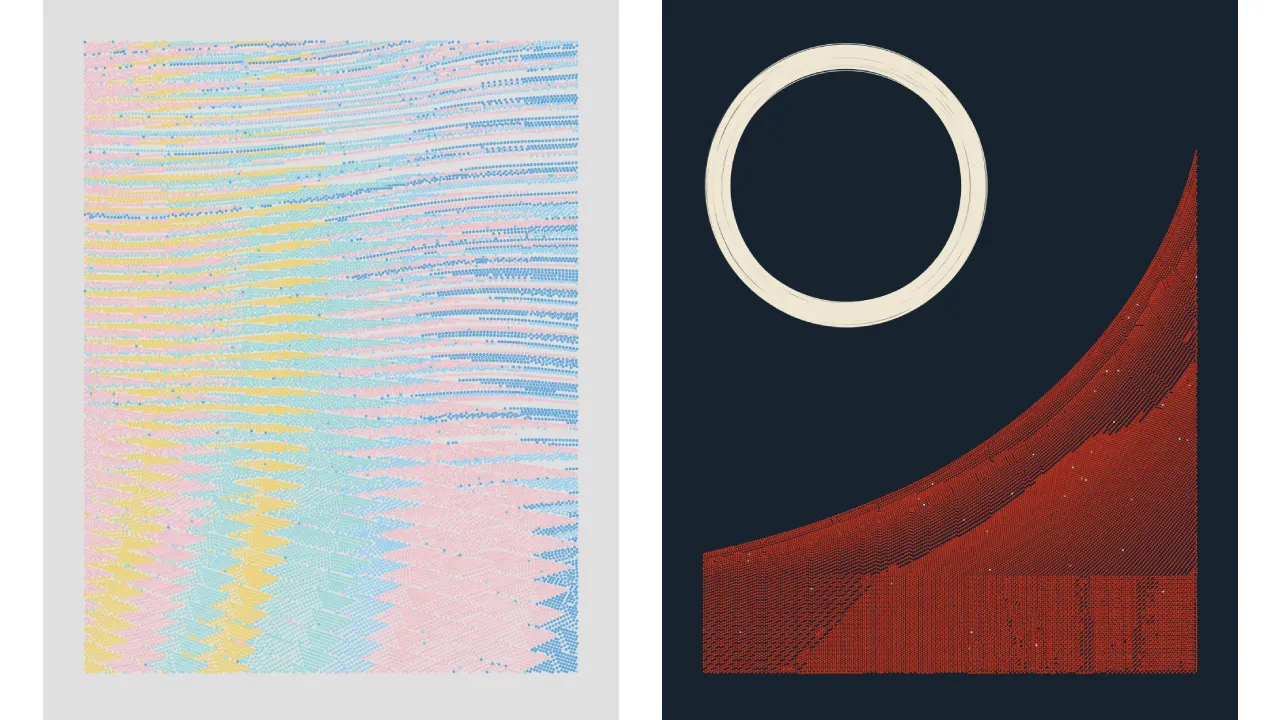 QQL is an Ethereum generative art NFT collection created by Tyler Hobbs and Dandelion Wist. Hobbs is best known as the creator behind the Art Blocks project Fidenza, which racked up numerous seven-figure (USD) sales in 2021, and his next move was eagerly anticipated. Sure enough, it sold $17 million worth of NFT mint passes upon launch despite the ongoing crypto bear market.
As with Fidenza, QQL artwork is generated using a finely-tuned algorithm deployed to the blockchain, in this case turning out mesmerizing waves of colorful circles large and small. But there's a twist: buyers of the mint pass get to shape the final artwork that they turn into an NFT. Anyone can play with the QQL algorithm and turn out potentially dazzling results, but only mint pass owners get to add an NFT to the official collection.
This engagement and interactivity with collectors established a new paradigm for NFT creation and ownership, gamifying the NFT minting process and giving holders the chance to become artists themselves. Also interesting: the person who generated the particular artwork seed (typically the NFT minter) gets a small share of royalties when the art is resold.
Proof of Merge
The Ethereum merge was one of the most-anticipated crypto developments this year. As a side project, Andreessen Horowitz staffers Mason Hall and Michael Blau created "Proof of Merge" dynamic Ethereum NFTs to celebrate the event. Each NFT acts as a "proof of attendance" of sorts that proves the user who minted it participated in Web3 before the merge took place
Hall and Blau's NFTs automatically changed their metadata via the collection's smart contract—which holds the code that powers autonomous decentralized apps (dapps)—thus evolving the appearance of the NFT to match the state of the merge process in real time.
Each NFT began as a static image of a separate black and white circle. When the merge began, the NFTs were updated to be partly-merged circles. Once complete, the NFTs updated again to their final stage: a Yin-Yang symbol that pays homage to an Ethereum panda bear meme, where the blockchain's execution layer (black bear) and consensus layer (white bear) combine to form the adorable mammal.
Nouns
Launched in 2021, the Nouns NFT project and corresponding DAO continued to build on their premise of community governance and open-source IP creation. The collection, which auctions off one pixelated Noun profile picture (PFP) NFT per day, has amassed a huge war chest of funds with 29,150 ETH in its treasury as of this writing—about $37.8 million worth.
Noun holders vote on project proposals and have spent their pooled funds on a variety of different initiatives, such as promoting Nouns at crypto conferences, supporting Web3 education in Brazil, and bringing the Nouns to New York Fashion Week. Further efforts include charitable endeavors, physical collectibles, and even a professional esports team.
Even mainstream brands are in the mix—Bud Light was granted a Noun early this year and used its boxy "Noun glasses" in a Super Bowl commercial, for instance. Nouns was also among the first notable NFT collections to use a Creative Commons CC0 license, meaning Nouns IP can be used by anyone to create and sell anything they'd like. The idea is that value ultimately still accrues back to the NFT holders.
Shibuya
Artist Emily "pplpleasr" Yang has a new vision for the future of cinema—and she's using NFTs to fund it. Shibuya aims to become the "A24 of Web3" by selling NFTs as voting chips of sorts, yielding a community that collectively decides how storylines develop while funding future projects in the process.
In December, Shibuya raised $6.9 million in seed funding, co-led by a16z and Variant Fund, to further its mission. Its first project is the anime series "White Rabbit," which follows a young person exploring a mystical crypto world. Pplpleasr wants to help Web3 get some taste, telling Decrypt that "Content in Web3 right now is just bad. There's a lot of money in Web3 to make content, but there's not a lot of tastemakers." Here's to changing that!
Goblintown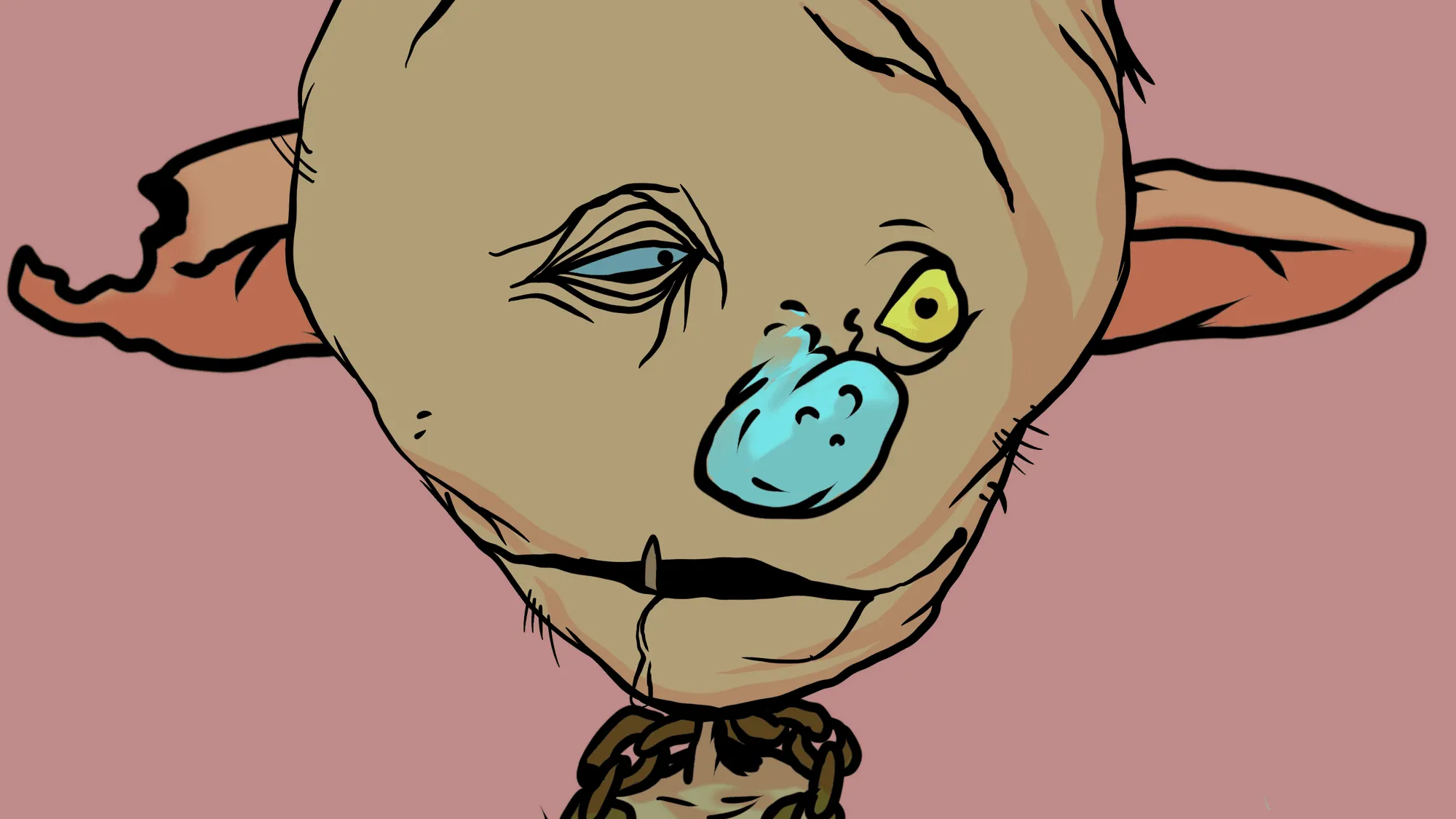 Who loves moaning incoherently and (hopefully pretending to be) drinking piss? That's right: a Goblintown NFT holder. These Ethereum NFTs went viral at the end of May when the crypto bear market began, shortly after the collapse of the Terra blockchain. As NFT-trading "degens" began to lose hope, they fell in love with NFTs that reveled in idiocy, fecal matter, and madness. 
The Goblintown NFTs were a smash hit—and while the art was certainly ugly, the launch was clever and intentional. The NFTs were launched with "No roadmap. No Discord. No utility," per the project, and from a free mint came some $96 million worth of secondary market trading since. The irreverent humor brought much-needed levity to the struggling crypto community—and sparked one of 2022's wildest NFT trends.
Reddit Collectible Avatars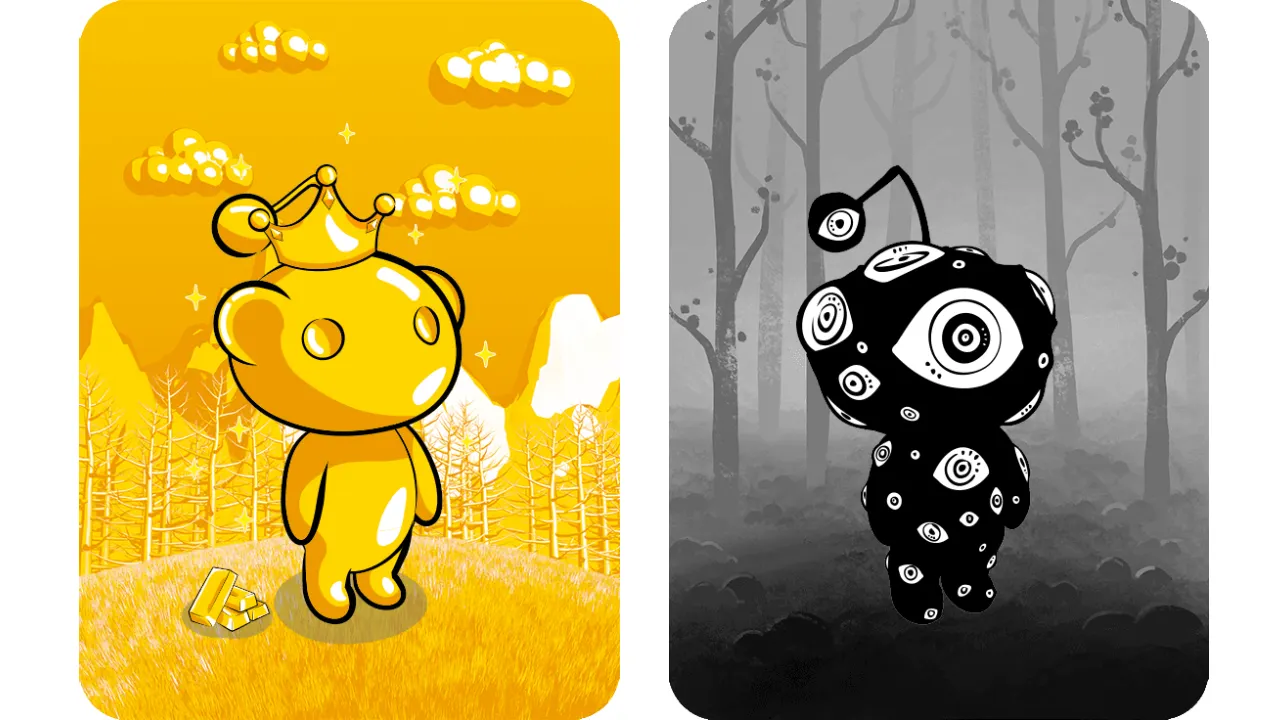 Following a summer launch, Reddit's NFTs—which it calls "collectible avatars"—exploded in popularity this fall. Some of the Polygon NFTs became highly-coveted and popular, as users across the online forum platform sported Snoos of varying colors and designs, which Reddit had airdropped to many for free. 
As of now, over 7 million Reddit NFTs have been minted on Polygon, with more than 5.3 million unique holders in the mix. Holistically speaking, Reddit's NFT launch is probably one of the largest to date. It's a massive win for both the adoption of the Ethereum sidechain Polygon and for the NFT industry as a whole.
DeGods
While Ethereum NFTs still dominate the market by total volume traded, Solana NFTs are making waves and gaining traction thanks to buzzy NFT collections like DeGods. Created by the recently-doxxed entrepreneur who goes by "Frank," DeGods is a collection of profile picture NFTs on Solana that offers a number of different benefits to holders.
After a fumbled launch in late 2021, Frank and team stepped up the "social experimentation," as he likes to call it, rolling out upgraded artwork to owners, offering daily-accruing DUST tokens to long-term holders, and even acquiring a controlling stake in a team in Ice Cube's BIG3 basketball league using DAO treasury funds.
Those moves and others propelled DeGods to become the most valuable Solana NFT project this summer, ranking near Ethereum heavyweights in terms of USD value—and then they parlayed that hype into the even-buzzier y00ts project this fall. Dust Labs, an associated tech company, also raised $7 million to help build out an ecosystem around the projects.
DeGods and y00ts helped elevate the Solana NFT space in 2022, although Frank dropped a big twist ahead for 2023: DeGods will be bridged to Ethereum while y00ts is bridged to Polygon, no longer limiting them to their original ecosystem. Once more, Frank is subverting expectations in the NFT space, although time will tell whether the moves hurt or help the projects (and Solana).
Pudgy Penguins
Many NFT collections struggle to maintain steam and ultimately fade into oblivion—especially if a founder's reputation is questioned. But this was not the fate of the Pudgy Penguins on Ethereum. It launched in July 2021 and lost traction after a few months, but saw a major renaissance in popularity this year after the collection was bought by young entrepreneur Luca Netz for $2.5 million in April and its original founder left the project.
At time of writing, Penguins have surged in value to near a 7 ETH floor price (i.e. the cheapest-listed NFT), which is over $8,000 each and a sizable increase from earlier this year. Under Netz's reign, the collection made plans for merchandise, a children's book, and more, and held an auction at Sotheby's. The Penguins also snagged an advisory board made up of Web3 and retail professionals, with leaders from Nansen, Saks Fifth Avenue, Hasbro, and Meta joining to help the project further shape its comeback story.