The NFT market has gone from "we're all gonna make it" to "we're all gonna die."
Ever since NFT collectors went crazy over Goblintown—profile picture avatars of urine-obsessed golem creatures—market sentiment has changed. Over the past few weeks, the NFT space has become dystopian and depressed, and creators are doubling down on dark memes and toilet humor in an apparent attempt to cope with the bear market.
A barrage of collections focused on goblins, fecal matter, death, and loneliness have swarmed the OpenSea top collections rankings, making up 45% of the top 20 traded collections in the past week. Some traders are listening to Kanye West's Pablo album on repeat in Twitter Spaces to cope with the market downturn. And yes, there are now NFTs—unique blockchain tokens that signify ownership—whose holders are dedicated to this.
"Right now, I think the bear market is making everyone a bit loopy and if you do something different you can seize market attention," said Bored Ape Yacht Club holder Professor M on Twitter, who says she teaches marketing and studies consumer culture.
The rise of Goblintown
But the NFT market wasn't always this way.
Last year, when NFT trading on Ethereum boomed to more than $20 billion in sales, it was projects like CryptoPunks and Bored Apes—and later Doodles, Cool Cats, and Azuki—that dominated both charts and headlines.
Now that the WAGMI honeymoon has come to an end, it appears traders have realized that, no, not everyone is "gonna make it." And now it's down down to Goblin Town.
The Goblintown Ethereum NFTs have held the top spot on OpenSea's rankings and have seen over 32,000 ETH ($57.6 million) in total volume traded in just two and a half weeks after initially launching as a free mint, meaning that it cost nothing (other than transactions fees on Ethereum) to buy these NFTs at launch. "Goblin Town" is a term used to describe a bear market, and it has become an increasingly popular meme among crypto traders in the past year.
NFT trader ConciergePhysician told Decrypt in an interview that he works as a physician by day and has a portfolio of over 1,000 NFTs worth seven figures including Bored Apes, Mutant Apes and CloneX NFTs. He said that in his view, Goblintown kicked off the current meta of intentionally ugly NFTs.
"The art is terrible," ConciergePhysician said of Goblintown. "People are just trying to be degens so they can actually flip and make a lot of money."
The word "degen"—short for degenerate—has become a common moniker (often self-imposed) for a crypto trader who is chronically online and spends several hours each day tracking and trading these assets, often at the expense of other things in their life.
ConciergePhysician said he spends three to five hours a day researching the NFT market, either early in the mornings or late at night. He believes that when the "blue chip" NFTs like the Bored Ape Yacht Club saw a recent slump in price due to the broader crypto bear market, traders became upset but were still determined to find a way to make money.
"There's always money to be made, even in a bear market," he said, but added that for him, ugly art isn't worth the risk.
For other "degens," Goblintown is a rallying cry for hungry traders looking to meme, and make money while doing it.
"Goblintown has spawned 10's [sic] of derivatives, but the art style and colors are fresh—a little bit of 'ugly' in majority aesthetic bluechips I think has sparked an interest....like the alt bluechip—a greenchip," Goblintown holder dgen.eth told Decrypt via Twitter DM.
Dgen.eth currently owns 12 Goblintown NFTs, including the 1 of 1 Goblintown wizard NFT. 
"The fact the guys from the project all use voice synth to sound like Goblins in their twitter spaces just adds to the mystery. Everything is so well executed [...] the imagery, the sound, the interface and contract—it just screams wealthy and credible Web3 backers," he speculated.
Poop and death are trending
After Goblintown, the We Are All Going to Die (WAGDIE) NFTs have taken the second top spot in OpenSea's weekly rankings. Another free-to-mint collection, WAGDIE's OpenSea description reads "There is no map, only death," a reference to its lack of the type of roadmap for future development that NFT collections or other projects typically provide their investors.
WAGDIE generated more than 9,000 ETH ($16.2 million) in sales volume in just a week.
The WAGDIE collection caused a stir on Twitter Monday when it shared that it had purchased a Mutant Ape Yacht Club NFT for 21 ETH ($37,800) with plans to burn the asset, a process that permanently removes the NFT from circulation.
𝔏𝔢𝔱 𝔱𝔥𝔢 𝔞𝔰𝔥 𝔬𝔣 𝔱𝔥𝔦𝔰 𝔠𝔯𝔢𝔞𝔱𝔲𝔯𝔢 𝔟𝔢𝔠𝔬𝔪𝔢 𝔱𝔥𝔢 𝔰𝔱𝔞𝔯𝔱 𝔬𝔣 ℌ𝔢𝔯 𝔤𝔩𝔬𝔯𝔶. 𝔗𝔥𝔢 𝔯𝔦𝔤𝔥𝔱 𝔬𝔣 𝔦𝔱𝔰 𝔭𝔬𝔴𝔢𝔯 𝔰𝔭𝔩𝔞𝔶𝔢𝔡 𝔬𝔲𝔱 𝔞𝔠𝔯𝔬𝔰𝔰 𝔱𝔥𝔢 𝔈𝔱𝔥𝔢𝔯. 𝕷𝖔𝖓𝖌 𝕷𝖎𝖛𝖊 𝕳𝖊𝖗.https://t.co/U9G6HbkRFl

— 𝔚𝔢 𝔞𝔯𝔢 𝔄𝔩𝔩 𝔊𝔬𝔦𝔫𝔤 𝔱𝔬 𝔇𝔦𝔢 (@wagdie_eth) June 7, 2022
The burnt MAYC has now become a part of WAGDIE's lore.
"The creature screamed in agony as over 1,500 devotees watched in pleasure as they chanted to one another...Burn the Ape," the collection's Fandom page reads. 
Apparently, burning NFTs for public spectacle is appealing to many degens. In a Twitter Space late Tuesday night for Goblintown and Cereal Club NFT holders, one Goblin holder expressed their opinion on burning NFTs.
"Burn it all to the fucking ground!" they yelled.
But Goblintown and WAGDIE aren't the only nihilistic NFT collections seeing volume. Other top collections with free mints that traded over the past week include ShitBeast, ill poop it nft, mcgoblin.wtf, Goblin Grlz, Leave Me Alone NFT, troll-town.wtf, Begin as Nothing, and ShitPlunger, to name a few. 
Many of these collections likewise boast that they have no Discord server and no website, elements typically expected to launch alongside any NFT collection.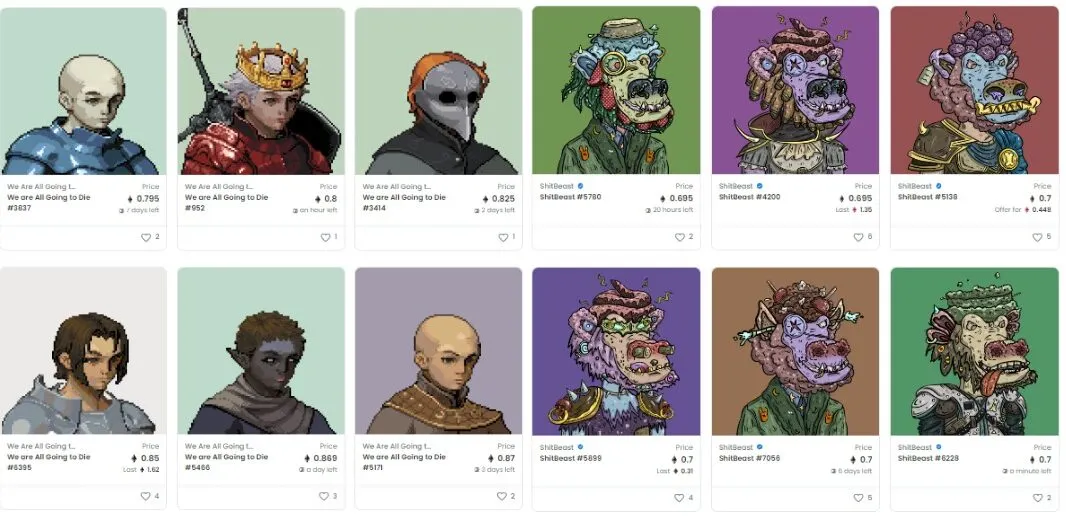 "I would not be surprised if many, four or five [...] are run by the same people," ConciergePhysician said of the onslaught of feces and goblin-themed NFT projects.
When it comes to themes and the sentiment in these communities, their names say it all—nihilism and bodily excretions are trending.
"Your NFT is just a piece of shit 10,000 pile of shit on your "blue chip" NFT or whatever jpg you are holding you are ngmi," the "ill poop it nft" collection's description reads, whose assets currently have a floor price of over 1.1 ETH ($1,980) for a single "poop" JPEG.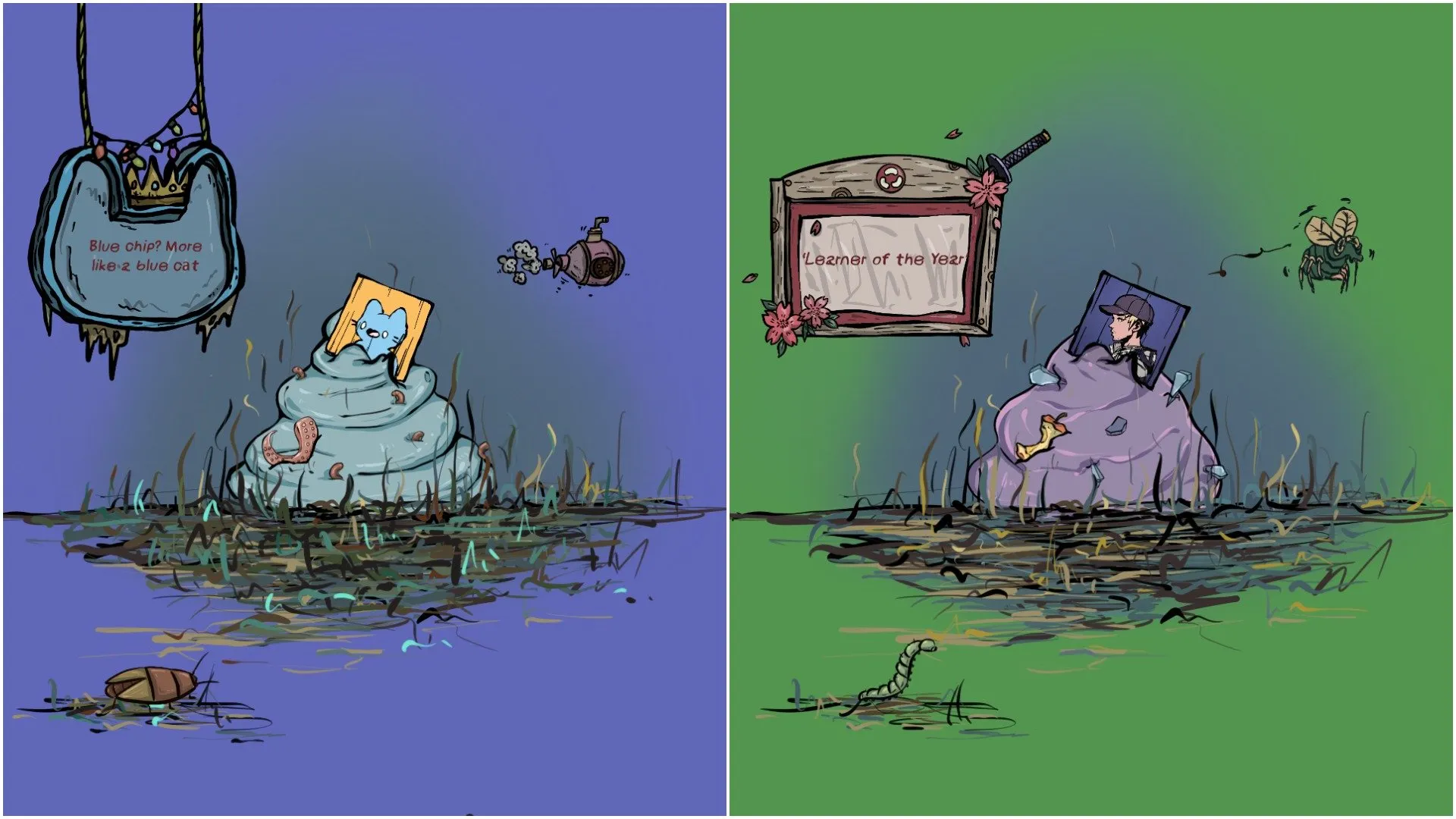 "There's a lot of copy paste projects," ConciergePhysician said of the poop and goblin-themed NFT trends. 
"90 or 95% will fail [...] let's wait two, three, or five years and see where these all stand."
Light at the end of the tunnel
While some NFT fans may be seeking "copium" through poop-themed NFTs, the outlook isn't all bleak. A report earlier this week from crypto analytics site DappRadar suggests that the NFT market is more resilient than the broader crypto market and could decouple from it as the NFT space matures.
And while OpenSea's monthly volume declined from roughly $3.5 billion in April to $2.6 billion in May, according to data from Dune Analytics, those numbers are still comparable to what OpenSea generated back in November 2021, when bullish sentiment dominated the space.

NFT enthusiast and comedian Kmoney has gained over 100,000 followers on Twitter in the past month from his sketch videos making fun of the state of NFTs, which often include cult-like mantras like "We're building" and "WAGMI" repeated ironically for comedic effect.
"I think the space became stale once the market tanked so again they're just making it fun," he told Decrypt. 
At first, Kmoney wasn't a fan of this new wave of intentionally ugly, disgusting, and depressing NFTs.
"[But] then I accepted it and have never felt so much fun and joy."
For now, NFTs have gone to the goblins.