In brief
Art Blocks is a popular Ethereum generative artwork NFT project.
The project has generated more than $1.3 billion worth of trading volume to date.
When the NFT market surged to new heights late last summer, Ethereum project Art Blocks saw one of the steepest ascents. The generative artwork project jumped from $11 million in secondary market trading volume in June to $63 million in July—and then $587 million in August.
Rapidly, Art Blocks went from a crypto-native curio—blockchain-generated artwork—into a blue chip collection that many investors sought to profit from. Suddenly, the NFTs were selling for upwards of millions of dollars apiece, and each new collection launch was swarmed with demand, driving up Ethereum network transaction fees and frustrating would-be owners.
It was chaos. For Art Blocks founder and CEO Erick Calderon (aka Snowfro), also creator of the project's original Chromie Squiggle collection, the boom was too much, too soon. And it invited in investors who appeared to be there purely for the potential speculative upside, rather than collectors who truly appreciated the work and wanted to support artists.
"The explosion was fun, but it was more terrifying than fun. Things don't naturally grow at that rate," Calderon told Decrypt. "It's validating, but it also feels like someone is taking your baby and using it for what it wasn't originally intended to be used for."
Art Blocks spans hundreds of NFT collections across three banners, with "Curated" carrying the fewest collections and the most prestige. Each project is based on a custom-designed algorithm deployed to the Ethereum blockchain by an artist, and then it mints a unique image at purchase.
Every individual NFT looks different, but there's typically cohesion within each artist's collection. The look and feel of each project can vary widely by creator—from thousands of colorful blocks in strand-like patterns to rainbow squiggles, and even to what appears to be a cartoonish hunk of ham floating at sea (White Castle owns one).
As demand for Art Blocks soared in August and September, select pieces generated enormous returns for buyers. Pieces that were originally minted for a couple thousand dollars' worth of ETH or less sold for as much as $7.1 million, as in the case of a piece from Dmitri Cherniak's Ringers collection in October. Tyler Hobbs' Fidenza collection and Calderon's own Chromie Squiggles have both yielded multiple seven-figure sales as well.
For Calderon, the top-dollar sales make sense. While the digital origins may be novel, many of the valuable Art Blocks pieces would feel right at home in an art museum or gallery. As interest climbed, some pieces became especially valuable and commanded higher and higher prices. That's the market at work. It's also validation, as Calderon suggested.
What goes up...
What actually "terrified" Calderon, as he told Decrypt, was a rush of investors buying up Art Blocks pieces at the lower end of the price scale—or the price floor—with a stated aim to flip the NFTs for a higher price. It helped fuel the frenzy, but also created frustration amongst collectors and potentially hurt people who bought up a bunch of pieces at the market's peak.
"There's all of these conversations—whether it's on Twitter or Discord—about how someone is 'sweeping the floor,'" Calderon explained. "It causes FOMO. It causes someone to come in and buy some too, and it's a zero-sum game. Eventually, somebody really gets hurt."
The speculative frenzy raised the profile of generative artwork, and rewarded both artists and those early collectors who sold at a significant premium. But the sudden surge truly was unsustainable, and as the NFT market gradually declined, Art Blocks trading volume fell sharply.
It dropped from nearly $587 million in August to $243 million in September, per data from CryptoSlam, and less than $100 million in each month since. The average Art Blocks sale price dropped from over $15,000 at its peak in September to about $4,400 in December, with a 63% drop in monthly unique secondary market buyers from August (12,075) to December (4,424).
With less hype around the project's profit-making potential, fewer people were buying Art Blocks and prices on secondary markets declined. Some collectors who had bought near the top complained about the flagging momentum, suggesting that Calderon and his team weren't doing enough to sustain the elevated demand for the project. He struggled to ignore the vitriol.
"If somebody says the words 'cash grab,' or 'greed,' or 'cash cow,' whatever it might be," he said. "I'm a pretty calm, laid-back dude—but I react and I get upset, and I want to go in there."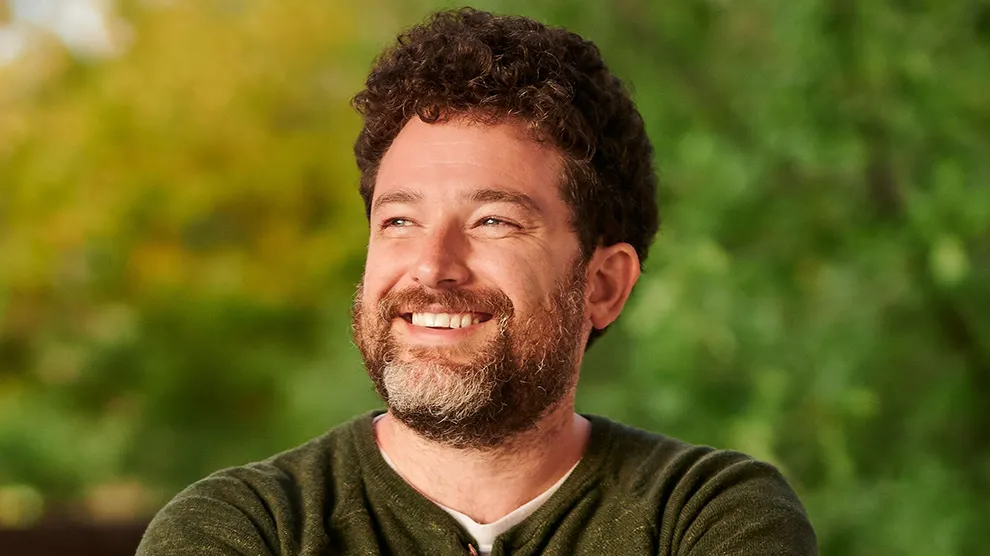 Between the rapid pace of the crypto and NFT industry and the growing impact of complaints, Calderon felt the strain on his mental health—so he started to withdraw. But that only made the most vocal members even more restless, he said. Ultimately, he's had to find a balance between addressing collectors' concerns without letting it overwhelm him.
"I realized that I can't just avoid this," Calderon said. "But these people also don't deserve to ruin my day or my week."
Building Blocks
Calderon and his growing team are also less immersed in the community on a day-to-day basis for another reason: they're building the foundations for the future of Art Blocks. Just over a year after its launch in November 2020, Art Blocks is actively formalizing its enterprise for the years ahead, so that it can be a sustainable business amid both bull and bear markets alike.
What started out as a hobby business for Calderon has now expanded to a team of 23 people, and the company is working with branding and company culture consultants. It might mean a slower flow of activity for now, but he believes it'll be worth the trade-off for long-term stability.
"In the crypto space, everything moves so fast. I think it's so easy for founders to get swept away in the thought that your product is always going to sell for millions of dollars, all the time," he said. "It's not like that. There will be a bear market. There will be a time where branding, differentiation, and culture—and the way that team members interact with each other—reflects how we interact with the community."
Despite Calderon's mixed feelings about last year's sudden surge in demand, Art Blocks now has the financial runway to refocus on culture and stability. The project has yielded more than $1.3 billion to date in total trading volume, per data from NonFungible, with Art Blocks taking 10% of primary sales and 2.5% in secondary market royalties. It also raised $6 million in funding in October, in a round led by True Ventures.
"Art Blocks had such a successful August, September, October, and even November," he told Decrypt at the end of November. "We're a healthy company. We are actually in a really lucky position where we can afford to not sell a single NFT and remain in business for years."
"What that allows us to do is literally what we set out to do," he added. "We are trying to evolve art, we are trying to evolve the way that people interact with art, and we are trying to evolve the way that communities exist around art. We're just going to focus on that."