In brief
The NFT market is hot so far in 2022, with leading marketplace OpenSea on track for a record-setting month of trading volume.
However, crypto prices are widely down so far this year, highlighting a growing divergence between the markets.
While Bitcoin, Ethereum, and many other top coins are rebounding today, it's been a rough start for the cryptocurrency market in 2022. Bitcoin is down 16% over the last two weeks, Ethereum has lost 20% of its value in the same span, and Solana has crashed 27% during that stretch. For some, it's a potential sign of a crypto winter ahead.
But you wouldn't know it by looking at the NFT market. NFT collectibles have been flying in recent weeks, with leading marketplace OpenSea already racking up $2.29 billion worth of Ethereum trading volume so far in January. OpenSea's all-time monthly record was just over $3.4 billion last August. At this pace, January could smash that tally.
Over the last year, as the NFT market has rapidly expanded and matured, we've typically seen it run in parallel with the cryptocurrency market. When crypto prices fell off a cliff last May and were well off-peak into the summer, NFT momentum appeared to be stalled. And then when crypto prices rebounded in late summer, the NFT market absolutely exploded.
But this time around, the NFT market has not only maintained the level of momentum that started in December but has soared to potentially greater heights. While OpenSea does not reflect the entire NFT market—and is facing hot new rivals, including LooksRare—it provides a good indication of the current level of trading action and interest in the space.
Dragos Dunica, co-founder and chief data officer of blockchain analytics platform DappRadar, told Decrypt that he believes some cryptocurrency holders are taking advantage of top NFT collections' apparent increasing staying power amid the depressed crypto market.
"NFTs are continuing to perform well not necessarily 'despite' falling crypto prices, but arguably and in part because of that," he said. "Investors are currently getting a discount for the most hyped digital asset class, at least on fiat terms, and as NFTs maintain their upward trend, this discount might turn into a neat return on investment as crypto prices pick up too."
While some NFT collections have lost value in USD as the price of ETH sinks, others have risen. Popular NFT projects like the Bored Ape Yacht Club and Doodles are surging of late. Both have experienced a sizable recent increase to their respective ETH floor prices, or cheapest available NFT listed on a marketplace, keeping better pace with their USD valuation rather than following the downward recent trend of the cryptocurrency market.
Dunica pointed to external factors that may be depressing crypto prices lately, including the Fed's plans to raise interest rates, as well as violence and protests in Kazakhstan, a leading country for Bitcoin mining.
On the other hand, while complaints about the environmental toll persist and backlash in the gaming community grows, NFTs are arguably buzzier than ever. DappRadar reports $23 billion in total NFT trading volume for 2021—up from about $100 million in 2020—while Dunica cites the rise of blockchain gaming, hype around the metaverse, and increasing celebrity interest.
"All of these are signs that the NFT market is evolving and fast progressing toward its peak," he said, "making it an enticing investment prospect, regardless of what crypto prices are currently like."
While this might be the most obvious case of a divergence between the crypto and NFT markets, data from blockchain analytics firm Nansen (seen below) points to smaller such swings last fall.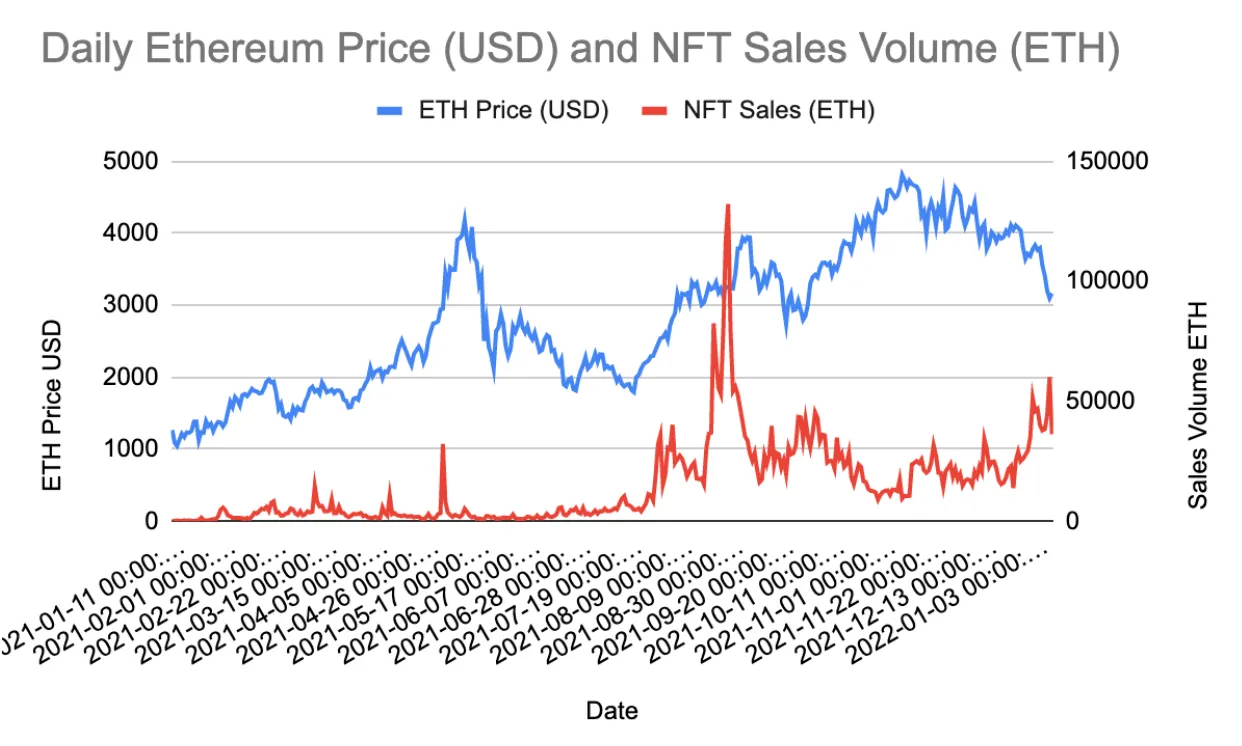 As top NFT collections increasingly prove their staying power, it may be an opportunity for investors to transfer crypto holdings into another tokenized asset with steadier holding power. That's still a potential gamble, as the NFT market has been as famously volatile at times as the crypto market, but right now some top collections are acting like a store of value—much in the way that traditional art can.
In any case, this current divergence between NFT trading action and crypto prices could prove to be a short-lived blip on the radar. As Nansen Product Manager Paul Harwood suggests, Ethereum's price and the NFT market are both on the rise when looking at a longer timeline.
"Recently, sales volume for NFTs has grown as the price of Ethereum drops. In this context, well-performing NFTs may be desirable as they are better positioned to outperform the underlying cryptocurrency used to trade," Harwood told Decrypt. "Despite this recent activity, the long-term price of Ethereum and activity in the NFT market remain trending upwards."