It's been a wild year in crypto. The surging popularity of NFTs, the maturing DeFi landscape, and new all-time highs for Bitcoin, Ethereum, and other cryptocurrencies dominated headlines and captured a great deal of attention in 2021.
Yet one project managed to wade through the noise and emerge as our pick for Coin of the Year: Solana.
The title is based on a combination of price performance and ecosystem growth, and this post is not investment advice. Decrypt is not suggesting anyone buy SOL—after all, in the crypto market, things can go south very quickly. SOL could tank in 2022. We're simply saying that no crypto project had a year like Solana had.
Solana, which only just launched in March 2020, is a decentralized blockchain network that is technically still in beta. It's billed as a more scalable, faster, and cheaper alternative to Ethereum, which remains the leading network for all things Web3. The Solana network is fueled by its eponymous native cryptocurrency SOL, which has taken the crypto industry by storm in the last 12 months.
SOL began the year at a modest price of $1.52 and has since surged by a stunning 11,150%. One year ago, in fact, even astute crypto observers could have been forgiven for not knowing what Solana was at all. "At the beginning of 2021, Solana was virtually unknown to the wider crypto/blockchain community—the prevailing opinion at that time was that it would be nearly impossible to break Ethereum's network effect and developer moat," Matthew Graham, CEO of Sino Global Capital and Solana investor told Decrypt. 
And while Solana hasn't yet proved that it can "break" Ethereum's network effects and become top dog in the smart-contract blockchain space, it's come a long way to demonstrating that it's a force that deserves to be taken seriously.
"An increasing number of people are recognizing this, and realizing that Solana is the only platform that they want to commit to building on for years to come," Kyle Samani, managing partner at MultiCoin Capital, which led Solana's $20 million seed round in 2019, told Decrypt. 
Solana's record year
Looking back at the last year in crypto, Solana's rise and massive surge in price is impossible to ignore.
SOL is, of course, integral to the Solana network. All transactions and smart-contract operations happen with SOL. The coin is also staked to help secure the network, earning rewards for users. This is distinct from crypto networks such as Bitcoin and Ethereum in which users "mine" the blockchain for rewards, but it's a system that Ethereum, in particular, aims to adopt in the near future.
Solana has come on by leaps and bounds since the start of the year. It registered an all-time high price of $260 on November 6, enjoying momentum fresh off of the Solana Breakpoint conference in Lisbon, Portugal, which was the first conference organized by the Solana Foundation, designed to bring together Solana's biggest thought leaders and innovators following a pandemic-stricken 2020.
As SOL's price continued to rise throughout the year, so too did its share of the crypto market cap. Notching up just under $70 billion of the entire industry's $2 trillion market cap on January 1, SOL's share of the market has swollen ever since: 
By the end of January, SOL's market cap hit $1 billion. Half way through the year, SOL's market cap grew to roughly $10 billion. 
Today, that number is $57 billion, a 26% decrease from the $77 billion all-time high registered on November 6.
A number of factors have led to Solana's surge this year, but chief among them is the way in which Solana has been able to position itself to both investors and casual crypto users as a viable alternative to Ethereum.
The principle reason for this is simple: there's a growing number of crypto users who want to be able to do all the different things you can do on Ethereum, but a much cheaper entry point and with fewer additional fees. Ethereum, at the moment, continues to be plagued by high "gas"—the variable cost of transacting on the network. 
Where a simple transaction on Ethereum can cost hundreds of dollars to execute, the same type of transaction would cost only pennies on Solana. This, of course, doesn't come without tradeoffs in terms of network stability and arguably even security, but for the moment, these tradeoffs do not appear to be a concern for Solana's growing number of users.
And while Ethereum remains far and away the leading network for both NFT trading and DeFi activity, Solana currently leads the pack of up-and-coming contenders.
Solana NFTs
NFTs have taken not only the crypto world by storm, but they have also fully broken through to the mainstream. So much so, in fact, that Collins Dictionary named NFT its "Word of the Year" for 2021.
NFTs (shorthand for "non-fungible tokens") are digital assets that are provably unique. They can be used to represent tangible—and intangible—items. In 2020, the market for NFTs barely moved the needle, with total sales numbering just $100 million. Over the last year, however, NFTs have moved more than $22 billion in volume. 
Before June, however, there were hardly any NFTs minting and trading on Solana. That all changed when the Solana-backed Metaplex launched an NFT marketplace and established the prevailing NFT token standard on the network.
Solana NFT creations like Degenerate Apes, Aurory, and Solana Monkey Business have since generated hundreds of millions of dollars of trading volume. Would-be investors and collectors, of course, need SOL to purchase these NFTs. And in August, the price of SOL hit a then-all-time-high of $63 following the launch of the Degenerate Apes NFT project. 
In October, Solana NFTs also became available for purchase on FTX's regulated NFT marketplace. This was a big deal, not only because FTX lets users buy and sell collectibles in U.S. dollars (something that isn't possible on, say, OpenSea), but it allowed Solana to piggyback off of FTX's huge marketing run this year as well. "The crypto community right now is very interested in NFTs, and so are we," Brett Harrison, FTX US president, told Decrypt at the time. 
Solana founder Anatoly Yakovenko also believes NFTs are gripping the crypto community. During an interview with Decrypt last month, he said that NFTs capture the collective consciousness of the industry. 
"I didn't expect it was going to be NFTs, but I kind of felt there's a very deep, social component to crypto, and I knew I'm not going to be able to predict what it looks like, but it's obvious in retrospect: NFTs are it," he said. 
Solana's NFT push also gained some hefty recognition from the community last month, when notable NFT artist pplpleasr launched her first Solana NFT project, The Collectoooooor. More recently, Michael Jordan, Melania Trump, and Twitch co-founder Justin Kan have all jumped on the Solana NFT bandwagon. Portals, the third largest metaverse project at the time of writing, is also on Solana. 
DeFi on Solana
The burgeoning world of decentralized finance, or DeFi, has also played a pivotal role in Solana's big 2021. 
DeFi—or decentralized finance—is a catch-all term for financial tools that are built on blockchain networks. These applications allow users to trade without going through traditional middlemen like banks. And, to date, a total of $11 billion of total value has been invested in DeFi projects built on Solana, per data from DeFi Llama.
The total amount of funds locked in various decentralized lending, borrowing and trading protocols today is just a tick above $249 billion, meaning Solana currently captures around 4% of the DeFi market.
"As we started to see more and more differentiated products being built on Solana, people started to take notice, user figures skyrocketed and total value locked in rapidly increased. Solana summer was just the beginning," Graham said.
In fact, the surge came so fast this year that the Solana blockchain couldn't handle all of the newfound attention it was getting. In September, the network crashed and stayed down for 17 hours after traders swarmed a token sale, many of them using bots, on decentralized exchange Raydium.
"Better now than when it's a billion users," Yakovenko tweeted at the time. 
Make no mistake, the outage was a significant pain point for Yakovenko and Solana. The network remains cheap to use, so the risk of outages due to overloaded traffic persists. 
Lisbon takeover
While SOL may still be riding high today, it was back in November that it reached its peak in terms of price.
The timing was no coincidence.
November proved to be a historic month for the entire Solana ecosystem as it took to the streets of Lisbon in celebration of all it had achieved in 2021. "These events are critical to allow developers, and investors to build stronger friendships and connections, and ultimately work together more closely," Samani told Decrypt. 
The Solana Breakpoint conference took place in Lisbon between November 7 and 10 and brought together some of the biggest names involved in Solana, including its co-founders Yakovenko and Raj Gokal, FTX CEO Sam Bankman-Fried, and many others.
But it also welcomed new faces from the broader tech and finance space—some of whom had previously dabbled with investments and other projects on rival network Ethereum. One of those new faces was Alexis Ohanian, the co-founder of Reddit and founder of VC firm Seven Seven Six.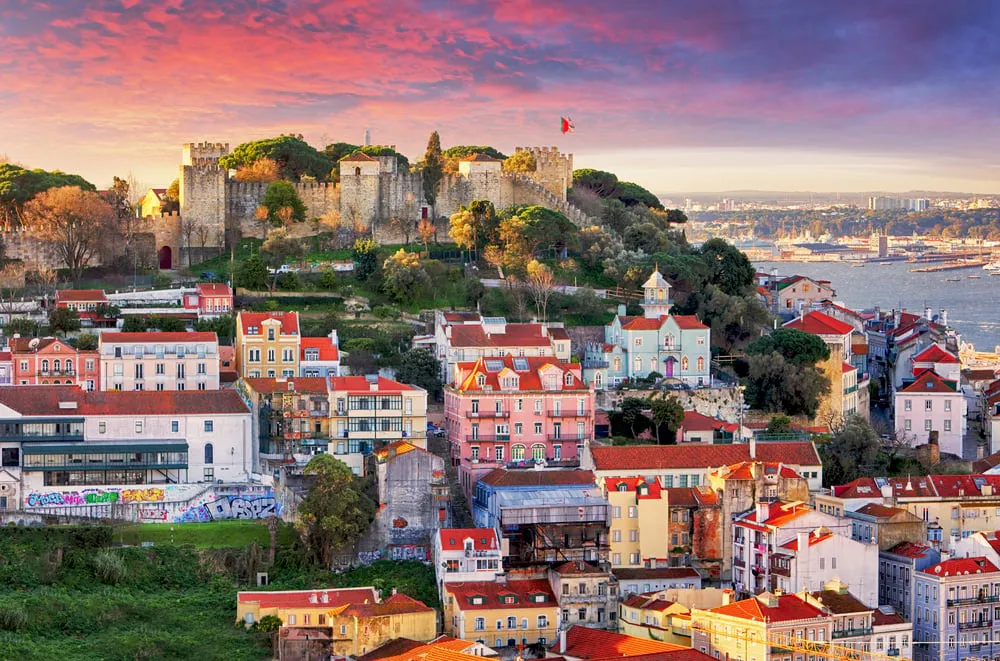 Ohanian even temporarily changed his Twitter profile picture for the week, dropping his Ethereum-based Bored Ape for a Solana Monkey Business avatar instead, which is currently the most valuable NFT collection on the Solana network. Ohanian also provided arguably the biggest news of Lisbon week when his VC firm announced the launch of a $100 million fund to develop decentralized social media projects on Solana.
The announcement came at a time when Facebook—reeling from the Facebook Files leak—was busy cementing its corporate rebrand to Meta. 
"I need to be freed from centralized social media," said Raj Gokal to a cheering Lisbon crowd at the time. 
The excitement of Lisbon evidently left a lasting impression on many of the attendees, including Lightspeed Ventures Partner Amy Wu, whose firm has invested in various Solana projects, particularly those involving gaming. In an interview with Decrypt the week following the conference, Wu said Lisbon, in a sense, represented a "realization of what [Solana] could become."
"To see how much that community has snowballed in the last six months has just been incredible," she said. "I would go so far to say that [Breakpoint Lisbon] was the first time a lot of people felt that there was a path for the Solana ecosystem to surpass that of Ethereum."
And while Solana may be a world away from a billion users, momentum certainly looks to be on its side. "We have begun to activate the virtuous cycle that might get us there," Graham told Decrypt. "We've realized as a community that the vision of Solana has expanded with a goal of true mass appeal applications." 
It's been an all-around banner year for the upstart blockchain and its native coin. One that could perhaps be best encapsulated by a tweet from Sam Bankman-Fried that has since become the stuff of crypto legend.
On January 9, in the midst of a public spat with a SOL bear, SBF tweeted: "I'll buy as much SOL [as] you have, right now, at $3. Sell me all you want. Then go fuck off."
We all know what happened to the price of SOL since then.