Scanning headlines might lead you to believe it was sponsorship and marketing deals that made 2021 a huge year for derivatives exchange FTX and its CEO Sam Bankman-Fried.
And, to be fair, there were a lot of deals. 
The NBA's Golden State Warriors and Miami Heat, Mercedes AMG Petronas F1 team, the International Cricket Council, Major League Baseball, esports squad TSM, and the Riot Games League of Legends Championship Series are all now sponsored by or partnered up with FTX.
Individual stars like Los Angeles Angels pitcher Shohei Ohtani, Tampa Bay Buccaneers quarterback Tom Brady, and Golden State Warriors point guard Steph Curry have all become investors and ambassadors for the company. There's even a Super Bowl ad on the way.
The goal of all those deals, Bankman-Fried has said, was to build FTX's name recognition. But he sees them as mere groundwork for bigger things to come in 2022.
"I think it's a little bit surprising exactly how much focus there was on [the sponsorships]," Bankman-Fried told Decrypt by phone. "Where we're really excited," he said, is the regulatory progress FTX made this year, and where he thinks those efforts could end up. "But that doesn't mean that's where they are today."
Where FTX is today–the global exchange and its U.S. subsidiary—is a $32 billion valuation as of early December. The wonky exchange has become a derivatives behemoth that's second only to Binance, an early FTX investor that Bankman-Fried bought out in July. As of December 20, FTX had $7.5 billion in open interest contracts compared to Binance's $10.4 billion, according to CoinGecko. The company's massive growth is thanks chiefly to its 29-year-old founder, making him Decrypt's pick for crypto founder of the year.
The making of SBF
Sam Bankman-Fried grew up in San Francisco's Bay Area. He moved to the East Coast to study physics at the Massachusetts Institute of Technology and eventually took a job at quant trading firm Jane Street in New York in 2014.
After three years there, he left for a short stint as director of development at the Centre for Effective Altruism. He's still very much an effective altruist, believing in using evidence and research to find the most impactful way to help others. But the gig at the nonprofit wasn't a good fit.
Around the same time, Bankman-Fried founded crypto trading firm Alameda Research in late 2017. Two years later, he was ready to launch another crypto venture: derivatives exchange FTX. The company was operating out of Hong Kong until September, when FTX and Bankman-Fried packed up and moved to the Bitcoin-friendly Bahamas.
Before he became a full-on crypto celebrity known only by an acronym, he first endeared himself to the crypto community in 2020 when he "saved" SushiSwap. After the decentralized exchange's founder, a developer known only as "Chef Nomi," cashed out $14 million worth of SUSHI tokens and caused the price to crash–a move that was widely considered a rug pull–he transferred control of the project to Bankman-Fried. 
And not because the two knew each other. Bankman-Fried had been openly critical of the way Chef Nomi was running the project. But he also saw that it would fail without an intervention and did what he, in his own words, had become notorious for: "taking on a new, somewhat sizable, random project." 
The hyper-nerd effect
Since its founding, Bankman-Fried has grown FTX into a derivatives exchange that easily clears $10 billion in volume per day, according to CoinGecko. But he's still got his sights set on how he can maneuver the company into new lines of business and new regions.
His next big project: Setting up a derivatives business in the U.S. To do that, he's had to spend a lot of time planning how to deal with a thorny regulatory climate in the states.
FTX released a list of key regulatory proposals ahead of Bankman-Fried's trip to testify before the U.S. Congress in Washington at the start of December. The proposals echo what's been said by other crypto firms: There's a need for clarity, reporting requirements for trading platforms need special technical consideration, and consumer protections remain paramount. 
But it's Bankman-Fried's optimism about regulation that sets him apart from the rest of the industry. 
"Just getting to a point where there's standard oversight of stablecoins, confirming that they're backed in the way that they say they are, for instance, would go a long way towards addressing all the worries that people have about stablecoins without impacting what made them so valuable in the first place," he said. "And I think that on a lot of fronts, the difference between where we are and where we could be isn't that huge in the number of things that need to happen."
Tallying the steps from in-progress to done, calculating the upside–they are and always have been trademarks of how Bankman-Fried runs FTX, said Nishad Singh, director of engineering at FTX. He was still working at Facebook as a software engineer when he met Bankman-Fried. 
"At the time, it was obvious that Sam's like this hyper-nerd. He's not getting away from that no matter what," Singh told Decrypt. "But he's developed a lot of good communication skills and great management skills over time. Not all that was there in the beginning."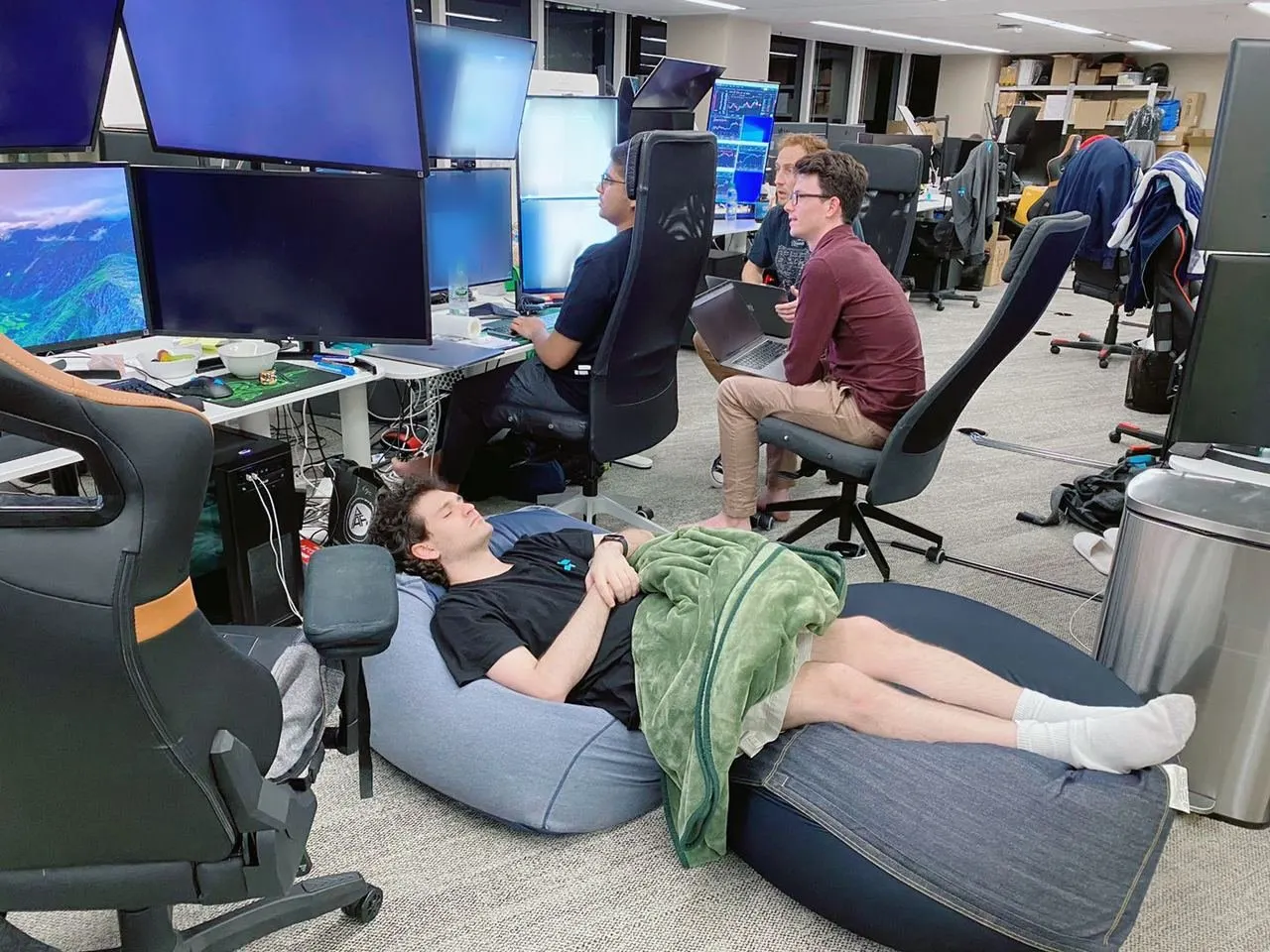 Singh said he called Bankman-Fried after they met in 2017, asking him to keep him in mind if he spotted roles that would be a good fit. He thought it might lead him to a non-profit organization because of their shared interest in effective altruism–earning as much as possible and then finding the most impactful ways to invest in society. Instead, Bankman-Fried, then CEO of Alameda Research, hired him as director of engineering first at the trading firm and then brought him along to work in the same role when he launched FTX in 2019.
Over the past four years, he's seen Bankman-Fried hold onto everything that makes him a hyper-nerd. 
"He's like an Excel wizard," Singh said, laughing. "You watch him in Excel and it makes you feel insecure about your whole life."
But he's also watched Bankman-Fried augment those skills. The example that comes to mind for him is the December 8 Congressional hearing.
Pushing for rational legislation
"I don't think Sam was going for sound bites. I think he was legitimately trying to communicate to the senators while he had their ear about what good political decisions could look like," Singh said. "And it's not that this is something he wouldn't have done before. I just think it takes a different type of maturity to approach that well and do it really well."
The most pressing area of regulation for FTX could be how U.S. lawmakers view crypto derivatives as they continue to grow. At the end of August, FTX announced that it had agreed to acquire LedgerX, a Commodity and Futures Trading Commission-licensed crypto derivatives exchange, for an undisclosed price. The deal was finalized in October.
Bankman-Fried tweeted at the time that it was "one of the most exciting announcements we've ever had."
That excitement hasn't faded.
"I think the biggest thing there is going to be what we can do with LedgerX," he said. "I'm optimistic that we're going to be able to offer a really competitive set of products and be, you know, the only people to do that legally in the United States. I think that's extremely exciting."
The road ahead
Bankman-Fried may have the shortest path into the U.S. crypto derivatives market, but his competitors are poised to give him a run for its money. 
Singapore-based Crypto.com recently paid $216 million to acquire North American Derivatives Exchange (Nadex). In fact, the company has followed a strategy almost identical to FTX's this year. It's inked sponsorship deals with Formula 1, esports team Fnatic, the Ultimate Fighting Championship, and put its name on the Staples Center in Los Angeles.
If and when its Nadex acquisition is finalized, it would also be in a position to offer derivatives to U.S.-based customers. 
Coinbase has taken a different approach, having submitted paperwork in September to register Coinbase Financial Markets Inc. as a futures commission merchant with the National Futures Association. Its application is still pending.
Behind the scenes, Bankman-Fried still feels like he's heading into 2022 with some unfinished business. 
FTX's booming derivatives exchange has brought some growing pains.
"I think one piece of that is we're working on matching engine capacity. There's more work to do there," Bankman-Fried said, referring to the system that matches buy and sell orders for the exchange. "Our volume has really exploded this year. We have to make sure we're staying ahead of the curve there."
The growth has also pushed him to scale the company's headcount, something he sounds reluctant to do because he worries it will dilute the startup's culture.
"The biggest thing that we emphasize is, how do you sustainably grow a team without losing sight of the culture that made it work in the first place. And I don't think that's an easy thing to do. I don't think it's a solved problem," Bankman-Fried said. "But we tried the best we can to make sure as we do this, we don't screw things up. And that people come out of it feeling like they still have a voice in the company, they have a window into what's going on. And I think that's been probably one of the biggest things that we've had to focus on a lot as we grow."
Ultimately, if he has to choose between hiring more people or keeping the coherence of the team, he thinks the right decision is to hire fewer people. 
Next year, he anticipates the FTX engineering and product teams will be more in the spotlight.
"I am really excited by a lot of what we've done this year, but a lot of it is, frankly, preparation for what we can do in the future, rather than the be all and end all itself," Bankman-Fried said. "When you look at the regulatory side and the licensing side, you know, we've put an enormous amount of energy into getting as many licenses as we can and having constructive relationships with regulators. And I think that on the product side, that's taken a little bit of a backseat. But that's going to be able to come front and center over the next year."