In brief
Sam Bankman-Fried became DeFi's newest hero when he took on the role of temporary chef for SushiSwap.
On Wednesday, he supervised the successful migration of almost one $1 billion in funds from Uniswap to the new, upstart exchange, and returned its control to the community.
SushiSwap's longterm future is still uncertain, and the saga could mark a shift in direction for the future of DeFi.
They call it "vampire mining," the draining of an exchange's funds in an effort to siphon its liquidity to another source. In a drama that's been edge-of-your-seat, even by cryptocurrency standards, decentralized cryptocurrency exchange Uniswap became a victim of it this week. The cloned exchange saw almost a billion dollars worth of funds migrated to its new rival SushiSwap, and a new era, in community-led exchanges, was born.  
This hazardous enterprise—possibly the first hostile takeover in the decentralized finance space—almost didn't happen, and most surprisingly it had a happy ending. The events of the past week have also catapulted one man, in particular, into the limelight. 
Sam Bankman-Fried, 28, is head of quantitative trading startup Alameda Research and centralized derivatives trading platform FTX. He's become the SushiSwap savior; the superstar hero who saved the day, safely shepherding the user's funds from Uniswap to the new exchange, and then returning control of the project to its community. 
In doing so, he may have irredeemably changed the direction of the $8 billion DeFi industry forever. 
On a call from his office in Hong Kong (where, often, he famously sleeps on a beanbag), he told Decrypt why the SushiSwap saga is far from over.
The saga of SushiSwap 
To recap:
The SushiSwap project was created just two weeks ago, by an anonymous team, as an "evolution of Uniswap," Bankman-Fried said. They forked, or copied Uniswap's code, while adding "community-oriented features," most notably a token, SUSHI, to reward liquidity providers (LPs,) and draw them away from Uniswap. 
SushiSwap encouraged the LPs to deposit their Uniswap tokens, which represent their deposits in the DEX, in exchange for SUSHI. The plan was to then swap the Uniswap LP tokens for the underlying asset so that Uniswap liquidity would become SushiSwap liquidity. 
It worked: In the days leading up to the SushiSwap migration, more than half of all Uniswap LP tokens were deposited into SushiSwap's pre-migration program.
But before the upstart's fiendish plan to bootstrap its own liquidity by draining Uniswap's was accomplished, the crypto market took a dive. 
SushiSwap's mastermind, Chef Nomi, lost his nerve, and initially cashed out his tokens—worth some $14 million. His actions were construed by many as an exit scam. The move blindsided the fledgling community, leaving the project in disarray, and SUSHI's price on the floor.
The Chef's kiss
Amidst the furor caused by his cashing out, Chef Nomi then made a surprise move: he transferred control of the project to Bankman-Fried, who had been his arch critic.
"I was fucking floored. I mean, I was asleep on the beanbag. And someone shouted out that it happened. And it was totally surreal," said Bankman Fried. 
He'd gotten involved with SushiSwap through its listing on FTX, through executing some clever trades that drew the community's admiration and making some salient points about the project on Twitter. 
1) A way forward for Sushi, and a way further back.

— SBF (@SBF_Alameda) September 6, 2020
"That's not generally grounds to be running a project," he said, wryly. "It doesn't usually come from Twitter."
Enter the altruist
But Bankman-Fried buckled down to the gargantuan task—because no one else was qualified to do the job; 
"It quickly became clear that SUSHI was dying, if no one did anything," he said. The project needed someone who was trustworthy, with the technical experience to make it through migration; someone who knew about SushiSwap, and its context, and someone willing to take on a challenge. 
"That doesn't describe that many people. And one thing I'm notorious for is taking on a new, somewhat sizable, random project. And so I think given all that, looking back on it, it seems like I was the natural person to hand it off to," he said.  
Just another normie from Stanford
Bankman-Fried is no dyed-in-the-wool advocate of decentralization. He started his career in traditional finance. His parents were law professors at Stanford University; he was born and raised in the Bay Area and ventured east to study physics at the Massachusetts Institute of Technology, but quickly came to the conclusion that academia was not for him. Instead, he joined a quantitative-trading firm, Jane Street Capital, where he first encountered cryptocurrencies.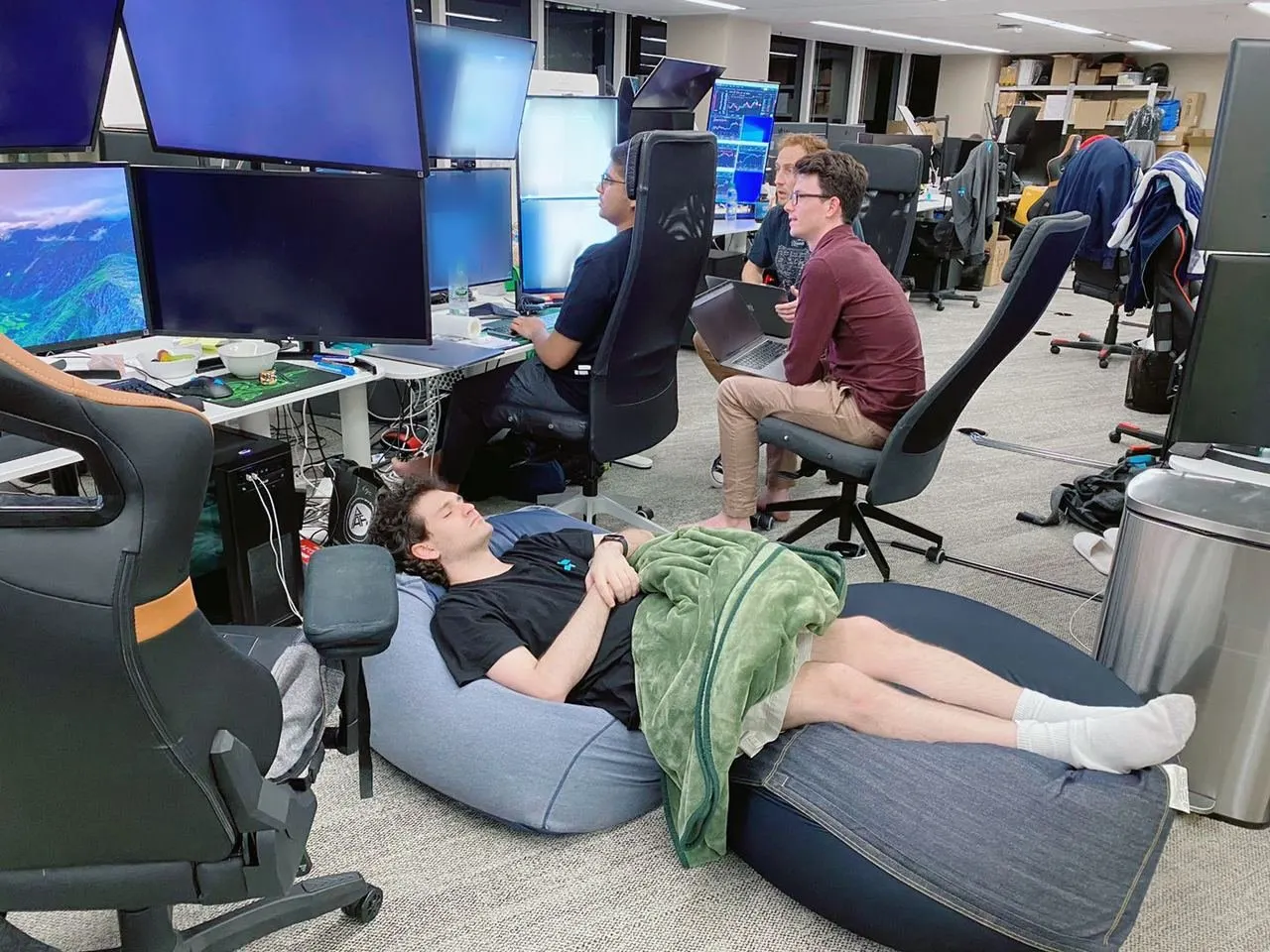 He insists it was his desire for "effective altruism"—accumulating wealth to make a positive impact in the world—that turned him onto finance as a career. A passionate vegan, Bankman-Fried wants to make wealth that works to help, and to build a career that will enable him to make a real difference, he said. 
With that in mind, in 2017, he left to start Alameda, with his own money and funds borrowed from family and friends and recruited former MIT classmates and Wall Street contemporaries. Alameda is a quantitative crypto trading firm and liquidity provider, that uses quantitative analysis to manage over $100 million in digital assets, and operates on every major market and exchange.
The Alameda of the East
The startup is named after the Californian county, where Bankman-Fried was living at the time. But, soon after launch, he moved Alameda's offices to Hong Kong, to be closer to the action in Asia. 
The early days were a steep learning curve for Alameda's founder. But crypto trading itself was easy he said, compared to regulatory requirements he needed to learn to handle wire transfers, banking regulations, compliance, exchange limits, and the other minute operational difficulties that beset crypto trades. 
"There's a ton of stuff that goes into doing profitable arbitrage or quant trading in crypto before you even get to asking what a Bitcoin is," he said. 
But it was a magical moment when it all came together, and Alameda rapidly established itself as distinct from the average, anonymous, crypto-trading operation, according to Bloomberg, which gave the startup a glowing write up. Alameda focuses on arbitrage and other strategies, has over 20 employees, and handles around a billion dollars worth of daily trades, according to its website. 
On the back of this success, having built a healthy network of clients and connections in both crypto and finance, Bankman-Fried launched FTX, in the spring of 2019, and his enterprises have become central cogs in the emerging DeFi landscape. 
But it's SushiSwap that promises to really make his name.
The vampire bites twice
Having had the project essentially dumped on him, he rose to the challenge.
Bankman-Fried initiated yet another vampire mining attack to migrate users' funds from Uniswap to Sushiswap.
It took six hours and was completed on Wednesday, with Bankman-Fried tweeting throughout the entire operation. He was hailed as a hero. But he's such a prolific tweeter that he was also accused of having a team of copywriters chained to Twitter.
The last part of his job was turning control of SushiSwap over to the community, and inviting them to choose nine well-respected "multisig" users who could approve changes and expenditures as a group (including himself.)
Well without further ado, for those who are not familiar with some of the newest sushi chefs in the kitchen, we provide you with an overview of who they are and what type of $SUSHI they represent. pic.twitter.com/2mO4MmMFjY

— PANews (@PANewsOfficial) September 10, 2020
(Decrypt's Matthew Aaron, scored all the details when he hosted Bankman-Fried on Thursday. )
The new DEX is now live and reasonably active. And Bankman-Fried is excited that 0xMaki (also known as Maki), the pseudo-anonymous full-stack engineer who helped launch SushiSwap alongside Chief Nomi, has offered to get the project back on its feet. 
SushiSwap's future
Plans for the now-audited project include a smoother user interface, integration with other DeFi protocols, such as RenBTC, and other features to distinguish it from UniSwap. It could even launch on blockchains other than Ethereum in the future.
But there are challenges ahead. 
"There's a question of whether it keeps growing, whether it shrinks, whether it morphs into something even bigger, or whether it specializes in what it's doing now," said Bankman-Fried. He admitted that he also worries that the reputational damage to the young DEX engendered by the actions of its founder will be lasting. 
"Given its weird narrative, that it crashed almost all the way down and then came back up somewhat, it's still not totally clear which arc is going to win out in the public narrative around it," he said.
Then there are the conspiracy theorists who believe that Chef Nomi is Bankman-Fried. He denies that allegation too.  
"I don't know who Nomi is," he said. "It's not me and my best guess is that it's probably not any of the people it has been rumored to be."
Chef Nomi's Capitulation
Not long after our interview, on Friday, the SushiSwap saga took another unexpected twist when Chef Nomi repented and returned the $14 million he had absconded with. 
I have returned all the $14M worth of ETH back to the treasury. And I will let the community decide how much I deserve as the original creator of SushiSwap. In any currency (ETH/SUSHI/etc). With any lockup schedule you wish.https://t.co/QwFj5SeeuQ

— Chef Nomi #SushiSwap (@NomiChef) September 11, 2020
He expressed interest in being part of SushiSwap's future, albeit with no governance control.
"I'm really glad that Nomi returned the funds," Bankman-Fried said, in a follow-up message to Decrypt. "We won't forget what he did, but we also won't forget that in the end, he made the right choice."
Why SushiSwap matters
In all, SushiSwap has generated considerable controversy, about cloned projects, centralized versus decentralized control, and the competing incentives offered by yield farming—the art of using capital to earn a return on funds, and one of the main reasons why DeFi has become so popular. 
In contrast to a bunch of untested, anonymous developers, a safe pair of hands, with experience of traditional finance and centralized exchanges—the very entities that DEXs seek to replace—were needed for SushiSwap to reach its goal. That will be a lasting legacy and makes the project unique. 
If SushiSwap is successful, it may even give credence to the argument that a measure of centralized control, at least for a time, is worth it to successfully develop and launch innovative new DeFi platforms. 
"SushiSwap is a fascinating economic experiment," Matthew Graham, CEO of Sino Global Capital, told Decrypt. He knows Bankman-Fried well and has agreed to be one of SushiSwap's multisig holders. 
"Given that crypto has so many different tribes, it's hard to think of anyone else who would have had the requisite relationships, soft power, and tech chops to pull off SushiSwap's safe landing. Post-migration and multisig, it's now up to Maki and the Sushi community, having been given a second chance. We can't wait to see what happens," he said. 
Bankman-Fried may be a relative newbie in the DeFi world, but he's no stranger to it, with FTX listing some 35 DeFi tokens, he knows the space well. 
And he's interested in going deeper, with Project Serum, a highly anticipated, non-custodial, DEX collaboration between FTX and Solana, a blockchain platform characterized by low transaction fees, an ultra-fast processing speed, and interoperability with other platforms, including Ethereum. 
That gives Serum a distinct advantage over other DEXs, like Balancer and Uniswap, and positions Solana as a potential challenger to Ethereum as the blockchain standard for DeFi.
The vegan vampire miner may have more surprises up his altruistic sleeves