For four days last week, Solana took over Lisbon, Portugal. 
Decrypt traveled to the first Solana Breakpoint conference to get a firsthand view of the Solana community, which has celebrated milestone after milestone over the last 12 months. Here's what we found.
A city-wide celebration of Solana
Non-crypto folks arriving in Lisbon would have been forgiven for not knowing what Solana is. After all, even amid repeated recent all-time highs, the market cap of SOL ($72 billion) is just a fraction of more widely-known cryptocurrencies like Bitcoin ($1.2 trillion) or Ethereum ($550 billion).
Yet, not soon after the ink on their passport stamps would dry, the hundreds of people walking through Lisbon International Airport's arrivals were greeted with Solana-related ads.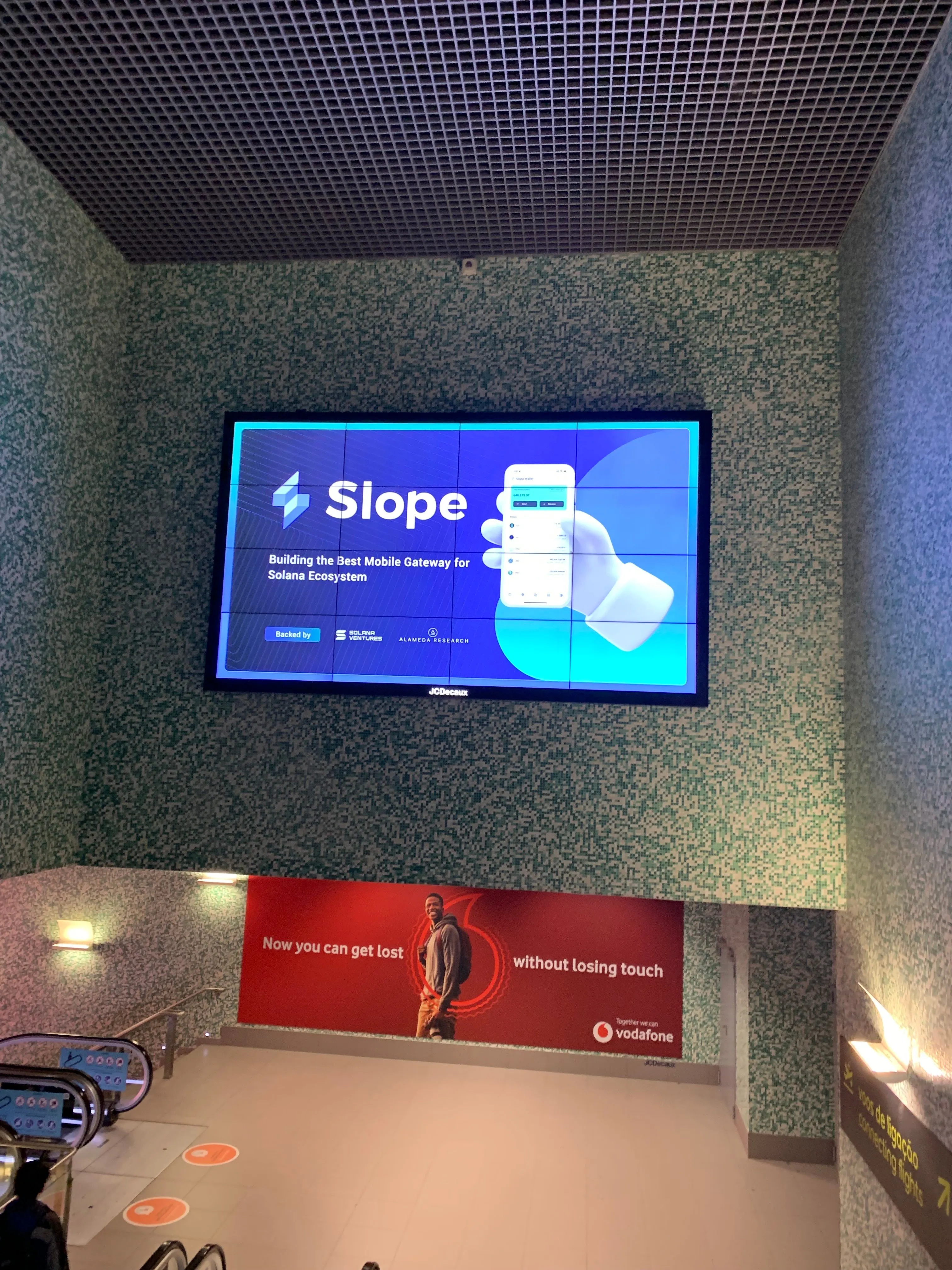 In the city, Solana seemed to be the word on everybody's lips. With approximately 2,000 people attending the three-venue-wide conference, it was hard to avoid seeing Lisbon's newfound crypto cohort, even if you were missing out on the news headlines. 
It's been a historic year for the Solana ecosystem, including NFTs on the network and the rise of Solana's native token SOL, which started this year at the modest price of $1.52. Now it's at $240.
These milestones were the hot topic at Solana, as one lifelong friend I happened to run into at Breakpoint told me, "Solana has made a pretty meaningful difference to my year, financially."
Developers without a roadmap
For anyone that's been watching the crypto space for the last year, Solana's rise has been hard to miss. Last week, SOL was breaking new ground to reach its current all-time high of $260, just days before flipping Tether to become the fourth-largest cryptocurrency by market cap. 
Despite the token price, Solana enthusiasts that travelled to Portugal to find out what big idea is coming next for the ecosystem may have left a little empty-handed. 
"There's not a huge major release on the roadmap or anything like that," Anatoly Yakovenko, Solana co-founder, told Decrypt during an exclusive interview at Breakpoint. The interview aired as part of Decrypt and Yahoo Finance's Crypto Goes Mainstream event last week in New York. 
"The reason why I, as an engineer, hate roadmaps is because it's really hard to predict anything beyond two weeks," Yakovenko added. 
The conference was therefore not the place where Yakovenko or Raj Gokal, Solana's other co-founder, would drop any huge roadmap bombshell on their most faithful supporters.
With that said, there were still plenty of big Solana ideas and partnerships announced in Lisbon. 
Breakpoint highlights
Perhaps the biggest news of Solana's week in Lisbon was a joint $100 million initiative announced in partnership with Reddit. The initiative was put in place to help develop "decentralized" social media technology. 
Reddit co-founder Alexis Ohanian and Raj Gokal co-announced the fund on behalf of Reddit and Solana Ventures, respectively. At first, the founders said the fund would be $50 million in size, but moments later, Ohanian doubled the announcement to $100 million. 
"Reeled you in there," he told a cheering crowd. 
Gokal said part of his excitement for the fund is that "I need to be freed from centralized social media, I want to get off Twitter."
The news came amid controversy for traditional social media platforms. Facebook (now Meta) is still reeling from a mass leak of documents from a former employee. 
Solana and Reddit's announcement also beat Twitter Crypto to the punch. Later in the same week, Twitter announced a new, dedicated crypto team that will explore possibilities in the decentralized apps space, but the sense in Lisbon was that Solana Ventures and Reddit had already planted a flag.
What about NFTs?
Decentralized social media funds are one thing, but Lisbon also witnessed Yakovenko's high praise for the ever-burgeoning NFT industry. 
Yakovenko went as far as to say that NFTs now act as the cultural symbol of the crypto industry. It wasn't easy to predict, but with the ever beneficial addition of retrospect, it has become obvious, he said. 
"I didn't expect it was going to be NFTs, but I kind of felt there's a very deep, social component to crypto, and I knew I'm not going to be able to predict what it looks like, but it's obvious in retrospect: NFTs are it," he said. 
He also told Decrypt that NFTs are a "huge opportunity" for crypto exchanges to break into the decentralized finance space—a space that's been kind to the Solana ecosystem thus far.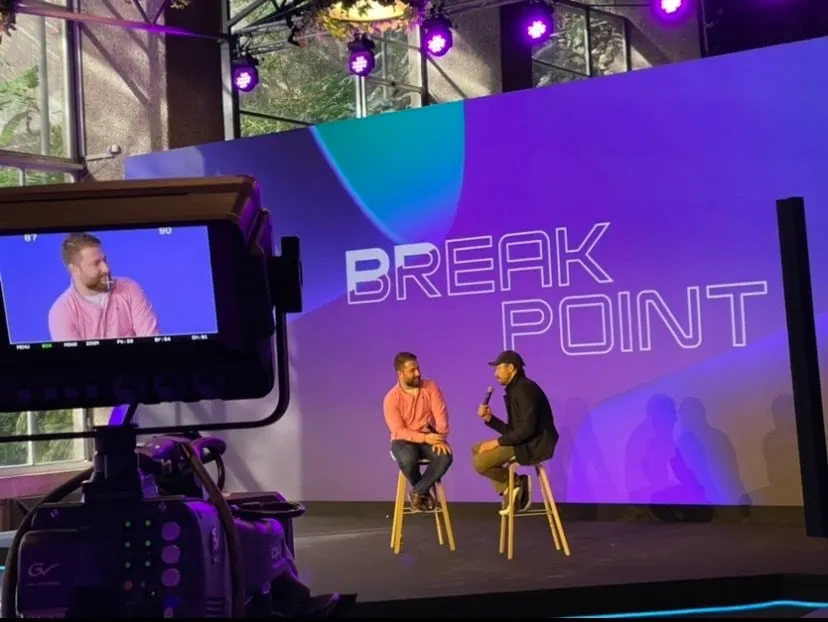 "That's a huge opportunity, I think, for exchanges to move into this kind of generalized access point to DeFi, to decentralized exchanges, to NFTs, and to everything else that's going on in the space," he added. 
Those aren't just empty words coming from the Solana co-founder. Not only has a whopping $15 billion of total value been invested in DeFi projects built on Solana, but you can now also buy Solana NFTs on FTX's regulated NFT marketplace. Coinbase and Kraken are also getting into NFTs.
Yakovenko's bullish DeFi sentiments were echoed by Chainlink's Sergey Nazarov, during a virtual appearance at one of Breakpoint's panels. 
Speaking at the conference, Nazarov said DeFi will continue to attract institutional attention in 2022. "I think the world is going to eventually—probably in 2022—realize that there's this big market called DeFi," he said. 
One eye on 2022
Yakovenko (or Gokal, for that matter) may not have dropped a huge announcement about where the Solana ecosystem is going next, but one growing crypto subculture stood out more than most: gaming.
I sat down at Breakpoint with some of the biggest names in gaming—including Faraway co-founder Alex Paley and Lightspeed's Amy Wu—and the sentiment was that the relationship between crypto and gaming is set to burst out on the scene in the future. 
While that may be true, the gaming industry has already found a home on the Solana network. In recent weeks, FTX, Solana Ventures, and Lightspeed pledged $100 million to support Solana crypto gaming projects. One of those is Faraway, a game studio that has also raised nearly $30 million for Solana-powered browser games. 
The viral Axie Infinity game has shown that NFT gaming can thrive as an industry—and even provide a potential source of income for some gamers.
On a Decrypt live roundtable chat on Friday, Amy Wu said she felt Breakpoint "was the first time a lot of people felt that there was a path for the Solana ecosystem to surpass the Ethereum one."
It'll be fascinating to see where the Solana ecosystem sits at this time next year.