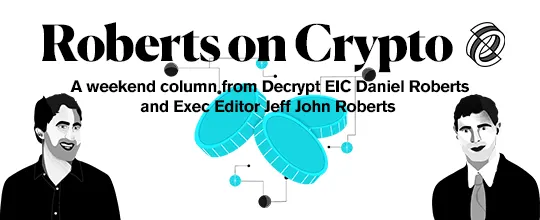 (For the youth or the easily offended: The headline reference of this column, explained.)
Blockchain-based digital collectibles aren't just hot again, they are a raging inferno, consuming all the oxygen in cryptoland.
Monday was likely the biggest single NFT sales day ever, as OpenSea saw a record $194 million in daily sales volume, CryptoPunks hit $101 million in daily volume, Art Blocks hit $69 million, and Bored Apes did $20 million, all spurred by Visa announcing that it purchased a CryptoPunk for $165,000. Budweiser followed suit on Tuesday, spending $126,000 total on a rocket NFT and an Ethereum domain name. (It ended up with dick drawings in its public NFT wallet.) The owner of an Art Blocks "Fidenza" piece who bought it in June for $1,400 flipped it for $3.3 million. Perhaps nothing illustrates the madness better than EtherRocks, NFT illustrations of rocks that now have a price floor of $2 million.
It's hard to argue with onlookers who see a wild speculative bubble here. New NFT collections are cropping up practically overnight and immediately ballooning in value (Pudgy Penguins, Lazy Lions, Gutter Cat Gang, Doge Pound, SupDucks, and 0n1 Force, to name a few). The 2021 Gartner Hype Cycle report on emerging technologies ranks NFTs at "peak of inflated expectations."
The best way to understand new technology is to try it out. At Decrypt, we live this truth. For last week's column, I purchased a Weird Whale NFT. For this week, I wanted to create and sell my own NFT; we ended up making a whole Decrypt series of our unwitting pets, who certainly never consented to this exploitation.
Some parts of the process were easy—too easy—while some were not very intuitive. Creating an NFT is as simple as uploading the JPEG file, but then you have some tough decisions to make. Did I want to mint my NFTs on the Ethereum blockchain, or on Polygon? Ethereum is the de facto standard for NFT creation, but comes with high gas fees; Polygon (native token: MATIC) is no-fee, which sounded like a no-brainer. I went with Polygon, but then discovered OpenSea won't let you put up Polygon-minted NFTs for open bidding; you must set an asking price. (I have not received a response from OpenSea on why that is.) For this experiment, we wanted to go the auction route, rather than try to peg a value on photos of our beloveds.
So I destroyed all 12 NFTs, re-uploaded, and went with Ethereum. The entire process took less than 10 minutes. Another hard choice when putting them up for sale was what percentage royalty we want to take on sales. Would some crypto media critic feel some type of way about us earning money from our NFTs? I went with 2%, which felt conservative. Then I had to select a minimum price for the auction; I landed on 0.001 ETH, a nice round number that equates to $3 at current prices.
None of it mattered. After the first 24 hours, no bites.* Shockingly, no one is eager to pay $3 for a photo of Josh Quittner's dog Pig.
That's actually good news. We missed the boat on trying this during the initial frenzy, which was characterized by quick cash-grabs and digital trading cards. I have a feeling if we had done this experiment back in March, when people were paying $1.6 million for Rob Gronkowski JPEGs, ours would have sold. (Decrypt columnist Ben Munster already wrote the definitive, laugh-out-loud piece on doing that.)
The space is maturing now. Most of the hottest collections offer buyers much more than a JPEG—your NFT is your ticket into a club that comes with perks. In the case of Bored Apes Yacht Club, Ape owners get exclusive merchandise drops, free spinoff NFTs (Mutant Apes), and access to a Discord channel where NBA stars like Steph Curry are active. Some projects like Nouns revolve around a DAO, where owners get a say in governance. Art Blocks are generative, where the one-of-a-kind images are created by the code itself. (And they look beautiful.) CryptoPunks and EtherRocks don't come with the same membership benefits, but their value lies in their age; they are the O.G.s, and are likely to hold their value even if fly-by-night collections sink out of fashion.
None of this is to say there won't be any more rushed, junky NFT collections. There will be. But we might be seeing less of them now as more compelling uses of the technology emerge. And that's good for all of crypto.
* Our Decrypt Dogs and Cats NFTs will remain on sale at OpenSea for six more days; we'll update you on what happened when the auction ends. 
This is Roberts on Crypto, a weekend column from Decrypt Editor-in-Chief Daniel Roberts and Decrypt Executive Editor Jeff John Roberts. Sign up for the Decrypt Debrief email newsletter to receive it in your inbox on Saturday mornings. And read last weekend's column: The NFT Avatar Trend Is About Community.